Currently, the hedges are becoming popular with owners of country sites. They attract vacationers unusual appearance, the ability to create on the site a cozy atmosphere. A real live fence – a way to saturate the area with clean air, get rid of unnecessary street noise, dust, protection from automobile exhaust gases.
Hornbeam – the kind of undemanding deciduous shade-tolerant plants, easy to forming, is therefore one of the most suitable for scenic and attractive fencing. Hornbeam belongs to the family of hazel, has a dense crown, likes moist and fertile soil. It grows in Europe, America, East Asia. Found in nature along with beech and oak on the slopes of mountainous terrain. Protected nature reserves, presented in the Botanical gardens. In Russia it is widely distributed in the southern and Western parts.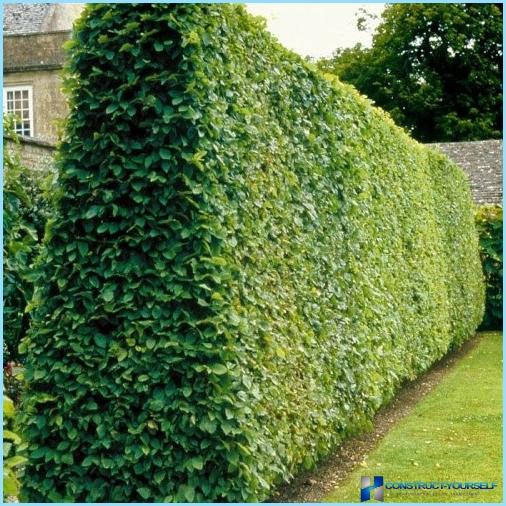 To build a fence, you can use a variety of plants and shrubs, but is ideally suited for this hornbeam.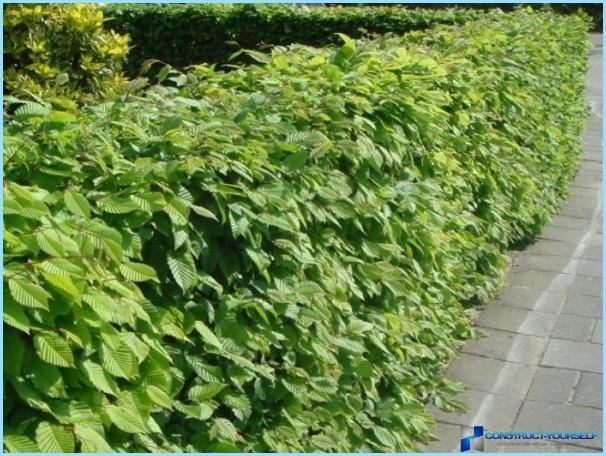 Hedges differ on:
border fences. They are made of a low-growing green space, the maximum height is 50 centimeters. This form is suitable for flowerbeds, walkways, flower beds. It can hardly be considered a full-fledged fence due to the small height;
the average height of the fence (1.5–2 meters) are formed from different varieties of shrubs and trees. Among the favorites: honeysuckle, common lilac, Golden currant. With the help of such hedges can be arranged on the site a few different natural zones.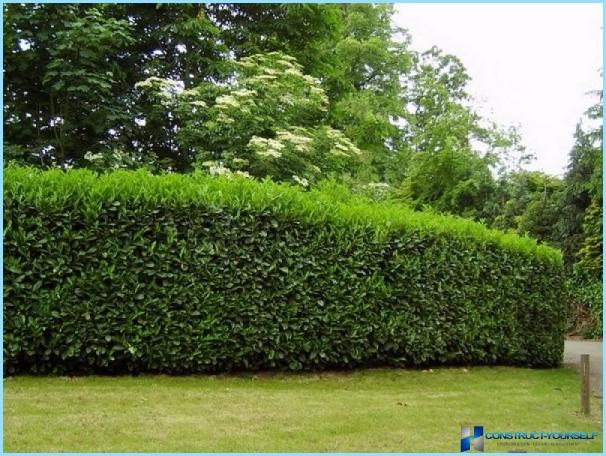 Hedge of hornbeam is the best option, because with little care you can form the most intricate form of natural fence. With this fence you securely hide your garden, will air on a plot of aromatic and fragrant.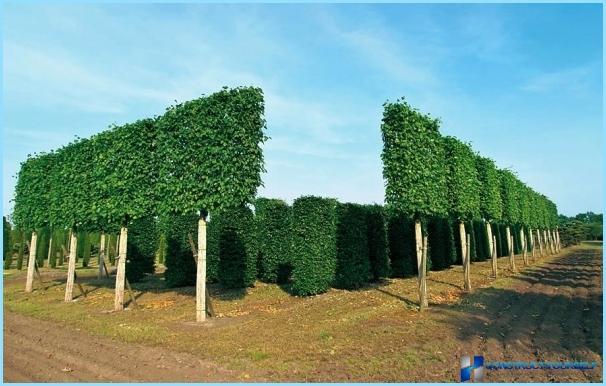 The Council
! If you want to create a unique and individual fence, use hornbeam. It is best suited for individual design, to make beautiful hedges.
Hedge of hornbeam (pictured) is a fence approximately 2 metres in height, allowing to protect the parks, homes. This plant is totally unpretentious, it can be planted in the shade.
Advantages:
the provision of noise insulation;
opposition to the winds;
protection from dust and grime.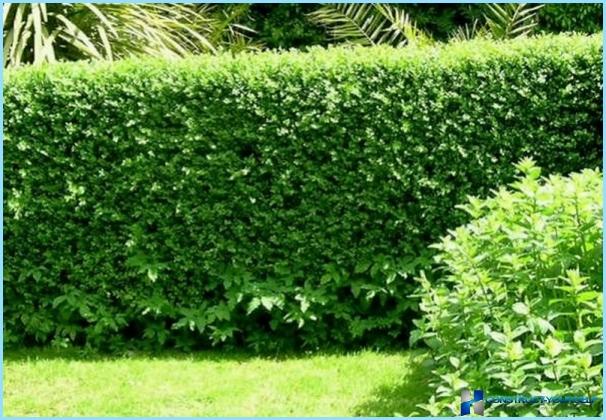 Rules of planting and care:
Care involves 1-2 times a year, adjusting the width and height of the fence to give it a certain decorative forms. The main tools used for trimming, select pruning shears, secateurs.
Grub does not need frequent crown molding, it is convenient to organize the city's parks. In 1-2 years after planting, the natural growth is 15-20 centimeters.
Planting of seedlings is carried out in the spring. First preparing a trench or individual holes for planting to be done. The depth of the trench is about 50-60 cm depending on the size of the seedlings. Immediately after planting, it is possible to control the growth of hornbeam, giving the fence an unusual shape.

It is important

! To create the hedge of hornbeam, in any case, do not select acidic, salty or boggy soil.

This plant has a beautiful smooth gray bark, attractive crown. It is able to withstand even severe frosts, so plant suitable for different climatic latitudes.
Hornbeam insect-resistant, is not subject to rotting, well tolerate the dry season. It is ideal for group planting and as an individual element in country decor.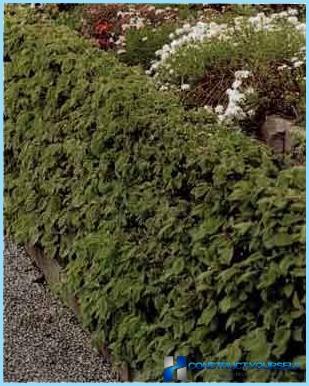 If been planted with young trees, then begin to mold them should be within two years. When planting 2-3 year old hornbeams pruning must be done in the spring. The specifics of forming processes is that in the first place, well cut the trees in height. Then during the season 2-3 times (usually in late spring, mid and late summer) shortened shoots. The height is allowed not to keep to the density of the bottom of the crown, producing at once the distillation and forming. Hornbeam is very well tolerated haircut and long retains attached to it a unique shape.
Video:
Attention
! Hornbeams are ideal for creating green labyrinths on large plots of land. You can also grow covered alley of hornbeam trees, with interlocking branches at the top.
Currently, there are several subspecies of this plant. Some species are used for shaping hedges with a minimum height, while others need to create a powerful wall protections, impervious to street noise. Among the advantages of grabbing highlight the contents in its leaves a large number of essential oils, aldehydes, ascorbic acid and many other nutrients.
Infusion of leaves of hornbeam helps to cope with many diseases.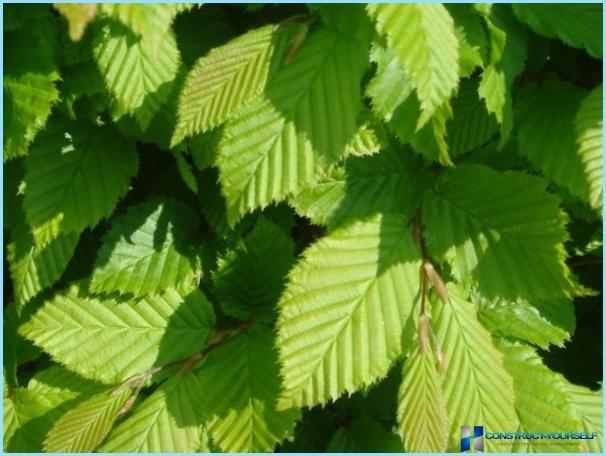 Varieties of hornbeam:
pyramid. The plant has a straight trunk, a crown is formed in the form of a narrow pyramid, suitable is the plant for individual landings;
the columnar. Its narrow green crown applied for group forming hedges;
weeping. You'll be drooping, thin branches, used for a single landing;
cut. This variety of australiastone hornbeam has leaves of unusual shape, it is planted in the formation of a green living fence;
guality. Crown with small leaves and wide, with the original cutting teeth;
purple. This ornamental plant has a purple tint, gradually it becomes green.
There are some features of cultivation of hornbeam.
This option hedge is shade, resistant to frost, but demanding of fertile soil, humidity.
Cultivation of hornbeam is possible everywhere, provided you use quality soil.
Reproduction is by seed, they are viable for up to 40 percent. The use of cuttings increases the effectiveness by 10-15%. After collection, seeds are sown immediately at a depth of 2-3 cm.
After the appearance of the first leaves, you can transfer the seedlings in a room with normal temperature.
The Council
! If you need a good result, landings of cypress in wet soil.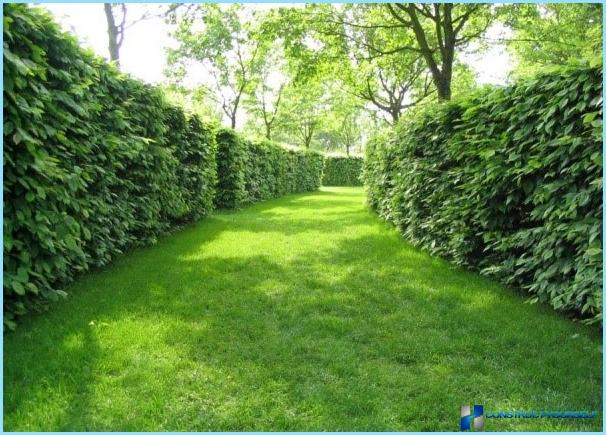 The fence must be not only strong and durable, but original and aesthetic. Hedge of hornbeam ideal for decorating a garden site, design of the Park area, the saturation of air with additional oxygen.
Content related