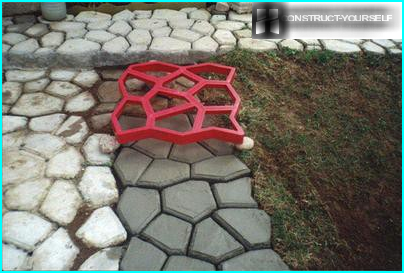 Climbing plants in the garden create a special atmosphere with them, the plot looks different – brighter, more colorful and cozy. It becomes more places to stay, secluded corners formed a living green wall. But if this wall is still in the colours – good mood you provided, since the power of flowering plants is very positive. Supports for climbing plants is the various devices for the manifestation of their decorative qualities, provide the plants proper growth and development.
The contents
Support you can create with your hands, and buy from the manufacturers – many companies produce pergolas, arches, trellises specifically for climbing plants. One time they had not been given adequate attention in the courts met hops Yes, girlish grapes, but vines of oblivion does not deserve, and today, the fashion for creepers and creepers are back, and with them, our gardens become more beautiful and comfortable.
Consider a simple construction of the supports for climbing plants in the form of a cone. You will need 4-6 strong long sticks, wire, or twine and smaller sticks to create a lattice. On earth do the layout – square, in the corners of the recesses for the sticks, fasten them in the soil, add the rest connected the top and connect. Then crosswise fixed on the big small sticks. Support is ready.
It can be used in the garden for pumpkins, cucumbers, grapes, and it is possible for flowering plants – sweet peas, morning glory purple, kobei, honeysuckle, basket of gloxinia etc. because this prop has a small size, it is better to use for climbing annuals – they are more petite.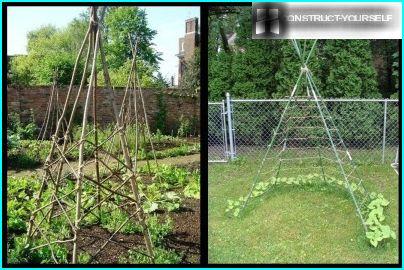 To build a simple support is very easy, the materials will not have to spend, you can make them as needed. The plot will look more attractive, and the plants you will ensure proper growth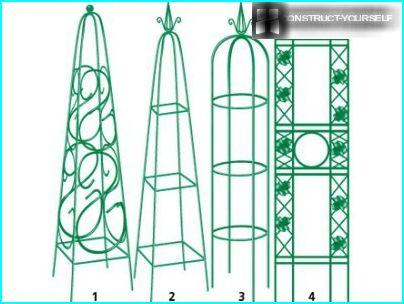 Ready wrought-iron supports, various forms can be purchased for a miniature climbing annuals. Morning glory, ornamental beans, ivy for them perfect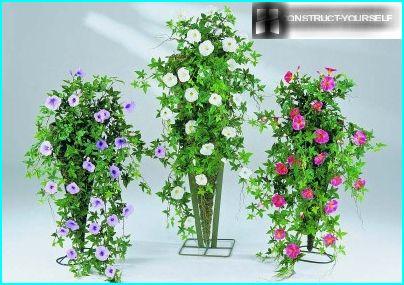 There are here are ready for a basket and climbing annuals, is an interesting alternative to pots and hanging pots
For twine plant prop will be the perfect mesh netting with large sections. You can just buy one and a half meters of cloth and put between two wooden or iron poles. Buy galvanized netting, or, better yet, plasticized – it does not rust, looks aesthetically pleasing. Wooden poles treated with a protective product, metal coated, tensioned mesh fastened with wire or special hooks, and the support ready. With time the plants will redo it so that the netting almost entirely disappears from view and you will have a living green wall, which you can position a bench or hammock.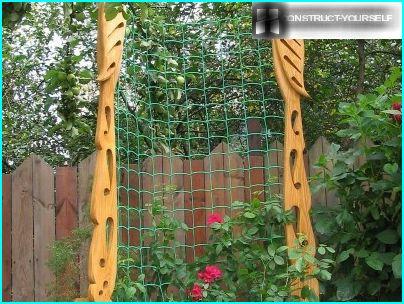 Support for climbing roses mesh netting with decorative wood posts. Carved pillars give a support aesthetic appearance, and when rose gets older, she will be the perfect item for garden decoration
Fences netting in addition to the protective functions are a good support for climbing plants, especially fast the mesh will hide from view girlish grapes or hops that grow fast and grow well.
Light grid pattern in the form of a rhombus or of a square, made of wood, metal or plastic, have appeared relatively recently. This pergola, designed specifically for garden decor and as supports for climbing plants.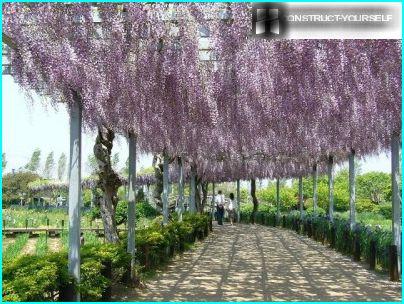 Classic pergola — supporting columns and the roof in the form of a lattice. As a decorative climbing plant Wisteria used, the result is a gallery for exploring the amazing beauty
Pergolas usually combined with garden decorative elements, such as arch, arbor, bench. If the bench and the pergola to form a unitary structure, in company with a vine, for example, capsicum, a very picturesque area. A classic pergola is a structure of uprights and a roof made of cross bars in the form of a lattice. On the roof can grow any vines and climbing plants. Looks especially beautiful this design with parthenocissus, when its leaves turn red in autumn with Wisteria.
Very often, the pergola and arch construction is used as a unified whole is one of the most beautiful decorative elements alone or in combination with plants. Double arch with lattice top can be placed over the gate, the bench, use arches instead of support poles in a row and create a beautiful gallery. Very nice it will look with climbing roses.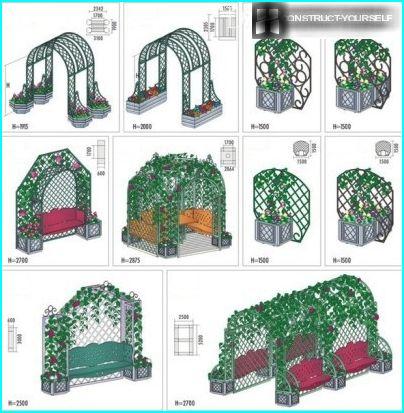 Forging on the site always looks great, and can be booked for different kind of garden arches, pergolas and use them as a support for roses, grapes, honeysuckle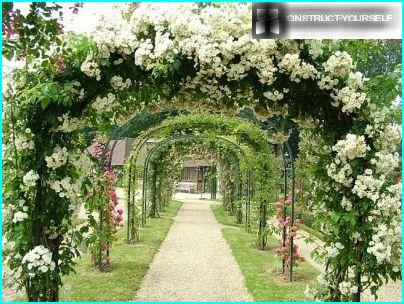 Arches of climbing roses have already become classics — today they are widely used at wedding ceremonies and other celebrations, such as arch or more in the area will create a holiday atmosphere, where you will stay every day
Article topic: Wood pergola: how to build and effectively to decorate their hands
One of the small forms, using for garden decoration is tapestry. Trellis has been widely used in the Russian noble estates, they came from Europe, where they were used for gardens decoration as simple peasants, and the noble Lord. Originally a concept meant dense planting in a number of low shrubs or trees that form a green vertical wall. Today the tapestry is also a support of a metal or a wooden lattice, trellis referred to and stretched between the posts grid.
Unlike pergolas, lattice trellis can be an independent support – it can be leaned against the wall of the building, to fix in desired place of garden. Design can be both light and massive in size, strong frame. Can be used as a single trellis, and group, creating in the garden the screens of climbing plants. Trellis in the garden, like a screen in the room can be used for zoning.
Such a fence in the form of trellis fences — decoration in itself. Through it penetrates the sun, climbing roses look very picturesque on the background of wooden lattice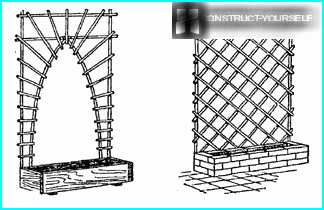 A garden trellis with a box for plants. Make them for the tree, in the first case it will be an interesting arch in the center, the second — the green wall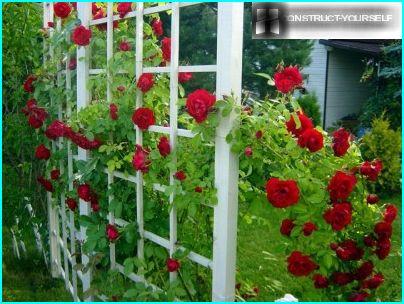 This trellis is very easy to make thin lumber, paint and you will have the opportunity to focus on a separate area of the garden, choosing appropriate plants
For the transformation of the garden today there are a selection of various interesting devices, choose, experiment, and create your masterpieces in landscape design.
Content related