Lately, cottages and plots of land has become fashionable to make a hedge. In urban areas, green walls adorned with numerous parks and squares. Landscape designers in large cities for landscaping streets are increasingly using hornbeam. What kind of plant is?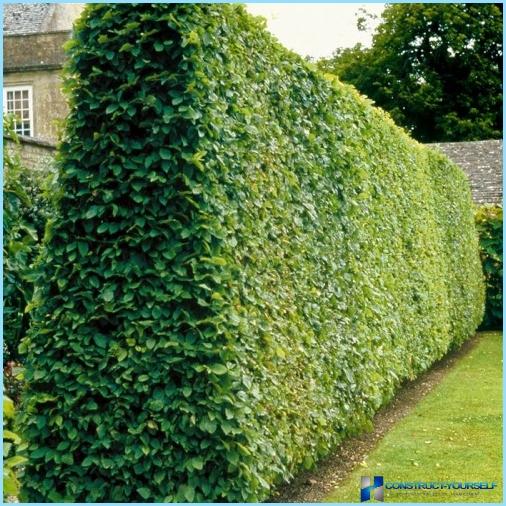 Hornbeam – the kind of undemanding deciduous shade-tolerant plants, easy to forming, is therefore one of the most suitable for scenic and attractive fencing. Hornbeam belongs to the family of hazel, has a dense crown, likes moist and fertile soil. It grows in Europe, America, East Asia. Found in nature along with beech and oak on the slopes of mountainous terrain. Protected nature reserves, presented in the Botanical gardens. In Russia it is widely distributed in the southern and Western parts.
Among deciduous cultures to create a powerful hedge preference should be given to the hornbeam. It is geometrically slender tree with proper molding will create a superb green screen. Although in the winter he takes off the leaves, but from spring to late autumn, spherical pleasing rich green foliage and fresh air. The smooth bark is grayish, small corrugated oval leaves, tall hornbeam reaches ten meters. Blooms in may, hanging catkins, fruiting small longitudinal nuts in September. Hornbeams perfectly tolerate a haircut, creating a bold, solid fence height of three meters.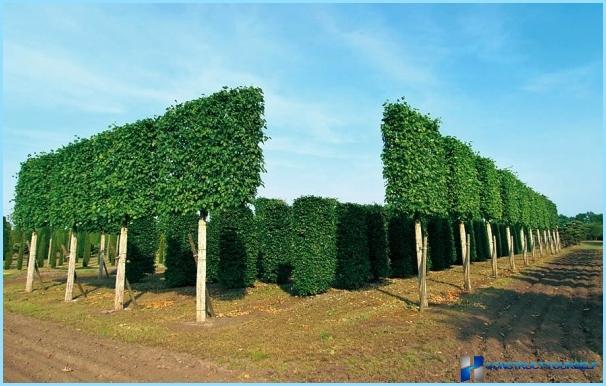 Remember!
The hornbeam is a slow – growing tree, but unpretentious and with clusters.
To get a perfect hedge of hornbeam, at his landing, it is important to observe a few necessary conditions:
choose moist, loose and fertile soil;
to plant young saplings no bigger than half a meter;
to keep the distance between the trees in the 50-70 cm.
Following these three points will help in the future to achieve a thick rich green of the fence. As a hint you can remember the rule of planting hornbeam 50 cm high x 50 cm between seedlings. Although this plant is considered shade-tolerant, its landing is better to choose a Sunny or lightly shaded areas.
It is important!
To create the hedge of hornbeam, in any case, do not select acidic, salty or boggy soil.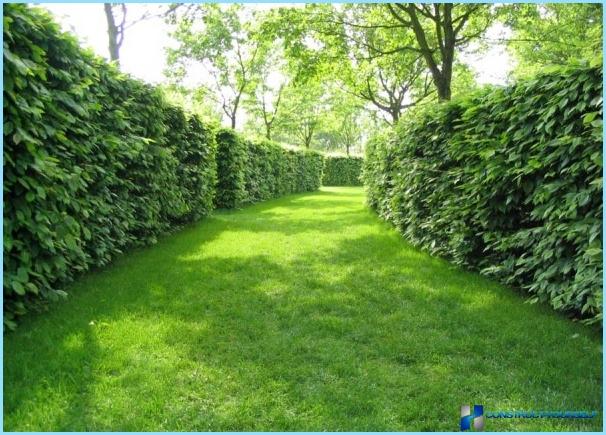 If been planted with young trees, then begin to mold them should be within two years. When planting 2-3 year old hornbeams pruning must be done in the spring. The specifics of forming processes is that in the first place, well cut the trees in height. Then during the season 2-3 times (usually in late spring, mid and late summer) shortened shoots. The height is allowed not to keep to the density of the bottom of the crown, producing at once the distillation and forming. Hornbeam is very well tolerated haircut and long retains attached to it a unique shape.
Video:
Attention!
Hornbeams are ideal for creating green labyrinths on large plots of land. You can also grow covered alley of hornbeam trees, with interlocking branches at the top.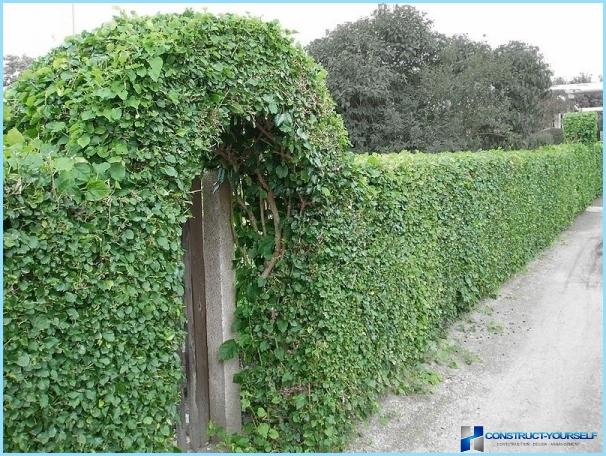 In the care of the grab must be observed:
intensive irrigation;
loosening the soil;
timely removal of weeds under the tree.
If you want to increase the area of hedges of hornbeam, you should know that this plant can be propagated in three ways:
cuttings. To cut off the escape length of 30-50 cm and rooting it.
withdrawal. Near to the ground the lower branches covered with earth and wait for start-up roots.
seeds. If seeding is planned in autumn, the seeds must undergo stratification – a cold treatment for 2-3 months. If seeding is planned for spring, then in autumn you can sow the seeds directly into the ground. Then, in the cold season, they will undergo a natural stratification and germinate.
What not to do when planting hedges of hornbeam:
trees cannot be planted in shallow furrows (up to 20-25 cm), in dry, unfertilized soil;
the root system of seedlings should not be dry or poorly located when landing;
the soil around the hedge to seal;
young trees not recommended for planting under the shade of large old plants;
during growth it is important to ensure lack of moisture and light;
on one line it is not necessary to plant crops of different families.

Beauty and aesthetics;
the ability to disguise a high wall or fence;
in the cold – wind protection;
in hot weather, shelter from the sun;
a natural filter against dust and noise;
in the winter time is a barrier for the snow;
can withstand harsh winters;
resistance to pests and diseases.
Interesting!
From hornbeam you can create a continuous hedge, and to make an unusual landscape design with a single growing shrubs.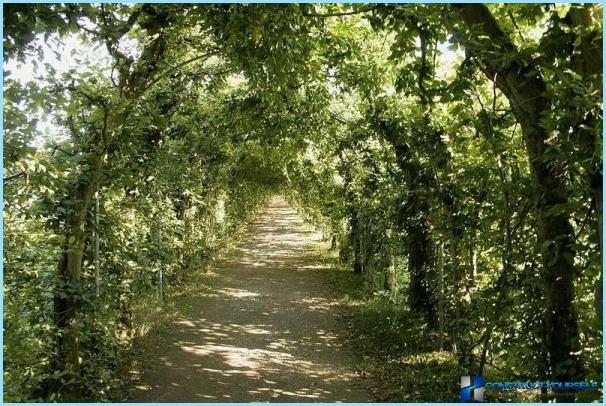 Content related