The owners of farmlands may use different types of fencing – wooden, brick, metal, etc. But there is another attractive decorative hedge, which is a great alternative to the banal fence.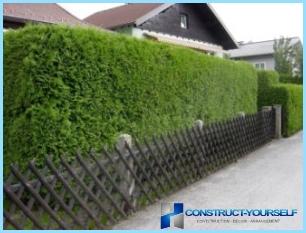 This element of landscape design is difficult to create and maintain in an attractive condition, but in spite of that, hedge became popular and widespread by farmers and private estate owners.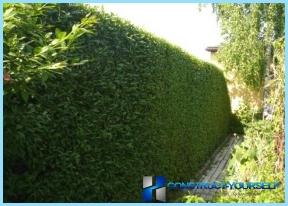 Living fence will help you not only aesthetically beautify your plot, but also save money, because you can put a beautiful modern fence is quite expensive, plus it requires constant care – annual repainting, corrosion protection, etc. living fence looks no worse than usual and has its advantages:
attractive appearance;
environmentally friendly;
easy change shape at will of the owners;
low costs;
a positive psychological effect on the human nervous system;
protection from outside prying eyes;
replenishment of oxygen is essential oils;
protection from dust, road dirt and wind.
But despite all the advantages, in my thoughts there are disadvantages:
ongoing care of the fence;
to make the fence look complete and attractive, it takes time for plant growth.
The best format of a live fence is one that grows for one season, and then just needs to maintain form. Often the owners of summer cottages and farmlands choose two option fences – internal a number of useful low shrubs (sea buckthorn, black currant, red currant, honeysuckle, barberry, dog-rose) and the external number «protective» and «security» features (decorative acacia, pine plants, lilacs, etc.). Live guards your territory will be the honey locust, purple pyracantha, blackthorn, barberry, hawthorn, wild rose, sea buckthorn, their spines perfectly protect from stray dogs, cats and sometimes humans. These plants need space and frequent pruning.
For even more appeal and strength turn into a living fence climbing plants: traditional hops, ivy, vineyard, plants of Wisteria, one of the creeping roses.
When choosing plants for live fences, it is necessary to consider some factors:
type live wall – clipped or free-growing;
the climatic conditions of your area;
the amount of sunlight at the location of the fence;
the desired height of the fence;
a living fence.
If you want a sheared hedge type, then choose the types that respond well to shearing for a long time and keep their shape. These plants characterized by dense foliage and many leaves. A rectangular shape is better kept shade-tolerant species, e.g., hornbeam or yew.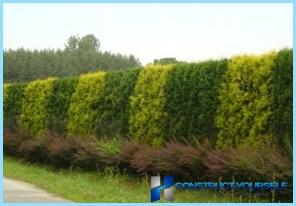 To achieve originality and creativity of your hedges, you can mix different kinds of plants sheared type – Privet, yew, barberry, hawthorn, etc.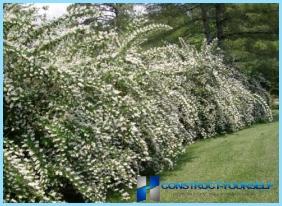 Svobodnorastuschih plants are good because they do not need a haircut to maintain shape. You can plant flowering types of such plants is a Spiraea, mock orange, the compendium, or species with compact forms of the crown – canadian spruce, common juniper.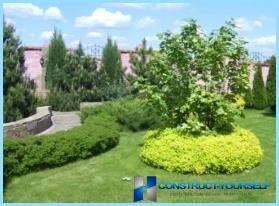 Given the height of the plants, experts identify this classification of hedges:
border plants up to 1 m, which are characterized by compact, slow growth and small foliage. Plants sheared type: Japanese Euonymus, honeysuckle brilliant; svobodnorastuschih species – japonica, Heather, English.

curbs the average height (from 1 m to 3 m). This category includes not only Bush types of fences, but low trees – thuja occidentalis and its form, physocarpus, Privet, mock orange, barberry;

plant wall height greater than 3 m. Such high fences are used to protect from wind, dust, noise, perfectly delimit the territory. Suitable for this purpose the trees are easy to cut – hornbeam, spruce, Linden, spherical form of willow, arborvitae.
A hedge is combined with a metal, wooden or stone fence. This combination of beautiful looks is not very thick fence – the vines, as curly hydrangea, ivy, and flowering shrubs – lilac, rose, spirea, rose.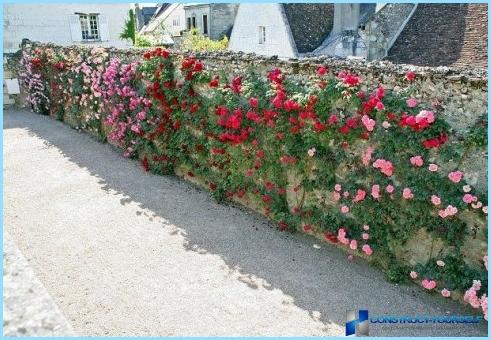 If you need to quickly grow a living wall, it is indispensable will be a fast-growing perennials.
These trees are often chosen by adherents of the classical style of the living fences. They do not grow as fast as the bushes, but after having already formed – all year round decorate any area with its greenery. From evergreen plants can get as high a fence and curb. Strict winter in our country will take representatives of foliage plants purple pyracantha and boxwood. From coniferous trees resistant to frost, growing for many years, suitable for external fencing and common canadian spruce, yew, arborvitae, juniper, pine. These types of easily creating forms that do not require careful maintenance, but also purify the air and fill it with pine scent. One minus the hedge of evergreens – they do not change their appearance during the year.
You can do experiments with flowering and fruiting plants – purple pyracanthas, shrubby cinquefoil, a snowberry, quince, forsythia, Jasmine. Particularly impressive will look like a hedge, when it will be alternately bloom plants, but if you have a little dream, your hedge will be closer to the fall decorated with a delicious and very nice-looking in General «bouquet» fruits.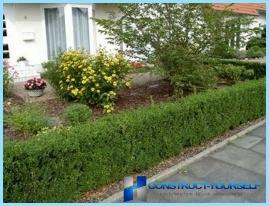 The leader among the shrubs for live fences has always been and remains the boxwood. It grows up to a height of two meters, easy to cut, can take a variety of forms. From it form a round or wide fencing.
Also great for a living fence, a lilac, but it is better to plant on spacious plots.
In addition to boxwood, and lilac look pretty fence of barberry, forsythia, gleditsia of, cotoneaster.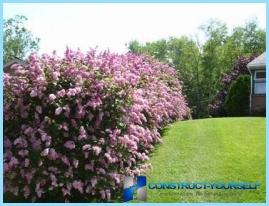 The correct hedge planting consists of several stages:
soil preparation;
layout for the plant;
the choice of planting material;
planting planting material in the soil.

In the first stage, it is necessary to clear the area for living fence from weeds. This can be done manually: to dig the soil, then loosen, thus, removed outdoor and underground parts of weeds. You can apply a specific herbicide, for example, «Roundup» or «Hurricane». Clay soil must be mixed with sand, and the soil is represented by sandy loam – with loam. If you need to reduce acidity, use lime, but if you need to reduce the alkalinity of the peat. If you do not think about the financial aspect, it is possible to go more simple way – to buy at the store already prepared and fertilized the soil.
The second stage is the marking of territory for planting. If you plan on using hedges to protect themselves from the wind, then drop it perpendicularly to the prevailing direction. Dig a trench (by hand or using special equipment) or the required number of holes for each plant. The trench width for a single row hedge – 500 mm, double row – 900 mm, depth – 600 mm.
When choosing planting material, remember that depends on its quality appearance the future of live fences, therefore, purchase it in specialty stores or garden centers.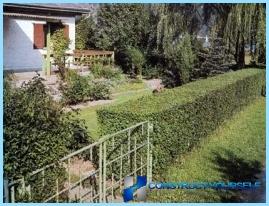 Land plants need in spring before leaves (in Northern regions) or fall (in the South). If you bought the plant in a container, then plant it in the ground at any time that is suitable for vegetation and if with an open root system, try to transplant it as soon as possible to avoid drying out the roots and thus the plant dies. In case, if you plant a plant with exposed roots is not possible, then place it in a plastic bag with damp sawdust.
To improve the survival rate, experts recommend to pour at the root of a mash of clay and cow-dung solution.
Plants with a narrow crown, which love shade and grow slowly, grow denser than fast-growing, light-loving shrubs and trees with a wide crown. The optimum width between the sheared plants of medium height is equal to 40-60 cm, and for free-growing – 80-100 cm Distance between rows, respectively, should be 60-80 cm and 100-150 cm For low curbs and high walls of living indices, respectively, decrease or increase twice.
After planting the soil need to be watered, compacted mulch with peat or shredded bark. Proper care of a live fence, you will get not only functional, but also aesthetic decoration to your gardening area. The beauty of the hedges you can estimate by looking at the video: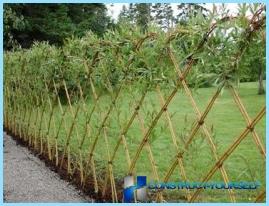 From willow twigs gives a very graceful and beautiful fence, you'll have to put a lot of effort and time in order to get it.
Plant young willow trees cross and twist them together. A year will repeat their actions again twist. Repeat these steps until, until willow fence will not become the desired height. When you are satisfied with the achieved height, cut off the tops.
Water the plants need only in the case that the trees and shrubs didn't feel thirsty, especially in summer;
after planting, not worth much to prune the plants, otherwise weakened in the period of transplanting, the root system will not be able to nourish the whole tree or the whole Bush;
along with watering make fertilizer, you can buy in the store;

under conifers sod choose light and moist soil, sprinkle it on top of dry pine needles and moss;
conifer hedges regularly spray and orosite antifungal agents;
when planting deciduous trees for hedges fill the hole with humus, you can also use ukrainetel;
prune the branches are best in early spring, before the beginning of the vegetative period.
Content related