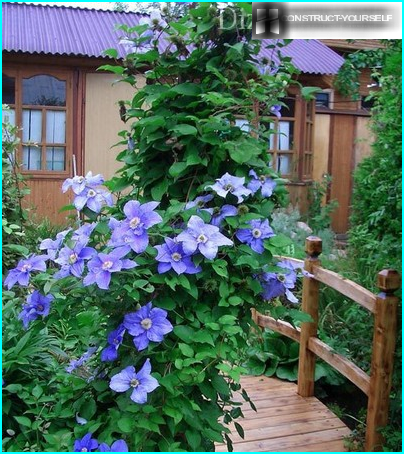 Many gardeners today refused chemical fertilizers to own vegetables and fruit was as secure as possible. But then what to feed the garden? Junk on private property! Of course, it still need to shred and put in compost pile. But it will be the most environmental and high-quality fertilizer, and the waste you will be able to find a use for. Branches, dried flowers, pruning grape vines, rotten apples… All of it is perfect raw material for the future of humus, and that you expect him to chop and put in one place to putrescence. To help vacationers even invented special equipment – shredders, which facilitate the process of crushing the branches. Consider how to choose a garden shredder for your own garden.
The contents
This device in principle is so simple that I wonder why for so long he was not invented. Something it is like for a grinder, which grinds all that is put into it. However, instead of bones and meat in the chopper hits the bark, branches, buds, the tops of root crops, etc., and comes out the crushed material. The level of fragmentation varies from small pieces to sawdust. Caught in the hopper the waste is ground powerful knives, which are triggered by electric or petrol engine.
To make the right selection of garden shredder, you should familiarize yourself with the system of knives, which will grind the country waste. They are of two types: disc and milling.
This device is a disc with several blades of steel. The rotation speed of the drive shaft sets. How quickly will you be crushed waste, depends on their composition, but it is best disk system grinds «soft garbage»: leaves, grass, thin branches, green stems, etc. If the chopper throw dry or thick woody branches, the knives will quickly become blunted.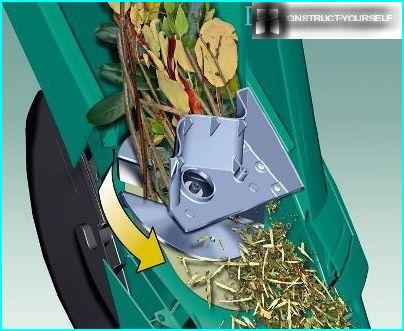 Circular blades designed for «soft garbage» grass, leaves and thin branches
The milling system is more powerful. It represents-molded gear, in which the branches are tightened automatically. Only need to put wood waste in the funnel, and from there they will gradually tighten the grinding mechanism. Moreover, there is no need to control the process and can perform other work. Milling knives can grind branches with a thickness up to 4.5 cm In many models of these grinders provides a reverse and different levels of crushing. But think about whether you need such a powerful system that basically will shred soft waste. Grass and leaves better melitsa disc blades, and milling systems often get stuck.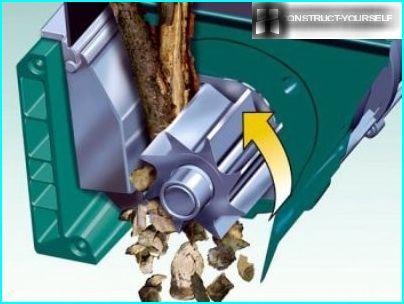 Mill perfectly grinds dry and thick branches, but the grass it can get stuck
Like most garden equipment, shredders represented electric and petrol models. Both options have a number of advantages. Consider them in detail, that you clearly understand what a garden shredder is right for you.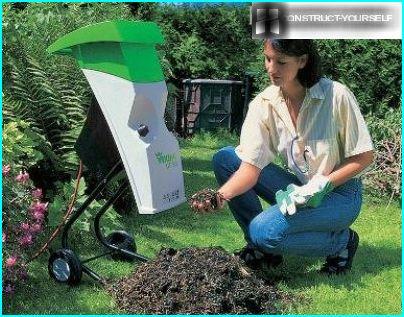 Electric shredders are easy to maintain, so they are perfect for gardeners with little experience of using garden machinery
The advantages of the electric motor:
Electric shredders are easy enough, therefore, to carry dacha they can even women.
When working produce little noise.
Easy to maintain.
Not throw out in air of harmful products of combustion.
Cons:
Tied to an electrical outlet, so to move around the area require heavy extension cord.
Less powerful than petrol models. Most designed for thick branches up to 4 cm.
When power outages they will not be available.
When the voltage drops to failure.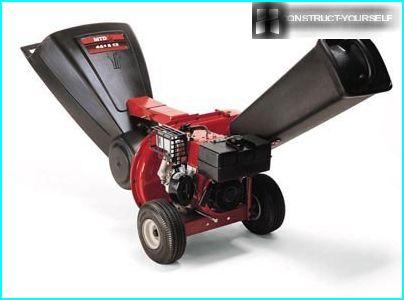 Petrol shredders are valued for their versatility because of their power grabs and grass and thick branches
The advantages of gasoline engine:
The power of the engine is much more powerful. He copes with branches up to 7 cm thick.
You do not have wires so can be placed anywhere suburban area.
Cons:
If you are working make a lot of noise, so that may cause complaints from neighbors.
Have more weight than the electrical system, so they move hard enough.
The complexity of maintenance.
When working form harmful products of combustion, thereby contaminating the air.
More expensive in cost and in the process of operation require ongoing costs of gasoline and machine oil.
Comparing models and analysing what garden shredder better pay attention to the capacity of the unit. All the shredders are divided into three power classes: the Amateur system, the middle class and the professional model.
This type includes a low-power units (up to 1.6 kW), running on electricity. Their knife system – disk. Before you decide to buy the product of the Amateur class, specify the material from which made knives. The best option is hardened steel. These units weigh up to 20 kg and is able to shred branches with a maximum thickness of 3 cm.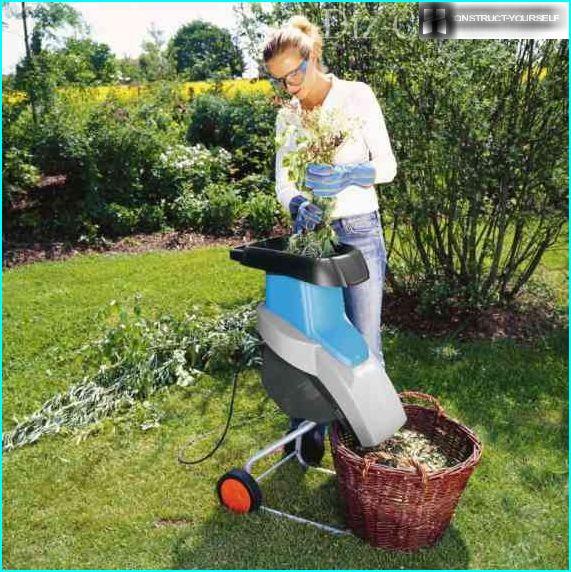 The Amateur system is recommended for young orchards or in areas where a large area is reserved for the garden. Fine grind the grass, weeds, leaves, thin branches
This intermediate options between Amateur and professional models. These shredders can run on both gasoline and electricity. Maximum power is 2.5 kW. Suitable for private houses and summer cottages where the garden is small, but no longer young. Units are equipped with milling blades, so easy to grind branches up to 3.5 cm.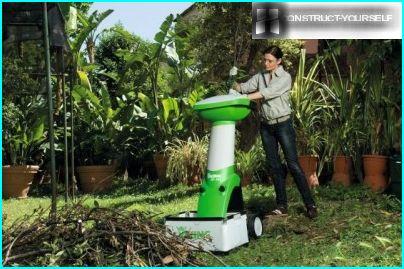 Of the benefits of the unit it is worth noting the system self-retracting waste funnel for mulch and have wheels that allow you to move the shredder on the site
This includes large, with considerable weight of the system, which are capable of developing power up to 4 kW. The engine may be both petrol and electric (three phase). Able to work long hours and grind branches up to 6-7 cm thick. Moreover, the crushed material is subjected to compression, which makes a great mulch. The units are fitted with large comfortable funnels, powerful cutting mechanism milling type and is able to draw waste without boost. Due to the high performance demanded in farms, gardens, large area, etc..
Below is our review of garden shredders was more full, let's discuss some of the nuances of the specific model.
Going for a chopper, you must be clear that you will «grinding» and how often.
Selecting a specific model, please note the device of the funnel. The easy-to-maintain – a funnel-like cone and inclined slightly.
In order to grind the waste into different fractions (large pieces, sawdust, etc.), the rotational speed of the blades in the system should be regulated.
More convenient to use the units, where there are several holes for different types of waste: in one you will insert branches in the other grass and leaves.
Pay attention to the noise level, which gives the selected unit. If it exceeds 84 dB – it will be very sensitive to your neighbor's ears.
The model, which provides for knives, pre-cutting, longer lasting and easier to cope with all kinds of rubbish.
A good addition will be the reverse. If the blades are clogged or not master very sturdy branch, then you can quickly stop them and forced to rotate in the opposite direction to the problematic debris pulled back.
Some electric models are provided for locking self-starting of the chipper. If you lost electricity, and then suddenly appear, then the unit will not turn on yourself. This will save you and especially your children from accidental injury.
Included with the chopper must be a follower because to advance the trash into the funnel by hand unsafe.
If your chosen model has most of the above features and add-ons, the manufacturer's name is not so important. Although the products of famous brands is still more reliable because tested time.
Content related