Hall is the person at home and you need to pay attention to her appearance. Nowadays in the market a countless variety of materials for finishing of rooms. Finishing materials everyone chooses to your taste and taking into account their financial capabilities.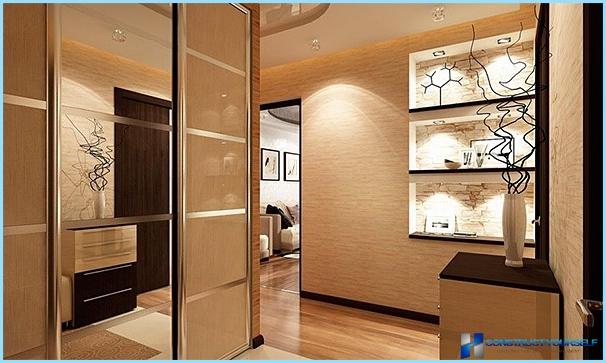 Many prefer Wallpaper, especially because their choice is very diverse. Not only that, their selection of qualitative features is great, their palette knows no boundaries. Wallpaper are with a pattern simulating other finishing materials such as brick, wood or plaster.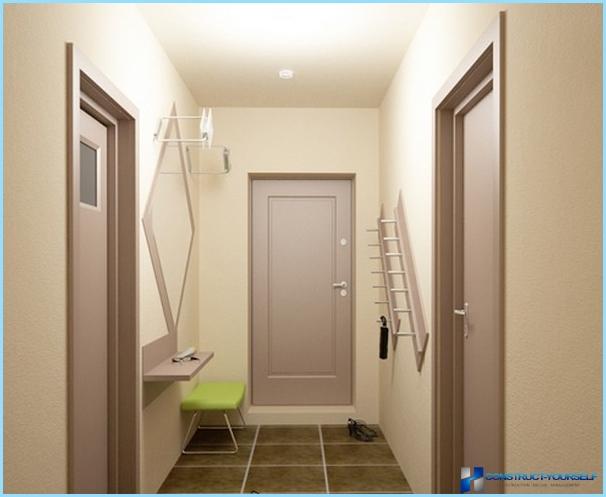 For small premises it is important to choose colors so they visually not reduce the space of the room. There are some basic rules for the choice of colors:
Wallpaper for a small hallway usually choose light pastel shades, it makes the room more, and brings her comfort.
In the presence of small children or animals, the lower part of the hall hang more wear-resistant materials.
Bright colors can conceal the volume of a small hallway, often glue in the form of separate inserts or layered with more subdued shades.
Good dark color that will hide dirt, but will make the already small hallway is much smaller than it is. The more often it has no Windows that will need a lot of extra lighting.
Dark color is good to use, combining with a cold light. This technique helps to hide wall irregularities.
Choosing a Wallpaper with a pattern, you need to know that the large patterns will visually reduce the hallway. Patterns, located, vertically lifts the ceiling, and horizontal drawings – extend wall.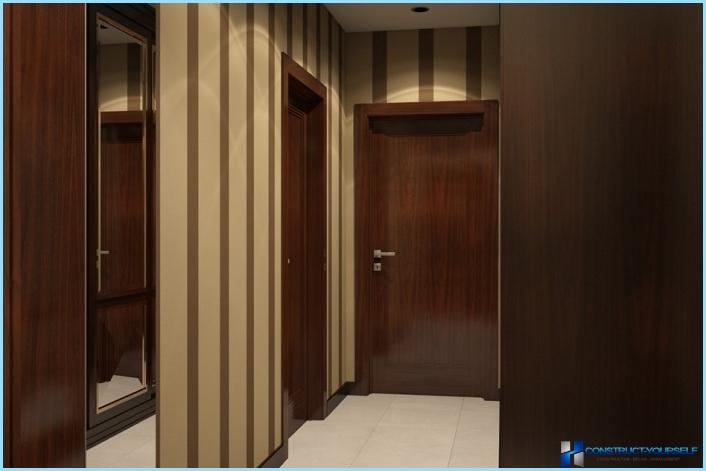 It is important
! When choosing Wallpaper, make sure they blend with the furniture in the hallway.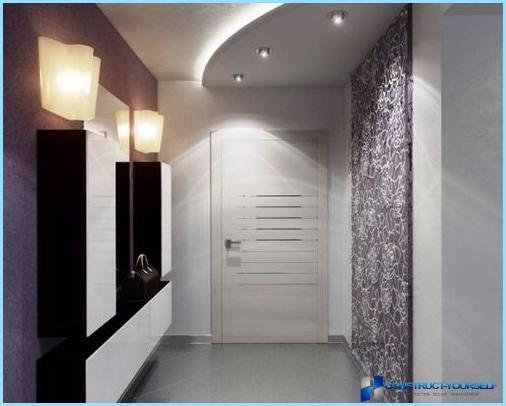 Variety of finishing materials for the walls of a great many, knowing their characteristics, you can pick up something different. Wallpapers quality most often:
Washable.
Natural.
For painting.
Often these qualities come together in one Wallpaper.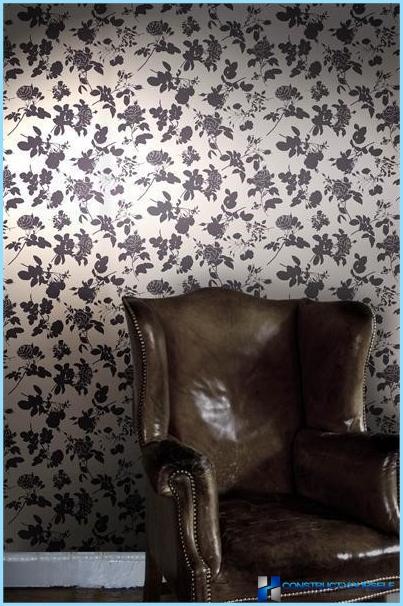 Paper Wallpaper – most popular and cheap. They are environmentally friendly, easy to use, great variety in color and texture, they can hide flaws of the walls. They are of two types:
Single layer – simplex.
Two-layer duplex.
The disadvantage of this coating is that it is not moisture proof and deteriorate the mechanical and chemical effects. With frequent friction of the surface will lose its original appearance. Quickly fade from natural light. If contaminated, they will not wipe with any damp cloth or brush. Hitting them with something sharp, will tear.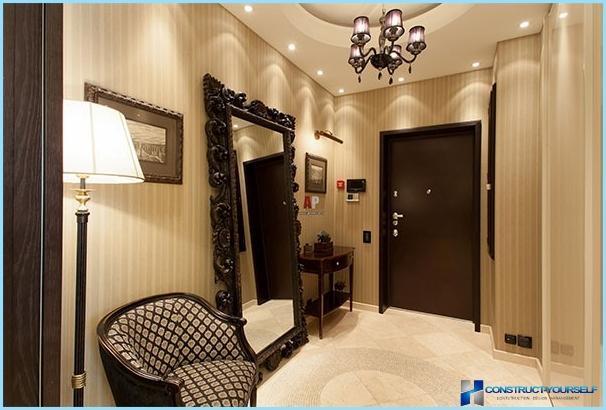 Because of its disadvantages such Wallpaper is not suitable for the hall, especially small sizes.
Cork Wallpaper – a good sound insulator. They are antistatic, why not attract dust. Environmentally friendly as made of pressed crumbs of cork. They are no allergic reactions.
The disadvantages is the high cost, good absorbency of moisture, a little color variety and complexity of gluing. For such a coating requires a special glue.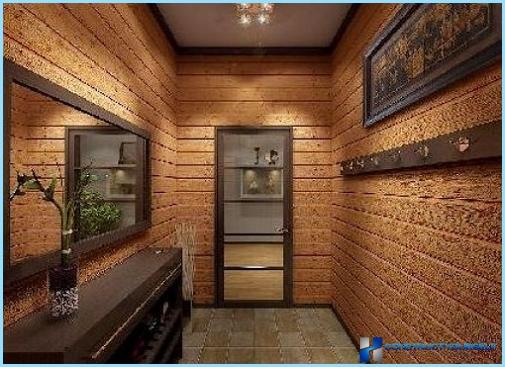 You can use them in a small hallway, further treating the surface with varnish or wax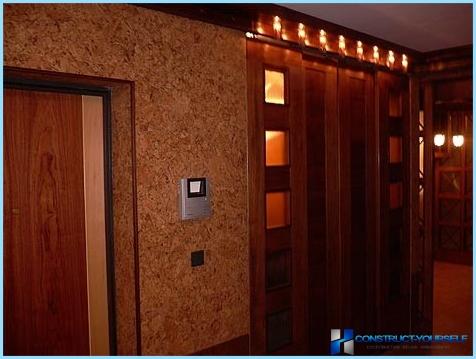 Bamboo Wallpaper – environmentally friendly, have good durability, UV resistant. They are easily applied on walls using liquid nails and wall there is no need to Prime or adjust.
Their downside may be the high cost, poor color scheme and feature appearance, and this will not suitable for every interior.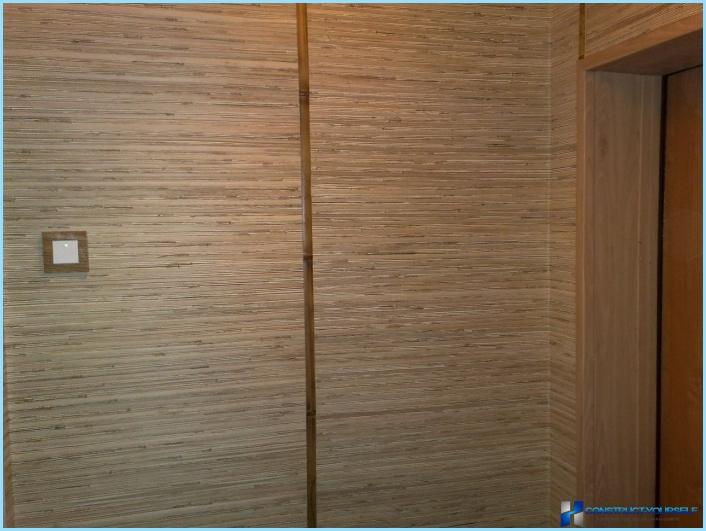 These Wallpapers are well suited to a small ante-chamber if its interior in tropical style.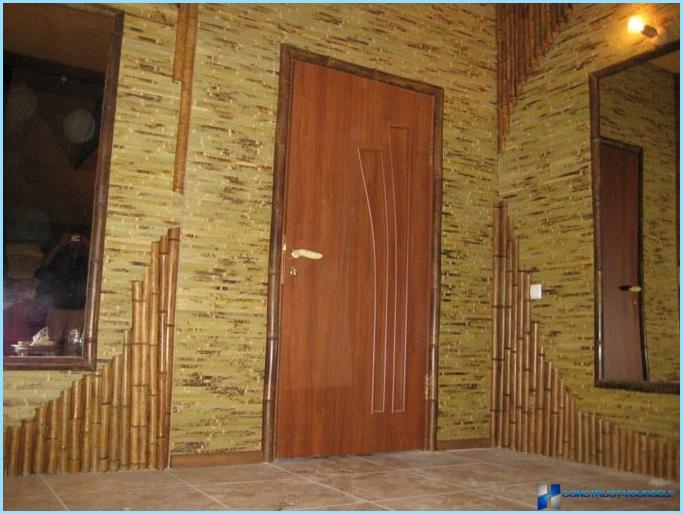 Non – woven Wallpaper is well pass the air, are inexpensive, not afraid of water and humidity, durable and eco-friendly. They will hide the cracks on the wall and can be painted, if you want changes in the interior. A variety of colors and textures will delight any host.
The disadvantages include their transparency, before mounting on the wall, it must be well prepared. It can turn into, plus, if the wall before pasting to paint the appropriate shade. Also, the downside can be quite a small selection of drawings.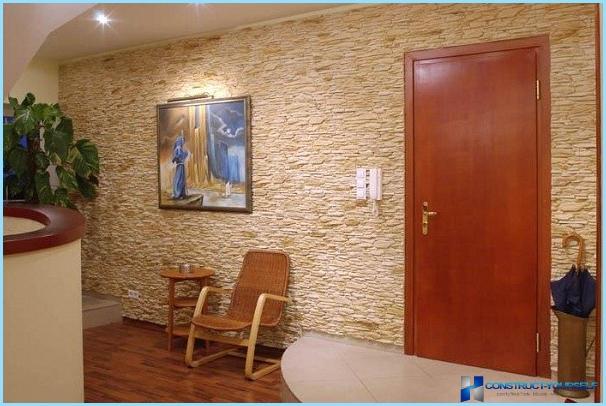 Choosing a material for the hall, consult with a specialist about their moisture resistance, there are several variations to these criteria.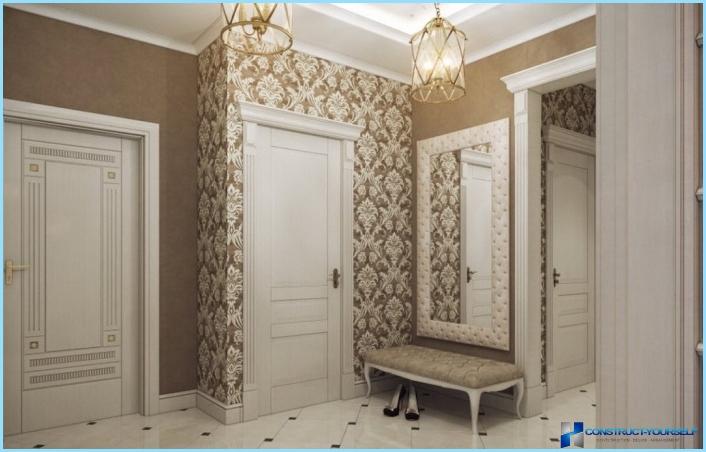 Vinyl Wallpaper are of great variety. They are in paper or non-woven, smooth and embossed or screen printing. A different technique in their manufacture:
Foamed vinyl has a dimensional texture, good for painting;
Flat vinyl – smooth, easy to clean;
Dense vinyl – the most expensive of this kind, very wear-resistant and moisture proof;
allows you to create the types of mimic wood, stone, plaster and more.
The disadvantage is their airtightness and when burning they emit toxic substances.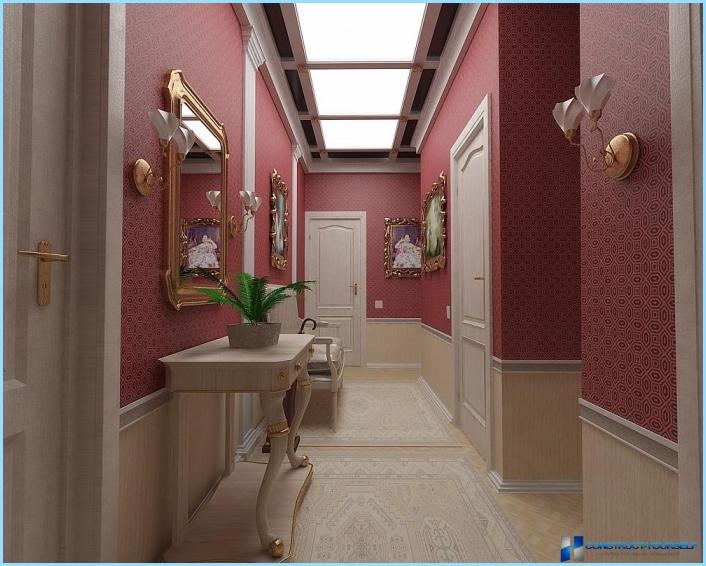 In the hallway use the same Wallpaper with high humidity.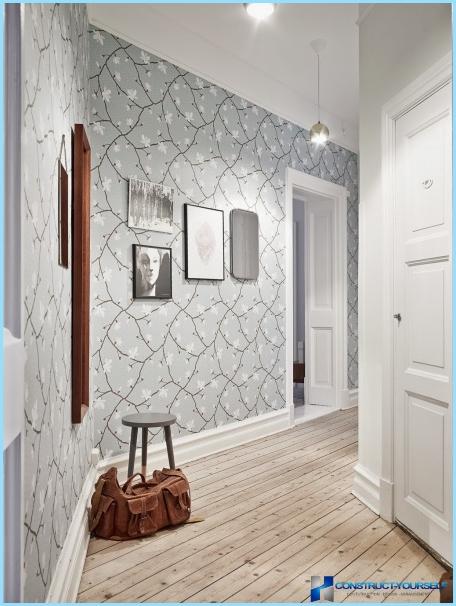 Acrylic Wallpaper is the good choice for families with small children or animals. They are a cross between non-woven and paper Wallpaper. They are easy to maintain, just wipe with a damp cloth, they are breathable and available for any budget.
The downside is that high humidity they will not take as heavy impact. And a selection of drawings and patterns smaller than the other types.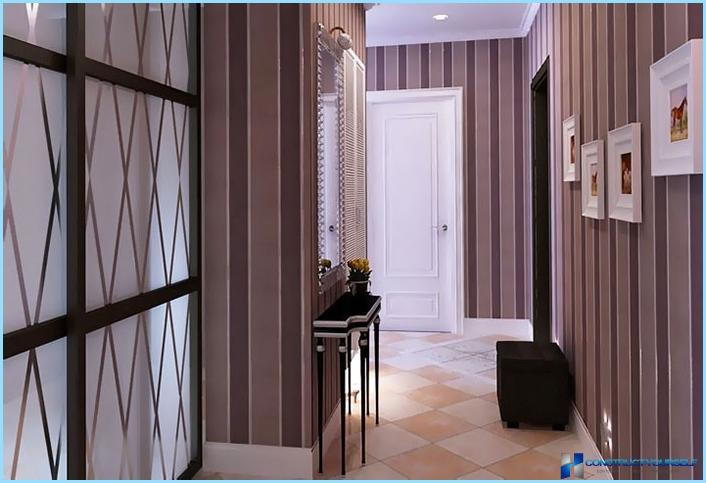 They are not advised to use in the hallway, if you have a big family.
Fiberglass Wallpaper is environmentally friendly as made from natural materials. Not afraid of water and fire, before gluing should not be further processed walls, these Wallpapers can easily hide all the irregularities. Well suited for re-painting.
The disadvantage is their low elasticity, such a material is applied to a special adhesive and difficult to remove. A very small selection of patterns.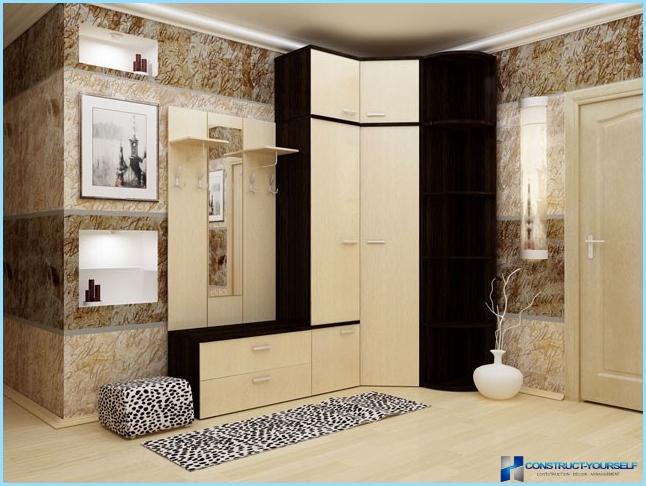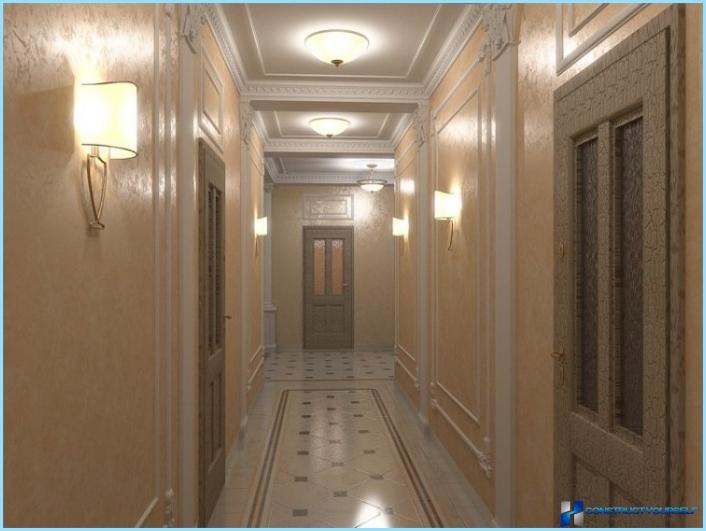 Metallic Wallpaper – made with foil, and thereby resemble metal. They are wear-resistant and tolerate humidity. Not lose their original appearance and look very impressive and expensive.
Minus their intelligence and variety, dark and cold colors and they don't leak air.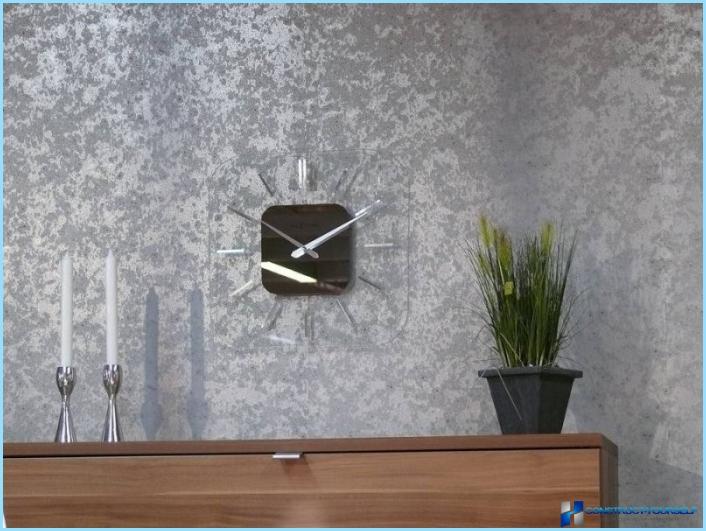 Use them in the small hallway, if only the style of interior room type of high-tech.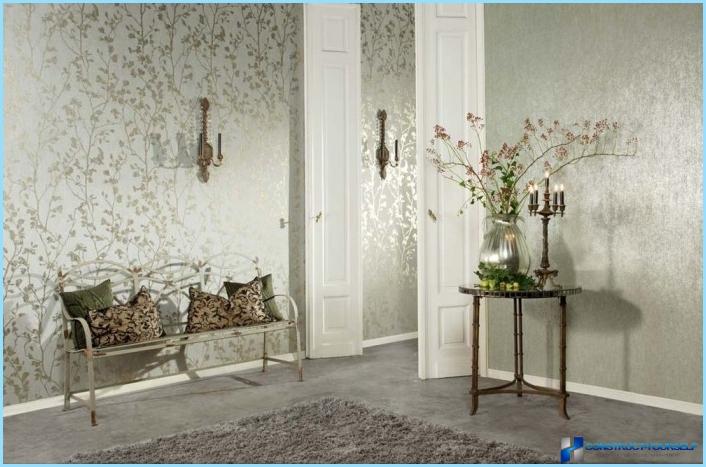 Textile Wallpaper, and emphasize sophistication of the interior. They are environmentally friendly, because of the intricacies, you can create a seamless wall. Have good insulation and soundproofing. Huge selection of colors and patterns.
Their high price and only dry care are a minus. They attract the odors and dust. Pasting of Wallpaper requires special skills and not everyone can stick on their own.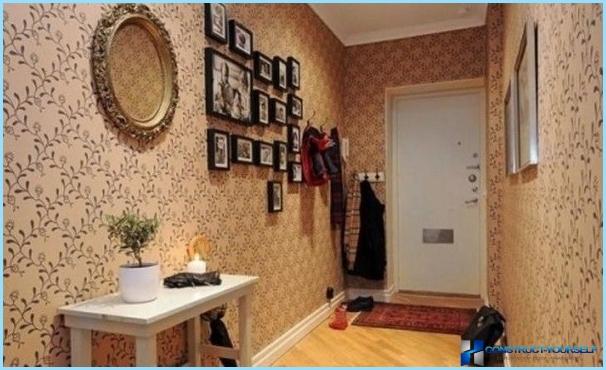 This wall covering does not fit all for the hall.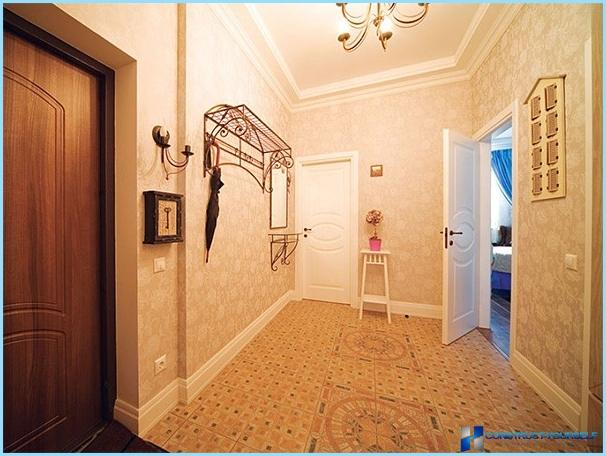 Liquid Wallpaper – are in essence a type of plaster. Sold in powder form and diluted with water. They are applied without any joints, environmentally friendly, easy to apply, does not fade and is soundproof. If the damage is small damage, easy to wash off the corrupted part and apply a new layer.
Easy washing is a major disadvantage of such material, since it is impossible to wet cleaning. But with additional surface treatment lacquer, this disadvantage can be removed. Little colour variation can also be attributed to the disadvantages, like high cost.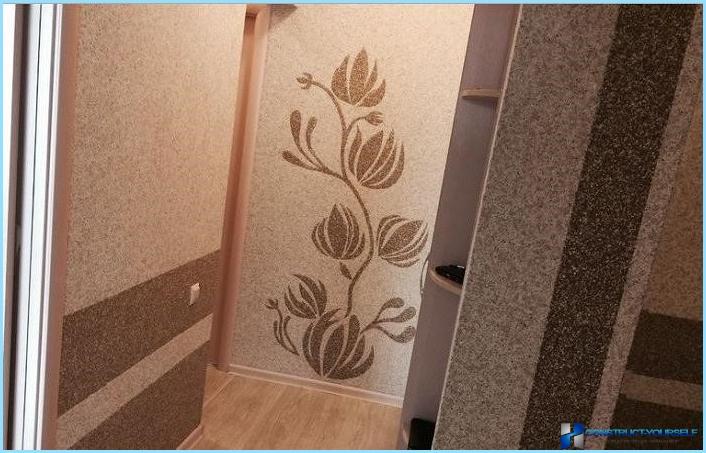 It is important
! The Wallpaper in the hallway is used only with an additional coating.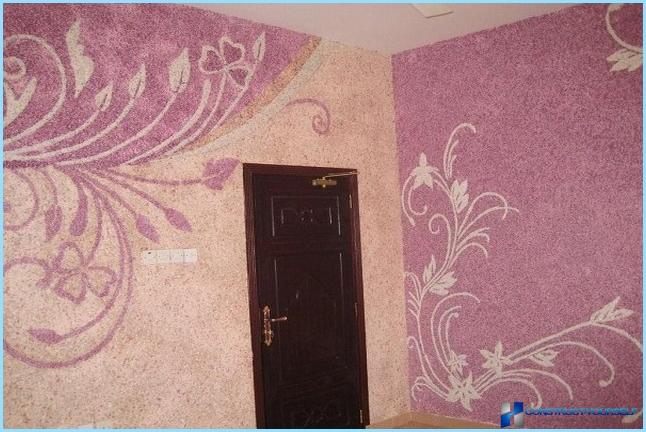 The mural is well suited to create an individual interior. A variety of patterns to satisfy even the most capricious customer. They are versatile, them quite simple to care for. Eco-friendly and easy to use.
The lack of additional training walls to the picture looked perfect and smooth. Also, over time the picture can get bored and have to redo everything.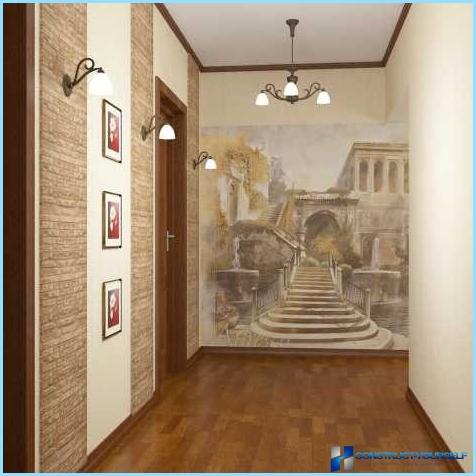 This material can be used in small prihozhy if the image does not conceal the space of the room.
How to paste Wallpaper you can see in the video:
Quartz Wallpaper – new material for buyers, have a grained surface. Eco-friendly, wear-resistant, good for painting, though their color range is diverse. Do not fade, Good camouflage irregularities of the walls and almost invisible joints.
They are quite expensive, I'm afraid of moisture, clean them with a vacuum cleaner. When gluing requires special glue, which is also expensive.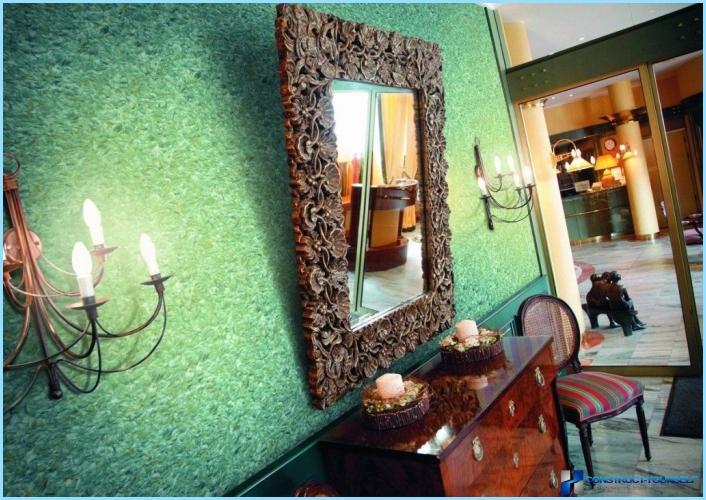 The Wallpaper does not fit all for the hall.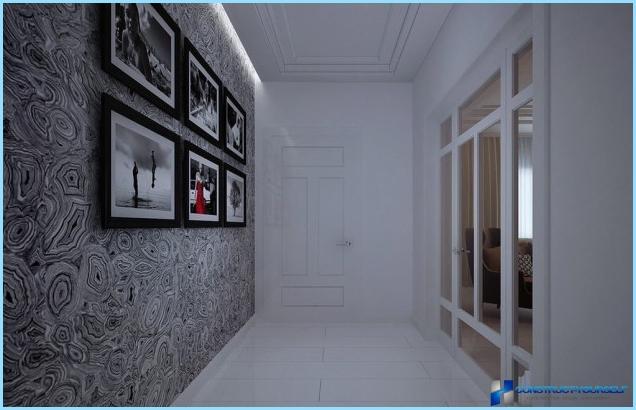 Stone Wallpaper – a nice replacement to natural stone, composed of plaster base. They are light, moisture proof, wear-resistant, with a variety of textures and colors. Combination with any other materials.
The drawback of such Wallpapers their high cost and complexity of installation. Their raised surface collects a lot of dust, which need frequent cleaning.
These Wallpapers will look good in the hallway, if they combine with a different Wallpaper.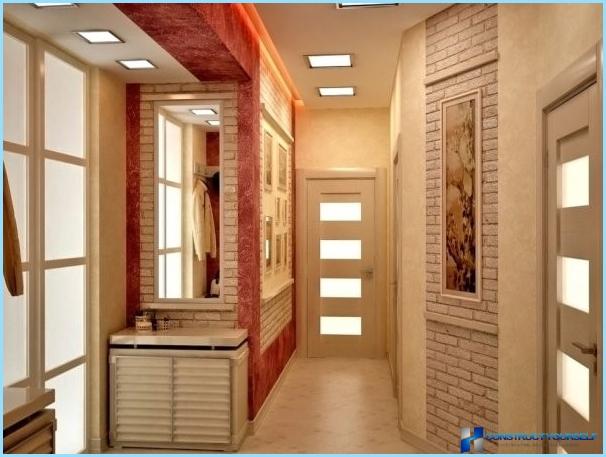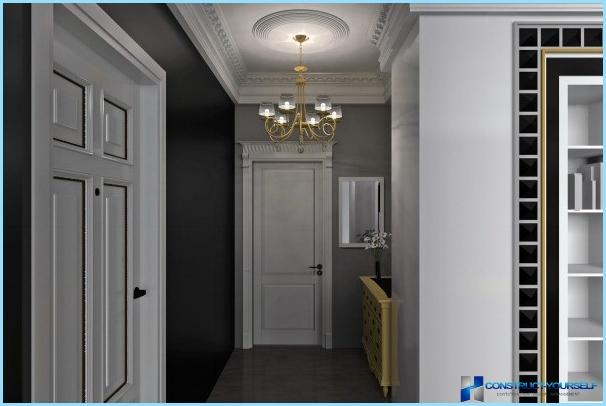 Knowing the types and characteristics of Wallpapers, have only to find the color scheme conceived by the interior style or invented in the interior, through the rules of usage of shades for a visual enlargement of a small hallway.
Content related