Feature the repair of the corridor and hallway is that in the case of works throughout the apartment by this stage he fails. Prior to the completion of repair work in other areas to engage in entrance hall and a corridor just does not make sense – after they take out their garbage and are logged building materials. Materials that will be used for decoration in hall and corridor, must not only have an attractive appearance and in color not discordant with the interior of the apartment. It is necessary that they were durable and practical for further use. This rule applies primarily to floor and walls, but also applies to the materials from which will be arranged in the ceiling.
Before the repair of the hallway should be good to consider all the details. Hallways and corridors in our houses in most cases, dimensions are not encouraging, and the error in the choice of finishes will visually make a narrow and long room even smaller.
Called the hall place, where «meet» the apartment and the street. And that hallway was just part of the apartment, with a cosy unit, it is necessary not only in a small area to place the storage space of shoes and clothing, but also provide optimal lighting the hall. Moreover, with a properly sized lighting try and visually expand its size.
On reinforced concrete roof built-in lights will not mount, this would require an overhead structure. And a few ceiling chandelier in a small hallway will look weird.
It is important!
«Flat» variants of the ceiling (painting, Wallpaper, tiles, decorative plaster) will reduce the ability to achieve optimal lighting in the hallway, and pendant designs – these opportunities will expand.
Painting. Find a quality and affordable paint you will have no problems, but before painting the surface should be leveled, plastered and progruntovali. On uneven ceiling paint «will stick out» all surface defects.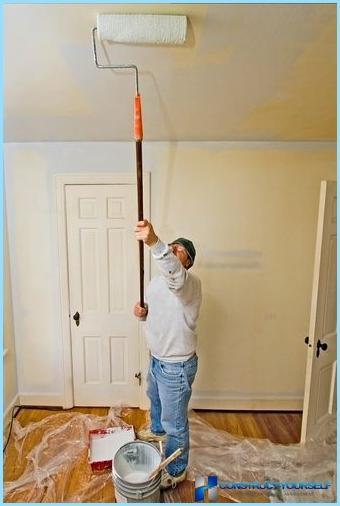 Slabs of PVC. Cheap, quick and proven way of finishing.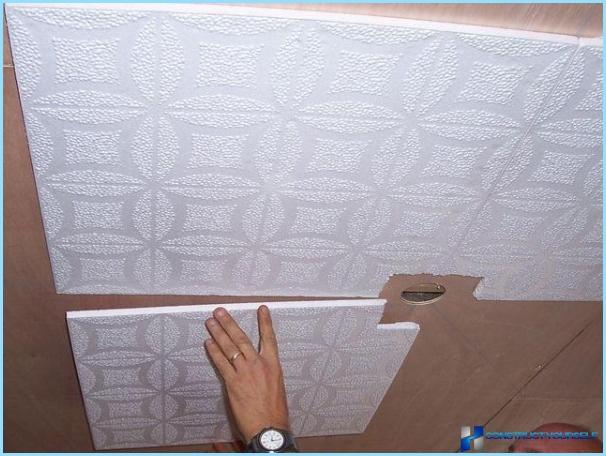 Device ceiling mirror tiles. It can be polystyrene tiles covered with a mirror film which gives a blurred image, or a traditional SLR. Attach them on a special adhesive or screws. It should be remembered that the mirrored ceiling is original and even extravagant finishes, and apply it carefully. Not to turn the hallways into a kind of «the room of laughter». This method of finishing is very well suited for small dark spaces where it is necessary to strengthen the light. Reflected in the mirror tiles, even the light from one lighting device will be to illuminate the hallway.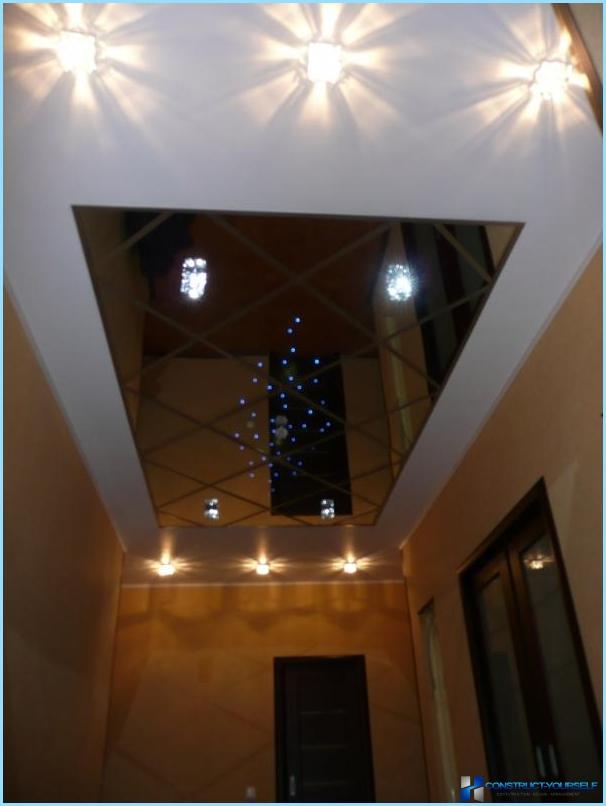 Wallpapering. For such repairs, perfect glass wall for painting, or dense Wallpapers (vinyl, non-woven). Someone can say that it is an outdated method of finishing the ceiling. But the fashion in clothes has a tendency to come back after 25-30 years, the same thing happens with your repairs. Because new is nothing like a well forgotten old. Finishing materials only become better.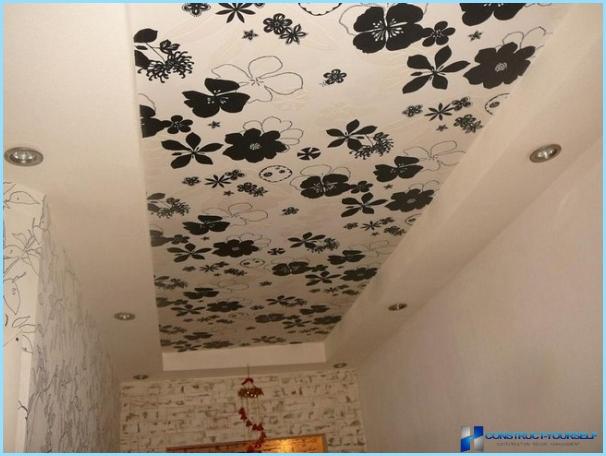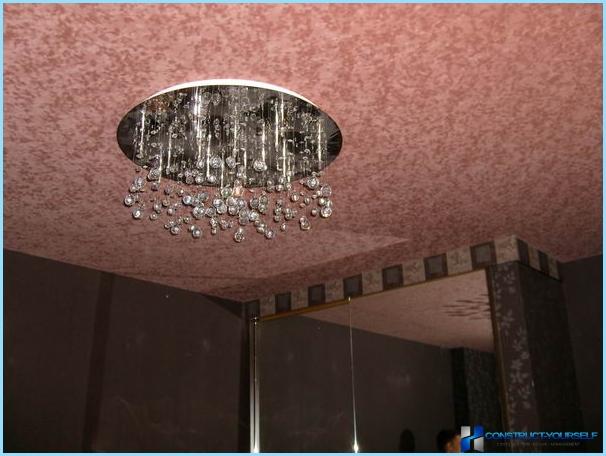 The decorative plaster. This technique will help to hide all defects of the surface, and do not require significant resources to achieve excellent results.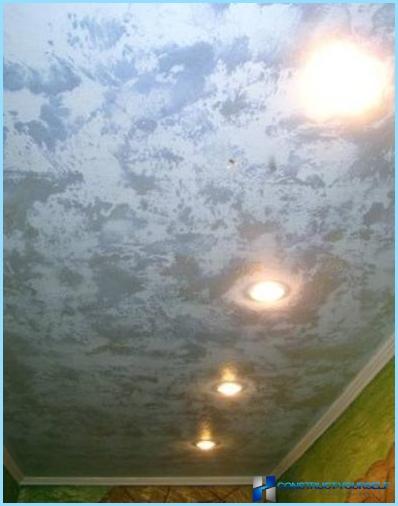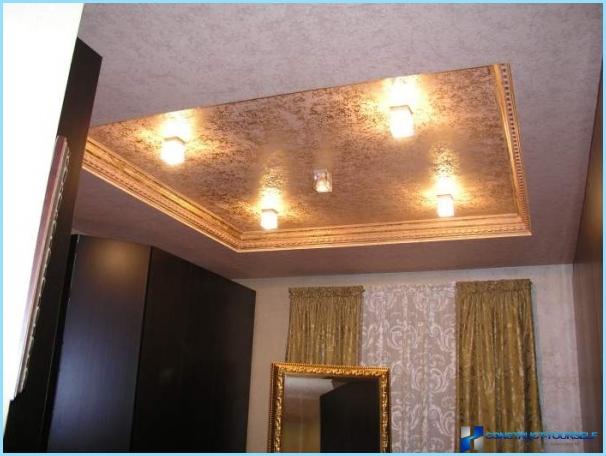 Suspended modular ceilings (cassette and rack). Have excellent performance, attractive appearance. The problem is that most people have such designs are associated with office or industrial premises, and suspended ceilings with a bathroom.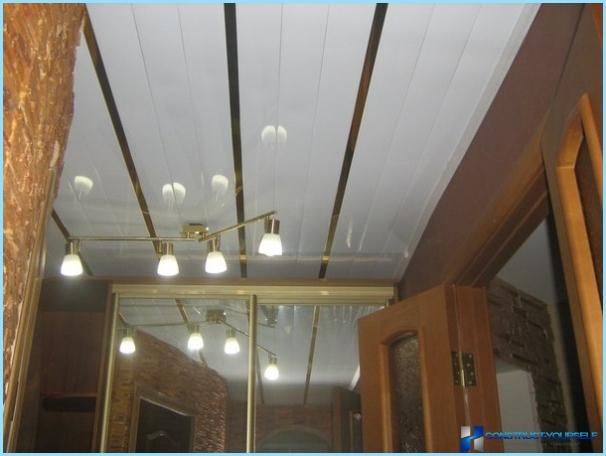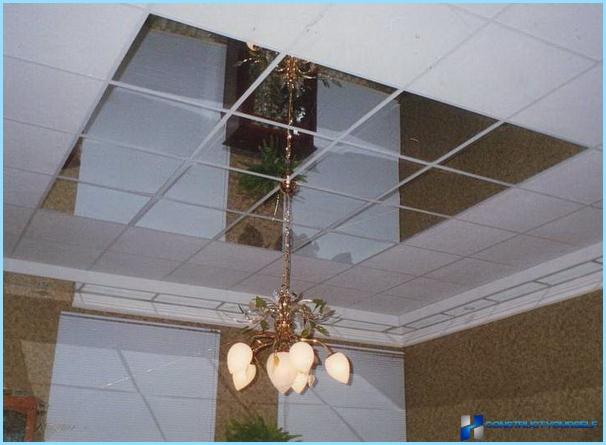 Suspended structures made of plasterboard. Universal method, which eliminates the need to pre-plaster surface of the ceiling. It is important to avoid leaks. «Limiter» will be meters in your apartment, because this suspended structure «eat» of the order of 100 mm. Agree, at a height of 2.20-2.30 m, this loss will be pretty noticeable.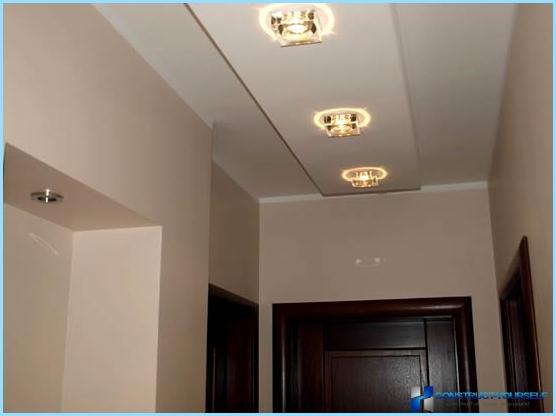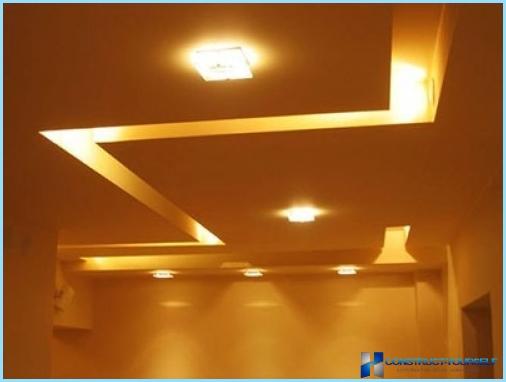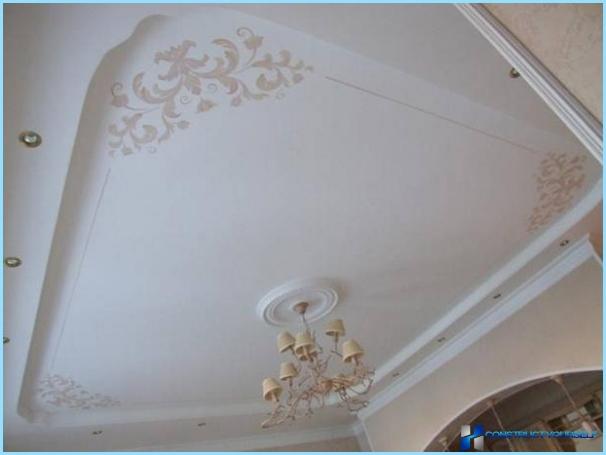 Ceilings. Very popular, although quite expensive, method. Beautiful appearance, reliability, practicality, durability – these are its positive aspects. Optimal for areas with lots of corners and irregularly shaped.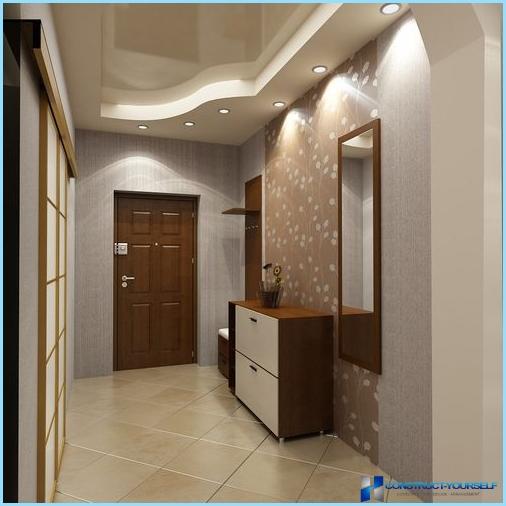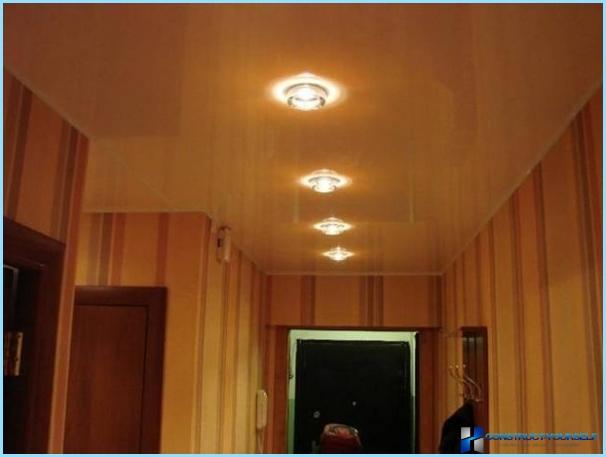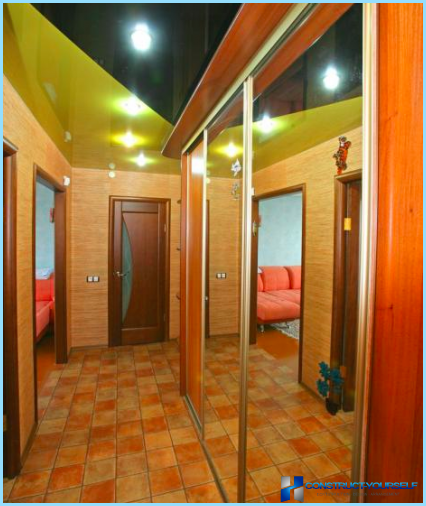 A very popular way to the ceiling. Combines beautiful appearance and practicality, allows you to hide the roughness of the surface of the concrete slab without the need to align and plastering, to hold any communication, and to organize multi-point lighting. In a very small hallways to organize multi-level plasterboard ceiling is hardly appropriate (can be limited to a simple one-level to the organization combined lighting), but for larger areas it will be the best solution.
It is important!
In small halls it is advisable to apply a two-level design with simple geometric shapes. This design will not seem pretentious, and will give the opportunity to make hidden lighting contour that visually «raise» the ceiling. Installation of rotating the built-in lamps will make the light focus on the right areas of a hallway or interior.
When choosing colors, you can get away from the traditional white and use other light colors. But do not get involved, do not paint the construction more than three colors. Glossy color will be «work» the increase in the volume of the room, and they should be used for painting the ceiling in the small hallways. Matt will create an atmosphere of comfort, so they are ideal for plasterboard structures in the large hallways. Perfectly has proved to be a combination of suspended plasterboard construction, painted Matt paint, with a glossy stretch ceiling.
Suspended ceiling of plasterboard will last a long service, it is easy to update painting. The materials of construction are environmentally friendly. Only now with the water plaster «not friendly» and the leak will not survive. Even moisture-resistant drywall from leaks will suffer.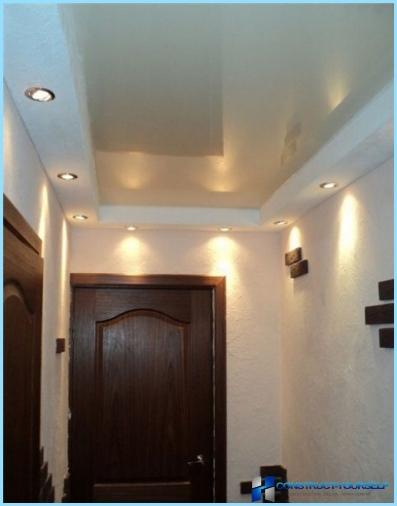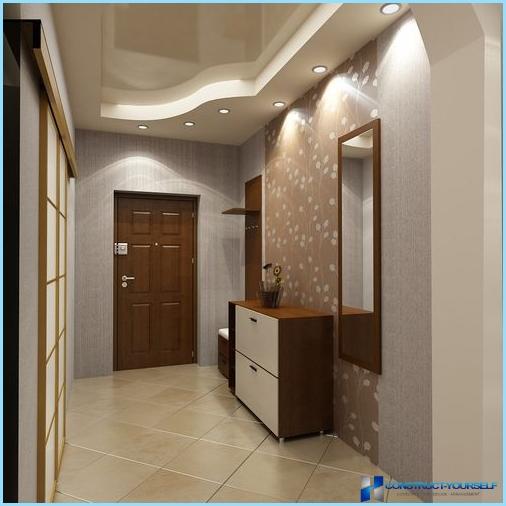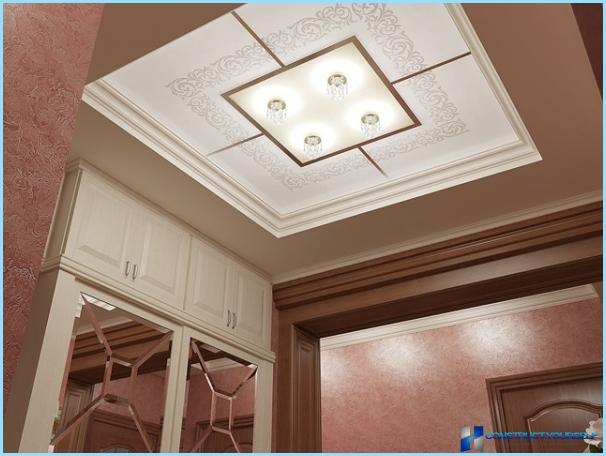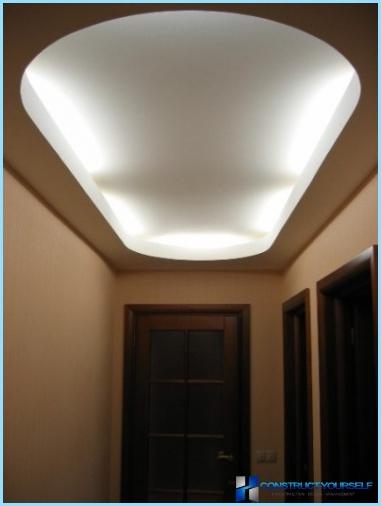 This method of finishing, in addition to decorating the surface of the ceiling, and solves a number of practical problems. Surface preparation is not required, it is important only that there were no significant leaks. And the existing defects and irregularities of the ceiling will be safely hidden. «From this picture a very big advantage – it is a hole in the wall-blocking». Better than said the boy's mother nicknamed «uncle Fedor», it is difficult to formulate.
Another problem which is successfully solved with the help of a stretch ceiling – the organization of optimum lighting in the hallway, a room without natural light and small space. Using lighting in the ceiling can provide a comfortable light, which will make the living room cozy. Adjustable brightness of lighting and accenting certain areas will make the interior design hallway original.
In rooms with irregular geometry, the use of suspended ceilings will help to make the visual perception of such a hallway is better, because people's attention will be drawn to an attractive ceiling, and not to the angularity of the room.
It is important!
Moisture resistance and abrasion resistance of stretch ceilings will deliver you from problems with proteome neighbors, protect furniture made in the hallway repair.
The ceilings vary according to the type of surface (matte, satin, glossy), color (monochrome print) and material from which they are made.
The most popular stretch ceilings from PVC because of its versatility and affordability. The welds that make such constructions (width of the fabric is usually of 1.3-2.0 meters), almost invisible. Different shades of fabric manufacturers produced many, so find the right for you problems will not be. Another important advantage of such structures made of PVC film – even a large leak will not bring her harm. Film under the weight of the water sags, and after graduation through a special valve recovers its shape without affecting its appearance. Such ceilings are mounted with heat guns.
For the installation of fabric stretched ceilings does not require heat gun. They are usually mounted without a seam – the fabric width can reach 5 meters. Material is a polyester canvas that is impregnated with polyurethane. This is done to protect the structure from moisture and fire. However, the elasticity of the fabric stretched ceiling is less than the design of PVC film. And installation will require special skills and experience.
A small hallway glossy stretch ceiling will make is lighter and visually more matte and give comfort to a room with a high ceiling and large area. Cloth with applied digitally printed patterns allow you to realize amazing design solutions.
Multipoint lighting design will allow to visually increase the height of the room, filling it with light. And «Cinderella» dark hall will turn into a beautiful Princess. Rather, in the bright, cozy and comfortable part of the apartment.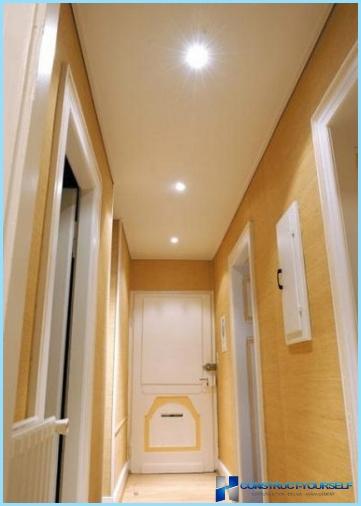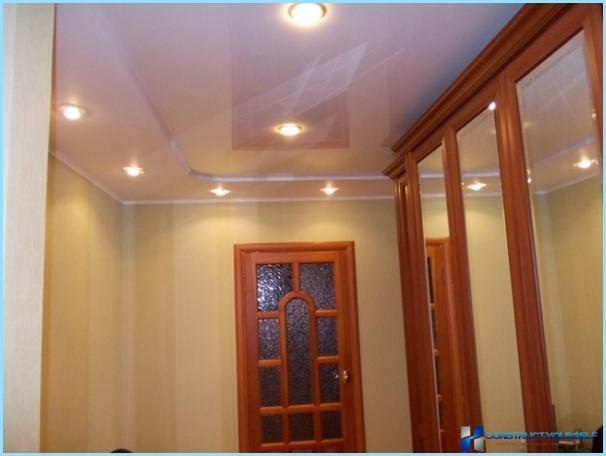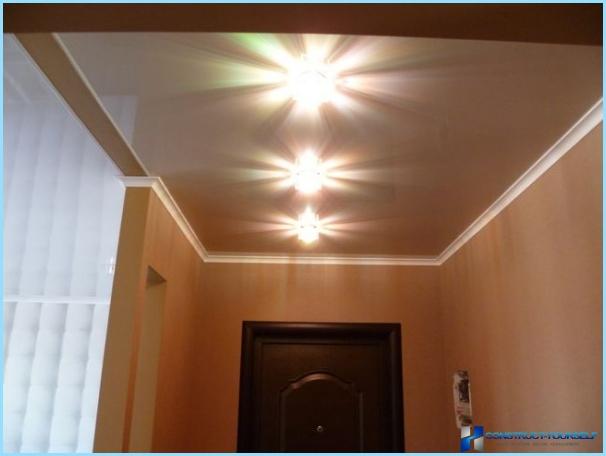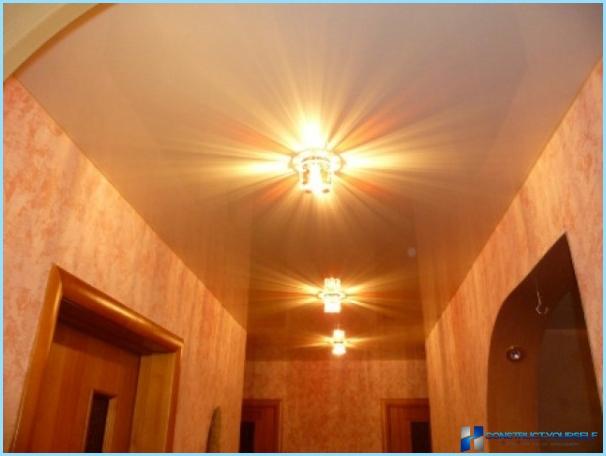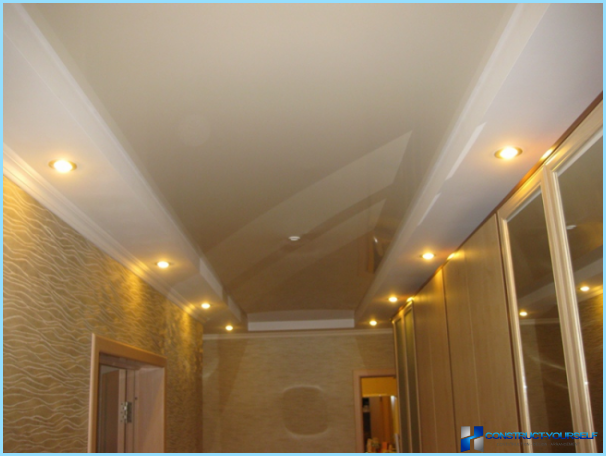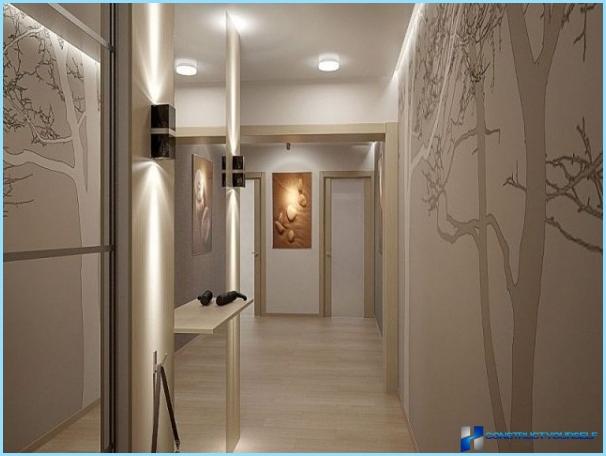 Content related