Entering the house, guests start their tour of the apartment, its design and interior, making the first impression of the owner. And the face of the house is the entrance hall. Often the owners make a big mistake by devoting little time and energy to the finish of the hallway.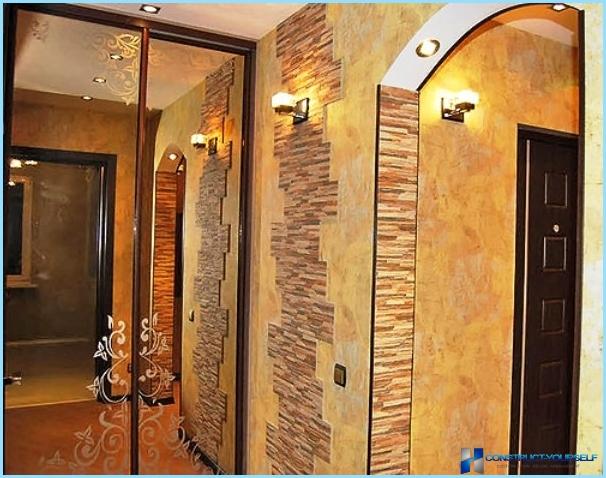 But a careful and responsible owner, try to think over all the details. Creating the hallway, everyone wants to it was one of a kind, exclusive and unusual. This can help as a room decoration and the furniture in it.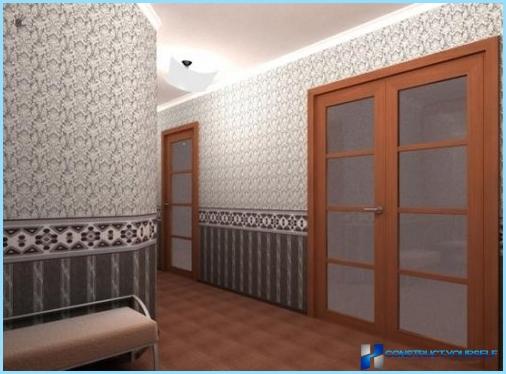 Hall quickly contaminate the room and the choice of Wallpaper should be approached very carefully. Of course, the Wallpaper for the hallway needs to be moisture resistant and easy to wash. When combined, optional glue washable wall covering throughout the room, most importantly, to pay attention quickly contaminate places.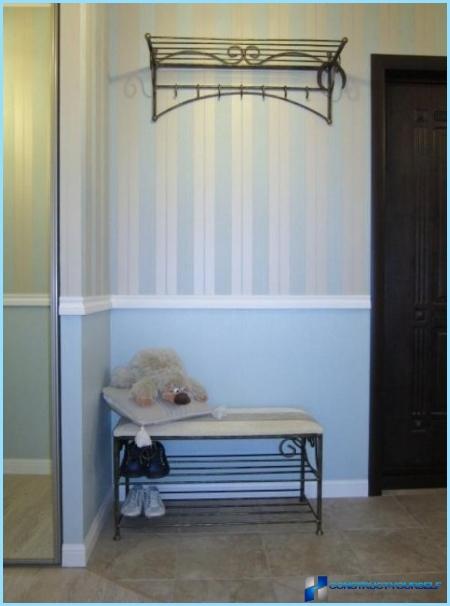 Vinyl based they are the most convenient to use. Such material is moisture resistant, will not fade in sunlight withstands frequent friction and not lose its original appearance. Due to its embossed texture, hide wall irregularities, if any. They are divided into several types, depending on the way they were created.
Dense vinyl the thickest type of vinyl Wallpaper. It is done using hot stamping. They are not afraid of moisture and water, are considered the most durable and serve as extra soundproofing and insulation.
Foamed vinyl Wallpaper create with the help of heat treatment. They have a body texture and can seem from the outside that they are heavy, but it's not. They are also well suited for painting, if you suddenly want new colors.
Flat vinyl Wallpaper makes a hot smoothing foam material. They are easy to clean using the soft brush. A kind of flat vinyl Wallpaper in the texture. Do the imitating stone, plaster and even fabric.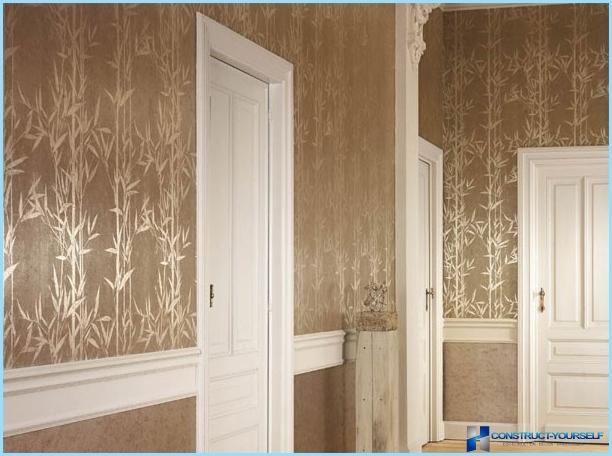 On acrylic base – they are less water-resistant and have a smaller term durability. The advantages of this material not only in the variety and softness (the Wallpaper is velvety to the touch), but also that he is well-breathable – «breathing». In caring for them should not get involved with detergents and rough brushes.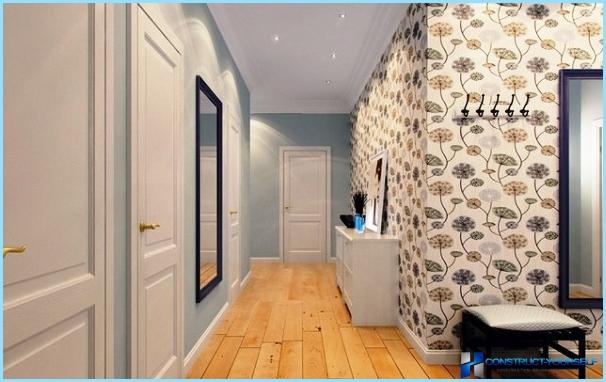 On non-woven – they consist of callose and very resistant to mechanical damage and abrasion. These Wallpapers are not considered environmentally friendly. They are more expensive and can be repainted several times, they are not afraid of wet cleaning with detergent.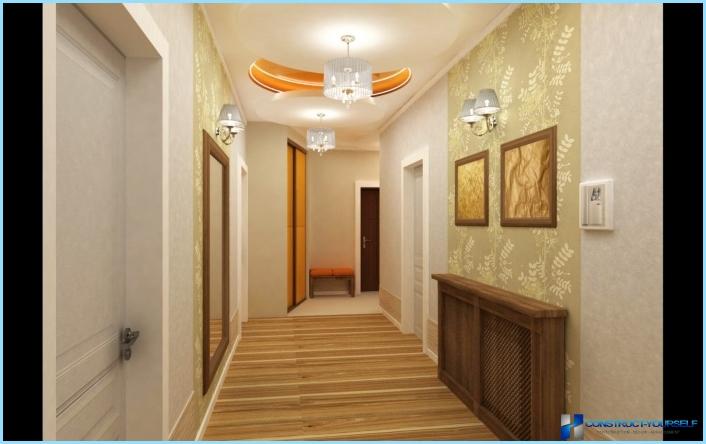 Fiberglass – the most popular type of washable materials. They are absolutely not afraid of moisture and the use of detergents. They are environmentally friendly as made from natural materials such as sand, soda, lime and others. Resistant to scratch and friction, and contamination by microorganisms. This coating can be painted multiple times, not afraid to spoil the picture.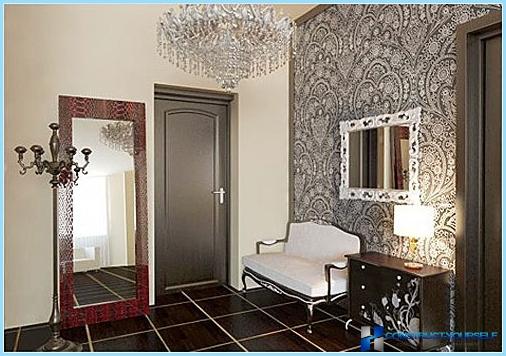 Liquid Wallpaper – sold in powder, which is diluted with water before application to the wall. They are simple to use, just washed as applied. Using this wall covering, it should further be covered with acrylic lacquer so that it doesn't wash off when cleaning. Again, if it is damaged or heavily soiled, it is convenient to wash away the damaged area and apply a new layer. They consist of various natural fibers and considered environmentally friendly, easy to install and they are easy to create a smooth transition of colors and patterns in the decor.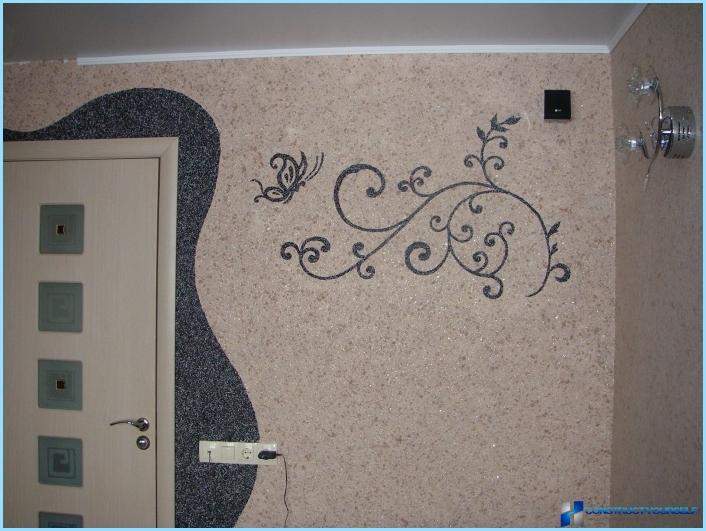 Metallic Wallpaper – an entirely new kind of wall coverings, they consist of porous paper, covered with foil, paint and drawing. Often they are coated with gold or silver-plated and painted by hand. This is an expensive type of Wallpaper and requires an individual for them to glue and perfectly smooth walls. They are not afraid of moisture, but do not leak air and often, dark colors.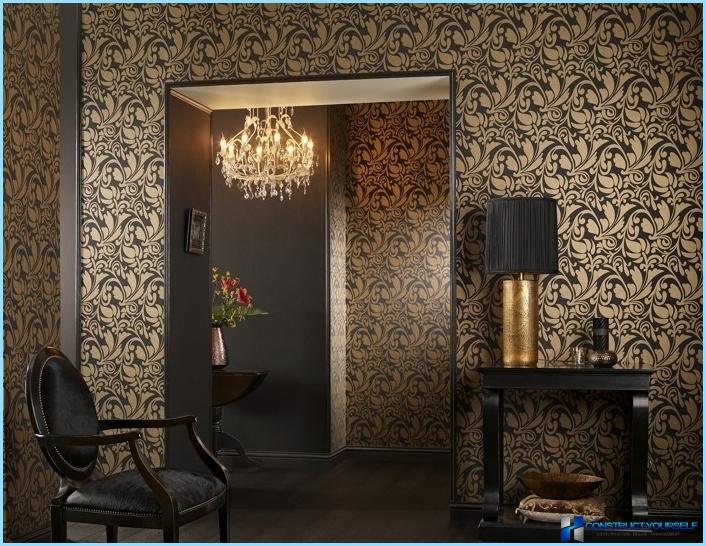 Cork Wallpaper with a wax coating – environmentally friendly, made of natural materials. They do not cause allergic reactions, well-tolerated humidity are good soundproof and heat-insulating material. The disadvantage can be considered a specific color palette is okhranye, green and brown shades, colors trees and plants.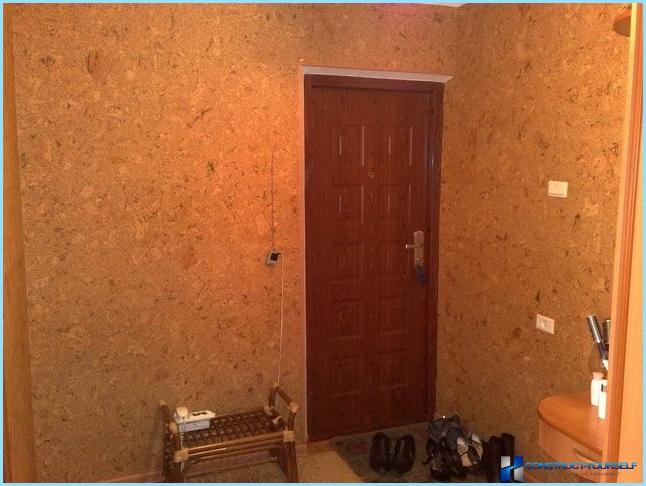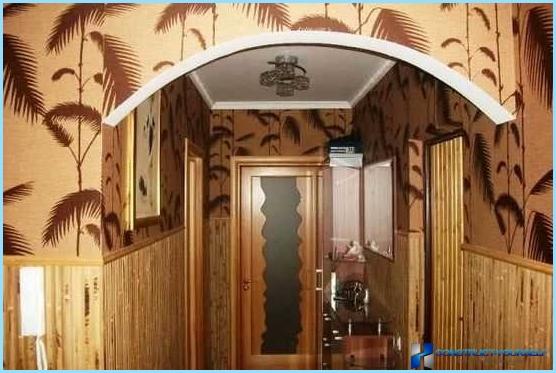 Combining wall coverings can not only make the room visually bigger, but visually change its shape. This technique will help to decorate the room, especially if there is no space for details.
It is important
! When combining Wallpaper you need to color match each other.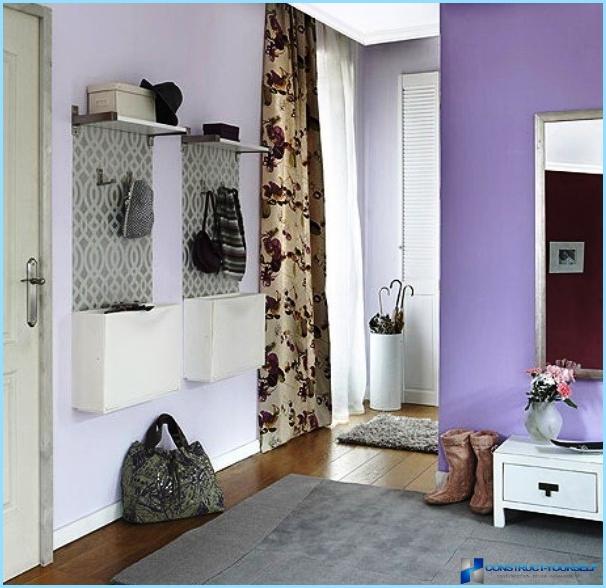 Choosing the color scheme for the hallway, you should follow some rules that will help visually expand the room and make it practical and functional:
The smaller the hallway, the lighter the paint should choose, but if you have small children or animals, it may be a problem. In this case, it is good to combine light colors on top and darker on the bottom.
Bright colors are considered impractical for the hall, because of the rapid pollution and visual pressure. This option is suitable individually and if the family is large, this choice may not like it much. A good solution would be to dilute the bright colors softer.

If the room allows good to choose warm shades, it will make the room more comfortable, but a little less. Bright accents in the form of colorful panels give the room personality.
If the room is quite small, it is better to choose cool pastel colors such as blue or gray. You can, of course, to use warm shades, and the room is visually expanded with light.
You need to remember that the use of black and purple colors will reduce the amount of space, they should be combined with bright and warm colors. Good use of dark colours in the lower half of the room.

To make the room brighter and more fun, will help bright accents, a combination of serene colors and inserts of bright colors.
You should know that vertical stripes or patterns make the room above, but smaller. The same horizontal pattern visually enhances the entrance hall, but the ceiling will seem lower.
Importantly, the Wallpaper in the hallway was combined with the furniture, otherwise it will look like an accidentally trapped in a room.

And of course, the interior of the hall should be in harmony with the finish of the adjoining premises that there was a sharp and unexpected transitions.
Should not be combined wall material from different price categories, as, over time, the difference in quality will be noticeable.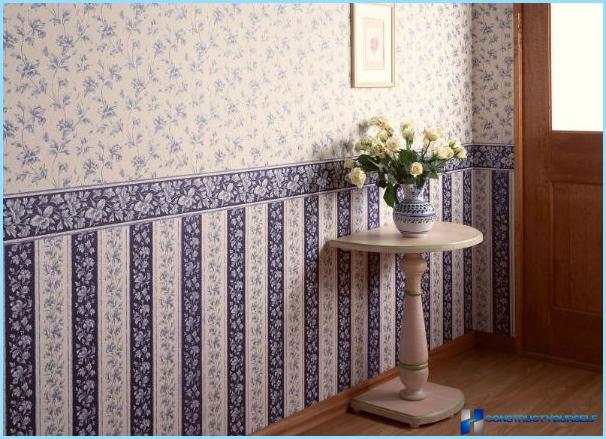 When combining several types of Wallpaper with a raised pattern, see that the patterns were one theme and in harmony with each other. You can combine options with convex texture and smooth with the same type of pattern or single colour are additionally adorned them with moldings or upholstery tape. Also take into account the thickness of different kinds of Wallpaper so that they are not very distinguished at the interface. Again, the junction between them can be decorated with molding or a narrow socket.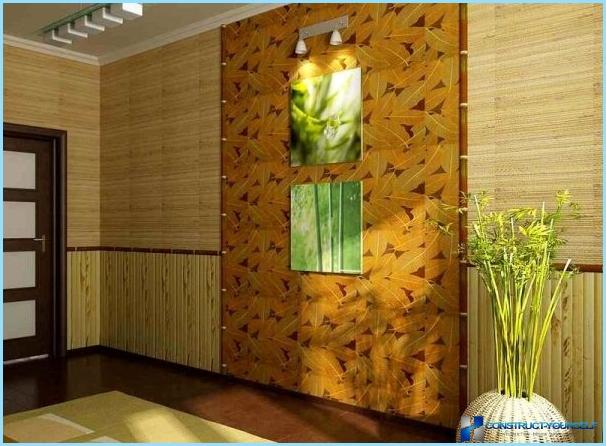 There are several options how to combine Wallpaper in the hallway. Most often it is:
Horizontal combination.
Vertical combination.
The combination in panels of flaps.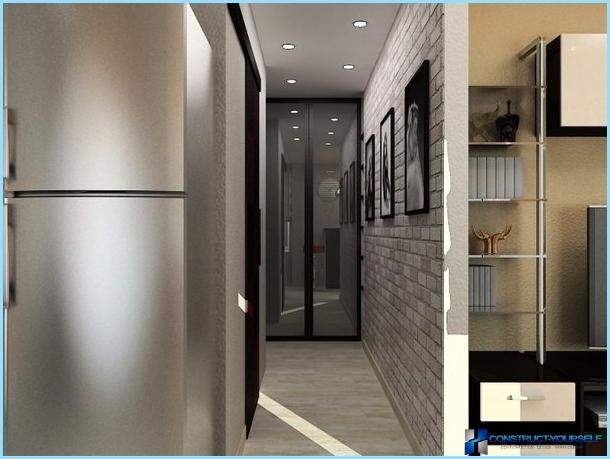 Horizontal combination is a good choice if the ceilings in the hallway high. The bottom is glued water-resistant and wear-resistant materials because of the constant zagryaznenii and friction, and on top of any other that fit the style of the interior hallway. For example, romance will give patterns and classical interior will fit in a bright streak. Will look good one color, but different shades.
The Council
! Combining the Wallpaper, you should not take more than three colors as it will be too gaudy and visually reduce the space.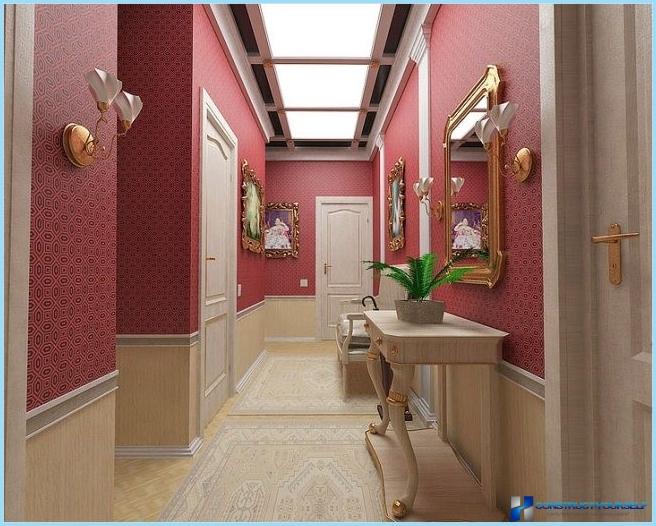 Vertical combination is well suited for small and narrow spaces. Same with vertical stripes of different colors on the narrow walls visually expand the room. Square hall will make bigger lining three walls of the bright Wallpaper, and one dark. If the hallway is in the form of a narrow corridor, this method of combining will help to divide it into zones that make it wider.
The Council
! Vertical combination well help if there are irregularities of the walls. Contrasting vertical stripes will distract from the imperfect walls.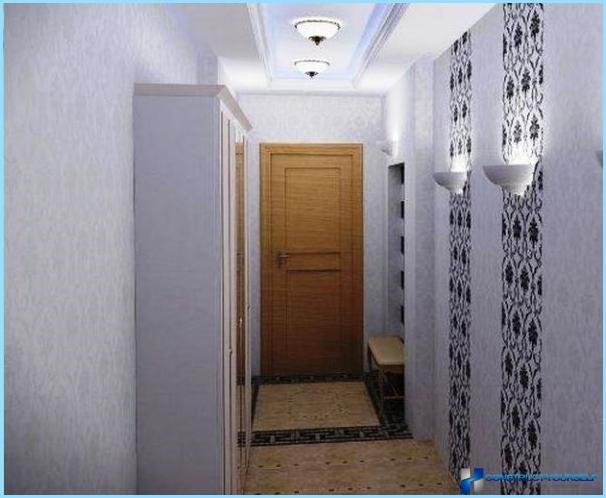 The combination in the form of a panel – it insert other Wallpapers in various sizes and colors. They can be made on the free wall in the form of paintings, Abramov frame will look good in the Wallpaper. Also, you can make a darker Wallpaper panel behind the hooks and hangers, highlighting the place for outerwear.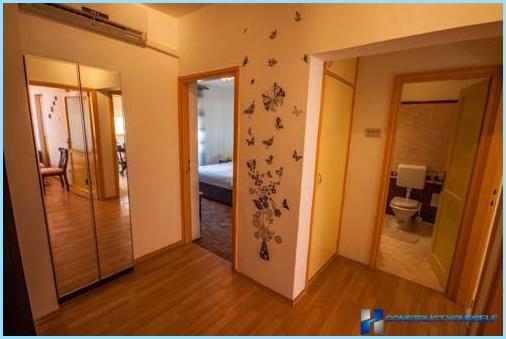 There are also other methods of combining, e.g., preparation of patterns and compositions of residues, small pieces of different Wallpapers.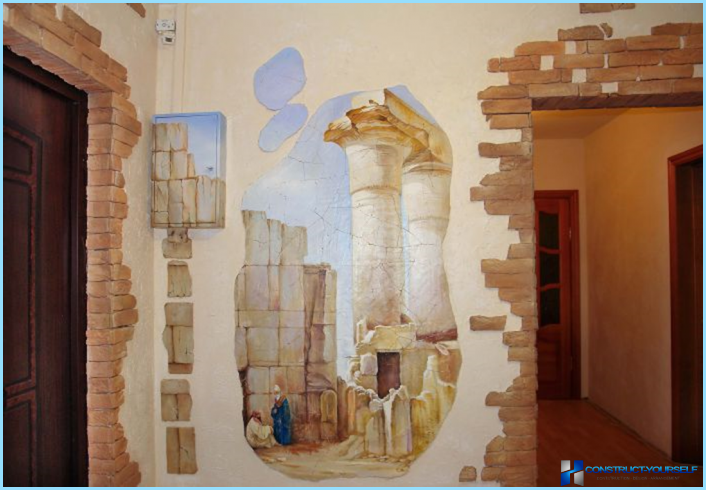 To see several methods of combining Wallpapers in videos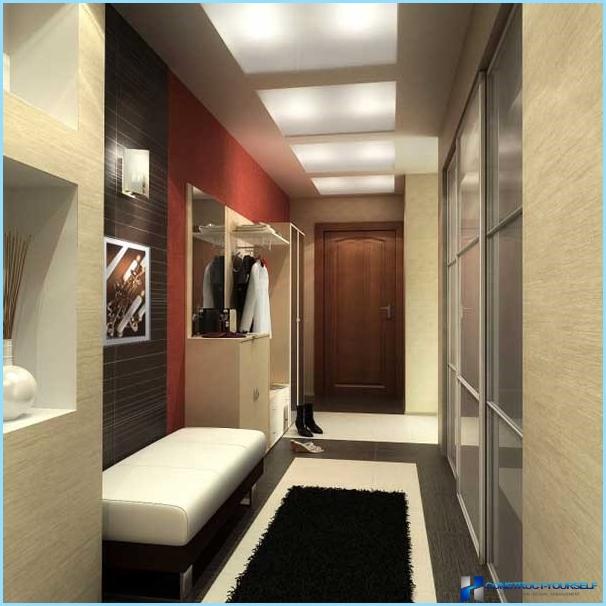 The combination of Wallpaper in the hallway will not only help to create your special interior room, but visually it will expand if it is small in size. Also, it helps to hide wall irregularities and other deficiencies. To combine the Wallpaper itself, it does not require special skills.
Content related