An indispensable item for the home has always been considered unremarkable item of home furniture – stool, of course, if you like to sit with comfort in the most unexpected places of the house or apartment. One could argue that the best kind of furniture for relaxing will be the chair, soft and comfortable. This is true, but the last to fully replace the small, lightweight and easy to use product can't, they have different «gauges» and objectives.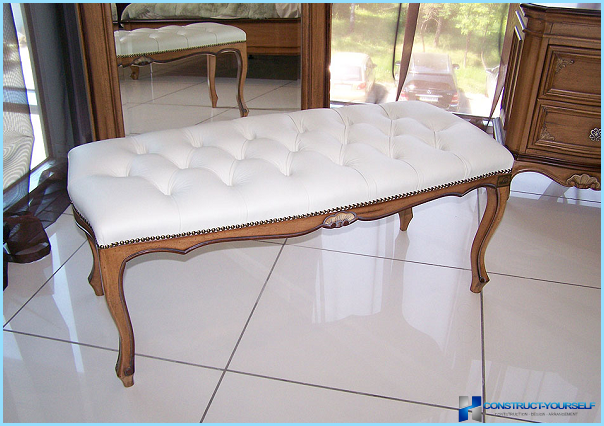 Stool, as a kind of modern furniture, supposedly evolved and found use in 16-17веках in France, the heyday of courtly luxury items and exquisite furniture. Presumably, Ottomans and stools were used temporarily to be able to sit down with a small comfort in the circle of guests or for formal occasions. The name of the furniture indicates its use in the Banquet entertainment.
Small size, soft base and easy to move stool actually found a use as a miniature couch or a soft chair. For example, a very popular was the form of banquettes – with the back, used for long ceremonies or performances of.
Then there was the bench of the piano, allowing the performer a long time to do with the instrument or act, without much load on the back. The game requires a certain kind of comfort while retaining a high rise with a straight back, so use a chair or a chair is almost impossible.
Maximum comfort is complemented by a whole bunch of useful features:
With pleasure I sit down in anticipation of the main events of the visit;
Doing own household chores, if the job involves regular sitting position with occasional lifting and moving around the house;
The use of medical beds in the doctor's office or outpatient hospital.
Note
! Design of any kind of the stools is much stronger and heavier than the chair, has a soft base that allows a long time to sit without apparent discomfort, while it can be easily removed or moved for any distance.
Since the purpose and use of the piece of furniture has not changed, rather, it has become more practical or utilitarian. There is a new form of drawers with drawer for storage of everyday items. This kind of furniture is now available in every home. Additionally you can have on hand the most necessary household items, from first aid kits to spare remote for the TV.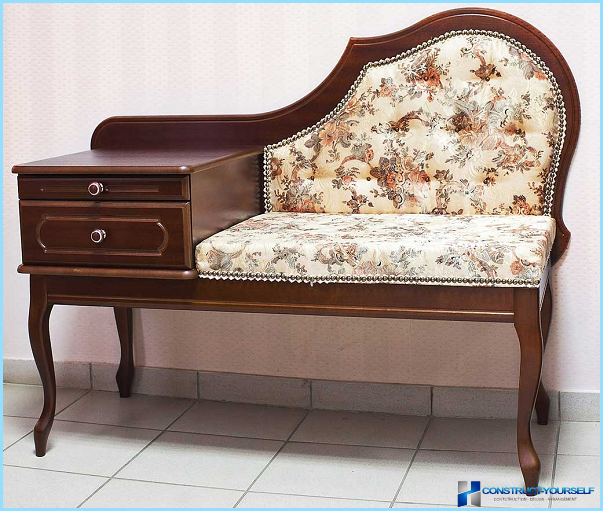 Psychologically it is more convenient to store and use items in one place. If you are constantly working at a small table with documents would be most suitable storage boxes drawers only, which suggests their use in a given situation.
Often the home environment involves the use of banquettes in the bedroom and hallway, in those places where the availability of chairs or stools quite uncomfortable. It is already well understood and the manufacturer of bedroom furniture and various furniture parts. For example, bedroom sets mandatory banquettes and Ottomans. Their use is quite convenient. In front of the mirror to remove or apply makeup. Or simply sit before bed on a stool and lift my tired legs on American way. If the need will disappear, they can always take to the gym.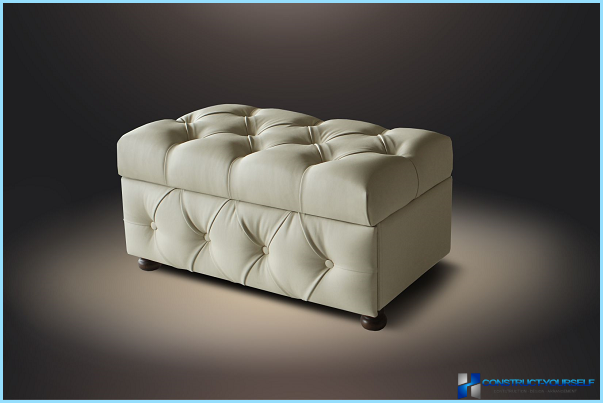 At the same time, always possible to use stools as additional seats in the crowded feast is much easier than borrow extra chairs from the neighbors. Sometimes this kind of furniture is done modular allowing disassembly of a single structure into separate individual objects.
Almost always bench is the desired object in the kitchen, their use allows to reduce the number of chairs, hide unnecessary items in the drawer and complement the interior of kitchen furniture. Type of cuisine is not worse, especially if little space, and you want to calculate the use of every inch.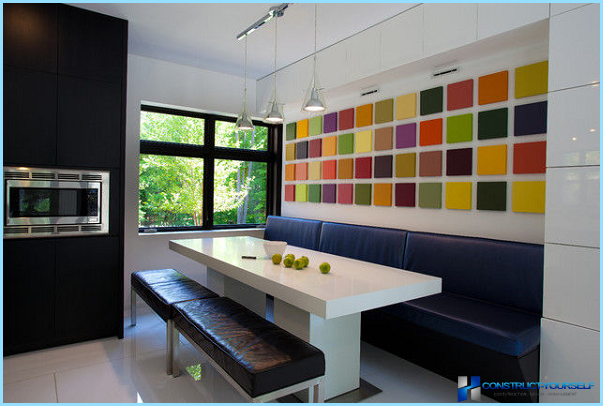 A true gem of discovery was the use of stools with a shelf for shoes. In this issue the bench has no equal. Especially if you have elderly or family members with the special needs. Even if there is an extra closet for shoes, is much easier to change shoes in the hallway, on the bench to change shoes if Slippers are within reach of your hand.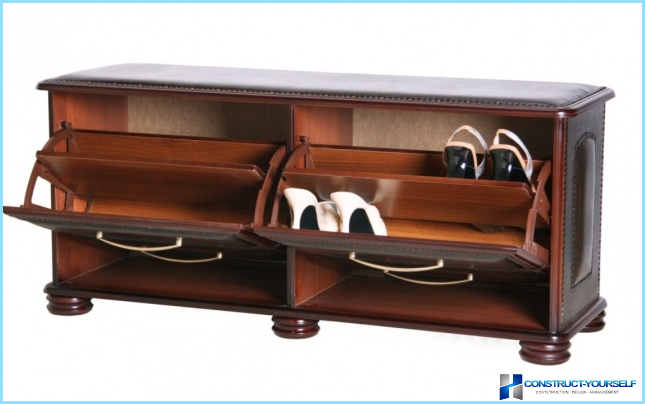 This can be done by installing in the hallway bench with drawer, which is everything needed to use:
Brush, cream for leather shoes;
Most running shoes, allowing you to run outside for a minute for short cases;
Electric dryer and paddle shoes.
Often stool perform as a separate type of furniture for the hallway, so the functionality and the utility of using the space only increases.
Everything is at hand, you can rest and sit on the soft. If the family the child is still not able to tie his shoelaces, he was happy to sit quietly in a comfortable environment.
If necessary, you can use one of the types that do not have a backrest and with a smooth surface, for use as a dessert table. This form of stools allows for the use in the role of a stand for a laptop or as a coffee table.
Specific type of banquettes can be used for meeting guests or visitors in the guest room. Most often in such kinds of furniture are inserted Minibar, cooling rack for beer or alcoholic beverages or coffee machine. According to the customer types and variants built structures can have a package of extra functions, but most often it is the usual stowage.
A very worthy look a variety of types of banquettes, invented under the most simple goals in life. The most durable and even can be considered exotic species of wrought banquettes.
They easily can be installed on the open summer terrace, in the garden under a shady plum or anywhere vacation. Light weight and high strength makes it easy to deliver the furniture to the country and do not suffer from suburban furniture. For more exquisite types of furniture necessary to provide plastic covers that protect from birds, insects and weather surprises. This type of garden furniture much more comfortable plastic monsters, easily broken in the middle of the season.
The Council
! Legs home furniture has always been sensitive to soft ground, so often the platform previously tamped or use a solid surface.
The simplest form of banquettes (photo) has always been a design resembling a chair without a backrest. It is more versatile to use, yet gives you minimal comfort and ease of the seat. In most cases such types are used for kitchen or bedroom.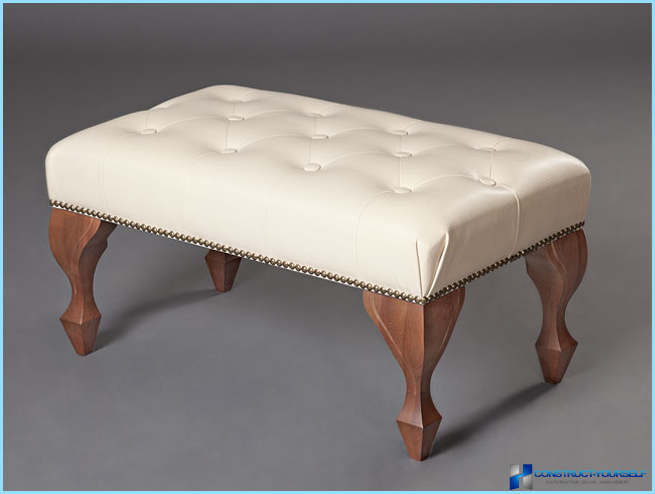 For people with excess weight it can be view with double or triple width of the pillow. Due to its specific shape people with sciatica or other back disorders much easier to sit on such furniture than a chair or even a chair.
These kinds of furniture is easy to meet many socially significant institutions, shops, offices. The most famous form of stools in medicine is the medical couch, daybed or a viewing. It is not less than fifty years of use, but the retirement is apparently not expected.
One of the types of specialized furniture easy to meet in shopping centers or stores, and in social institutions, hospitals or even in the workplace. This relative medical trestle bed, and its use is generally due to the large number of people who have to sit down and stand up for a short period of time. For example, in the trading hall of a Shoe store.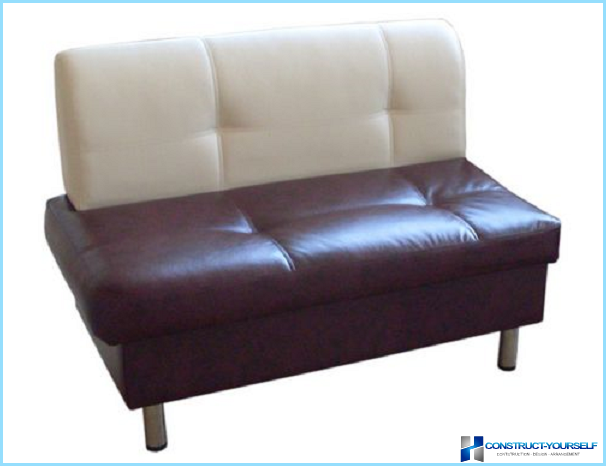 Stools came to the offices of private companies, where working with people and appreciate their mood. The sight of such office furniture Arsenal needed and useful, the use of office chairs or sofas in the premises for the customers is considered bad style and lack of respect for the visitor. Luxury this kind of furniture will not name, but almost always made in the style and color palette of the company.
Bench was one of the most useful items of home furniture, its use in the home hectic life much easier. Often they are made on orders and customized designs, stylizing and customizing for a certain type of furniture, kitchen or bedroom. A good thing.
Content related