Adults look at the design space for a child practically. Of course, the Wallpaper for the nursery should be of high quality, have an adequate price and a nice color scheme. But will be useful and more creative. It is worth remembering your own children's wishes and be sure to consult with a child.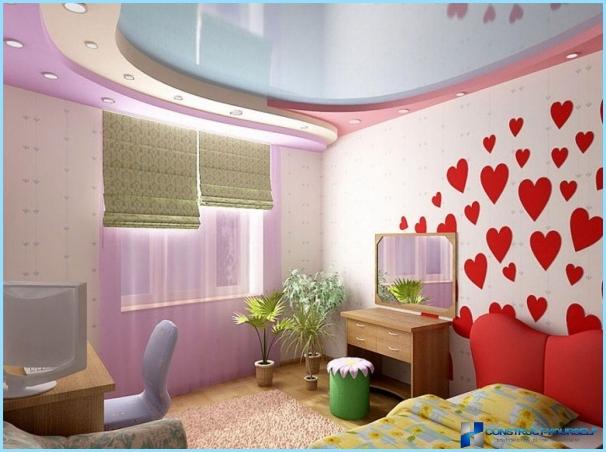 All materials for children's room subject to special requirements regarding their environmental performance. They should not release harmful substances during operation, but also to be as hypoallergenic. Children's health in the first place, so when buying Wallpaper should not hesitate to ask for their certificate of quality and safety.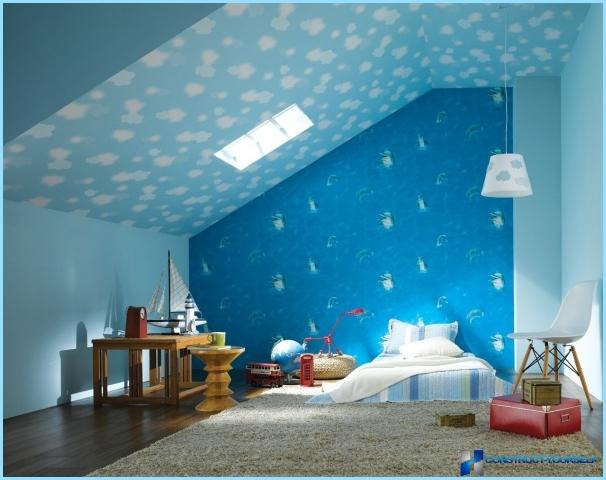 In addition, the material should be easy to care for. Even if the child is does not stain the walls with drawings, plasticine or something else, the Wallpaper does not hurt from time to time to wipe the dust, so they should withstand at least a small contact with water.
No less important is the role and appearance of Wallpaper. The color scheme should not be exasperating and exhilarating. Optimal soft pastel colors that can be thinned a few more bright accents in the form of drawings or other interior elements.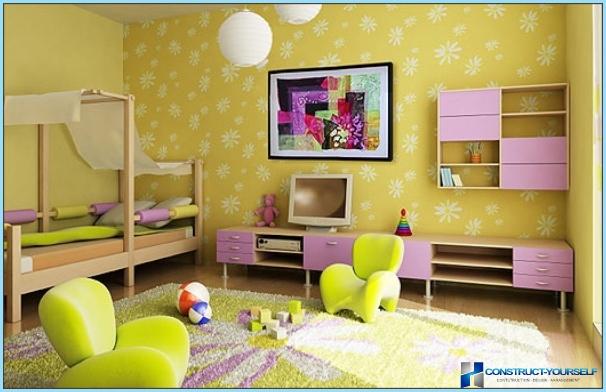 Rarely a child, especially small, doesn't draw on the walls. And parents have to either put up with painted Wallpaper in the nursery, and then throughout the apartment, or purchase a washable Wallpaper, which all the children's art will be erased without too much difficulty. If washable can not afford or do not like, the alternative is to buy inexpensive paper materials and their regular replacement.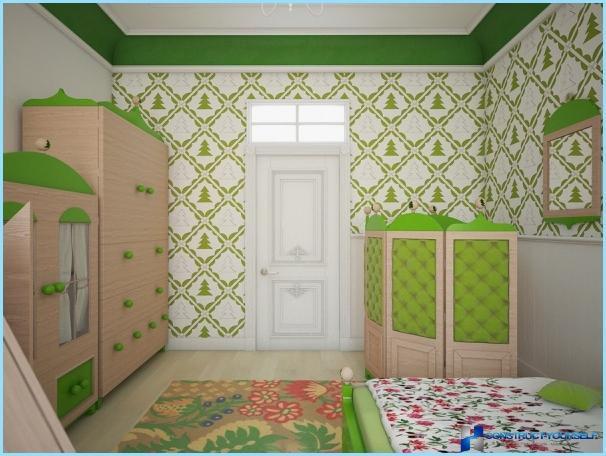 Another important point is durability. Even if the child does not particularly like to paint on the walls, but prefers to do boards and albums, the walls are still faced with a large number of consequences of children's games. It can be paint, clay, throwing into walls of various items.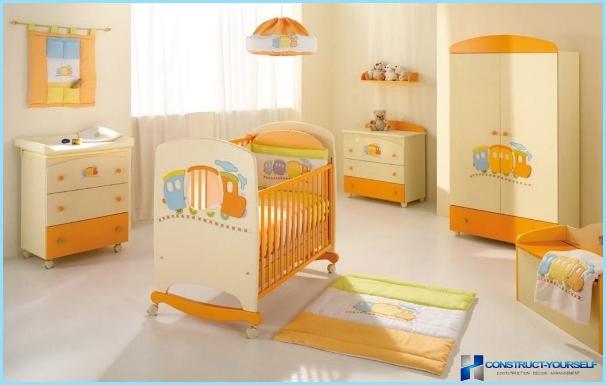 For all toddlers, barely learned to crawl, the plot design of the walls not necessarily quite suitable simple abstract blurred patterns. At older ages, the room should be fulfilled in accordance with the interests of the child. Drawings can be based on his favorite fairy tales, the most preferred Chad games, etc. If the child age is already able to Express their wishes, then they can and should consider, after all, to live in this room. And there he should feel cozy and comfortable.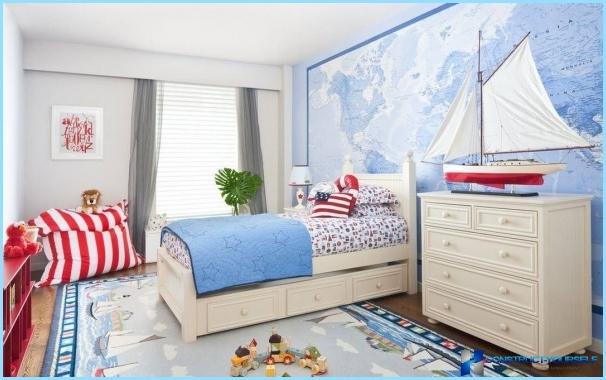 Well, if the design of the room encourages the child to develop and learn something new about the world. So, the Wallpaper can be depicted animals or plants. Card both real and fictional lands will help him to get the first ideas about geography in a fun game.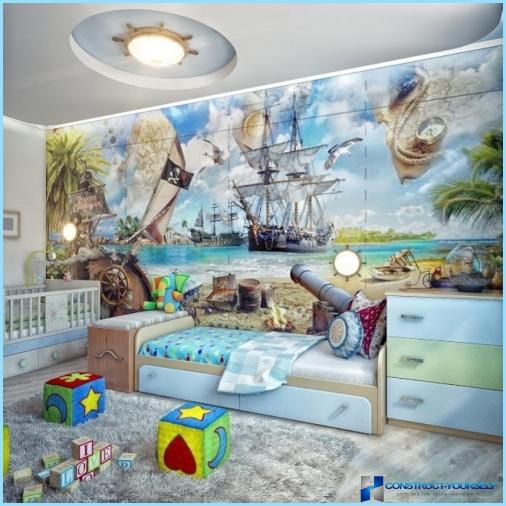 Universal for children of any gender are abstract geometric patterns, both real and cartoon flora and fauna. In the children's room for boys Wallpaper is to choose with sports or adventure stories, cars, trains, airplanes and other transport, superheroes.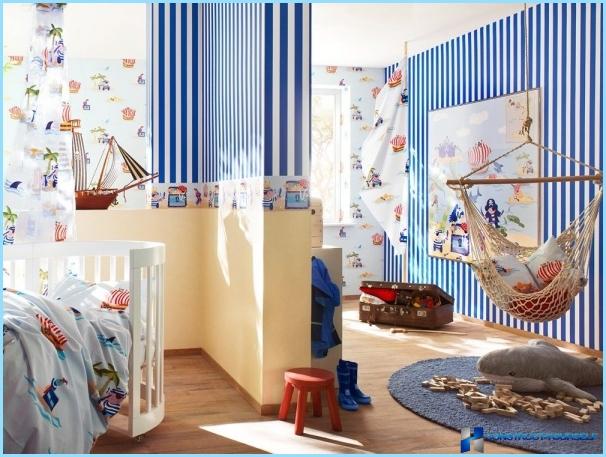 Most girls prefer to be princesses, flowers and dolls.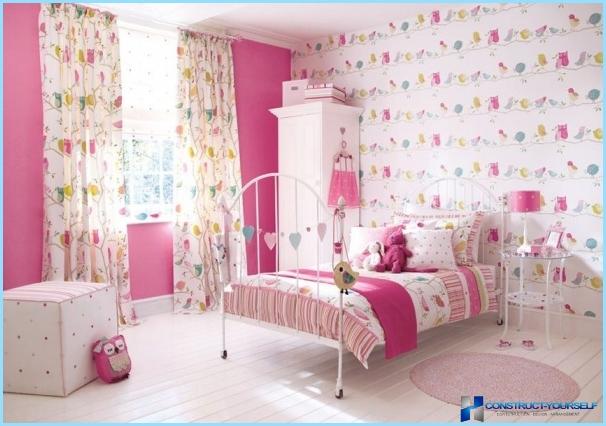 Wallpaper for children's room opposite-sex or different ages of children is better to choose neutral colours with floral and vegetable motifs, or zone space for each child.
Too abundant pictures make you weary and bored, even if it's a favorite character of the child. Well, if the decor on the Wallpaper somehow supported and played out the way the design of the room. For example, if the Wallpaper depicts flowers, a green carpet will be the lawn.
It should also consider the temperament of the child. Of course a pure phlegmatic, choleric, etc., in principle, does not exist, moreover, it is difficult to determine in the childhood when all the kids are curious and restless. But some General guidelines exist. For passive and lazy children is recommended to choose more vivid colors and make bright color accents. For hyperactive and emotionally preferable to cold, but not gloomy shades. Slow and phlegmatic children are advised to decorate in warm colors. It is believed that peach and apricot give children a sense of security, yellow stimulates mental activity and a desire to learn.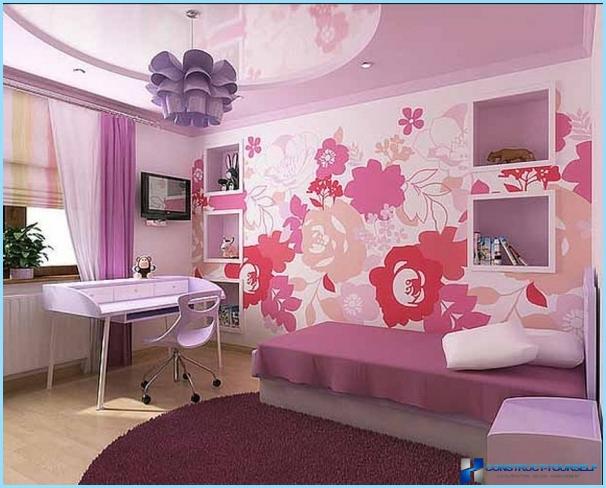 Darker shades visually reduce the size of the room. Horizontal design can visually expand the space of the room to the side. Vertical decorative elements will help to visually raise the ceiling is too low.
Young children can be difficult to put to sleep. Poet of the design of the room should in any case not hinder it, but rather to help. To do this, select a delicate, soothing and relaxing shades Wallpaper.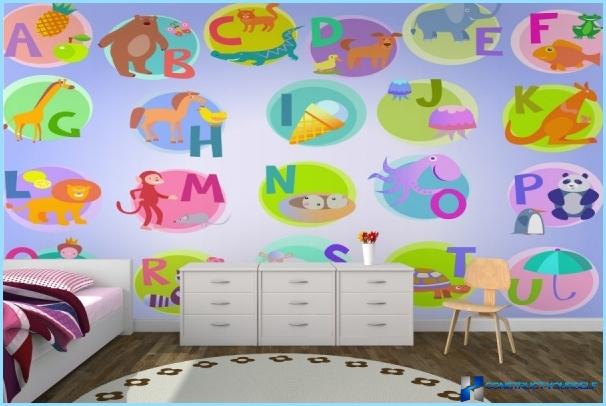 Children ages 4-8 years, the design of the room should be borne by the training function. On the walls are depicted plants, animals, numbers, the alphabet, the child is playing have acquired the basics necessary for school knowledge.
If for a small child everything is play, then the space child's zoned and acquires at least one discrete part is learning. And for this zone to be such a calm and restrained design that will not distract, but rather will help to concentrate and tune in a working mood even hyperactive and restless child.
Hardware store offer a huge choice of Wallpaper variety in composition, color, texture and design. But what Wallpaper to choose for the nursery? Are they all suitable for the decoration of the nursery? Definitely not!
Paper

– the cheapest and thus it is completely safe from an environmental point of view option. But the Wallpaper is short-lived, to wash them, they get soggy and peel off the walls under the influence of water. Will be a good solution for the baby's room, still not moving independently and not having possibility to paint or stain the Wallpaper.


Vinyl

– the most wear resistant and durable material for walls, which can be repeatedly washed. In addition, they are durable, able to hide small irregularities of the wall surface, do not fade and have a wide selection of colors and textures.


Non-woven

– have a high strength, durable, environmentally safe, can be repainted 7-10 times, if the old design has worn or tired. Major drawback – poor water vapor permeability. This means that the walls will breathe. However, the problem is solved good ventilation and heating of the room. Other cons – fairly high price and not a very wide selection of patterns and textures.


Cork

– due to the all natural material is environmentally friendly and safe for the health of the child, provide a high level of acoustic and thermal insulation of the room. But the price of this material is quite high, and change the damaged Wallpaper will be expensive. Cork Wallpaper – a nice touch, environmentally friendly, ideal for acoustic insulation;


Liquid

– functional and practical, allow a repaint several times. But the high price limits their use to design a child's.


Wallpapers

– the perfect solution to create absolutely unique interior of a room, allowing to realize any baby wishes. But to cover all the walls with Wallpaper is not worth it. Bright and colorful images just get lost on the background of each other and will distract the child's attention, preventing him to focus. Wallpaper paste over one or two walls, and for the rest use a solid coating of soothing colors.


Fiberglass

– environmentally friendly, hypoallergenic, non-flammable and waterproof material. Among their drawbacks – high cost and complexity of gluing (requires a particularly strong glue, and the surface of the walls should be perfectly smooth)

What exactly should not be used in the nursery, so that any fabric Wallpaper. This material is widely accumulate dust, soaks up any impurities, and thus difficult to clean.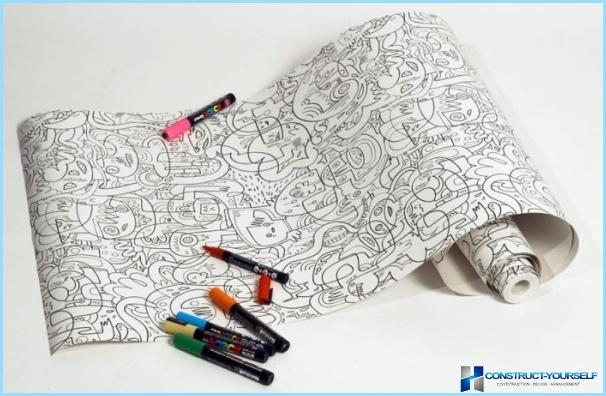 There is hardly a child who ever drew, or at least not wanted to draw on the walls. And to meet the children's thirst for creativity there are Wallpapers for drawing.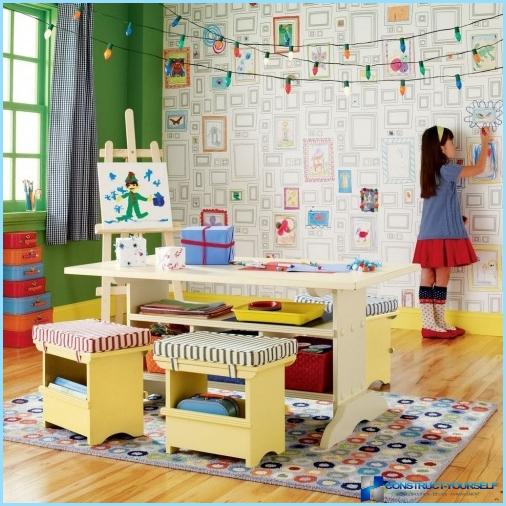 Wallpapers with frames, which children can fill with drawings on their own;
Coloring, where the child remains only to choose the colors for your favorite characters;
Themed Wallpaper, which shows the main elements of some of the plot and smaller details, like colors, the child picks themselves.
If it is undesirable that the child drew on the wall, he should be given the opportunity to realize this desire in a different place. And albums with coloring, this may not be enough. In this case, a good solution is to buy a large whiteboard on which you can draw with crayons or markers.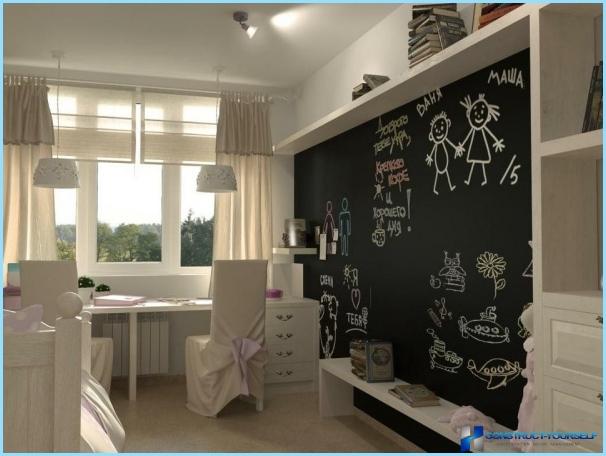 Another alternative idea – self-adhesive film. Her child can portray what you want, and then cut out and glued on the wall. If the child is too young to be able to trust him with sharp objects in the nursery is better to buy ready-made stickers Wallpaper.
On top of the Wallpaper you can also attach a plastic or glass transparent panel. It will not close up Wallpaper, but will provide an opportunity to draw and paint the child as he wants. It is important to very firmly secure this panel and for her to pick up solid material to avoid injury.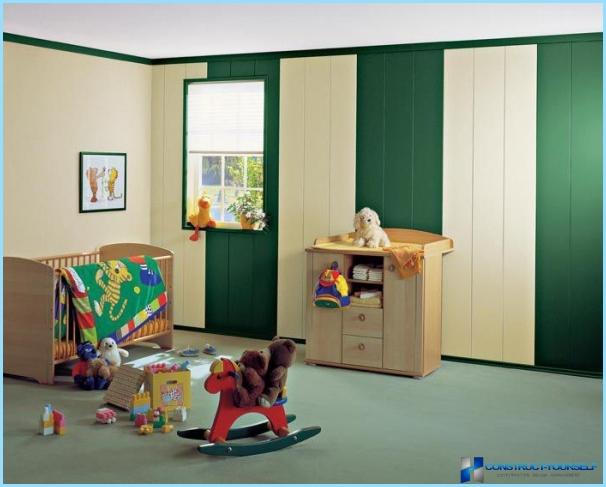 To pick up the interior for children's room – not an easy task and responsible. That will several years to surround the child can greatly influence his nature and basic skills. Neat and beautiful design of the room will help from birth to develop in the child a sense of beauty, and it will aim to support this external and inner beauty in the future.
Content related