The interior design of any child's room differs significantly from the interior for an adult. here «not working» most of the standard techniques, particularly when one is a teenager, with his «rebellious» character and constantly changing priorities. Despite some significant differences in the design of the room for the child and the adolescent, such as maximum functionality, practicality and safety that are required for compliance.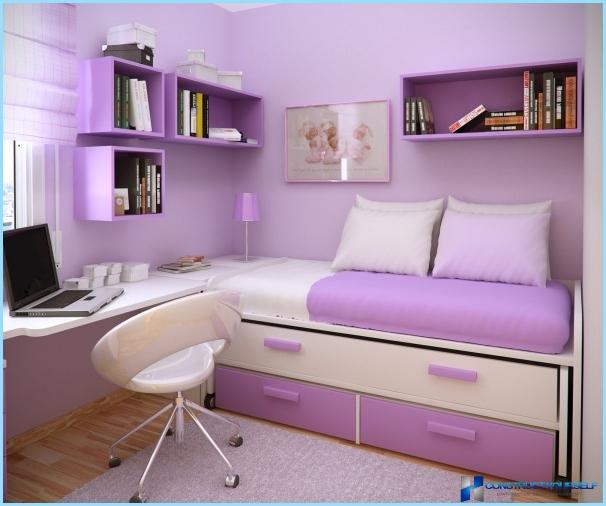 Room design for teenage girls it is difficult to choose on their own, and parents need to remember that in the process of registration of direct participation should take and child. The teenager perfectly formed own idea of comfort and beauty of the interior, so any attempt to impose own opinion, which does not fit into the idea of a teenager about comfort, are doomed to failure.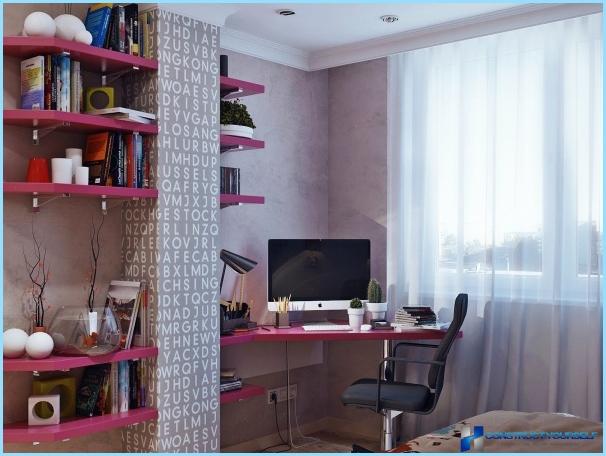 According to professionals, the interior of a room for a teenager should be as simple, but functional and comfortable. A teenager is not a baby, and as a rule, the abundance of cute plush accessories for inappropriate. As well as too bright, «fabulous» colors that may make it difficult to concentrate on homework, for example. Another important point is the mandatory availability of free space, including the imagination of the child in the process «habitation» the new room will appear a lot of little things that appeal to any teenager.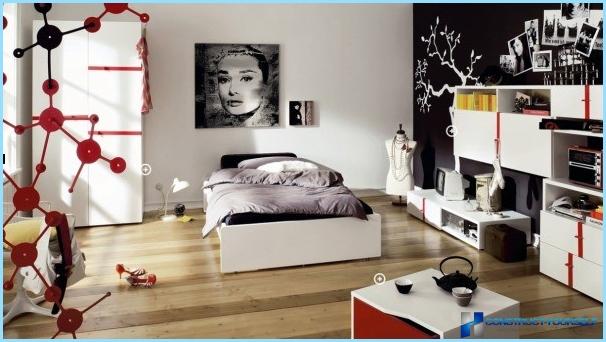 In the interior of the room for a teenage girl plays a huge role furniture. The fact that it must be of high quality, safe and functional, check out. The interior of the room for a teenage girl 13 years of age should not be super expensive, exclusive materials, as a teenager in any case become «alter» their parents created the interior in their own way.
For example, walls, which are pasted luxury Wallpaper, likely will be used as «site» for numerous posters, drawings, pictures of idols, etc. best option for the walls in the nursery becomes plaster – either standard, allowing you to create a smooth surface subject to staining, or decorative, simulating a variety of textures.
All paint used is to choose only water-based or acrylic – they are distinguished by the lack of smell and high level of environmental safety. Quite sensitive you should apply to the choice of floor covering. The best option for any child's room will be laminate. From the different sufficient environmental friendliness, low cost, variety of colors and textures, as well as high durability and easy care – i.e., all that is necessary in the nursery.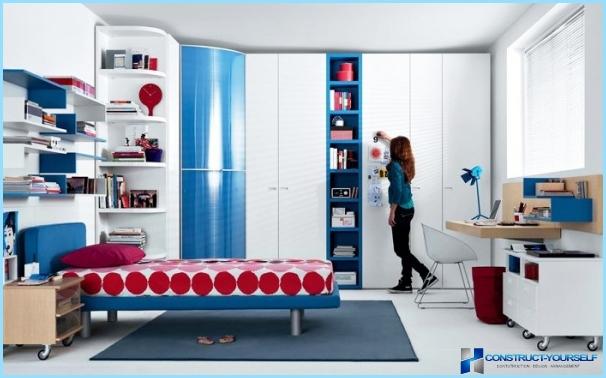 The main consideration when choosing furniture for the room of a teenage girl should be given to its quality. It should immediately dismiss the option of furniture made of cheap chipboard that will become a permanent source of in the air harmful fumes, for example, formaldehyde. Focus in this room will be extremely difficult, and in the absence of proper ventilation, this furniture can cause constant headaches. It is better to buy furniture made either from solid wood, or MDF with the mandatory inspection certificate of quality.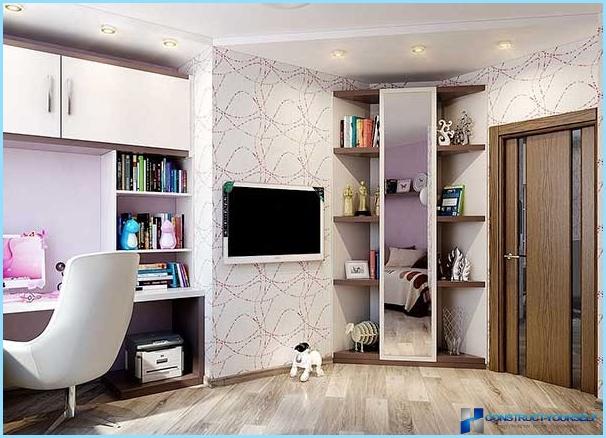 Room design for teenage girls 16, certainly do not need to remind the Palace of Cinderella, but excessive strictness and straightness is also unnecessary. Teenage furniture should ideally be easily transformed, to have a calm color, contain a minimum number of sharp corners, you need to remember that teenagers tend to active games in my room.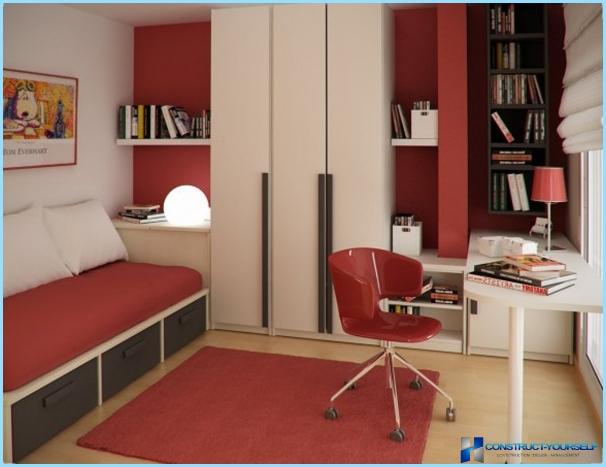 Undoubtedly, in the interior of the nursery for a teenage girl just needed a mirror. In addition «meet» natural needs of every woman, mirrors visually expand the space, which is especially important for small rooms. Do not forget about storage space «children» wardrobe, which will be appropriate wardrobe, whose doors can be made of mirrors.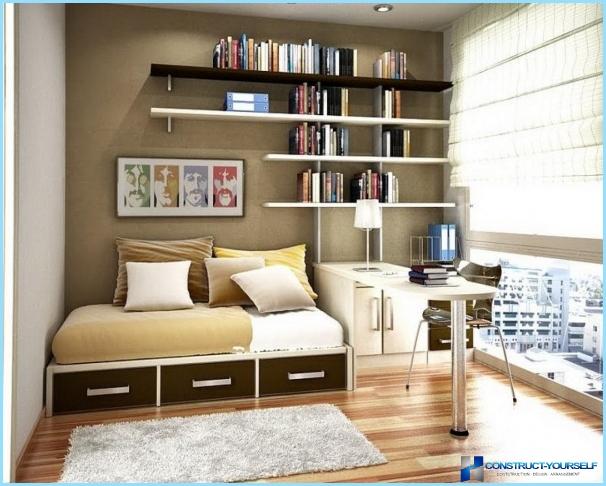 If the family has 2 teenage girls, and only one room, the procedure of selecting the optimal interior multiple complicated. Especially if teenagers have different age and Hobbies, and area of the room is relatively small. In this case, the plan design should be very careful, and best to start with the color of the walls, which will set the basic tone for the whole room. You should not make it too intense – this will be difficult to correctly pick more colors. It is best to use natural, soft and pastel shades.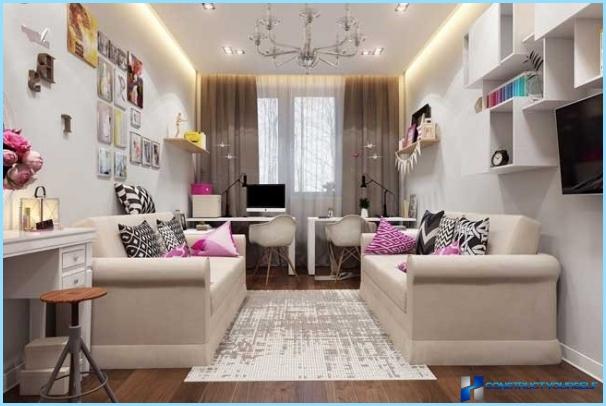 If the area of the room is a small sleeping place for two girls in any case will be bunk. Furniture manufacturers offer very interesting and beautiful design, so any objection on the part of adolescents about such decisions usually does not arise. If both of the child students, each will need to allocate and arrange the work area where it will be comfortable to have lessons. It is not always possible to put in a small room, two desks, even if they do not differ in their dimensions. The solution may be to install one of the table, and the second is to use appropriately modified sill.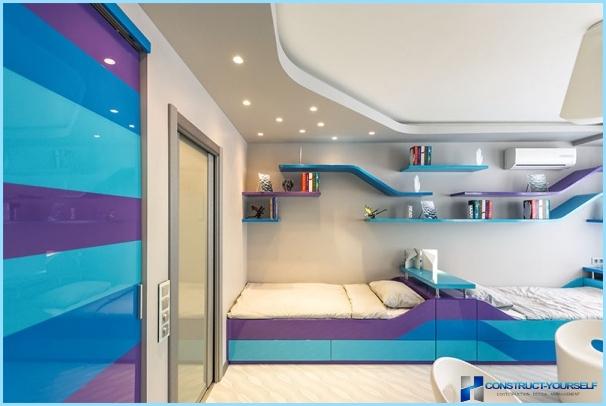 In this case, instead of the standard window sill serves a wide countertop. At the bottom you can place a small lockable cabinets on wheels, where your child will be comfortable to store all your school supplies, and on the top, for example, to accommodate a computer. The walls in this case can serve as shelves for books and a variety of «trinkets», which is so like to decorate soja space girls, regardless of their age. this decision will allow with minimal costs to equip two full working areas.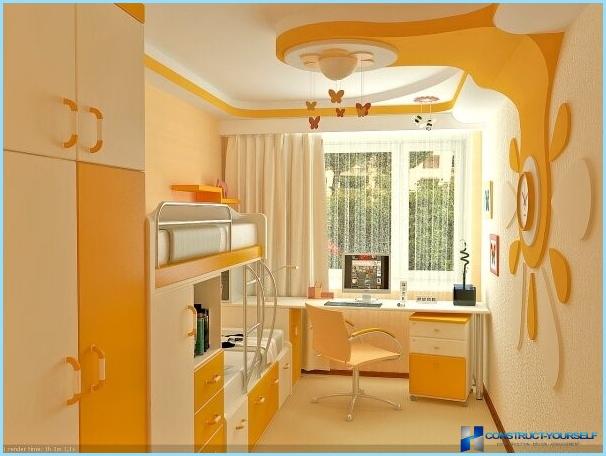 It is necessary to pay significant attention to the textiles. Before how to arrange a room for teenage girls should carefully weigh the pros and cons of using textiles, especially in large quantities. This is due to the teenager – hardly anyone likes to clean, which can lead to excessive airborne levels of dust and allergens. Ideally, in baby room design for teenage girls optimal blinds or roller blinds that are easy to care for and make a definite style element in the room. In the nursery a little inappropriate will look fur rugs and carpets, occupying a large area.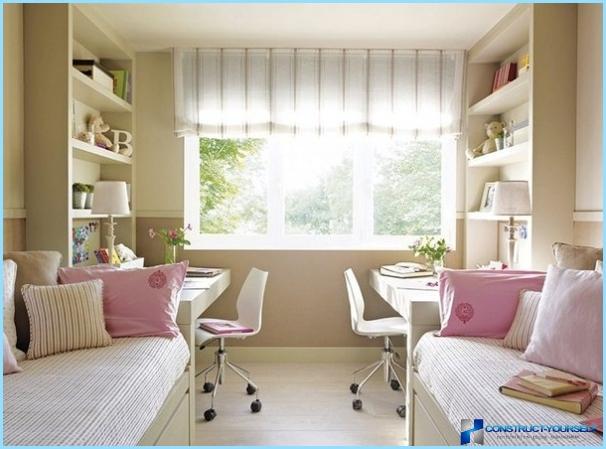 Regardless of the age of the child, which meant a room, it should be clearly defined several areas:
Area where is the sleeping place should be located so that lying down, the child could see the front door and everyone in her Inbox. Despite «insignificance» this time, the observance of this rule significantly increases psychological comfort for teenage girls. If possible, it is possible in some way to emphasize the identity of this «plot» rooms for recreation – is enough to select the lighting, calm colors on the walls, you can lay in front of the bed extra pad, with a special charm will give a Mat with small size but with high, soft pile.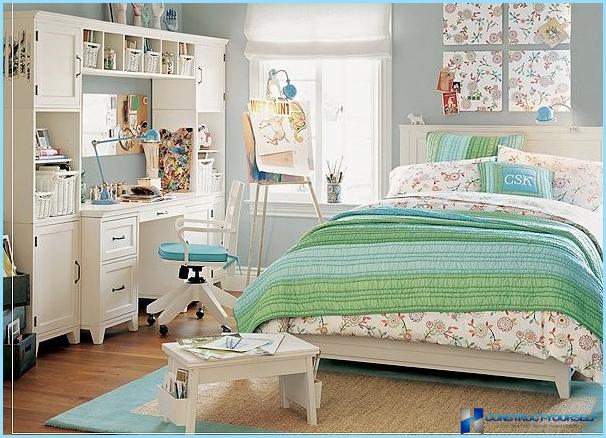 The working area should not be liberally decorate with accessories, but the color scheme could be more daring in terms of the intensity of the shades. Quite suitable cool colors – blue, sleny, but not prohibited, and bright yellow, orange or terracotta. The furniture in the working area should be more rigorous, without an abundance of smooth lines – this will mainly have to set the child on «working» way. Special attention should be paid to lighting the desktop. It is impossible to do with just the General lighting in the room. Be sure to install one or two table lamps. Using lamps with a currently popular energy-saving lamps, you must know that writing and reading is necessary to use lamps with «warm» light, not cold.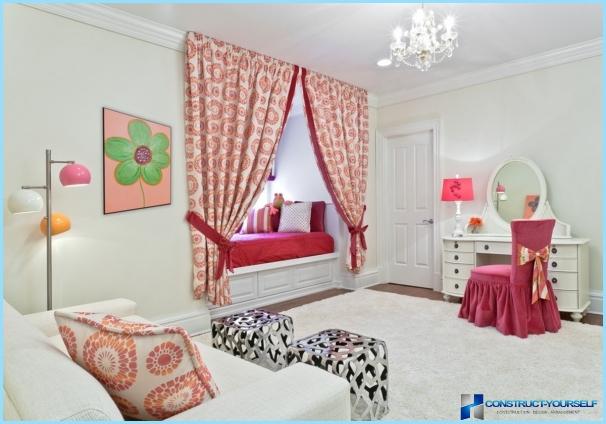 Play area, tend to be more relevant for younger children than for Teens. However, its presence is highly desirable. Even if the girl is not a fan of exercise, from time to time, almost every girl has a desire «to do» her figure, and for this it is necessary the availability of free space in my room. Where it is possible to do without prying eyes, in addition, in this «empty» the area is easy to install, for example, an exercise bike or treadmill.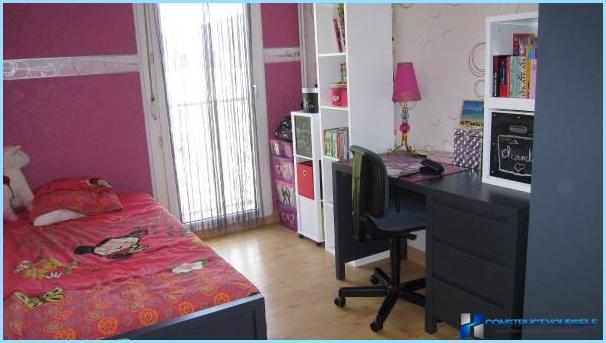 Regardless of age, if you are creating interior room suitable for a child, his participation in the selection process of furniture, Wallpaper and other accessories is necessary. If the fate of the kids usually comes down to choosing a few favourite accessories, with a teenager will have to reckon much more. Otherwise, will instantly manifest all the unpleasant side «puberty». Therefore, to determine the stylistic direction of the future interior in the bedroom of a teenage girl needs only jointly or with the help of a professional designer.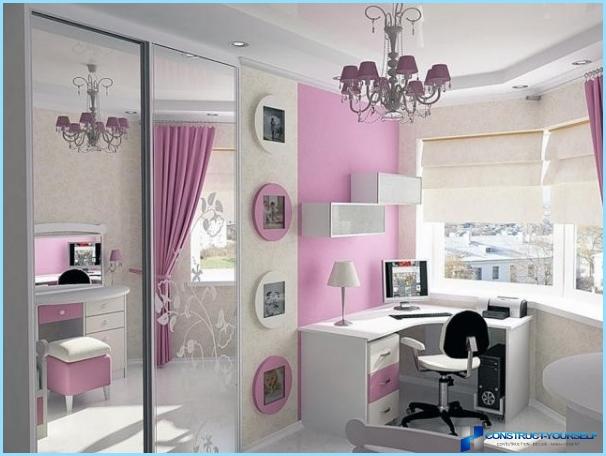 It should immediately prepare for the fact that perceptions of style the teenager and parents will be radically different. Here you will need to find a compromise. To the examples used, it is possible to surf the Internet, and see photos of the interiors for teenagers of the same age. As a rule, after reviewing hundreds of options for the finished interiors for teen girls, it is possible to acquire next to your own conclusions regarding priority stylistic trends, furniture component and the primary colors in the interior.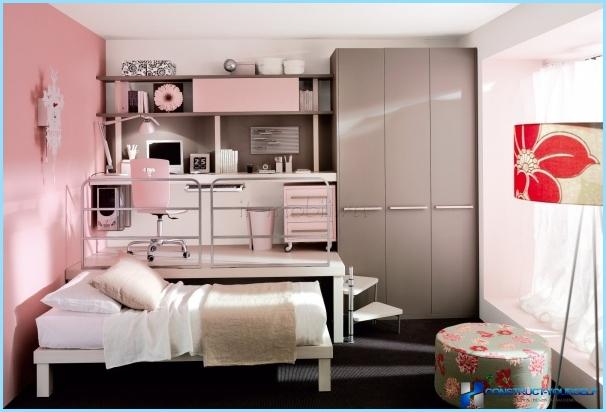 In the case where the interior of a room for a teenage girl is chosen together, the child will not really opposed to the ideas of parents who «served» just a proposal, not an ultimatum. Otherwise, you will either have to go on a serious conflict with the child. Either get a room decorated in black tones, with an inflatable mattress instead of a full bed. Of course, this is allegory, but such a scenario is quite real, because the Outlook on life of teenagers difficult to explain from adults.
Content related