Children's – the place where the child spends a significant part of his life. This area should not be just comfortable, have all the necessary furniture and equipment, but also well-designed. What surrounds the child, is able to exert a great influence on the formation of character, tastes.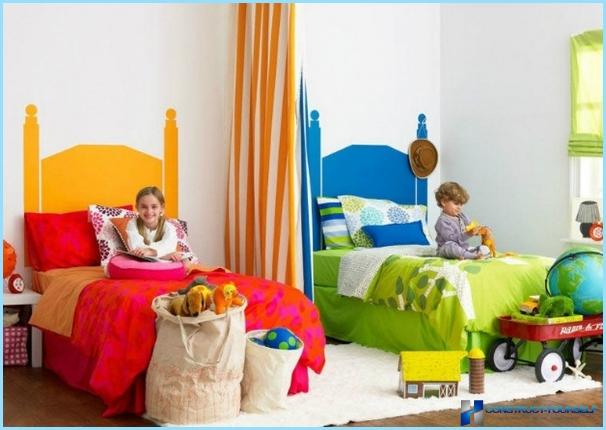 Well, if it is possible to arrange for each child in the family with two children, own room in accordance with his tastes, needs, desires, age and gender. But if this is not possible, you have to try and create within one, often a big space design that will fit two people with their personalities and preferences.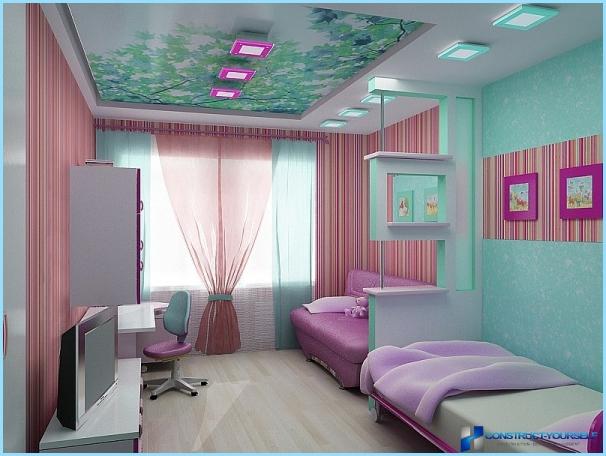 An important rule in building a child's for two to three heterosexual children – nothing more. Often parents are sent into a room to Chad, those items of furniture that is not really needed in the rest of the apartment, thinking that children they can still serve. But it should not do. In the nursery the children spend a considerable part of his life, and it should be comfortable and attractive. If the room the child has a warehouse of useless things, how it can be taught to maintain order?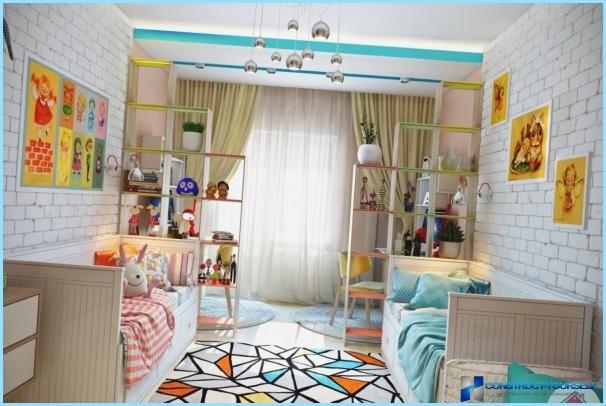 To arrange a children's room for boy and girl in two main ways:
Divide the room into zones for each child.
To make the whole room in neutral design and colors.
For opposite-sex children the first option is better. Even if they're twins or have an age difference of 1-2 years, i.e. grow at about the same time, still tastes and desires of children of different genders over time, only more begin to differ.
How to make zoning child's room for children of different sexes?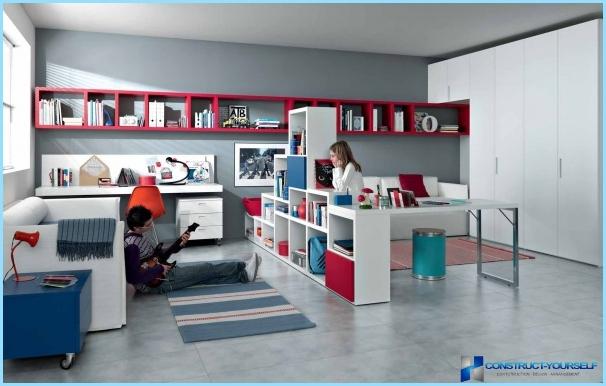 A partition, for example, of plasterboard.
Living room wall of bookcases with flowers or a large aquarium for fish or turtles. This option is suitable for older children, who overturned flowers and not break the glass.
Similarly, for older children – stained glass, glass blocks, partition on the rail.
Multi-level location.
Divide the room may not only some kind of massive construction of furniture or bulkhead, but also portable screens, curtains. All this creates a kids personal space, but if necessary at any time can be removed.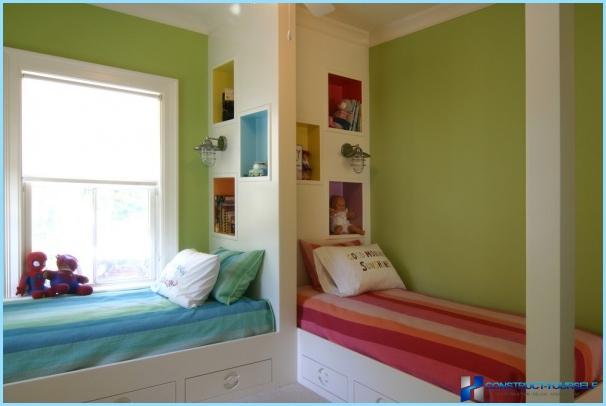 Although a bed and area for study, each child should have its own play space can be shared, of course, not forgetting that the toys children of different sexes still requires different.
Even for small children who get along with each other, it is not necessary to arrange a sleeping place for two or to put the bed very close to each other. Every child should be a small private space that belongs to him and him alone. If the room has a shared sleeping area, the bed it is placed either at different levels or separate them by a small wall or some piece of furniture – a bookcase, a bedside table.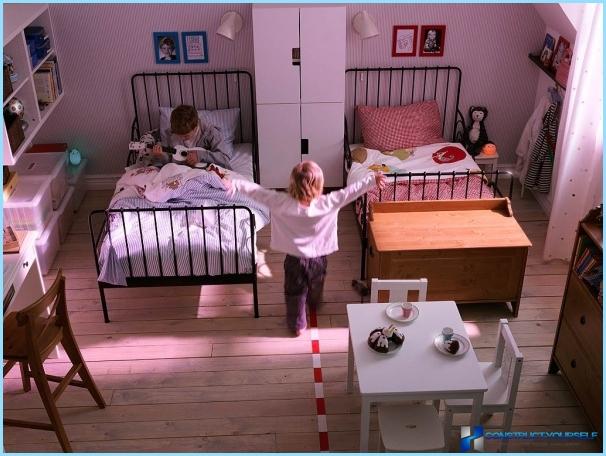 Well save a place the bed on the catwalks, which built boxes for toys, things, books etc.
But bunk beds can be subject to constant discord – children will argue who sleeps upstairs and sleeping downstairs, the child may feel slighted. Therefore, they should discuss the matter in advance, and if they can't agree among themselves, then choose another option bed. In addition, bunk beds are categorically not suitable for children under 5 years of age – too great a risk of injury.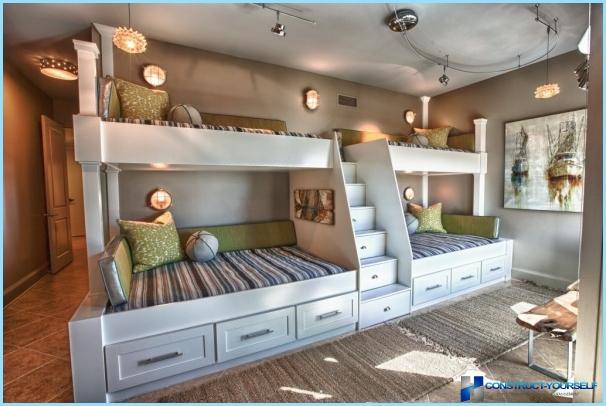 Loft beds and bunk beds are not recommended if the room has low ceilings. The child should have the opportunity if not to get up on the bed in full growth, then at least comfortable to sit there, not hitting at the same time on the ceiling. If the room has ventilation problems, the high sleeper also not be the best idea – sleeping where the child will be stuffy and hot.
Another solution that enable you to save some space of the room – a sofa bed or chair bed. At night it is comfortable and big bed, and by day assembled, it occupies a minimum of space. But choosing such furniture, you should make sure that the mechanism of folding-unfolding is convenient and easy, so the kids could handle it on your own and in no way self-inflicted injuries.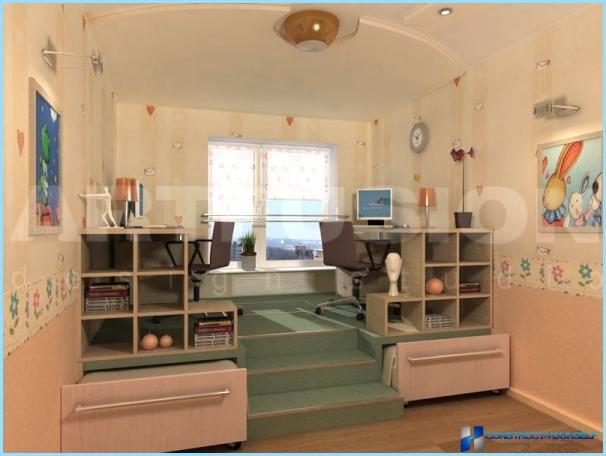 In the space child's need to accommodate a large number of things, and as they grow older, their children is only getting bigger. So every meter of the room is to use rationally, choosing compact furniture with lots of drawers, shelves, hooks, etc.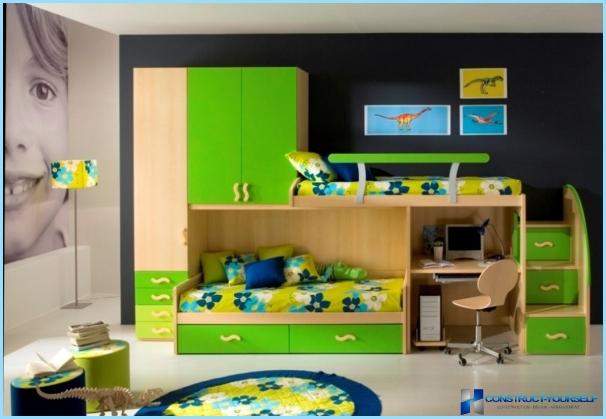 It is important that a child not only his bed but also other personal pieces of furniture. So children are not confused, you should buy them furnished in different colors. Not necessarily that it was a classic pink for girls and blue for boys, but still different. It is essential to save precious space in the apartment will help tiered arrangement of furniture. For example, it can be two berths above each other, the location of the bed above the wardrobe etc.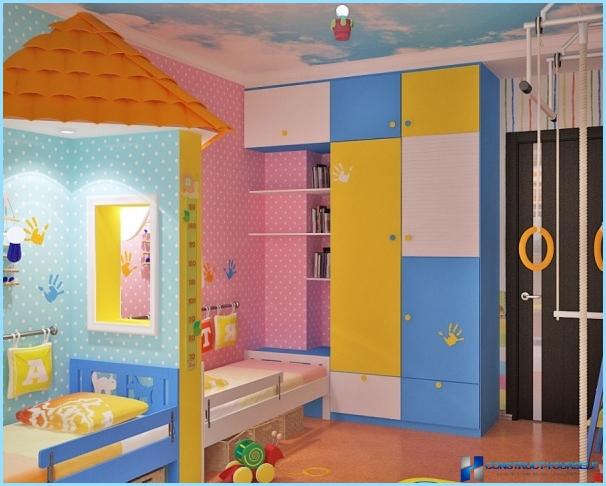 For children of kindergarten age can be equipped shared a large table with comfortable chairs. With the beginning of the school workplace should be separate. If the room is large and gives a lot of light window, the working area can be placed opposite it by setting each child has a separate Desk or countertop dividing the common wall. The children should have the opportunity to look directly at the monitors and notebooks to each other.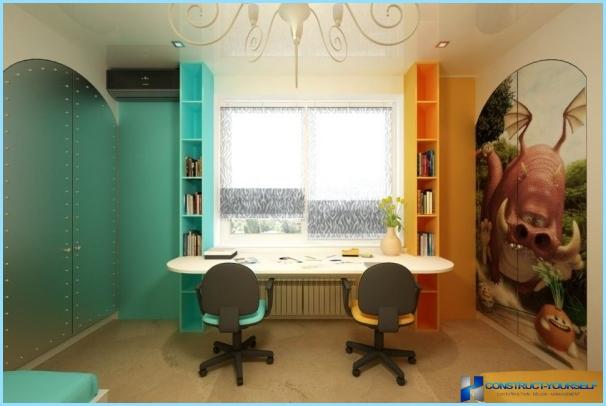 Growing up, children start to be ashamed of childishness in the design of your room. But very few people want to do overhaul and change the whole furniture of the nursery for girl and boy every few years – it takes time, effort, and money that can be spent on something more useful. Therefore, to consider the design of the room for the kids is little room for growth, purchase more Mature furnishings, where children will be able to use and in adolescence, and to give it's removable elements – stickers, toys, garlands etc.
It is desirable that the colors are girly and boyish zones of the room was not too contrasting and in harmony with each other. Not necessarily, although, of course, possible to arrange a children's room for children of different sexes in the banal combination of pink and blue.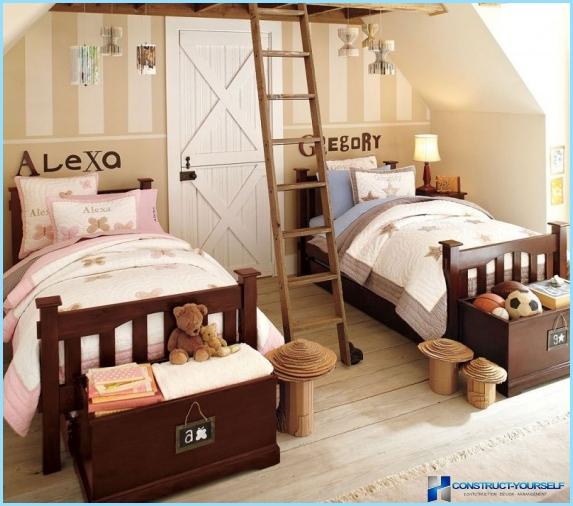 It can be made in a favorite color of children, or to pick up something neutral that will suit both the shades of beige, green, yellow. These colors give the room an atmosphere of warmth and coziness, and the guys will feel comfortable. Themed you can also pick up gender – neutral fairy castle, where the girl will be a Princess, and the boy – knight, zoo, circus, jungle, spaceship or a desert island – all perfect for both boys and girls.
Rational use of small space nursery will help well-chosen furniture. But visually to make it a little more succeed in using more cool colors and horizontal pattern on the walls. Vertical elements on the walls will help to visually raise the ceiling higher. Although to create the illusion of spacious rooms help and mirrors, to abuse them in the nursery should not, for security reasons. Security in the nursery should be given special attention. Several children in the same room, it was several times greater risk of injury. Therefore it is recommended to choose furniture with rounded shapes, the available angles to provide rubber pads, do not use brittle materials.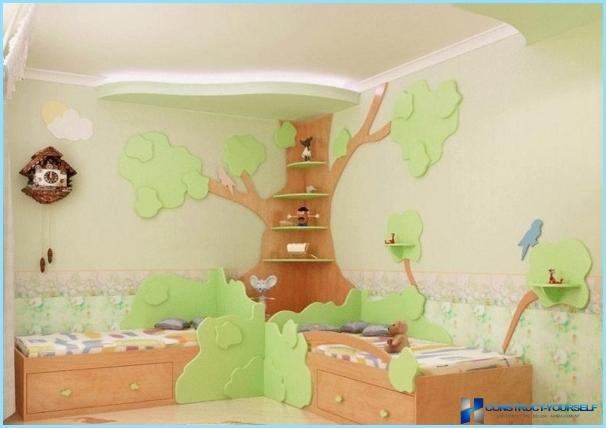 For Paul it is better to use light shades of beige, laminate, linoleum or parquet. Atypical for the surface underfoot colors like blue, pink, purple, etc. use is not worth it. The human brain routinely that the earth is shades of brown, if it is covered with grass, it is green, if snow, then white; and cover like asphalt and paving in mostly neutral shades – black, grey, red-brown. And the other colors can cause discomfort.
Kids play wherever they wish to play. So for them throughout the room should be evenly good lighting. In older children space is organized more consciously for learning, leisure, games etc. have their place. And each zone has a mode of illumination must be optimal. For desktop – bright light on the left for a play area calm smooth light top, for bed – dim light, to which the child will be able to reach at night if he needs to go out or just uncomfortable to sleep in the dark. One chandelier in the middle of the ceiling is clearly not enough, you need local illumination of certain parts of the room. It is important that the light used by one child, were not a hindrance to another. Ie , for example, a lamp on the desktop my brother didn't have to cover the sister's bed, disturbing the sleep, while my brother is studying.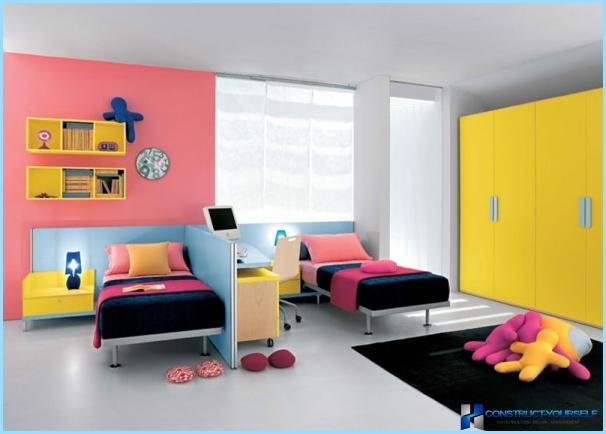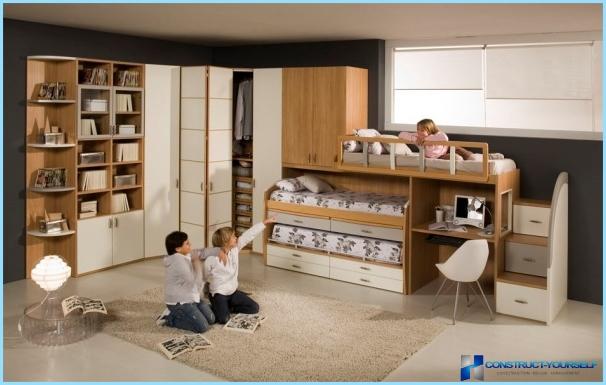 In General, the options for design of children's rooms for different sexes of children of the great multitude, and pick up appropriate in a particular situation is not difficult. Of course, if the children are not too small and already unable to clearly Express their opinions and wishes in this matter to their words worth listening to. You should also give them the opportunity to contribute to the design of the room individuality – pick up small interior details like figurines, vases, hours, offer to decorate their room with posters of your favourite stars or stickers with the characters of movies and cartoons.
Content related