Options flooring there is a huge number. Each of them has its advantages, but it is not without drawbacks. The choice of flooring in the nursery is particularly important. However, because of the abundance of options, to choose the appropriate, can sometimes be problematic.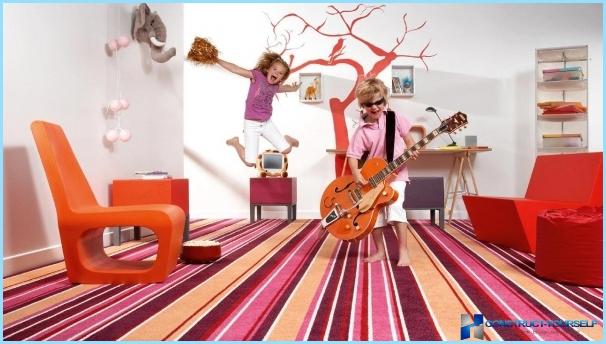 Children's room is more functional than it may seem at first glance. As for the child's own small world, which belongs only to him. Apart from relaxing, the room serves as a play and learning area. Also, the child can take in her guests and friends for various games. It is therefore important to not only the furniture and decor, but the floor meets all the requirements.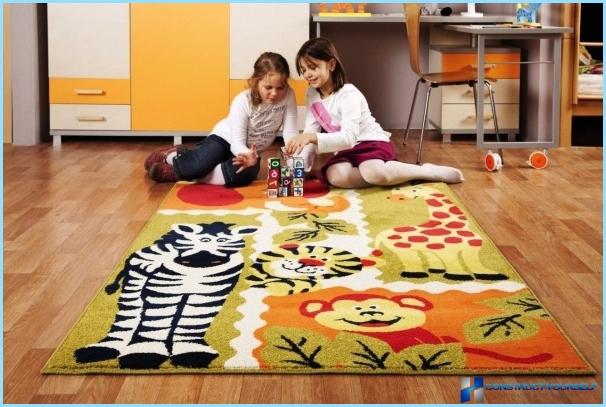 It is clear that gender needs to be practical and durable. But other than that, it is equally important that the flooring for the playroom meets the following requirements:
Heat. The baby will be spending a lot of time on the floor for different games. To him it was comfortable and cozy, it is not necessary to cover the floor with material which does not retain heat rooms.
Convenience for cleaning. While playing, the child can overturn, to spill, or spill something. It is therefore important that floors are easily exposed to both wet and dry cleaning.
Originality. Children as well as adults, an important beauty. However, if parents prefer a more quiet tone, children will always be interesting to be in the room that is carpeted floors with a quirky, bright and original designs or pictures.
Practicality and cleanliness. Every day the floors will succumb to stress of varying degrees. Therefore desirable to take a low-quality coating, which may soon be broken, wiped or even any way to lose the original look. But it is equally important to gender were made only from environmentally friendly materials, because the child is much more susceptible to toxins than an adult.
In addition, it is desirable that the floors were antistatic and did not respond to the ignition.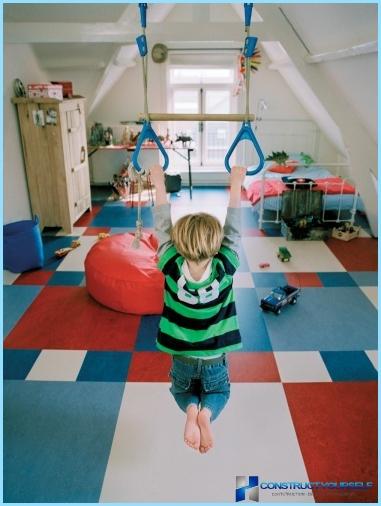 The most popular flooring materials for a child's room are parquet, linoleum, laminate and cork. But the best option is to split the total area into zones. In this case, in the training part of the room will be posted one cover, and in the game – more.
Before you buy the flooring for a child's room you need to focus on the child's age. For the baby who has just started or will start to do first steps, it is better to cover the floor with carpet or carpet. After all, there is no doubt that the child will fall quite often. The coating will soften the fall and protect you from possible injuries and bruises.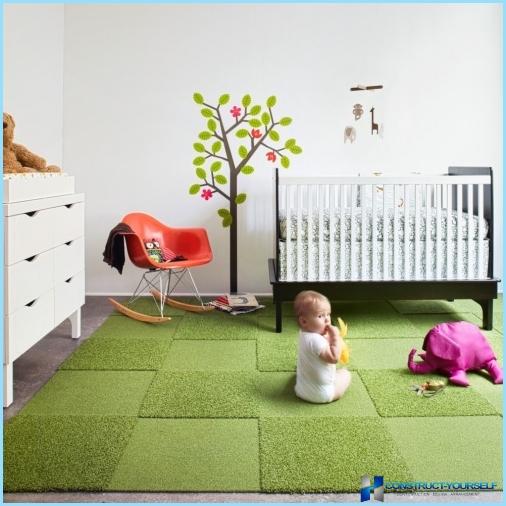 However, if you grow a creative person, an aspiring painter or sculptor, from the carpet should be abandoned. After he washed out the paint, remove any traces of glue or pull out the clay quite difficult. In this case, suitable laminate or linoleum, as these materials are easy to clean. In addition, they have a wide selection that will appeal to both children and parents. Another important advantage of linoleum is its relatively low price and good quality.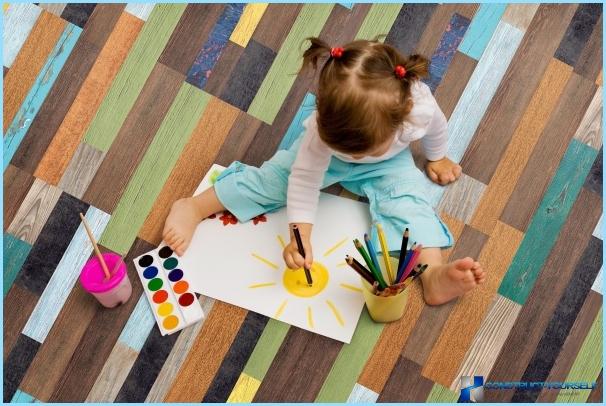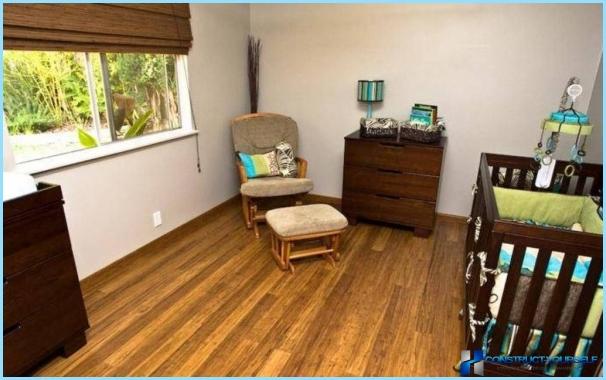 Laminate is a great floor covering. It is able to withstand the various loads and impacts. Furthermore, it is easy to clean and wash, which is undoubtedly very important. From a wide range you can choose a colorful model that will decorate the children's room paint and lead in a child's delight. In addition, this coating is best suited for the installation of Underfloor heating under it.
It is important
! In the manufacture of the material used different resin which is not quite safe for health, especially the developing organism.
To avoid the negative impact of possible, buying only high-quality and expensive laminate (from 500 rubles per square meter). In this case, the percentage of secreted substances is minimal and will not affect future health status. Manufacturers of cheaper material saves virtually all while hiding the true toxicity of the laminate. Therefore, the purchase should be treated with extreme caution, and to buy products only from quality and proven brands. Only in this case can have no fear of putting laminate in the kids room.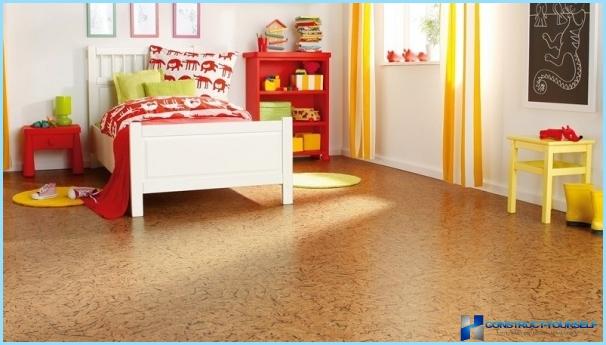 To find cork surface any flaws virtually impossible. This option can be optimal for a child's room. It is recommended even pediatricians. The peculiarity lies in the fact that it is quite a soft floor covering that is perfect for any child's room. During the walk to create the effect «unloading» for joints. In addition to positive effects on musculoskeletal, cork flooring has the following advantages:
For production are used only natural materials, which makes the tube absolutely safe for health.
These floors retain maximum heat creates an additional sound insulation in the room.
The material is quite pleasant to the touch. The child would be happy to get out of bed, leaning her bare feet on the cork floor.
The children's room is a constant movement. Not to hurt yourself, the floor should not be slippery. Tube corresponds to that important rule.
Adults will not be easy to scrub even serious spots, as the coating will not absorb or accumulate moisture.
Various colour options allow you to choose gender for any interior.
Tube has anti-allergic properties and does not accumulate static electricity.
On this surface you can spend a few hours playing different games with friends. The discomfort never remind myself.
Cork flooring does not need to lay different rugs that like to collect dust.
Thanks to all the advantages and absolutely no disadvantages, cork flooring for children's room choose much more than a coating of any other material.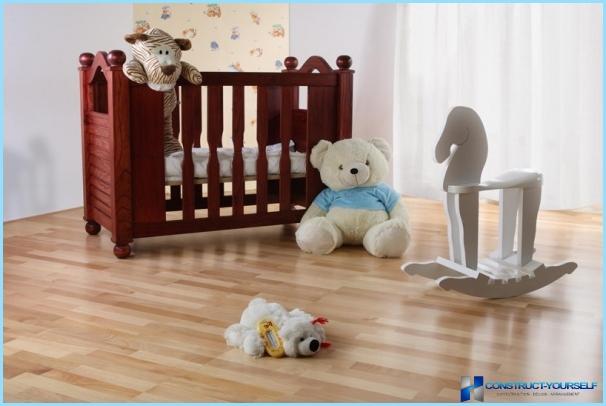 Linoleum is another popular material that you can cover the floor. Usually, in the apartment he used for kitchen or bathroom. But with the right approach it will suit for children's room.
The main advantage over other materials is the low price. If you want you can find coverage with the cost less than 200 rubles per square meter. However, in the nursery it is better not to try to save. After all, the price directly depends on the quality.
In addition to price, success factors of linoleum are:
Strength and wear resistance. Even relatively inexpensive options coating can last quite a long time, given the daily load.
Ease of installation and maintenance. Lay linoleum is quite simple. Enough to measure, apply the adhesive and lay. Further care also does not require much effort. Coating easily tolerate both dry and wet cleaning.
A variety of colors and patterns. Linoleum can be purchased with various ornaments, which will surely be interesting to the child. For their study, the kid will spend not one hour.
However, the coating can find and disadvantages. Many models are quite slippery especially if the floor was poured a liquid. This deficiency is one of the most important, as neither the beauty nor strength is not necessarily equal security.
Also natural linoleum can not be noted on the positive side in terms of containment of heat. But to achieve the desired effect by using a coating with an additional insulation layer.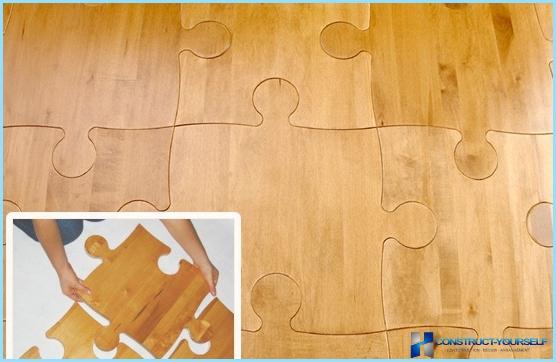 Fashionable novelty on the market of floor coverings is the material of EVA. Made original soft flooring puzzle, ideal for children's room. Besides, optional to decorate the room.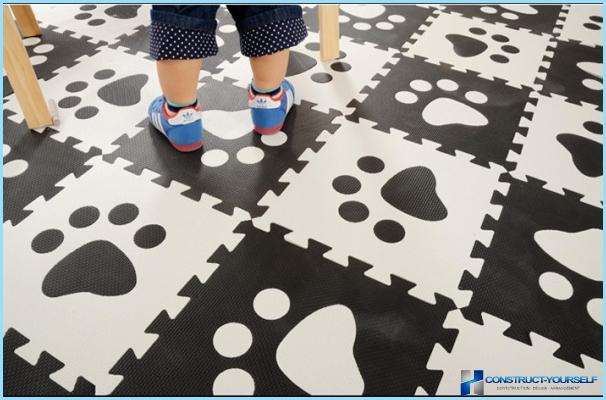 This floor Mat can be designated game or any other area. Feature is what sold flooring for a child's room in a puzzle not only as the usual colored squares. You can install floors with different pictures of plants, animals, machines and other things. Thus, the puzzle of EVA suitable for boy and for girls. The baby will be able to develop.
Besides the obvious advantages, it should be noted that for material production we use only environmentally friendly components. Therefore, children's room is completely safe for the baby.
Content related