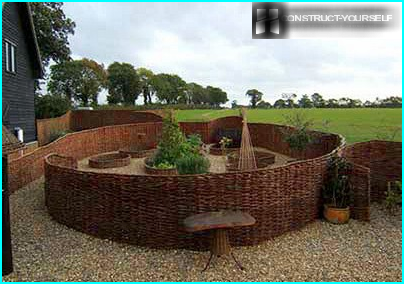 Cottagers who dream to decorate their living areashedges, can not do without a special tool. It will have to cut the bushes, otherwise they will lose their spectacular form. Secateurs in this kind of work will be useless, because it cuts one twig. And it is important to capture the hedges right lane to create geometrical forms and to reduce the time of shearing. Therefore, for the care of hedges invented a special tool - brush cutters. They are available in several versions: manual and automatic. Consider how profitable each type of instrument, and it is safer - Electric or Gasoline hedge trimmer.
Content
Scissors-brush cutter - is an upgraded model of secateurs. The extended tool blades and elongate handles to make it easier to apply physical force.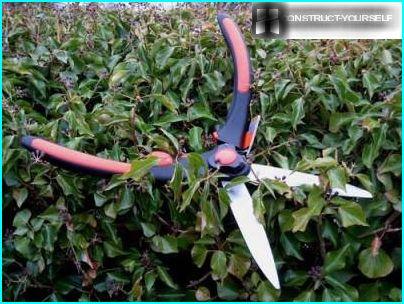 For low hedges growing on the site in a small volume, will be enough hand-scissors scrub. However, the gardener will have to work physically
On average, the total length of the tool isabout half a meter from which the cutting portion is 20-25 cm. Kustorez convenient to operate at low altitude and hedges with thin branches, after truncation occurs due to physical efforts gardener. If the site hedge only one or a few, but small in size, such that hand shear is sufficient to maintain the shrubs in the proper form. But on the thick branches, long or tall hedges this tool is not necessary. The hands will be tired when mowing, and operate at arm's length, using force, not very convenient.
It is best to show themselves in the model, which handles reinforced rubber pads. The hands do not slip during operation, and the quality of haircut turns higher.
motokustorezov Models Hedge attracted primarily by the fact that the work is not wasted a lot of physical effort. Technology cuts all by herself, but from the gardener requires competent management and a stroke adjustment.
Depending on the engine type, all automaticbrush cutters are divided into gasoline and electric, the latter can be operated from the mains and from the battery. Features of each, we will analyze below, but for now, consider the type of cutting tool.
The branches of hedges hedge trimmers cut by a blade. The longer it is, the more you get grip, and takes less time for a haircut. Moreover, they are easier to reach the tops of the plants. But excessive length (more than 40 cm) is also disadvantageous. Such tools are heavy and vibrates. They are worth buying just for very long fences to reduce the time of shearing.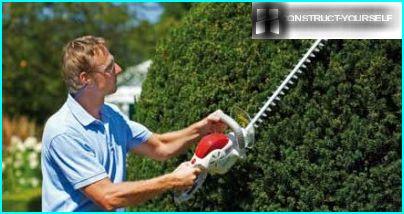 For hedges tall as a man enough blades to 40 cm, but if the design of the above - you will need a longer tool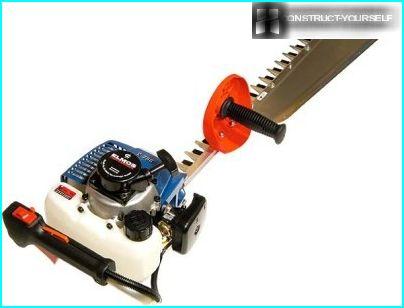 Bush-cutting machines with one-sided blade hedge perfectly align the plane, but they are not able to create unusual geometric composition
You can see the models on sale with one-wayblade and bilateral. Experienced gardeners undoubtedly bilateral blades are more profitable. Firstly, the speed is doubled. Second, the blade can cut most unusual geometries. But for non-professional gardeners such a tool may be difficult to manage, and instead of a flat wall, you vystrizhete undulations site. Therefore, novice gardeners is better to buy one-way blade, which is easier to control during a haircut. They do an excellent job with the creation of smooth geometric shapes.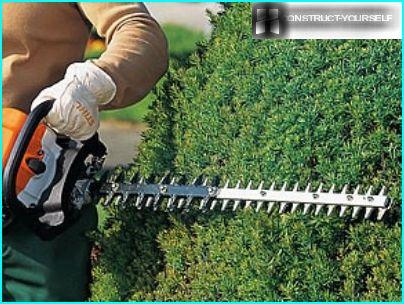 Bush-cutting machines with two-sided blades shearing save time, because the branches are cut off for any hand movement - up or down, but are more difficult to manage than the one-sided
Another point which is worth payingattention in the brush cutter device, - method of operation of the blades. They can move in different directions (vzaimorezhuschie), and may be single-loop (one moving blade and the second stationary). Cheaper tools are single-loop blades, but they have higher vibration that in the longer tired hands.
The distance between blade teeth affectsthe final result of shearing. If you admire the hedges near, the wall should be trimmed perfectly smooth. This can be achieved only close-set teeth. If the distance between the teeth is large, then this tool is easier to cut thick branches, but the quality haircut turns more rough.
Electric model brush cutter valued for simplicityservice. Do not fill with petrol, check the oil level. It is enough to plug it in - and can be cut. These models are less powerful than gasoline, but it is much easier and cleaner (do not emit exhaust gases). Besides eletrokustorezov and cost 2-3 times lower than those of units operating on gasoline.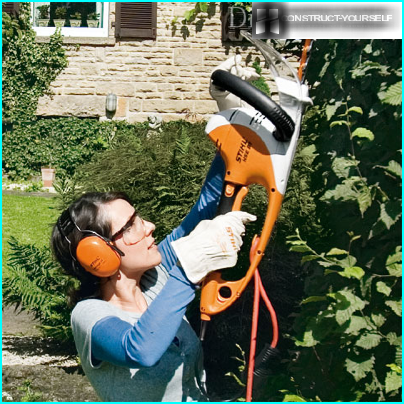 Due to the light weight electric brush cutter can be run at arm's length, and to do so may even women
Choose an electric hedge trimmer, taking into account the generalthe volume of hedges and its location on the site. Before the plant from the power of not more than 30 meters, it is suitable network tools, because their cord length is usually limited to 30 meters. For greater distances need an extension cord. And yet, this option is considered the most unsafe, because there is always the chance of contact with electric current. The unit may accidentally slip out of the hands of inexperienced and cable hook. Often wires tangled legs. Yes, and in wet weather working with brush cutters prohibited.
The second option is an electric hedge trimmer garden- Battery type. It comes with a standalone battery that must be recharged before use. So handy tool to cut if off road fences are few and are located far from the power supply. But large amounts of thick branches and battery handle brush cutter can not. You will have to recharge it a few times, which is not very convenient. The approximate battery life is enough for 40 minutes. with the proviso that the blades are not clogged. The more contaminated the cutting unit, the less time working battery.
The power of the electric motor is enough for branches up to 2 cm in thickness. For high plants produced telescopic model.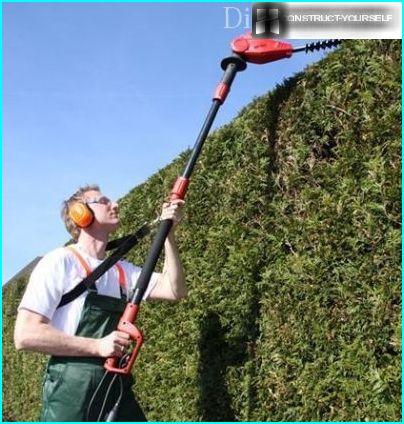 By folding telescopic rod brush cutters can cut branches even at the height of 2-3 meters, which makes them indispensable in the tall plantings
Petrol hedge trimmers attributed to the most powerfulclass of instruments, because of their lack of strength on the branch thickness of 3-4 cm. These models are selected gardeners professionals who need to work with large volumes of hedges. But we should take into account their considerable weight, because the tool is often necessary to operate at arm's length. So this technique only pull man's hands.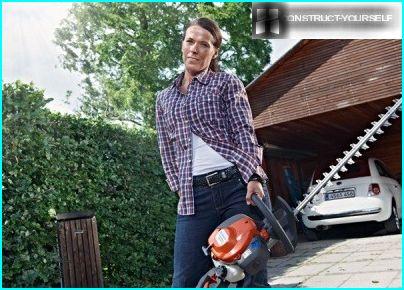 Gasoline brush cutter is not very convenient for the women's hands, because it has a solid weight, which hold when working hard enough
When choosing a petrol hedge trimmer, pay attention to:
Is the anti-vibration system in the model and a class, because this will depend on the health of the gardener's hand.
Is there in the engine exhaust filtration system, a person could breathe normal air.
With an eye on what works cutting tools (mowing tall hedges, topiary decoration pieces and so on.) Has been created.
Petrol units are very noisy during operation and pollute the air combustion. But they are able to cut the wild bushes, and even the old undergrowth.