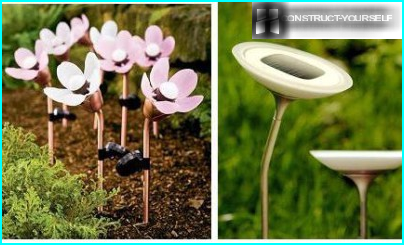 To create a bright and expressive compositions of the masters of landscape design recommend the use of a variety of components and materials. Making a plot, each of us wants to create a cozy nook of nature with bright accents colors that blend harmoniously with discreet but no less spectacular backdrop of other plants. To create these original combinations are increasingly used grasses in landscape design, ornamental forms which allow to give space garden depth, three-dimensionality and a special delicacy.
The contents
Ornamental grasses, including many species of ornamental grasses, as well as members of the family not only cereals, but also Mace, Sitnikova and sedge, can have a wide variety of colors and shapes.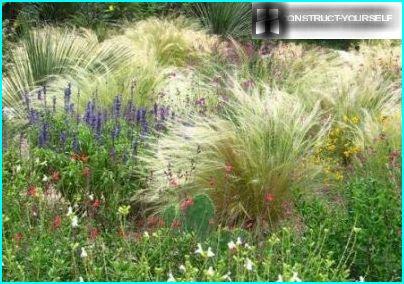 Cereals – inconspicuous at first glance, plants that can give any landscaped area a particular expression and delicacy
They are attractive in any season: in the spring form a luscious carpet that summer and fall, dress up in elaborate panicles and spikelets, and with the onset of winter beneath the snow to create a fabulous reliefs, giving the garden a special mystery. Even after cutting grains is able to keep an attractive appearance for a long time. They are indispensable for the decoration of dry bouquets and floral compositions.
But the main secret of the popularity of the plant lies not only in their decorative appeal. One of the key trends in landscape design in recent years – malohont garden, involving the minimum effort for the care of green spaces on the plot.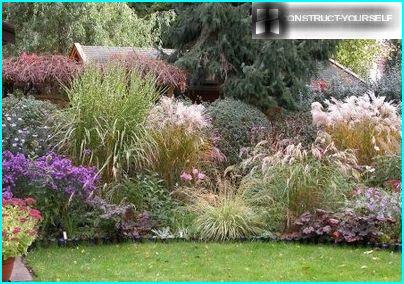 Cereals are mostly unpretentious, which makes them desirable «resident» by any stretch. They are often used in the design of rock gardens, landscaping ponds and decorating flower beds
Cereals are easy to carry as the abundance of moisture, so a long drought. They have high resistance to pests and diseases. A characteristic feature of cereals is the ability to easily get along with other species of plants. Because of this they often employ when composing mixed beds and mixed borders.
Please note! Cereals bright colors, reflecting the sun's rays, protect yourself and neightbouring plants from overheating.
All cereals can be divided into two main groups: annuals and perennials. Each of them from the point of view of landscape design in its own interest.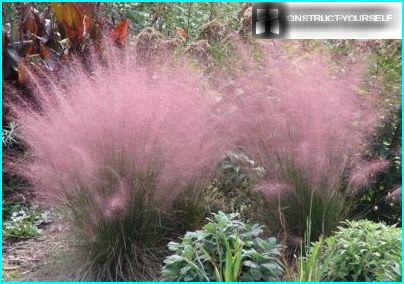 Annual grasses attractive by the presence of colorful and unusual inflorescences, which are both bright decoration and floral compositions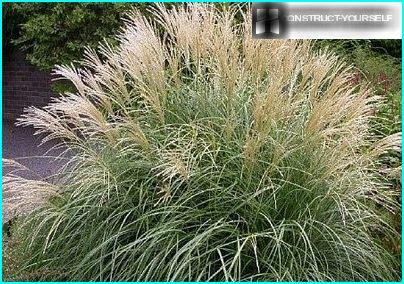 Perennials interesting for its decorative foliage, which can please the eye for several seasons
Low grains, the height of which does not exceed 20-50 cm, good as ground cover crops. They are used in the design of rock gardens, rock gardens and rockeries, and borders of flower beds and carpet.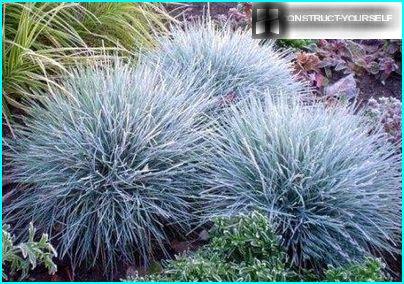 Bright touches of rocky hill are able to give fescue, which is due to the diversity of varieties may have a dark olive, gray-green, saturated blue and blue shades
As a frame of tracks there may be a fire britneny, rabbit tail, bosenick, LaMarche Golden, barley maned. For dense spike-like panicles and ornamental foliage among many gardeners appreciated the graceful Tonkonog. Effective combination with flowering perennials gives ryegrass pestrolistye bulbously.
Average height of grasses, the height of which varies in the range 50-100 cm, good for decoration and tiered flower beds mixborders. Among this group of cereals are considered to be the most beautiful grasses. Swaying by the wind the spine of the plants are fascinating for their gracefulness and beauty.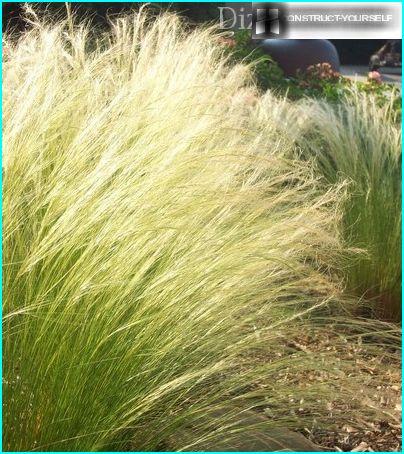 As the feather grows in the desert, creating beautiful corners in the area, it is used for decoration and rocky hills as a small group plantings
Among the ornamental varieties in the medium group include oats, perizomini, phalaris Canary. They go perfectly with wild flowers: daisies and poppies, cornflowers and Salvia.
Against rocky garden effectively released sesleria gloss – perennial, adorned with olive-white spikelets, framed by evergreen foliage is an amazing silvery-green hue
A tall species of grasses height of one meter and above, are used to create a background in multi-tiered plant compositions, as well as screens and screens. Outstanding representatives of the tall varieties are handsome pennisetum.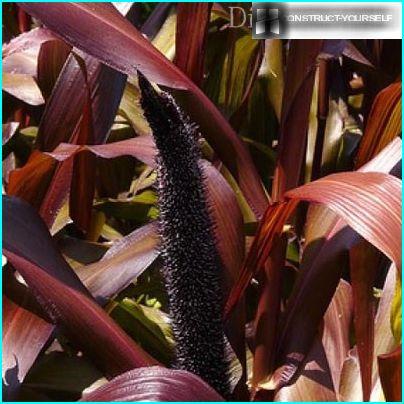 Extraordinarily beautiful pennisetum grey with maroon spikes and bronze-red leaves. Looks original and pennisetum hairy with feathery purple panicles
Not less interesting to look ornamental varieties of belownica. His purple spikelets with whitish inflorescences can become a real decoration of a shady garden.
Tall grasses are very good in group plantings and as a specimen. A spectacular combination of tall grasses give in the neighborhood with conifers: on the background of evergreen conifers, associated with constancy, cereals are a kind of symbol of eternal movement.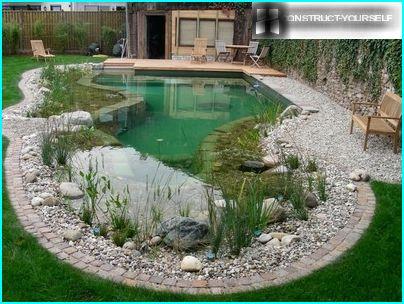 Due to the fact that grains safely carry a surplus of moisture, they are often used for landscaping artificial reservoirs
To design a picturesque area on the waterfront you can use the ornamental varieties of dvokatnica, miscanthus, molinia blue. Blooming in late summer, they form these impenetrable screens, decorated with green-white, Golden-yellow and purple-purple spikes and panicles.
Content related