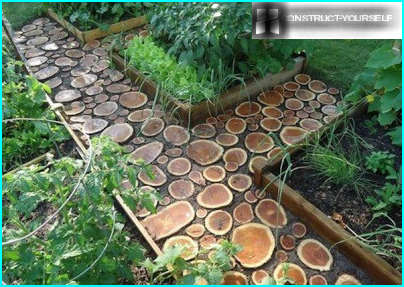 It's hard to imagine a garden without these plants as ornamental shrubs that create a colourful palette of shades of vegetable compositions are bright touches. Ornamental shrubs for garden act as a spectacular tapeworms, decorating outdoor areas, hedges along walkways or serve as a background for colorful flower arrangements. Their presence transforms the look of any garden and makes it more elegant and festive.
The contents
Beautiful shrub to organically fit into the existing landscape, selecting plants, consider some basic criteria.
Attractiveness is one of the key selection criteria of the plant. Today on gardening market you can find hundreds of various types of bushes having an unusual form and foliage color, and elegant flowers of rich colors, exuding a wonderful fragrance. If it's a flowering shrub, it is better he was pleased continuous flowering throughout the season. It is also interesting dekorativnolistvennye varieties that change color over time.
When planning the design of plants suburban area to any owner wants to create a picturesque ensemble, all the elements which complement each other
When selecting shrubs, consider the compositional structure of the garden. On the site with a small area it is best to plant the most compact varieties, with a dense crown praskaloto (example: columnar junipers). Planning to plant shrubs as free-growing hedges, you can opt for crops that are prone to rapid growth. Special attention should be paid to the shape of the crown to make it look attractive not only in summer, with «cap» foliage, but in winter.
When choosing plants, be aware of the climatic zone in which it grows. Some varieties feel comfortable in the semidarkness of the garden, others are able to be decorative only in well-lit areas. Novice gardeners it is better to prefer varieties that don't require special care and conditions to breed.
Though rose and belongs to the «Moody» plants, to maintain the decorative which you want to put a lot of effort, but green varieties of culture can afford to plant on his land, even novice gardeners.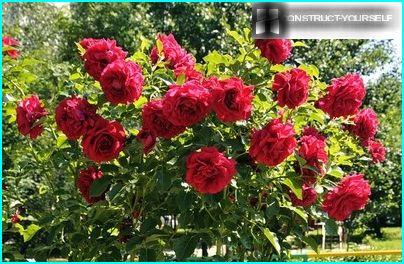 The undisputed favorite among flowering ornamental shrubs for garden is a rose. Green varieties of roses are easy to care and great winter hardiness
The only drawback of green varieties is that they bloom only once a season, but during flowering they look amazing and exude a delicate seductive fragrance. The most decorative are different varieties: «Ritausma» with double pale pink flowers, «rose Shevchenko» with flowers of crimson hue, Hansa with a large red-pink flowers.
Favorite of many gardeners Jasmine today graces many suburban areas. The flowering of Jasmine is irresistible: the white flowers that bloom in early summer on branches, creating a feeling that the garden hosted the snowfall. In landscape design Jasmine is used to generate the blooming alleys and hedges. The shrub is shade-tolerant, but blooms profusely in full sun.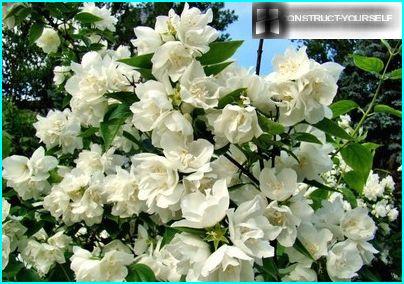 Elegant shrub, dotted with thousands of creamy flowers, spreading all around a pleasant fragrance that adorns the front entrance and recreation areas in suburban areas
Particularly spectacular is filled with Jasmine flowers with the architectural shape of the crown («Virginal» with dense vertical crown and «Pyramidal» with a clear broad crown).
To create hedges perfect medium shrub physocarpus, whose height reaches 1.5-2 meters. Physocarpus foliage has unusual green and red-Burgundy hues adorn the branches with exfoliating bark brown-red color, and elegant buds. He responds well to pruning and is able to maintain ornamental for the entire season.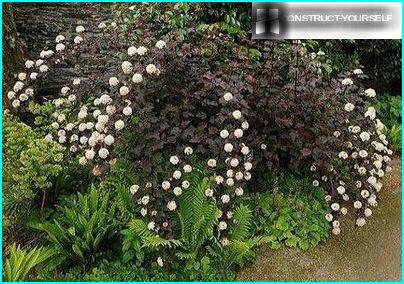 Unusually striking, winter-hardy shrub physocarpus, forming a nice hollow hemisphere soft pink and white flowers
Very interesting look fruit physocarpus, which is the original leathery leaflets slightly swollen in shape, which as they Mature change colour from green, and later yellow to deep red. Among the ornamental varieties the most widely: «Diabolo» branched handsome with dark Burgundy foliage, «Summer Vine» — compact with red leaves and white pink flowers, «Copertina» — orange foliage, closer to the summer turning into a red palette.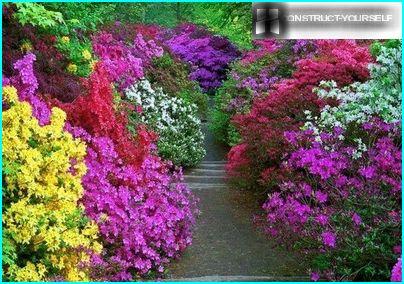 Magnificently blooming rhododendrons, sprinkled with miniature flowers in the summer, in the place which later appear bright berries, are an excellent candidates for a place in the garden
Medium shrubs rhododendrons often act as group plantings in the background of emerald grass or conifers. Special decorative effect different varieties: «Alfred» — an evergreen with a pyramidal crown, dotted with purple-red flowers, «Blue Peter» with a spreading crown, adorned with lavender-blue flowers and «Violetta» flowers dark purple shades.
Very popular among gardeners is also dogwood. The two meter tall shrub formed of flexible erect coral-red branches, the shoots of which are often covered with a glaucous bloom. From may to September the village is decorated with blossoms in the form of umbrellas and panicles collected from the miniature white flowers. Keeps ornamental shrub in autumn when the foliage turns a bronze-crimson shades. Extremely showy shrub in the winter months bare dark cherry shoots are a bright contrast against the white snow and evergreen conifers.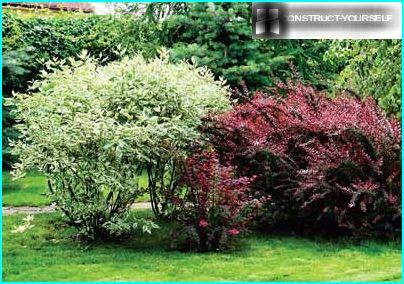 The plant with tiny wrinkled leaves are egg-shaped, summer colored green, but closer to acquiring a purple-red shades
Deren looks equally beautiful both in single copies and in group plantings. He perfectly tolerate a haircut, and quickly gives multiple shoots. Among ornamental cultivars are the most interesting: «Gold Star»- leaves with yellow pattern, «Rubra» with the bright autumn color of the leaves, «Cherokee Princess» with a slender crown.
Dekorativnolistvennye shrubs — a real find for the garden: they are good from spring to late autumn. Interesting shrubs such first of all, the original form of leaves, painted in bright unusual shades.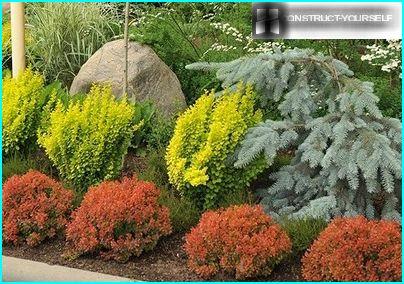 Beautiful foliage and unusual purple Burgundy shades, effectively combined with berries coral color, has evergreen barberry
Picky care shrub looks great in hedges and single crop. Barberry is famous for its autumn dress, when on the branches blaze fiery red, purple and ruby colors. In the landscaping of the most widespread varieties of barberry Siebold, Juliana and Thunberg.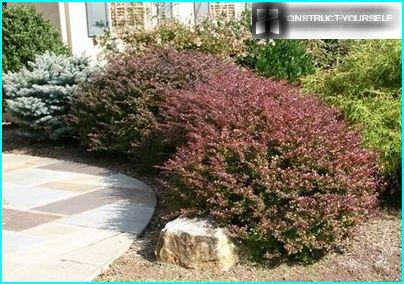 Known to many gardeners due to the delicious nut tree plant witch hazel is also widely used for landscaping
Against the backdrop of lush greenery and impressive look of the form of the common hazel: Golden-banded, dark-purple and white-mottled. Tall shrubs freely tolerate a little shade, but prefer well-lit areas.
If you consider the evergreen varieties of shrubs, the most famous decorative boxwood and Hollies. The graceful lines and precise contours of boxwood make the garden's look strict and at the same time elegant.
Bright decoration of the site may be a mahonia Holm, decorated with dark green leaves with spiny-toothed edges.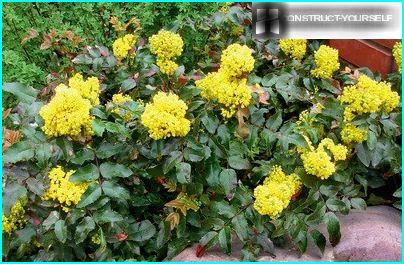 In the winter months the green foliage of mahonia is painted in Burgundy and bronze colors, speaking a bright accent on the background of white carpet
Creating a picturesque landscape, it is important to combine plants. And then blossoming shrubs will delight in bright colors in the warm season, and evergreen and dekorativnolistvennye will saturate the garden cheerful shades in the winter months.
Content related