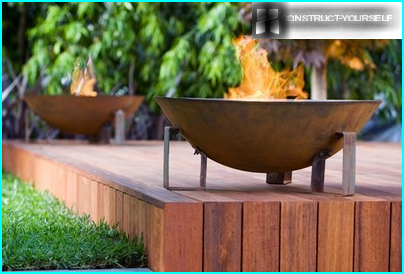 The days when the garden fulfilled a utilitarian function, providing a harvest that performs food program in the greater family leave in the past. Today, the plot is similar to pretty flower beds beds and neatly paved paths between them is a more ornamental garden. In addition to the direct purpose it is combined with other elements of landscape design, speaking with unusual decoration of the site.
The contents
Transform an ordinary kitchen garden with vegetable beds in the original element of landscape design task, to carry out which can, if desired, any gardener.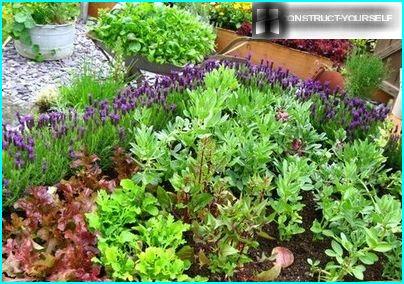 The easiest way «to revive» this site is to try «play» with the selection of the most attractive varieties of familiar vegetables and place them taking into account not only compatibility, but also a good mix of leaf shapes, shades of colors and fruits
Combined planting, where the garden of one crop is alternated with a bed of a compatible with her culture, allows us to give the garden more attractive. For example: alternating beds of carrots with Lacy foliage, beet with more dense leaves and cabbage heads which resemble a blooming flower buds.
To give the garden beds a more decorative along their edges, you can plant herbs and herbs: sage, oregano, rosemary, Melissa, cilantro, thyme… They retain an attractive appearance during the whole period of vegetation.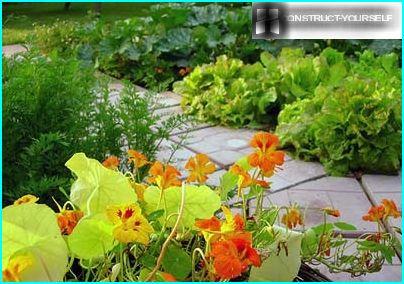 For this purpose, can be planted between rows of vegetables and beautiful annuals: Coleus, the cineraria, marigolds, ageratum. Colorful and fragrant flowers will not only decoration of the site, they will attract insects, which pollinate the plants
Combining the garden, it is important to remember «adverse» the door, when the plants don't live well with each other, for example: aromatic herb with cucumbers, parsley, cabbage, dill with carrots.
Breeders do not cease to delight gardeners with new varieties of vegetable crops which are highly palatable, have an attractive appearance.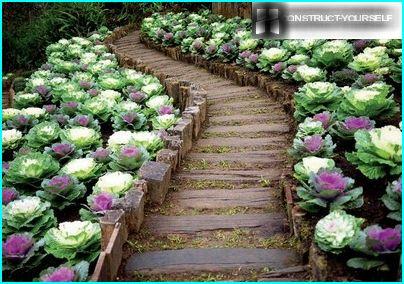 Ornamental Kale that looks like a marvelous full-blown flower, on the background of lush green vegetables acts as a bright accent, pleasing look bright and vivid colors
Article topic: Ornamental Kale as a design element flower beds
Fairly easy to care for culture were planted through seedlings in may. During vegetation period it reveals a whole palette of shades, and the largest beauty shows in the autumn months.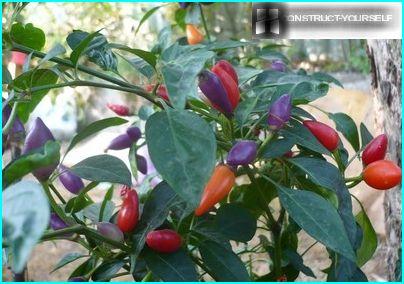 Ornamental varieties of the pepper fruit themselves vivid colors, which in the process of maturation acquire new, more intense and delicious shades
Red, yellow, orange, purple, emerald – all these colors on the background of lush green look extraordinarily beautiful and organic. Seedlings heat-loving plants are planted when the threat of frost passes and the soil warms up.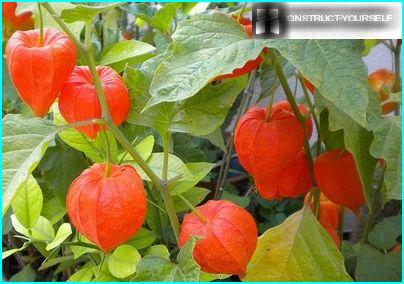 Elegant decoration of the beds there may be and bright orange «Chinese lanterns». Physalis, belonging to the family Solanaceae, is used in making confectionery and sweet food: fruit candy, marmalade, jam and jelly
Physalis, like tomatoes, are planted in the ground seedlings. The option of sowing seeds of physalis in the ground before winter.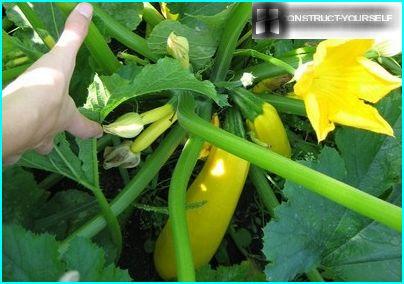 Ornamental varieties of zucchini with fruits of unusual shapes in bright colorful shades of yellow, orange and green colors, there may be the original setting for vegetable beds
Zucchini seeds are planted in the ground in the second half of April or in early may, choosing a Sunny and well-fertilized plots.
Among the ornamental varieties of greens you can highlight curly parsley, lettuce and sorrel.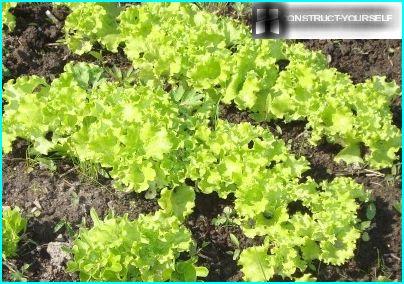 Photophilous culture are sown in March-April seeds in the ground, and amicable germination and the first crop they pleasing in the early summer
In the summer every two to three weeks can be repeated sowing, thus providing a whole family with fresh herbs throughout the season.
Possessing only a small plot for a vegetable garden, equip and unusual to make area using vertical beds.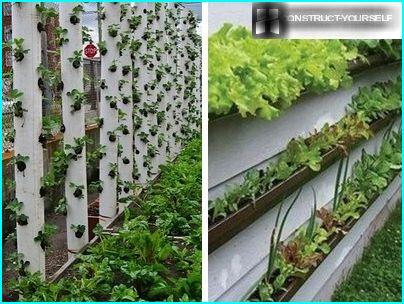 Containers with strawberries, strawberries and greens can be made in the fence along the lot or in a specially dug poles
It is interesting to look planting vegetables in wooden containers, baskets or boxes. The main advantage of such crops is their mobility.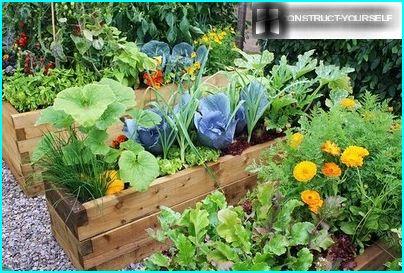 Drawers and containers with vegetables that have low stems, can be placed on makeshift pedestals and sustainable shelving
Plants on the plot can be placed in the form of small Islands flanking them small curb. Plant composition in this method of planting formed on the principle of mixborders. For example: in the foreground place the herbs and spices, and carrots and beets, the middle layer is the tomato with tiny fruits, cherry, and background are decorative yellow sunflowers, entwined with stems of purple yardlong bean.
Such edging vegetable beds run from a curb strip, which can be purchased at gardening store.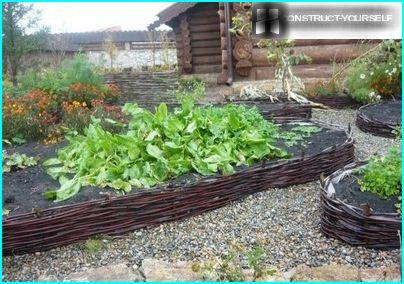 Original frame for beds can be constructed from conventional branches, forming a low decorative fence
For the edging of garden beds and flower beds are also suitable saw cut of trees, pieces of slate, bricks and stones. Neat piping allows not only to define the boundaries, but also to give the vegetable flowerbed compositional perfection.
Content related