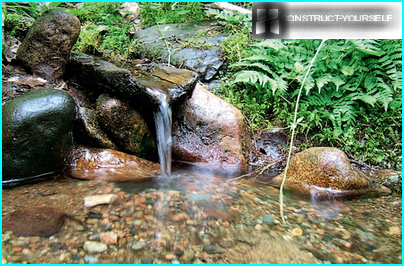 How nice to stroll down to the private garden enjoying magnificent nature and amazing fresh air. Thinking through the design of the suburban area, each owner tries to make it special, adding flavor and creating a positive mood. Garden figures made of plywood can successfully Supplement of plant composition and an amazing way to transform the area, making it nice and cosy place with a pleasant stay. To make such amusing figures out of plywood able anyone. To create this decoration does not necessarily have the skills of the artist, we need only to show imagination and minimal effort.
The contents
Such figures are designed to focus on certain places on the site, making them more elegant and attractive. Due to natural natural ornaments made of wood and plywood most harmoniously fit into the landscape design.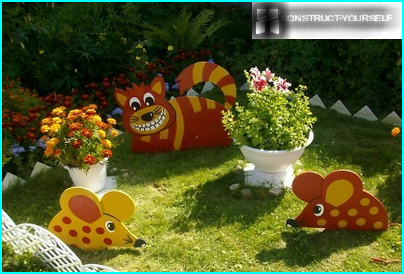 Cut from plywood figures in the garden plots look extremely
Of plywood can make many interesting functional ornaments for the garden. It can be:
Funny figures;
Containers for flowers.
Mailboxes;
Bird feeders;
Decorative fences.
Variants of the figures out of plywood a great many, and each of them is distinguished by originality and expressiveness.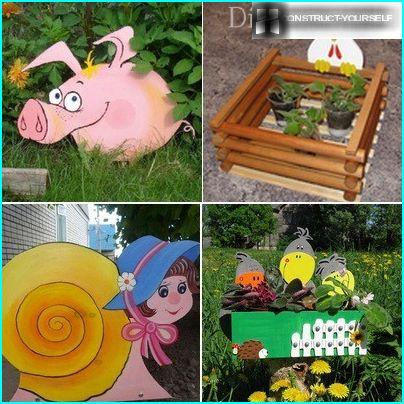 Miniature toy houses, animal figurines, whimsical fairy sculptures and cartoon characters adorn many suburban areas
Plywood is one of the easiest and convenient crafting material. It is so simple that the figures obtained from it are pretty fast, and most importantly – interesting.
Plywood is sheets of wood veneer bonded together in multiple layers by means of glue or synthetic composition. The strength and thickness of the material depends on the number of these layers. Thickness range of plywood sheets ranges from 3 to 30 mm. the Material may have a completely different texture, which can affect the color and texture of the finished crafts. For example: thanks to the beautiful structure and warm shades looks very aesthetically pleasing birch plywood, coniferous plywood is also more suitable for painting.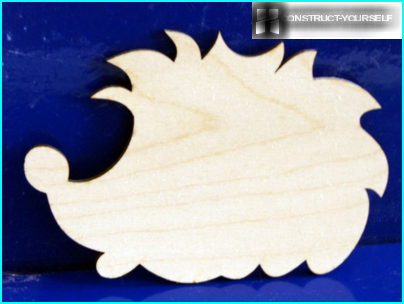 To create garden ornaments are the perfect places sheets of plywood, the material for the manufacture of which was: poplar, alder, aspen, pine, birch, spruce
Main advantages of plywood:
Environmentally friendly;
Strength and durability;
Water resistant;
Good flexibility;
Compatibility with other materials;
Easy handling.
But since the plywood is still wood, which by its nature is influenced by the environment, material selection should consider several points:
Moisture resistance. For the decoration of outdoor spaces and decorating gardening area, you can use plywood sheets, marked FKM and FSF. Used in their manufacture melamine and phenolic resins, with water-repellent effect.
Brushed treatment. In the market you can find sheets, sanded one side (SH1), treated on both sides (ø2) and sanded at all (NSH). This point is important only in the case when you don't have enough time for additional processing.
To create an expressive and colorful garden ornaments are perfect oil and acrylic. They fit perfectly on a wooden surface, creating saturated color combinations. Coatings are resistant to UV rays, keeping the attractiveness for several years.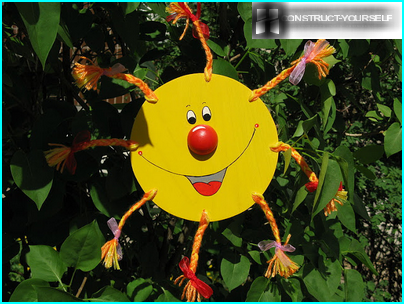 The choice of materials for the manufacture of jewelry, it is important not only to correctly pay attention to the qualitative characteristics of plywood. It is also important when choosing inks for the decoration that will retain their bright color for several seasons
Most of the cottages decorate the flat figures cut from moisture-resistant plywood sheets. To create an original jewelry we need:
Water-resistant plywood with a thickness of 2 cm;
Stencil;
Jigsaw;
A simple pencil;
A fine-grained emery paper;
Screwdriver and screws;
Acrylic paint, brushes and varnish.
If you plan to install the figure, not allocative it on any prop in the garden, it is necessary to provide also for the manufacture of pegs for its Foundation. Their size depends on the size of the figure itself. But, in any case, count on the fact that the pegs should go into the ground at least 50 cm.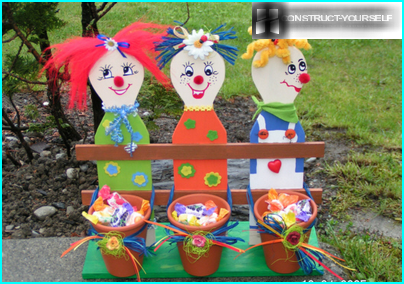 We offer you to recall the forgotten art — sawing jigsaw, making an unusual decoration for a garden with their hands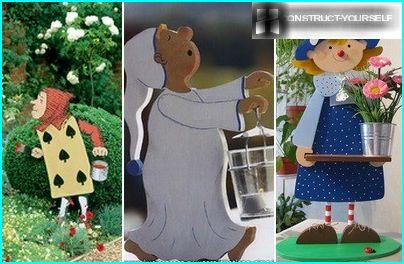 A figure made of plywood, you can decorate any area in the garden, hanging on the rope, fixed to the support with nails and setting it on the stand
The stencil for the manufacture of shapes can be done independently. To do this on a sheet of paper to draw the desired image by filling in the form of a drawing or silhouette, and then just cut it.
Cute figure out of plywood so simple to make, what to do and it can be anyone. Little helpers will be happy to respond to offer adults to participate in an exciting process.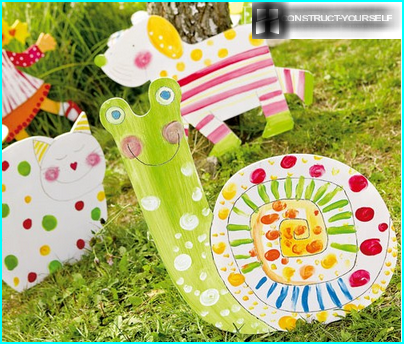 Charming snail will surely enjoy not only the little kids, but adults can enjoy the plot, becoming elegant decoration for a children's Playground and favorite character exciting games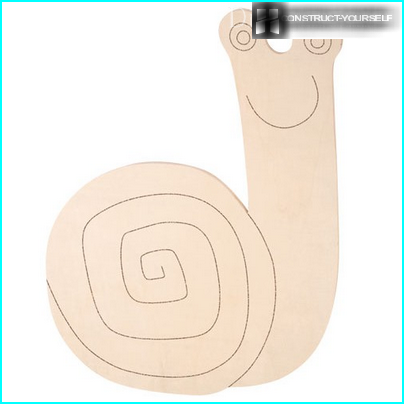 On a sheet of paper make a sketch of the future figure, whose image in the subsequent transfer on the basis of plywood
If you are confident in your abilities, you can do without a paper pattern by drawing a snail once on a sheet of plywood. Cut a jigsaw shape, for security reasons, you will have to do yourself. But effective outlines and painting snails can safely entrust impatient little helpers.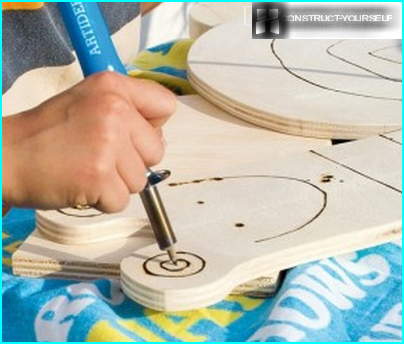 With the help of a marking pen or cautery draw the contours of the cochlea so that even after coating with paint, they were bright and expressive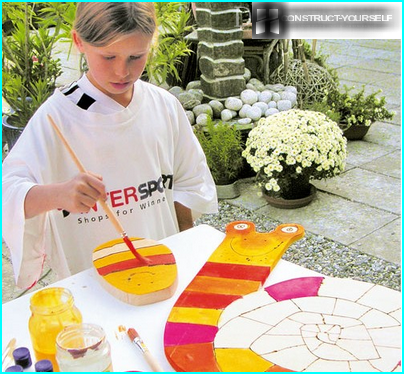 Blank paint with acrylic paints, choosing a bold, contrasting combinations. To get saturated colors, acrylic paint is best applied in 2 layers
The snail is ready. Give a little to dry the paints, and I can safely plant a nice character to any spot in the garden.
Highlighting just a couple hours of free time to produce the Scarecrow, you will have an opportunity to make a funny figure, which will bring to the area a touch of warmth and heat.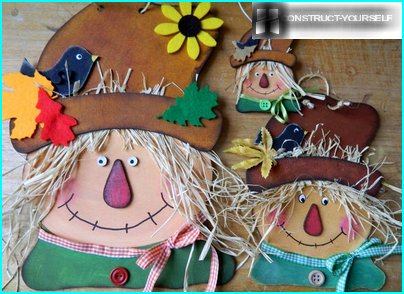 That's such an incredibly cute and charming fairy tale character Scarecrow from the fairy tale «The wizard of oz», can live and in your area
The production figures will perform in several stages. First, take a sheet of plywood, which is using the stencil draw the outline of the future character. The finished image can be transferred to the plywood using ordinary tracing paper.
If we do a piece which will build on the pegs, just attach them. For this body shape drilled pairs of holes, whose diameter corresponds to the size of pegs.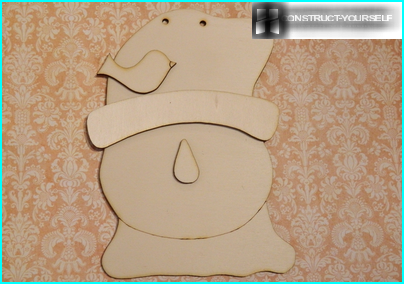 According to the planned path using a jigsaw cut out the shape. Its edges are carefully Polish finish with sandpaper to make them smooth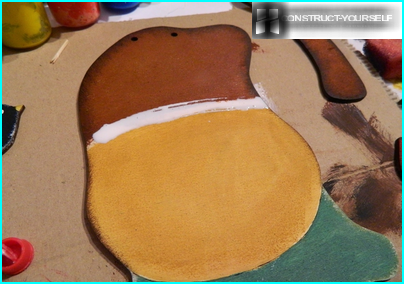 Draw a figure on the workpiece in pencil draw elements of the character and coloring them with acrylic paints
Painted the front part of workpiece, decorate end faces. When the paint dries, cover the figure with varnish.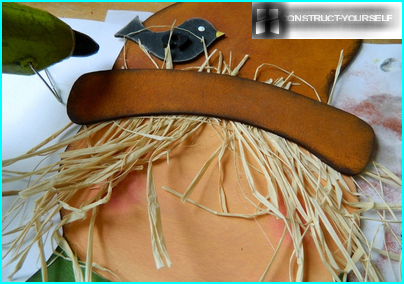 To decorate the shapes we used dried grass, which scored a hair of the Scarecrow, button and satin ribbon, which posted collar character
Our cute fairy tale character ready. It remains only to extend through the holes in the hat wire and to fasten it on a tree branch or fence.
A little secret: if in the process of cutting out a jigsaw, a sheet of plywood begins to delaminate, it is necessary to impregnate it with a solution made from PVA glue and water, taken in the ratio 1:1. Plywood impregnated with 2 to 3 times, applying each subsequent coat after drying the previous one.
Because these crafts are rather easy, the finished product must be secured to the locking, partially burying it in the ground, filling with sand or sticking to the base.
The same principle can be done and thematic plywood structures, for example: lost in the flower garden miniature fairy forest with fanciful trees or a nice lawn at the pond, filled with funny figures of animals. Hand made plywood structures that will beautify your site, making it attractive and unique.
Content related