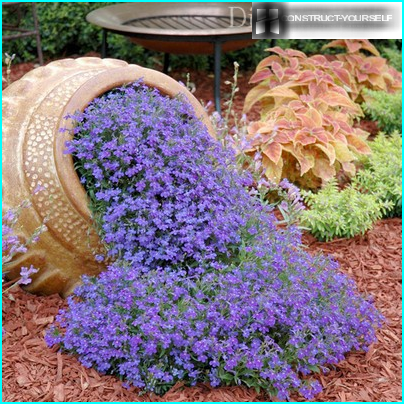 Wood – soft, but durable, loved by many material for construction of houses in suburban areas. Even if the building is constructed of brick or concrete blocks, logs, lumber or boards are used for the construction of baths, garage, gazebo, veranda. Do not do without the wooden decor – a well, benches, swings, bridges. Fences and fences are also made of wood. To avoid rapid destruction of the material, the need for effective protection of wood from external factors: excessive moisture, fire, insects.
The contents
If the moisture content of the material exceeds 15%, the wood structure begins to break down: to swell, delaminate, and then drying and shrinking. As a result, products are changing their shape, cracks, and crevices. Almost all of the wood elements subject to the influence of high humidity, except, perhaps, sisal and rattan, as they come from the tropics.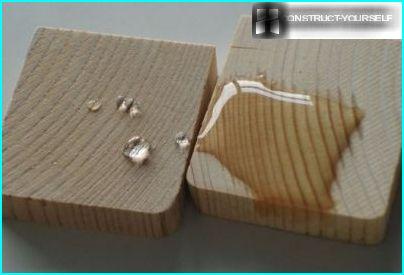 The experiment showed that water can not penetrate into the pores of the treated water-repellent composition of the bar, while quickly absorbed into unprotected wood
There are special solutions, which are to protect wood from moisture. They are divided into two groups:
penetrating;
film-forming.
The first group provides a more reliable barrier against ingress of fluids to the tree structure. The processing compositions of the second group must be repeated. Consider two opposing high humidity.
Aidol Langzeit-Lasur refers to impregnating medium viscosity formulations great for covering house walls, garden furniture, balcony and terrace railings, and fences. The blue is so safe that it can cover toys and buildings. Has many decorative colors: silver gray, teak, ebony, dark oak.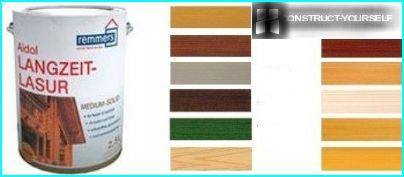 If Aidol impregnation Langzeit-Lasur treated softwood, initially, it should be primed. This rule also applies to products damaged by fungus or mold
Belinka Interier Sauna is composed of acrylic resins, water and additives. A colorless glaze, ideal for wood processing in steam baths or saunas. Two coats of solution is applied with a roller, brush or sprayer.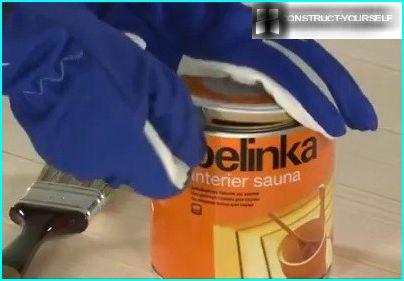 Belinka Interier Sauna does not mask the natural texture of wood, but only makes it more silky and shiny. Bank of blue 2.5 l is 950-1000 rubles
Changes in temperature, precipitation, solar radiation lead to untimely rotting wood. The first signs of disintegration – the appearance of mold and mildew. Large area lesions suggests that the material can not be saved. If wood products or structures experience atmospheric turmoil, high humidity and precipitation of condensate, will not be superfluous to carry out preventive work, which will protect the wood from rotting.
The best helpers in this case are antiseptics, which is a paste or liquid solutions. Some of them are universal, that is, protect the material not only from moldy fungi, but also from the bugs. Examples of such compositions are two popular tools.
PINOTEX IMPRA is used for the treatment of wooden surfaces that are not subject to further decoration. Usually it beams, slings, roofing, lathing parts, that is, the hidden parts of buildings. Impregnation is green. Covered it wood possible occurrence of mould, blue stain, mildew and rot.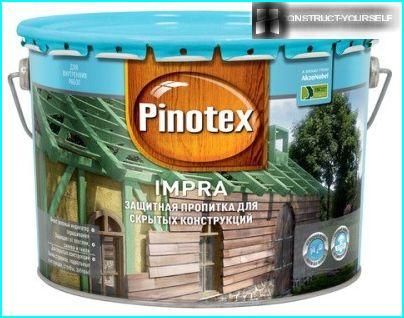 Antiseptic Pinotex Impra sold in large volume containers. Price funds: 3 l – 1100 rubles, 10 l – 3350 rubles
Senezh Ekobio used as a standalone coating and as a primer under lacquer or paint. 2-3 layers products protect the wood from rotting for 30 years.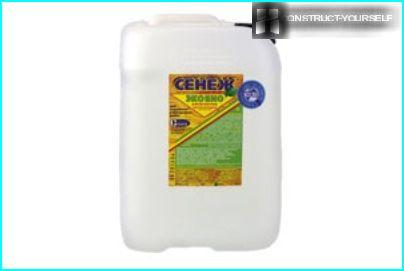 If the wood surface was originally finished with lacquer, paint, varnish or other water repellent, SENEZH EKOBIO to apply it is useless
To protect the wood from fire, there are fire-resistant solutions – flame retardants. For homes, they are mandatory. Under the influence of flame substance that permeated the wood, turns into a thin film, can briefly impede the flame. Coatings have a different view:
solutions;
plaster;
paint;
coating.
A sample of the retardant — NEOMID 530, impregnation for exterior and interior use. Guaranteed service life – 7 years. Protects from fire wood walls, floors, doors and Windows, partitions. The composition of the flame retardant does not change the structure of the wood. On top of the fire resistant solution can be varnishes, paints, primers.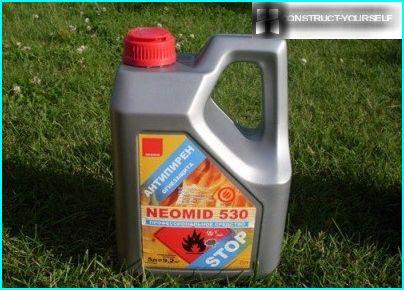 Note that when applying the flame retardant NEOMID 530 there is a slight tinting of the material, depending on the wood, so before starting work is recommended to test
Pirilaks – biopiren protecting wood against fire and confining the fire. The prefix bio – means that the tool is both a barrier to the growth of mold and insects. The solution provides effective protection inside and outside the building, safe for the treatment of buildings for poultry and livestock.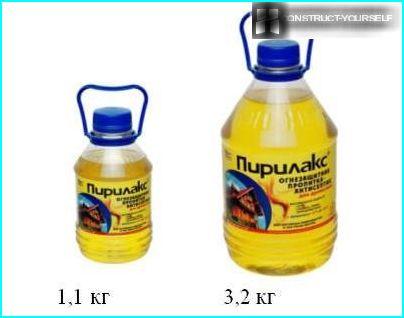 Pirilaks for external use is not washed out by rainfall within 13-15 years. Indoors it provides protection for 25 years
Tiny beetles are able to turn to dust wood furniture, walls and floors of the house. Beetles, borers, beetles and weevils together with their larvae slowly but surely destroying the raw building material. Only protect wood from harmful insects save the situation.
Much easier and cheaper to take preventive measures than to replace deteriorating logs and beams. Insecticidal solutions were kicked out of the shelters established pests and block the road for beginners. You can use a folk remedy – a solution of tar in turpentine, trichlorfon, paraffin or a mixture of kerosene and karboli. But more effective formulations for professional treatment.
Aqua-Lac, Boron penetrates the wood surface, protecting it from any negative developments from outside, including from the bugs. They cover the window and door frames, baseboards, stairs, railings, fences, wooden walls of the houses. Transparent impregnation does not distort the texture of the wood, only to change its color to the desired one. The lacquer can be diluted with water, but the percentage should not exceed 10%.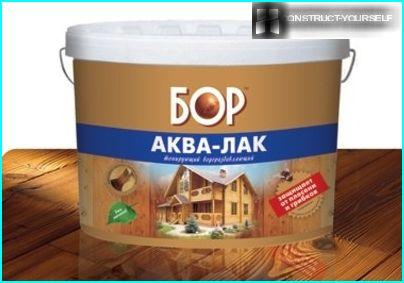 The number of layers applied Aqua-Lac depends on the location of the wooden elements: indoors only two beyond – not less than three
Antiseptic Tanatex serves as both protection for wooden surfaces and for decoration. Its composition emphasizes the texture of wood without changing its properties. Gamma of different colors allows us to give the usual wood color one of precious wood.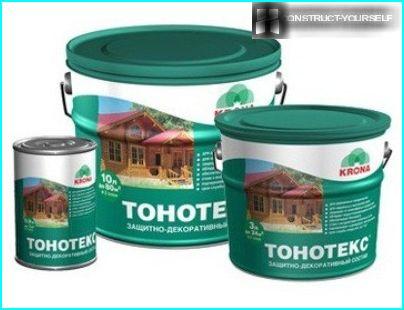 Tanatex applies to generic formulations that are used for wood processing on the territory of suburban area: it will protect from atmospheric troubles, and biological threats
If you compare the country house, built in the middle of the last century, and modern holiday cottage, you will notice a big difference. It concerns the appearance of wood. The old house had virtually no additional protection, so in a few years the logs become porous, gray, covered in cracks and small holes. Now, thanks to the integrated treatment of all wooden parts and structures, the appearance of the houses does not change with time.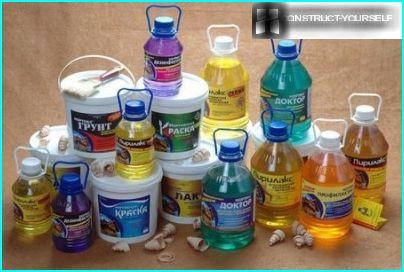 Building supermarkets offer a wide range of protective coatings for wood: domestic and available, and more expensive foreign production
Various impregnation solutions, glazes, varnishes and paints are composed of substances that protect the wood from insects, rapid wear and decay. Using protective compositions when building a house, you can make it truly impregnable, reliable and safe.
Content related