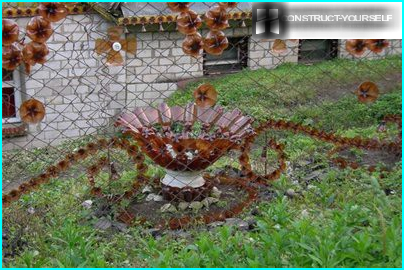 The childhood favorite place any of us was a children's Playground with roundabout, swings, sandpit and other interesting devices. And spending time in this amazing, never gets boring the place was not boring, even alone. What to say about fun with friends when you can always come up with new and interesting games and do not want to go home. If you have a suburban area on site is necessary to equip the Playground for children – here the kids are busy with their own Affairs, not distracting the parents, who are busy in the garden. Playgrounds for the garden — a great joy for children, and outdoor play for any child will benefit.
The contents
A platform should be created, given the age of the child. For a kid with a lot of room for games just platform can be composed of ready-made things – an inflatable kiddie pool, a folding cabin-tents, a small table, benches for drawing and beach umbrella.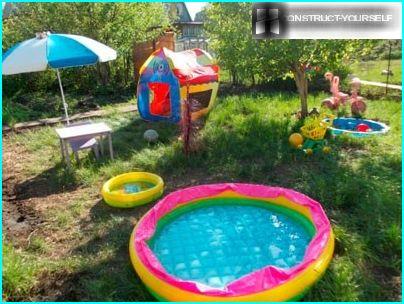 Such a platform for kids to create for half an hour — enough to buy an inflatable pool, umbrella, house-tent, table and bench and arrange them in a suitable place
For the older child, you can add sports equipment – horizontal bar, various ladders, rope, cozy house. You can make a small flower garden and allow the child to take care of their plants.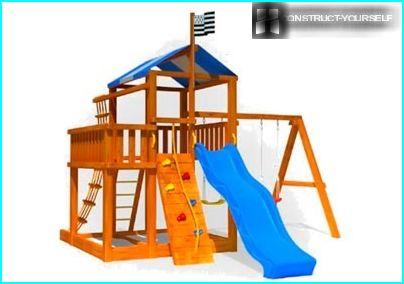 Ready perfect area for a teenager with a climbing wall, slide, swing and rope ladder
Playgrounds for the garden should be in a comfortable place, where there is both sun and shade. It is good to find a place sheltered from wind and quite spacious in order to provide space for games.
Playground should not be located far away from the house so children were always in sight of parents. Arrange it around the various outbuildings, which houses garden tools, should not – child-like curiosity we all know.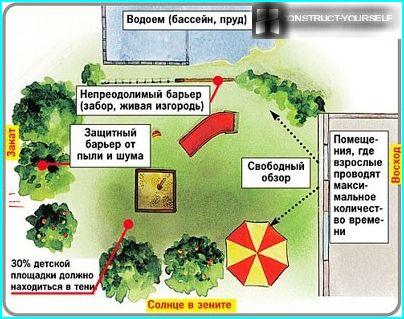 Perhaps when you create a site you will help this scheme, which graphically represents the location of the Playground and other country objects
Square feet of gaming space must be located on a flat area, so the kids didn't get hurt, tripping over roots sticking out of the ground, or bumps. A small area that you'll take for the site should be cleaned of debris, small stones, weeds. Well, if the ground is covered with soft grass on which you can run barefoot.
The Playground is better positioned away from plants with thorns of the raspberry, the BlackBerry, the rosary, etc. On the Playground can be equipped with a coating of rubber tiles, it is comfortable, soft, neravnovesnoi, and looks very aesthetically pleasing.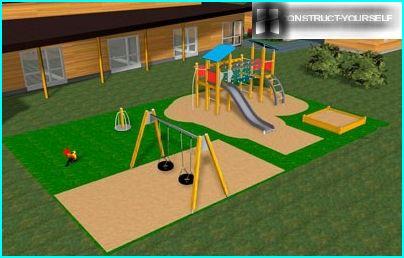 The plan of the Playground, all objects situated under the swings and slide with ladders, you can make a sand mound or to make a rubber coating
In a small area can have something like a gravel garden with small stones. Kids like to play with gravel as well as sand.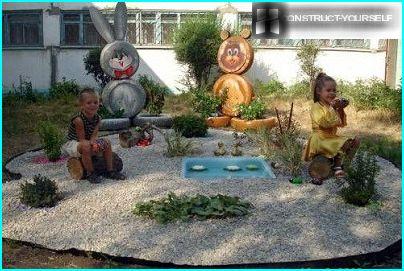 Cute Playground is in the style gravel garden, its appearance is enlivened with funny little animals of tires in the background. The plot is generated by a scheme analogous to the scheme of creating a garden of gravel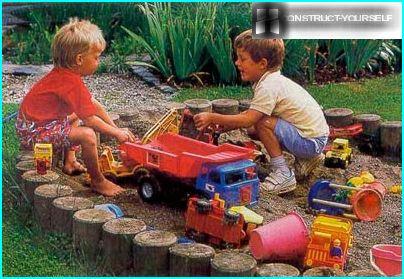 If the space for playgrounds in the country a little, you can create a children's area. For example, to enclose a place to play stumps and inside fill it with sand or gravel. This site is good to build near the pond — it looks picturesque, and the children will be able to draw water games
The site does not have to be with a standard set of devices, the cottager there is a lot of materials that you can use – stumps, logs, tires, boards, from which you can create wonderful and fun things on the Playground. Children differ from adults in that any standard subject can find a non-standard application, so you can ask for advice and they.
The sandbox is a place for creativity, one of us didn't like in childhood baking sand cakes, create secret passages and build castles? To create a sandbox, you can use the old boards, tree stumps by digging them on a path, saw cut logs. Stumps and logs may be of different heights, in this case children will love to jump and walk on them, and the sandbox will look original and can be a decorative element in the area.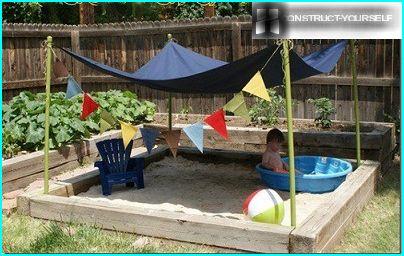 Comfortable large sandbox for the baby of thick timber. Here is placed and a basin for bathing, and space to play enough. The awning protects from the sun
You can well bury in the ground, the paving around the edge of the sandbox, choose colorful tile beautiful shape.
In the sandbox you can use sand, and gravel. To observe cleanliness and to protect this place from the cat's antics, and think of the cover for closing the sandbox at night or while you at the cottage no.
Such devices, of course, can not move, but the children's imagination is much more lively, so that from «drive» in a makeshift car or flying in a rocket, the child will get real pleasure. The easiest option is to make a car out of scrap materials. You can use leather from old cars, tree stumps, old boards, tires. It is enough to show imagination, use bright colors, and your baby will become the owner of a beautiful impromptu «auto».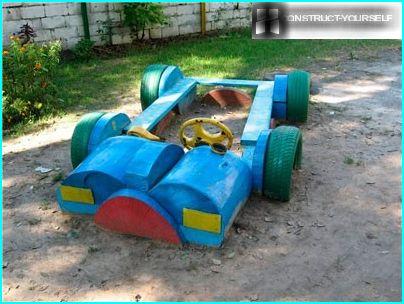 «Vehicle» for a child built of massive stumps, boards, old tires and steering. Inside you can still have a sandbox, make a shop, if there is enough space
When installing the swing, you need to choose a spacious place, given the amplitude of the swing and securely install them, check all fasteners. Swing best buy is ready, today, stores offer a variety of models from different materials.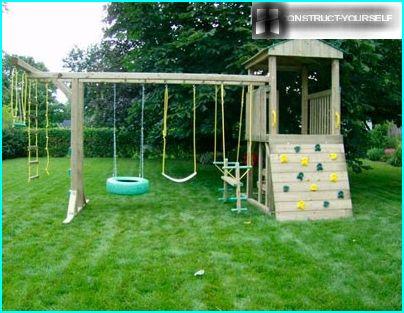 Is ready children's Playground, which has everything a child needs for natural development. You can make a solid horizontal bar and hang on a swing with a seat of tires or plastic Board
Inexpensive cost a rope swing attached to the branches of a large tree, if there is one on the site.
Kids love to sneak around, create your own mysteries. Therefore, a Playhouse on the site will be for them a great joy – a more suitable place for discussion of secrets to find.
A skilled craftsman can create a play house out of boards and remnants of roofing material, but you can buy a plastic house, tree, or tent for very young children.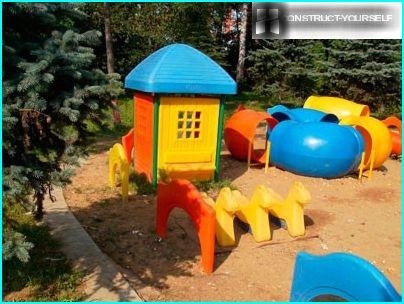 Playground of plastic, can be purchased separately house. It is inexpensive, and kids will bring a lot of joy
The kids will be happy if you arrange for them a tree house, but it is a difficult task. First, you need to on the site has grown a big strong tree with spreading branches, and secondly, a house must build and positioning, thinking about the safety of children.
Pool – the source of joy for children in the country. Today with its acquisition, no problems, perfect and a small inflatable pool where you can splash around on a hot day, and easy practical swimming pool plastic.
Children's sports equipment from tires known since the Soviet times, they were often used on playgrounds and kindergartens. The tires dig into the ground, can be on the same level, on different and bright colored paint.
If your children are teenagers, it will be an interesting Playground with rope climbing frames and a climbing wall. Today you can buy a platform off the shelf and install at the cottage. You can also make a post with a basketball Hoop, to find a place to play badminton, volleyball, to make a table for game in ping-pong. On this site it is possible to stretch their legs and parents.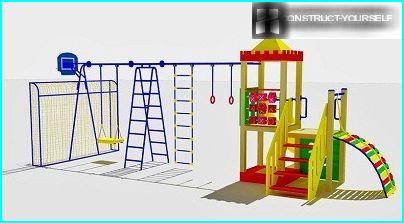 Manufacturer of playgrounds today is engaged in many companies, you can buy or order multiple items for Playground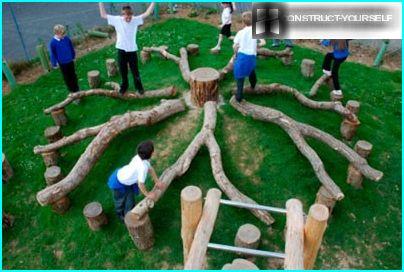 If you want to do anything available, you can create a platform of logs and stumps for teenagers. Children will be able to practice the skill, play patches, invent a lot of their games
Table for various craft projects will be easy to build out of the stump and the old Board or countertop, finished plastic table is also nice, and it is quite inexpensive. To glue, to paint, to sculpt outdoors a pleasure.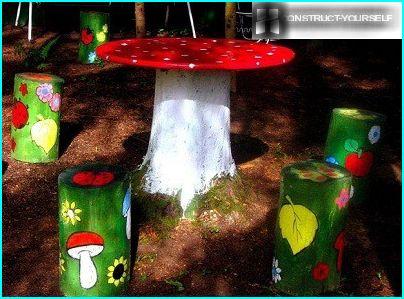 What kid does not like a table in a mushroom and chairs-hemp? And creating them is very easy, you only need to search for stumps
Using a variety of amusing figures, make that quite easy, the site will look much more attractive. Images of animals, cartoon characters can be cut from plywood and paint. Good for decorating children's area and large pebbles, which, with the help of images can be turned into animals, flowers or mushrooms, and luminous stones, making the area a mysterious fairy-tale area in the evening. Ready garden decor in the form of gnomes, flowers also colors children's corner.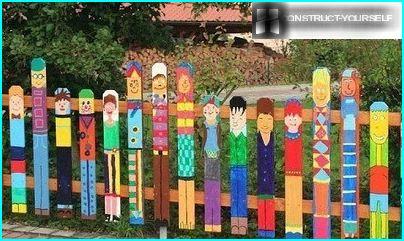 Children's area can be fenced so funny positive fence, where each bar represents a specific person
A children's Playground on the dacha with his hands can be created through the joint efforts of parents and their kids, surely your child on this score there will be many interesting ideas.
Content related