Making repairs in the apartment, don't forget about the hallway. It is the first thing you see coming into the house, and the first impression they have formed from the look of the hallway. Most often it is a small room with no Windows and several doors to other rooms.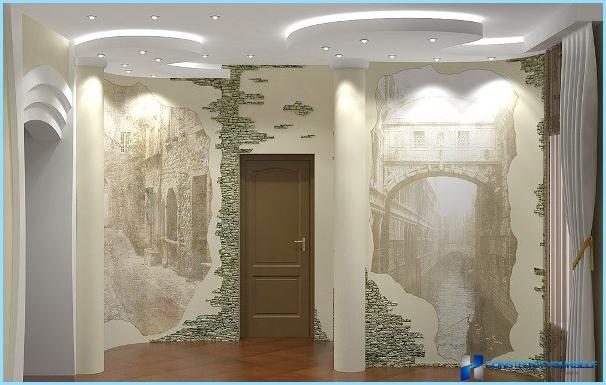 The dream of many, a hallway lined with stone, is not impossible. The walls are fully lined with stone, but it is not necessary to do this if the room is small. For smaller rooms a good option would be to combine several materials, as stone goes well with paint, with plaster and Wallpaper.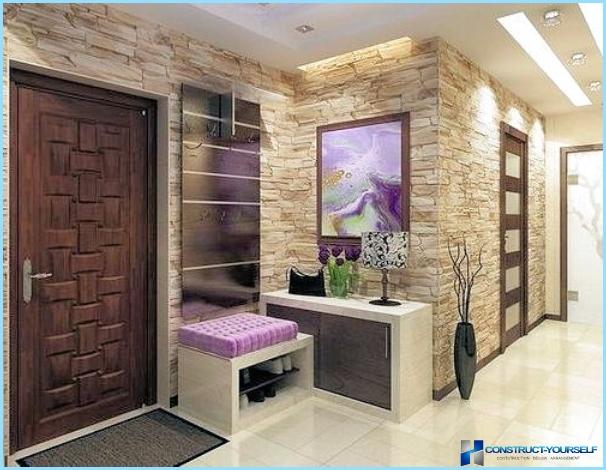 The stone itself is cool stuff and should be used in private homes, and large Windows and hallways. The apartment is the same, the optimal solution would be the use of decorative stone. He has a lot of positive characteristics, such as:
Ease

– due to this it is quite simple to mount on any wall, and replace if necessary.

Thermostability

calmly tolerate extremes of temperature, while natural stone may crack.

Choice

– a variety of shapes, colors and textures, provide an opportunity to create a unique hall.

Low cost

decorative stone is several times cheaper than natural.

Easy care

– the walls are easy to wash, much important, as the hall quickly contaminate the room.

Strength

– highly resistant to external physical influences.

Sustainability

decorative stone does not contain harmful impurities in its composition.

UV resistance

– it does not change the shades of the original color under sunlight.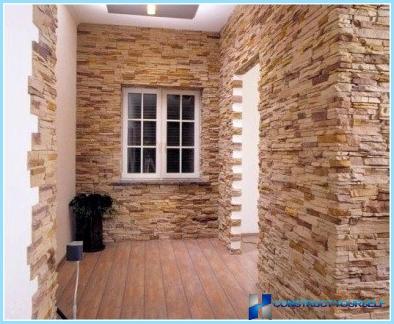 Choosing decorative stone for future repairs, you need to know on what basis it is made. Most often, for artificial stone, use:
Cement

. When you create a tile using cement, sand, various fillers, pigments, plasticizers and reinforcing additions such as, pumice, ceramic chips or clay pebbles. Stone tile because it is not afraid of high humidity. It is more difficult and expensive, and its installation will require some tools.

Granite

. It is made from several types of clay, coloring pigments, minerals and feldspar. This kind of artificial stone is more like a tile than stone. It is very durable and does not absorb moisture.

Gypsum

. Tile is reminiscent of Sandstone. Stone imitation made it easier and cheaper just to do it yourself. The only drawback is the fear of water. But it does not matter if the tile is further processed with acrylic paint.

Conglomerate

. Considered the most durable of all types, but more expensive. This tile is made from silica sand, pigments and limestone chips, with the addition of crumbs of marble and granite. Not an expert can not distinguish this decorative stone marble or granite.

Liquid or acrylic stone

. Made from sustainable polymers by pouring into molds, allowing to create high quality imitation, and at the same time facilitate material.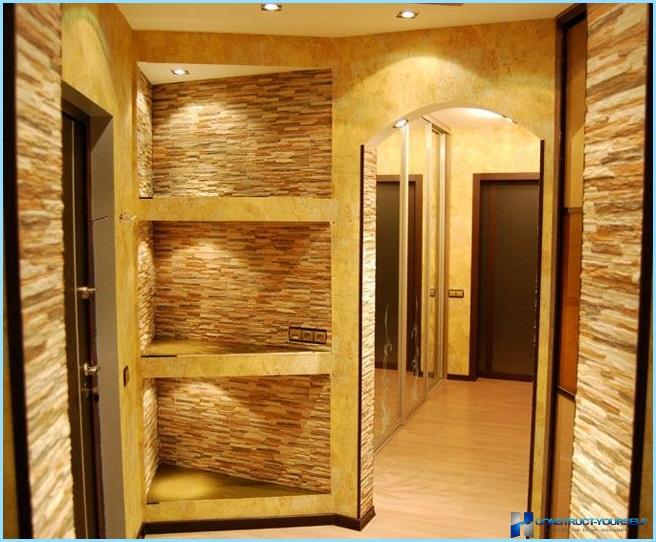 Decorative stone share the decor of the front side:
Brick – tile simulating various types of bricks and masonry.
Chipped tiles, reminiscent of raw stone.
Sawn – tile, looks like a piece of sawn unpolished blocks.
Quarry – tiles in the form of boulders or pebbles.
Tiles – tiles that mimic the natural smooth stone.
Fancy stone – tile, which compound, complex texture and colors non-existent stones.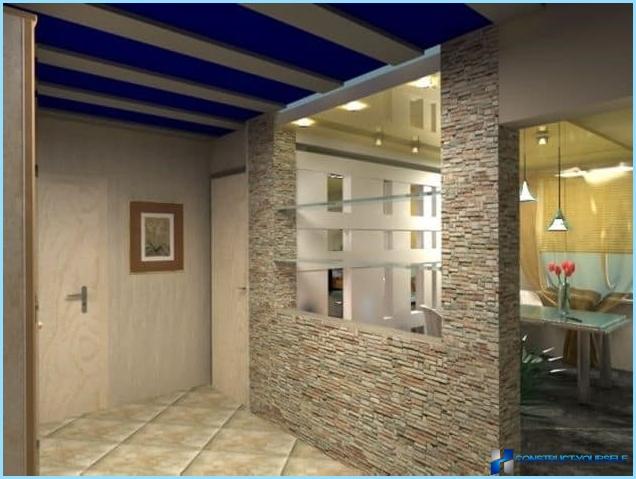 As can be seen from the above, the options of decorative stone very much and choose it for every taste and wallet, but the hallway is a special room, which is sometimes very difficult to properly decorate, especially if it's small.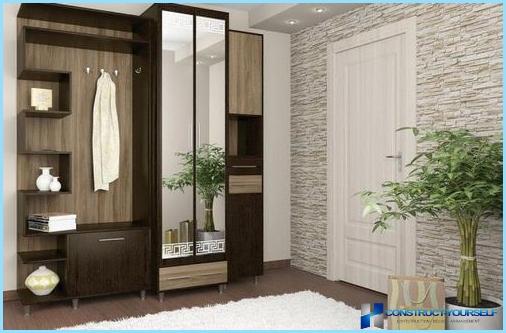 The complexity of stone walls that, despite the fact, imitation or natural material, it creates a heavy oppressive feeling. That is why, before you start decorating the corridor, you should carefully consider every nuance.
The most important thing, you can definitely consider the choice of the texture and color of the stone.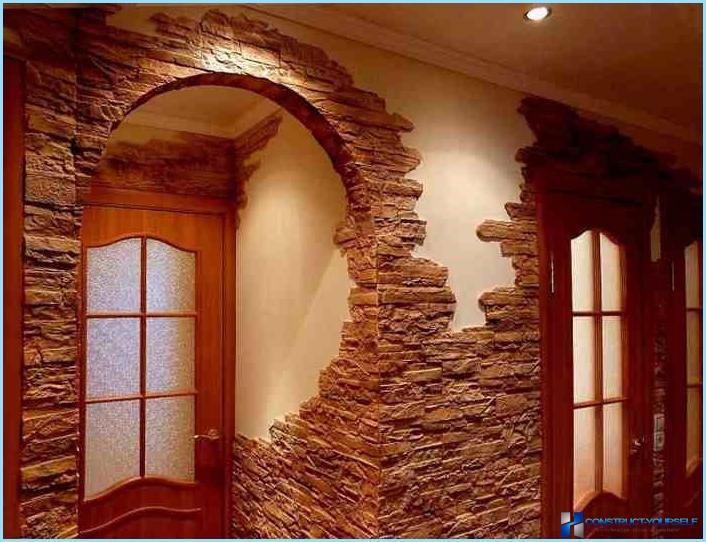 Nature abhors monotony, and even the stones come in a variety of colors. If we talk about the hallway, dark tones then it is better to avoid, especially if it is a stone. The depressing feeling will remain in this room, even if it is filled with bright light.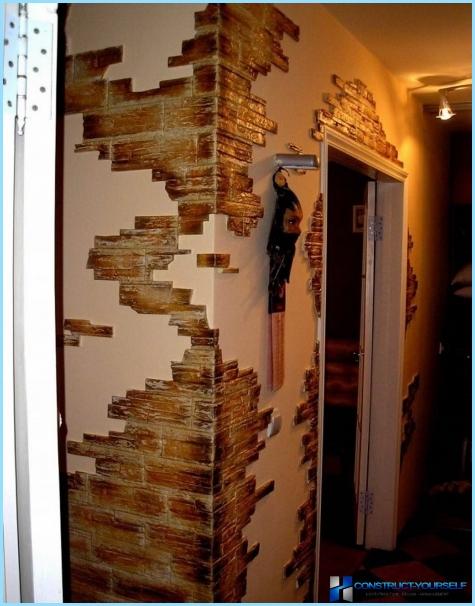 It concerns granite or marble with dark colors. These are stones that, by definition, are heavy, and not only in terms of its weight, but also in moral perception. Also they are rarely with a volume texture, so, and decorating the hallway with them is very limited.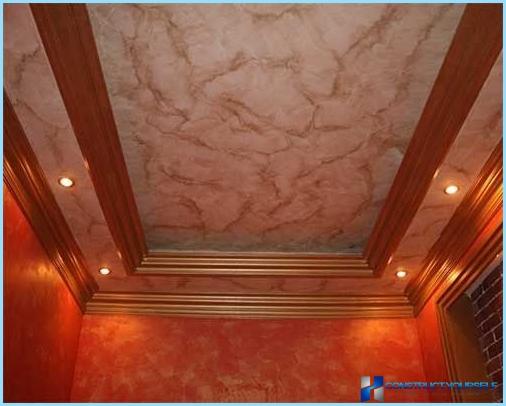 In nature, there are a lot of stones in light shades:
Tuff.
Sandstone.
Slate.
Your.
Their color range is very wide, from brown to bright yellow. And this allows you to combine several colors in the hallway, while using just one or two breeds, even if it's just a simulation.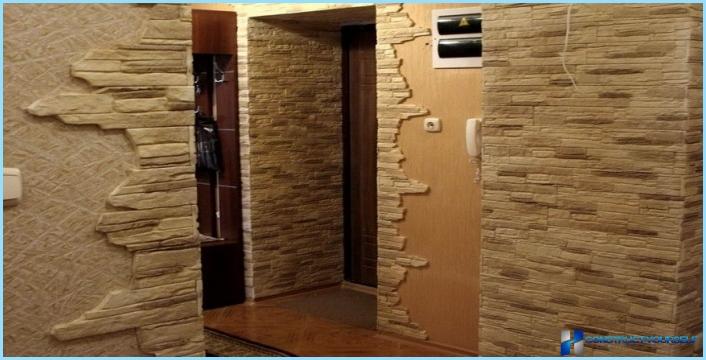 The Council
! choosing decorative stone for interior hallway, you should not combine a lot of rocks. Maximum their can be three, and if the room is medium in size.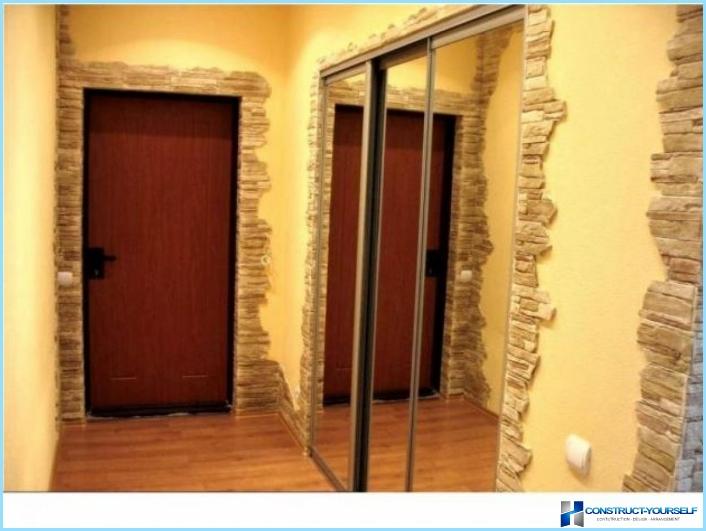 Another important aspect that should be studied closely. In nature the stone is most often found in the form of various blocks with a mild texture, and only after a complex treatment process, he takes on the very familiar shape and coloring. This is particularly evident on the example of granite, one of the varieties which is a common construction gravel, gray and nondescript. But after sawing the plate and careful polishing, it becomes a smooth shape with bright color and distinctive pattern.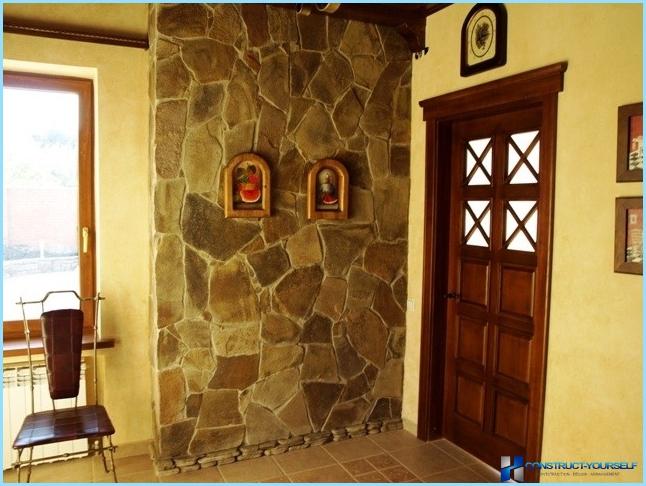 The same applies to marble, therefore, these rocks, decorative only have a flat and smooth surface. And in areas of elongated shape, which is most often found in hallways, such surfaces should be avoided. Of course, they visually expand the space and give it volume, but the sensation of cold of a long corridor to avoid hardly it will turn out.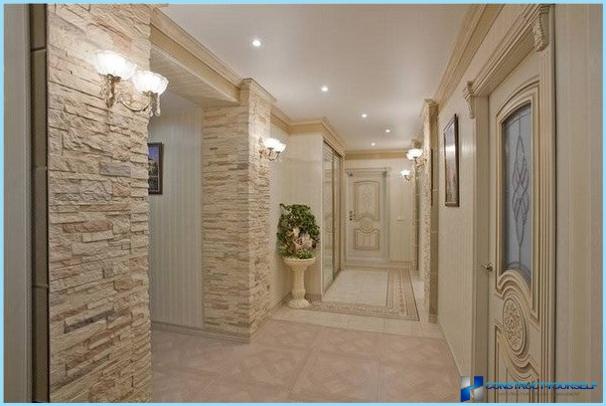 If to speak about the rocks formed in nature as a result of melting of volcanic magma, and resulting from the deposition and compaction, such as:
Sandstone.
Coquina.
Slate.
They have a kind of fiber that, when splitting broken form the characteristic texture.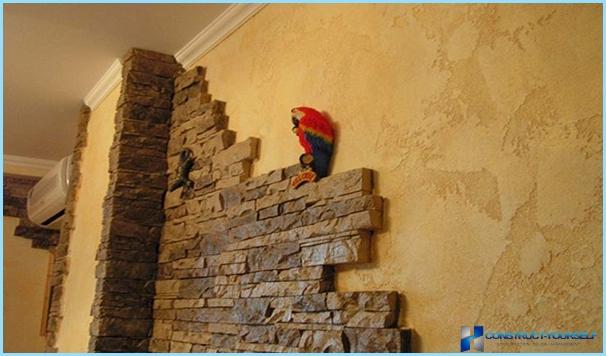 These stones are best suited for decorating the hall and any rooms with a small area. But do not succumb to the excesses. Better if the stone decor will not completely cover the wall, but only to highlight some elements, such as doorway or place for hanging clothes.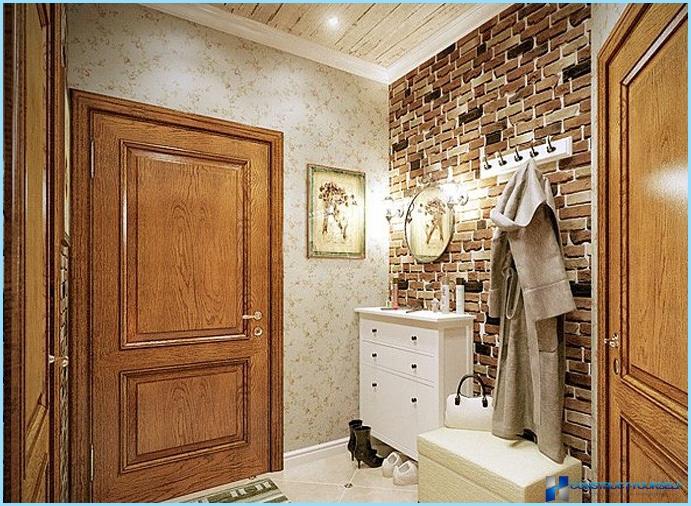 Also, it can be nice to beat some pieces of furniture that can meet in the hallway. For example, you can create a small decorative apron above the table for keys, or near the back of the couch.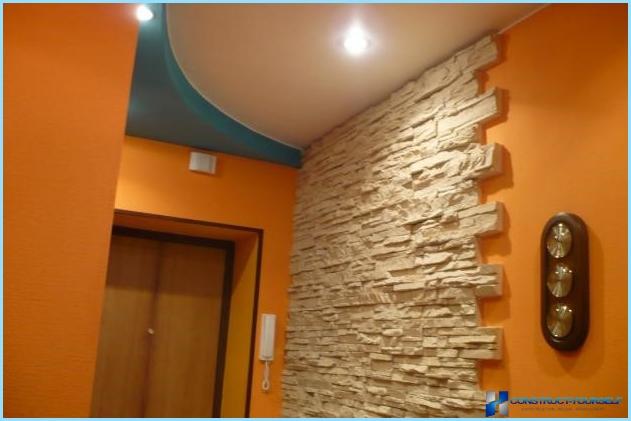 It is known that light plays a key role in any design decision, and stone finishes, it is no less important. The severity and monumentality of the stone elements, even artificial imitation, therefore, in places where you use this finish, the light should be more.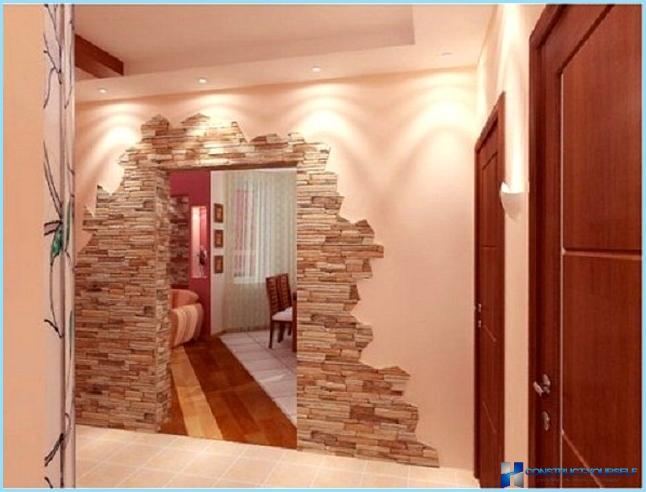 Then you can use spotlights with a directional beam, or an led ribbon that will complement the stone composition, giving it a richness.
It is important
! Decorating the hallway, you should always use multiple light sources, while maintaining the total number of watts for the entire area.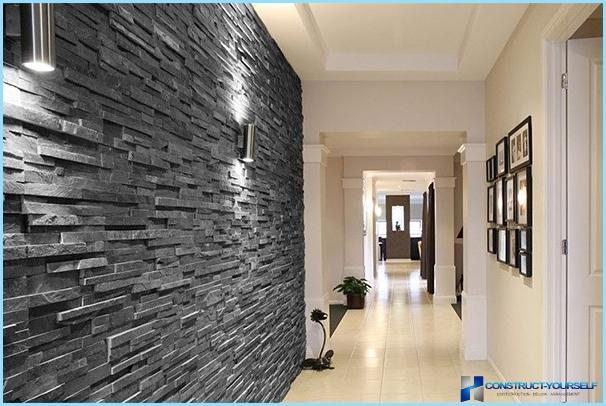 From experimenting with different colors of LEDs in this case it is better to refuse, stone decor, is itself self-sufficient and does not require additional nuances. In addition, the color of bulb can dramatically change the perception of the stone. And in the end coming to the house the feeling of a tasteless imitation made.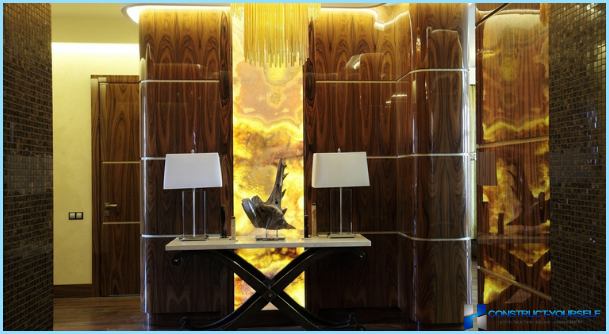 Decorative stones that can be used in home decoration, it is the most expensive but most effective material. Its key feature is transparency. Surely, you can decorate the walls with onyx is very expensive and not practical, but a small insert or a mural on the wall, will look very impressive.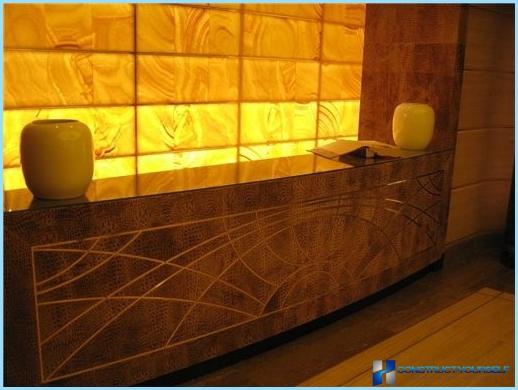 Most often, the onyx install lighting that highlights the unique texture of the stone, and can also serve as an additional source of light in the room.
And what looks impressive onyx in the interior, you can see in the video
To overestimate the advantages of this stone are hard, but its excess can turn bad. In addition, self-install such items is unlikely to succeed, and without the help of professionals can not do here. Of course you can take a chance and try to do everything yourself, but whether to do it?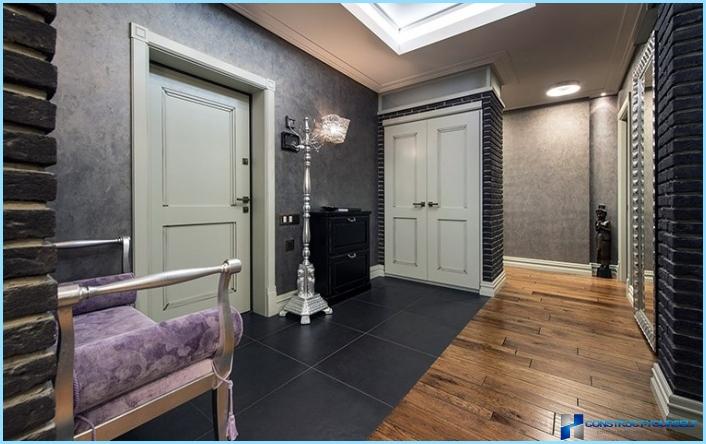 Home decoration with stone is a very interesting and stylish solution, it is important for the hall, but the approach to this matter should be very carefully.
The right choice of design and finishes, it is always difficult, but if we talk about such small spaces like a hallway, you must take into account every little thing, even if at first glance it seems insignificant.
Content related