The first thing a guest sees entering the house is the entrance hall. That is why choosing the right furniture for this space is extremely important. Otherwise, you run the risk of first sight to create a bad impression on the person who has come to you.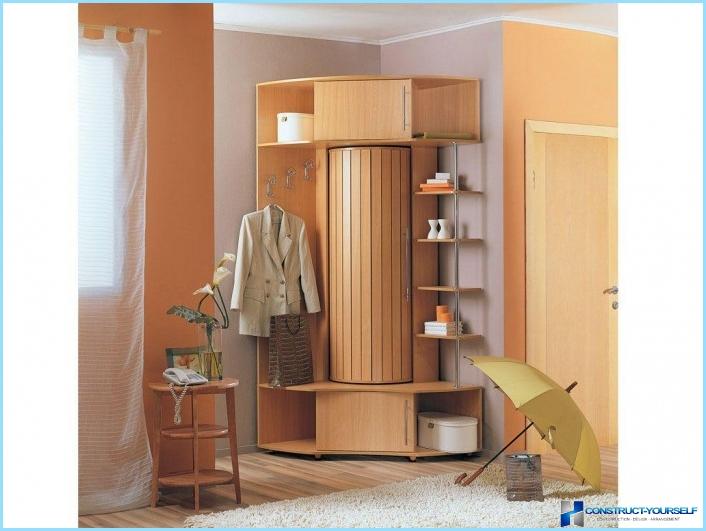 It is especially difficult to choose furniture in a small hallway. Due to limited space, you need to buy a functional and compact pieces of furniture. Moreover, you need not forget about the coffee table, that was where to put the keys. You must also remember about additional elements that largely help to increase the visual space of the room.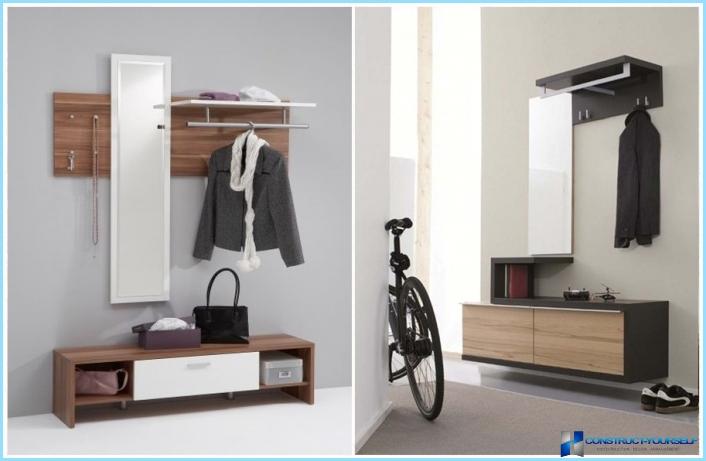 In order to choose the right furniture in a small hallway, you need to consider not only the functional characteristics of all elements and the style. You can't buy a mirror in the Baroque style, and the next set wardrobe high-tech. It'll clash and cause a visual rejection of the whole concept.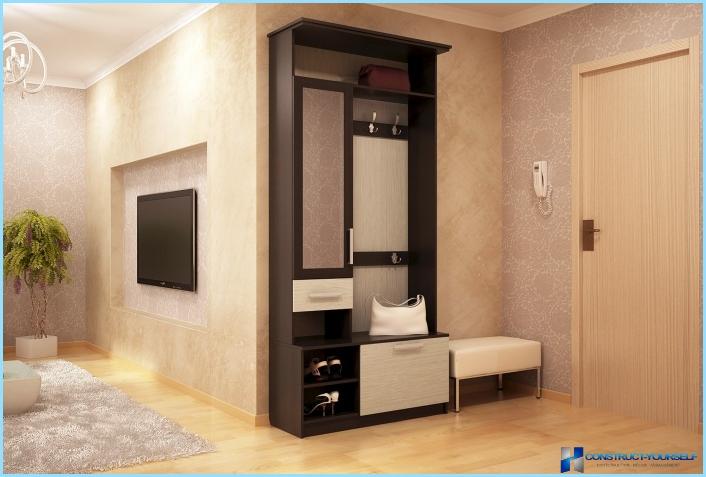 You should also consider that furniture for a small hallway should be reliable and sustainable, as it will be a big burden. So you have to choose it properly, given the set of parameters. Special attention should be paid to the material and type of construction.
In order to choose the right furniture for small hallway in the Khrushchev need to plan everything clearly. The first thing to take into account the parameters of the room that needs furnishing.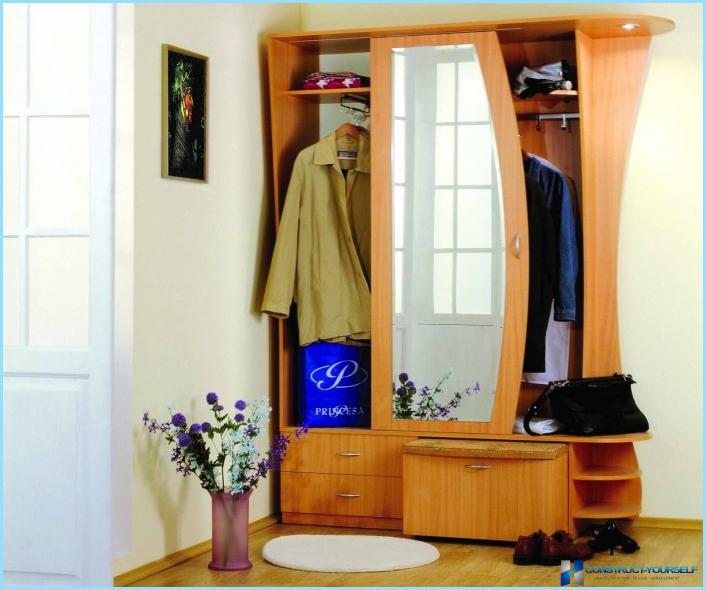 Some hallways are so small that they cannot even put a small wardrobe and a shelf for shoes. But from this situation there is a reasonable solution. For example, it is enough to focus on modular furniture. In an extreme case, you can do hooks driven into the wall, a mirror and a small shelf.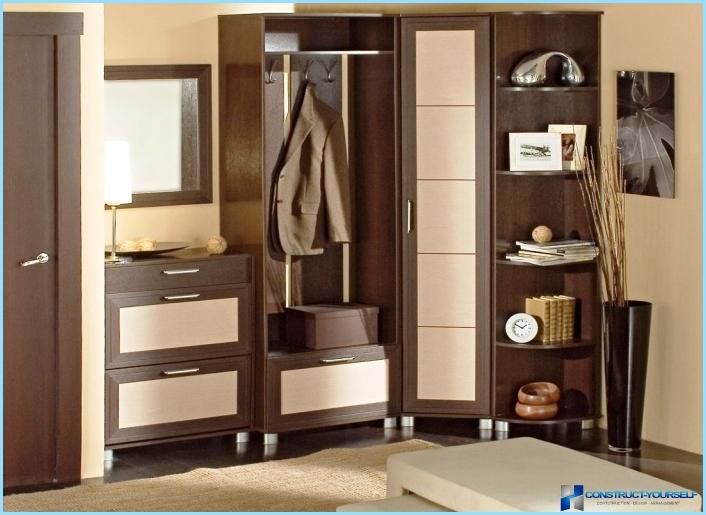 It is important
! The main advantage of modular furniture is that it is easy to modify to fit your needs.
Well in small hallways looks wardrobe. If the right to choose its dimensions, it is possible to win a lot of free space. Besides, he can be a good decoration if instead of wood in door use glass with fotoprint or sandblasted pattern.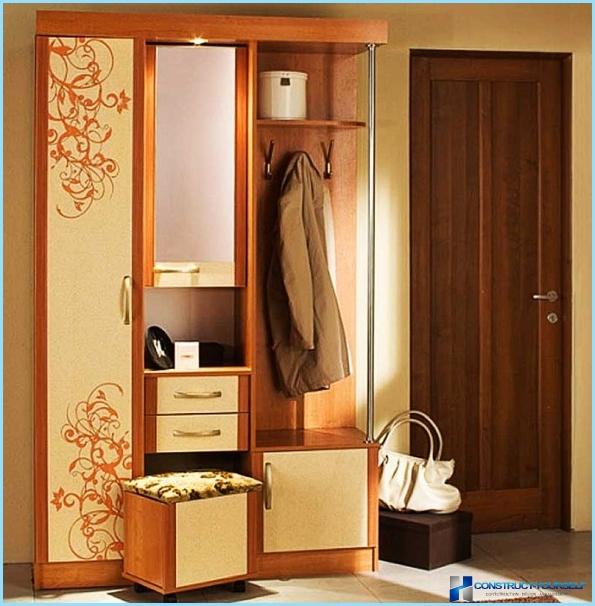 Important thing before buying a plan, and jot down a few sketches. It is very important to choose the right size of future furniture for a small hallway. Modern technologies allow to achieve maximum ergonomics when using the minimum of space.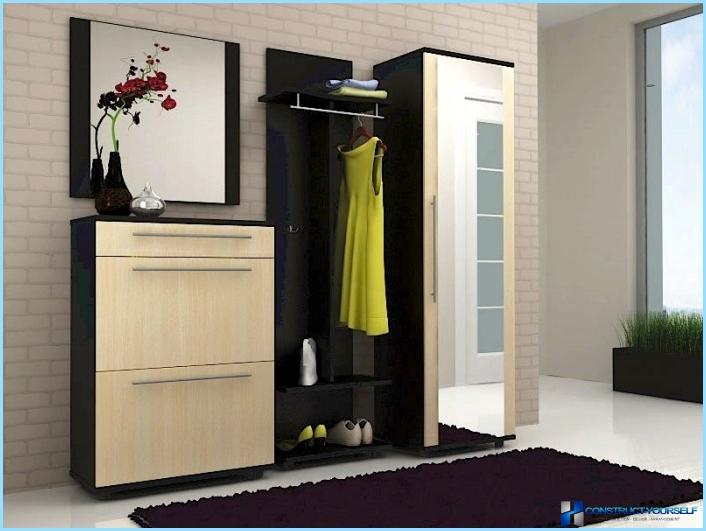 To choose the furniture in the hallway so that it conformed to one style, because particularly strong mismatch visible in the small room. We have already mentioned about the fact that all pieces of furniture should be one composition. Otherwise you risk getting an imperfect concept. But that's not all.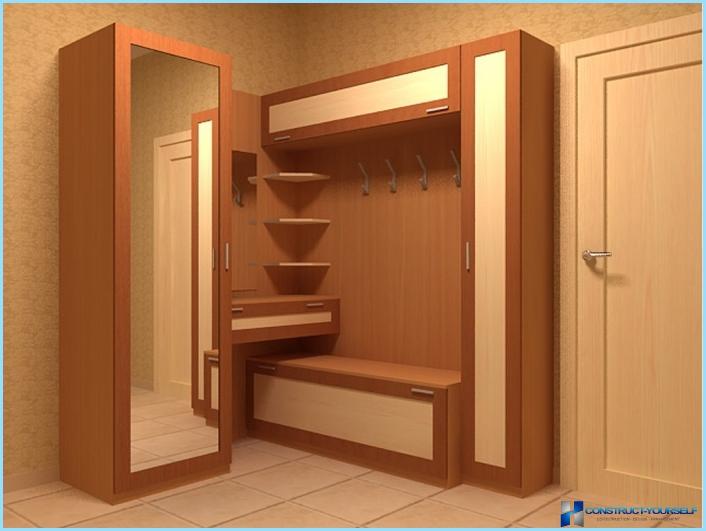 In addition to General style of furniture, you should consider the style, which made the whole apartment. However, some liberties are still permitted. For example, you can choose another color. But in order for the concept to look right — you need to leave the General main principles of formation of the internal space.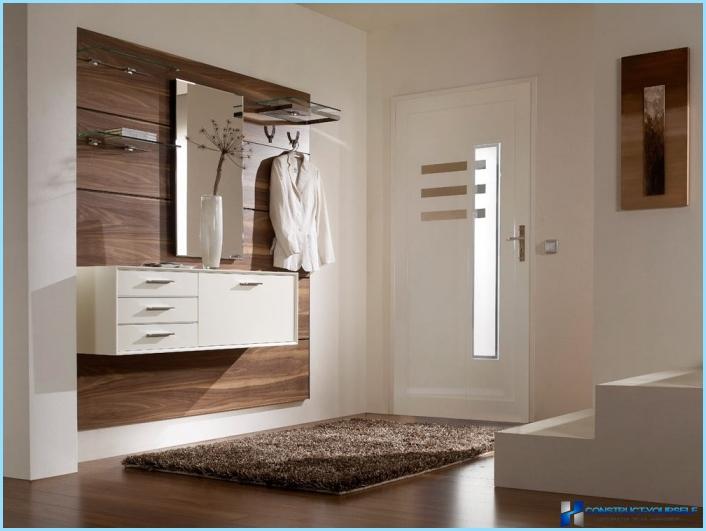 The furniture in the small hallway needs to be of light shades. It is not a law, but such a rule will allow you to visually enlarge the room. So you need to choose the appropriate wardrobe, chest of drawers and a shelf for shoes.
Attention
! In order to properly furnish a small hallway is better to choose the style of hi-tech or minimalism.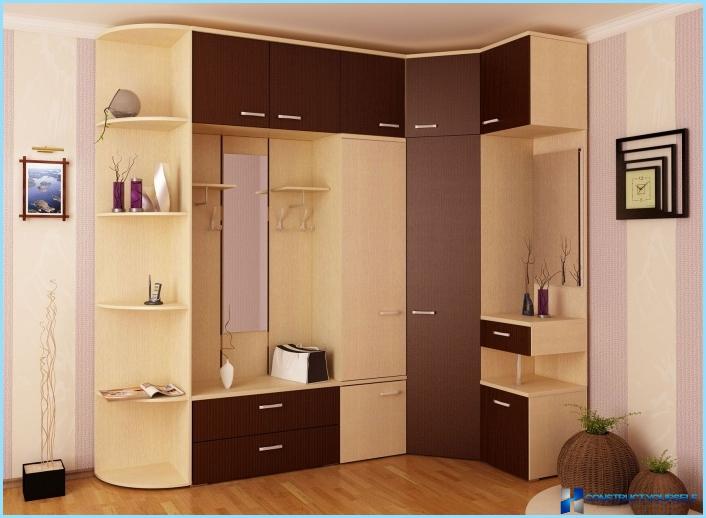 Furniture should not hamper or reduce the hallway. Access each element should not be restricted. So try to choose both functional and at the same time, compact objects. The main thing is to choose the style you like it.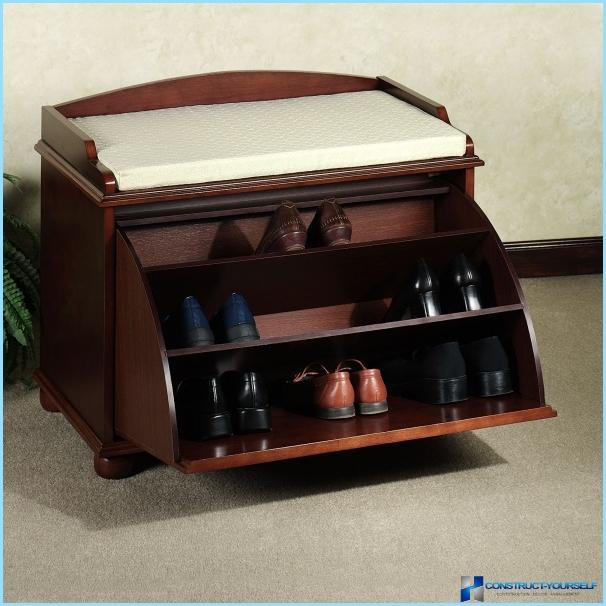 If you use his apartment for several styles, and a small hallway it is possible, therefore, to allocate. Despite this, the General concept should be the element that will unite all the rooms. You need to choose the right.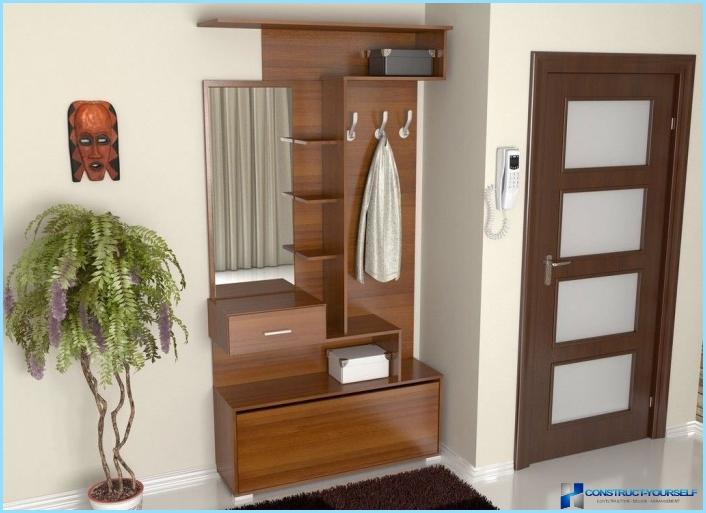 It is especially important to choose the right material for furniture in a small hallway. Usually the interior is made from MDF or chipboard. Of course, natural wood is much better, but sets from him are unlike the more expensive. Besides, they look better in large rooms.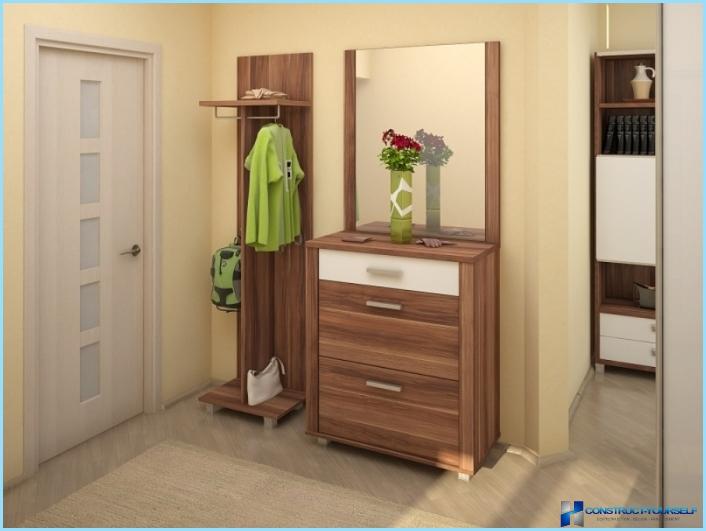 The Council
! You should not choose plastic furniture when setting small hallway. This is wrong, because such elements reduce the appearance of the premises.
Also note on build quality small furniture. If hardware is loose, it will not last long, and you will have to fix her own hands with the help of drill and screws.
All doors should open easily, and the shelves are free to travel outside. Moreover, the hooks are installed has to withstand the weight of large coat, fur coats and sheepskin coats. For decorating furniture in the small hallway it would be correct to use plastic or glass. The metal is also a good fit. Naturally, such elements are often used in high-tech style.
High popularity in the field of furniture for small hallways are full of the headset, right is designed exactly for your room. But choose something suitable is not easy.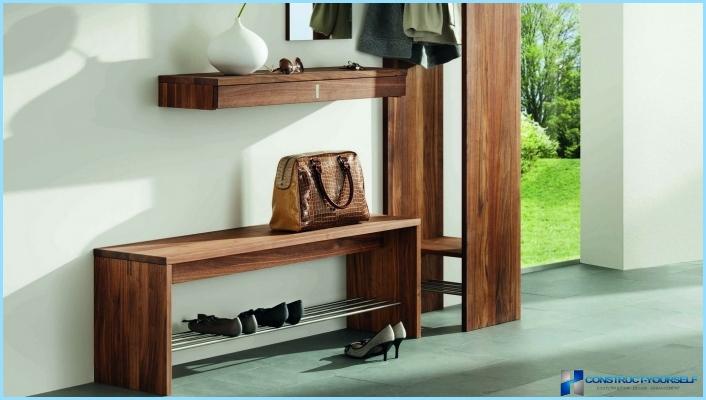 Such sets can fully meet the demands of a small family of furniture for a small hallway, they usually include such elements as:
a lot of shelves,
hooks,
door,
mirror,
compact rod,
compartments for shoes etc.
As you can see, if you choose this set you will do the right thing. As it eliminates the issue of choice. You only need to choose the right style and specify the dimensions.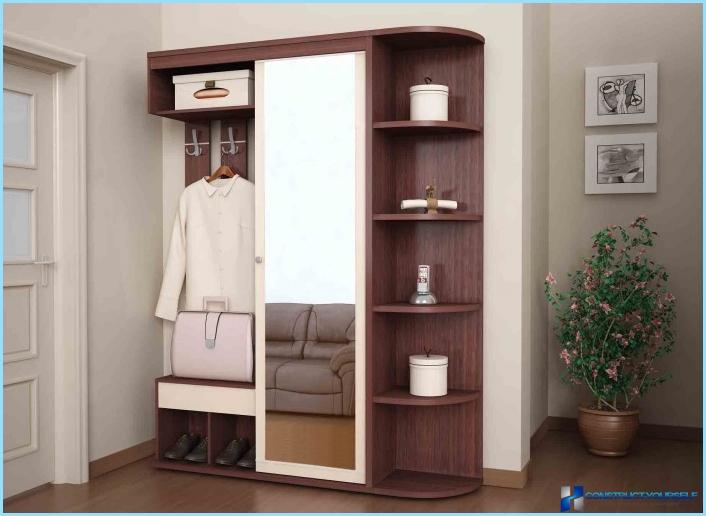 Particularly popular with owners of small hallways uses modular furniture. The main advantage of such structures is that the owner can choose the configuration that will best suit the room. Moreover, if you want you can change the items in places.
Attention
! When you move modular furniture small hallway can be easily adjusted to new realities.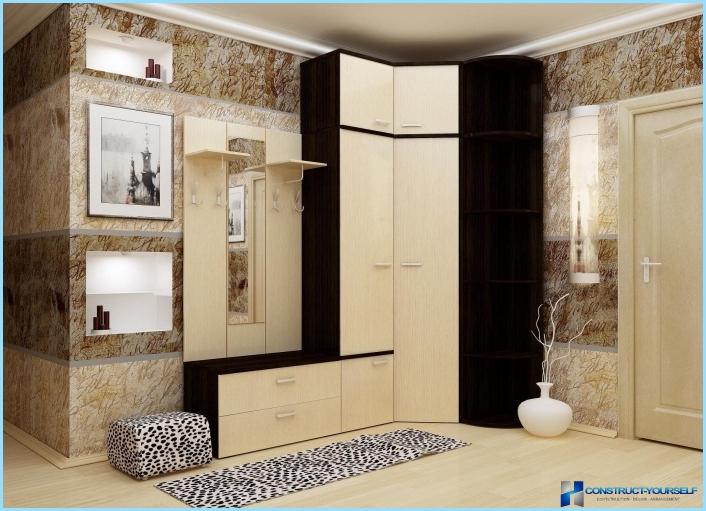 Wardrobe is the most important element of a small hallway. It is usually stored such important items as:
scarves,
jackets,
hats,
gloves,
shoes,
accessories and so on.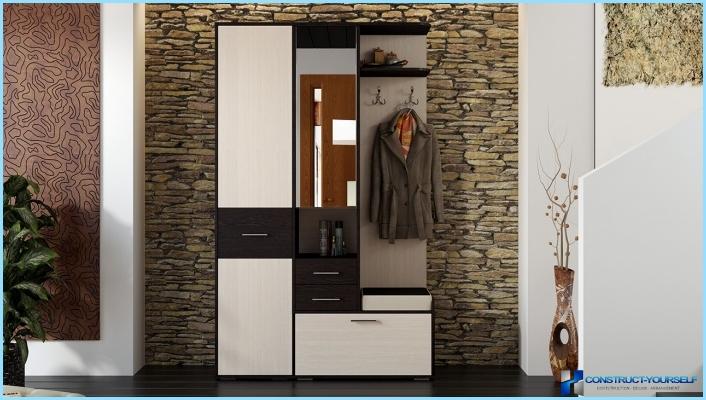 It is now believed to be set correctly in the small hallway is the wardrobe. Its design allows you to make the right use of the space available. The fact is that the gap between the ceiling and the floor is virtually nonexistent. In addition, there are built-in design that allows 100 percent use of the free space.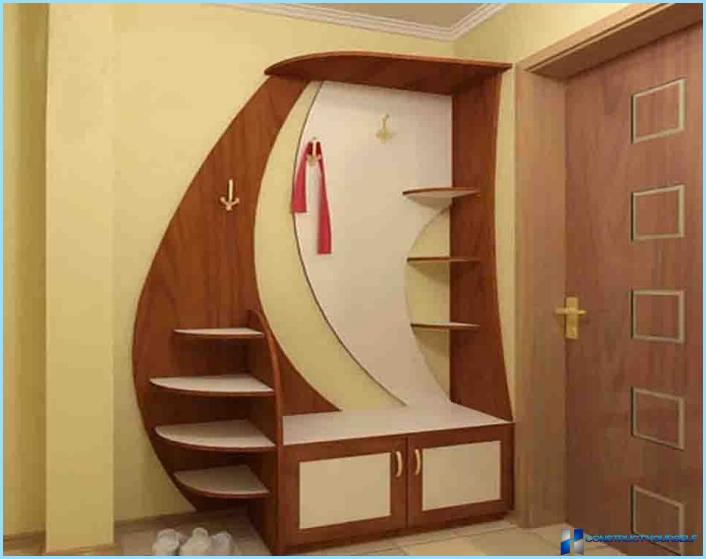 A small, built-in wardrobes in the role of the walls and ceiling can be a simple wall. So it can easily be installed in niche, thus making it a fully functional furniture.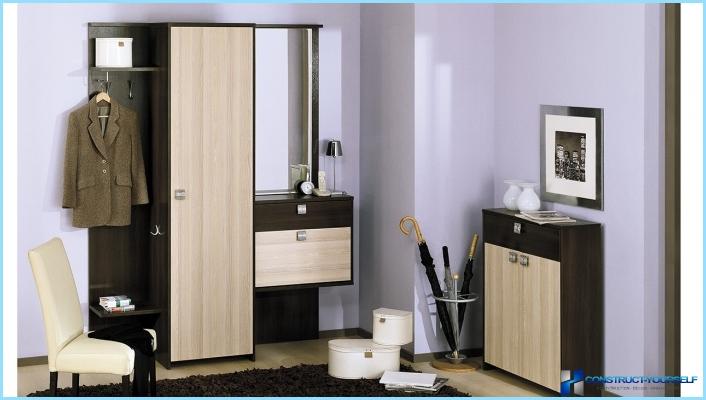 Attention
! Because the closets have sliding doors, they absolutely do not prevent the movement.
Of particular relevance for a small room is design, accommodating the items such as:
small cupboard for shoes,
hooks,
mirror,
a small mezzanine.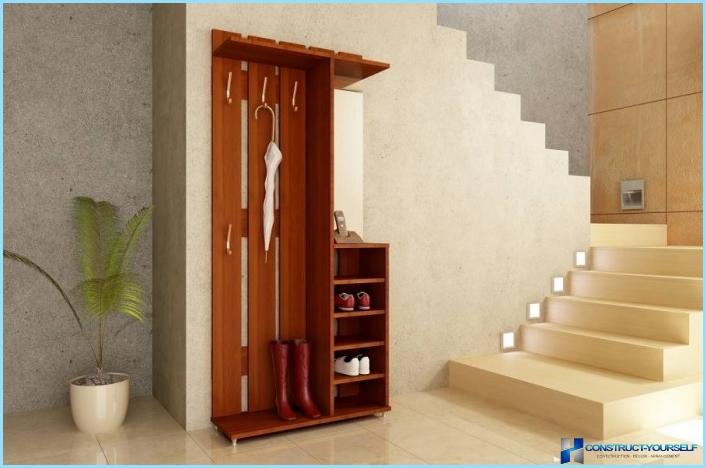 If you choose this type of design, it would be all right. After you get all the necessary items for the interior, which is a single element and have a common stylistic execution.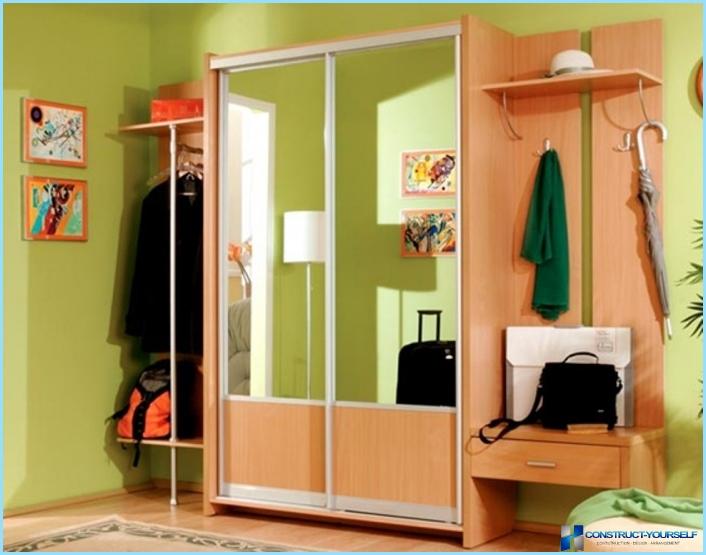 In terms of a small space, this system represents the most correct decision. Not surprisingly, many young families who are buying their first home, choose this multifunctional wardrobe-compartment.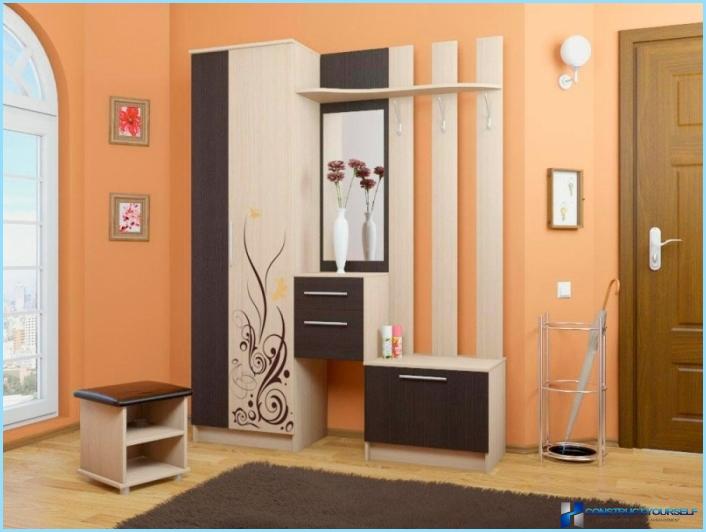 It is very important to choose the right option a small wardrobe. It is believed that its depth should not be less than 60 centimeters. But skilled interior planning, this parameter can be significantly reduced. For example, you can use a wire basket for shoes. For their location needs a minimum of space. Also frequently used hooks, slapnica and so on.
Attention
! With reasonable zoning, the depth of the Cabinet can be reduced to 45 cm. It should properly plan the interior space and to select the most appropriate elements.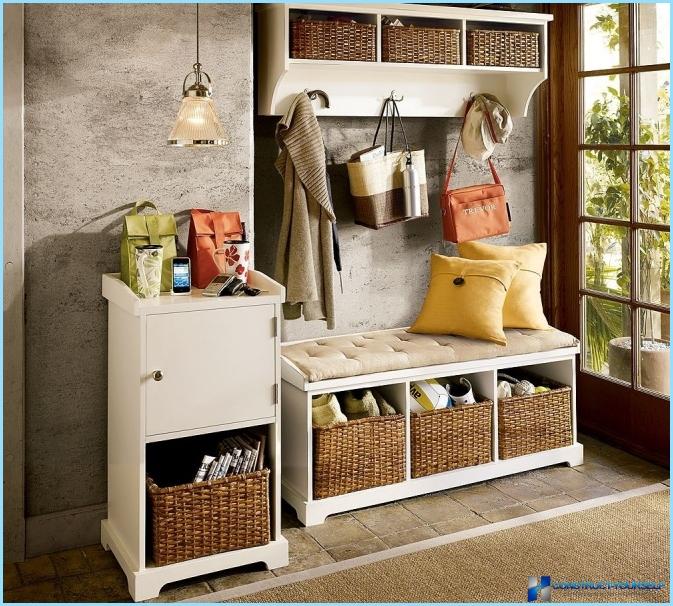 If you choose a wardrobe, you need to layout the inside was done right. But we should admit that the grid basket is quite small. Here maximum can fit 2-3 pairs of shoes. But if you choose a separate table, then the place will be plenty.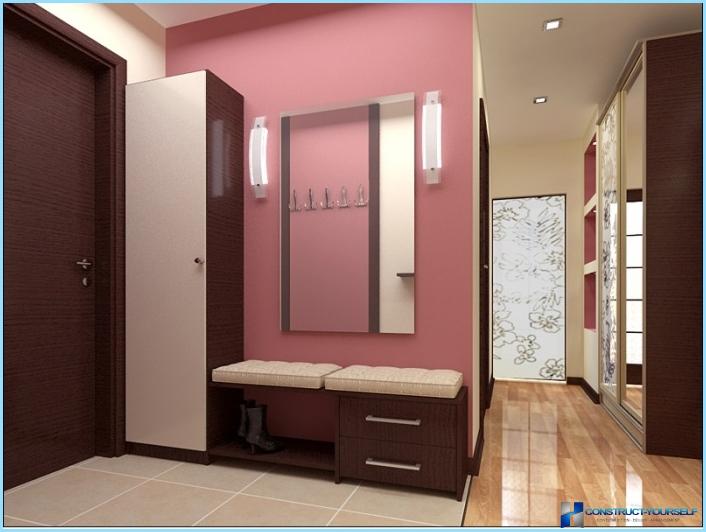 Unfortunately, even the little bedside table, there is one serious drawback — it takes a lot of space. Why to choose this option is not always right. Fortunately, there are a more than worthy alternative. Take, for example, kolonzo.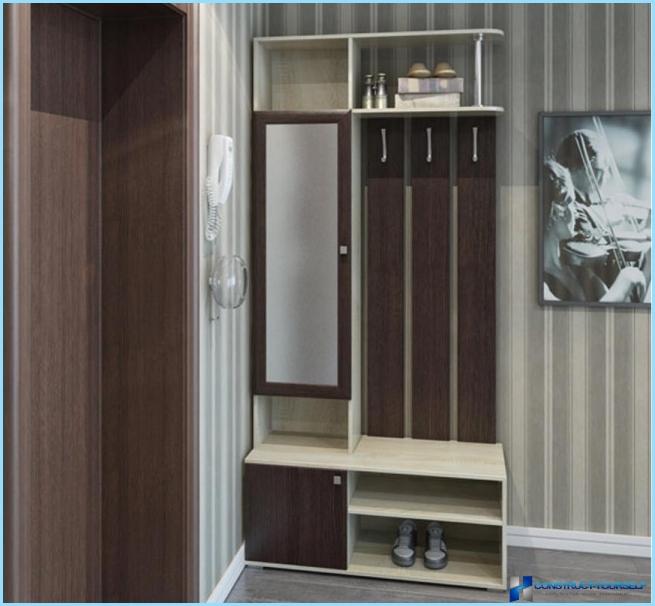 This element of the interior has a small narrow structure, with several sections. Variants of such furniture in the hallway there is more than enough. You will always choose correctly, based on the realities of your premises.
Attention
! In colonize all the shoes are stored vertically. Thanks to this, the design is really small.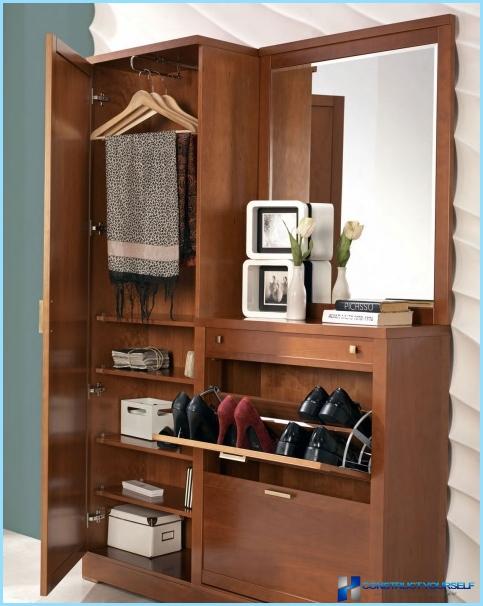 Also you can choose these decorative items in a small room that will look right in it:
small plastic shelves,
plastic boxes,
a small cupboard for shoes, where you can sit.
As you can see, it is possible to choose the right furniture to store shoes in a small hallway. Options are more than enough.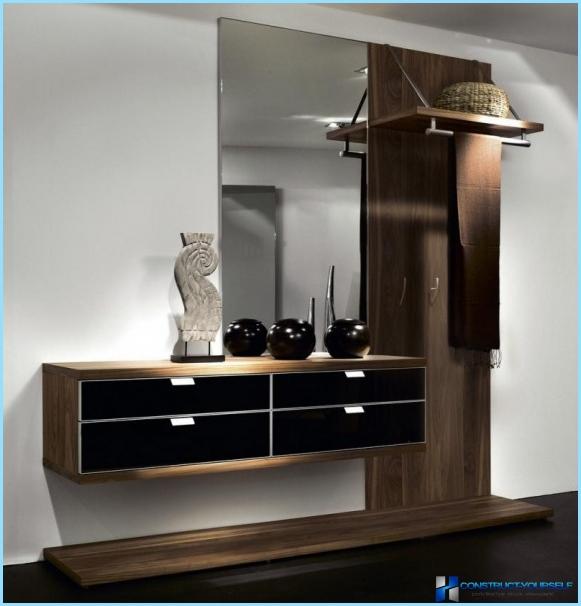 Even you can say that to choose furniture for a small hallway is not that difficult. Most importantly have a share of responsibility to approach this issue and create a sketch according to the General concept of the design to pick up each item. In this case, your choice will be made correctly.
Content related