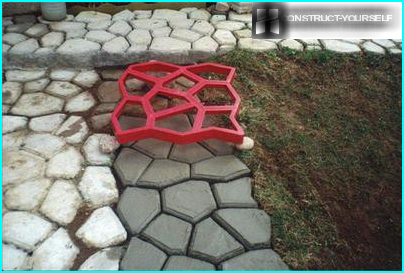 Climbing plants in the garden creates a special atmosphere,them land looks different - a bright, colorful, cozy. It is becoming more places for recreation, nooks formed by a living green wall. And if the wall also in colors - a good mood you provided because the power of flowering plants is very positive. The supports for climbing plants - a variety of tools for developing their decorative qualities, providing plants and proper growth and development.
Content
The supports can either create their own hands andpurchased from manufacturers - many companies produce pergolas, arches, trellises specifically for climbing plants. At one time they had been neglected, in the courtyards of hops encountered so girlish grapes, but the vines did not deserve oblivion, and today the fashion is back on lianas and vines, and with them, our gardens are much nicer and more comfortable.
Consider the case of the construction of the simplest supportfor climbing plants in the form of a cone. You will need 4-6 strong long rods, wire or twine and a small wand to create a grid. On the ground, doing the layout - the square in the corners - to deepen poles, anchoring them to the ground, adding others, connect the top and tie. Then fasten crosswise on the big small rods. The support is ready.
It can be used in the garden for pumpkins,cucumbers, grapes, and it is possible for flowering plants - sweet peas, Ipomoea purpurea, kobei, honeysuckle, ampelnye gloxinia, etc. Because. such support is small, it is better to use for climbing annuals - they are more petite.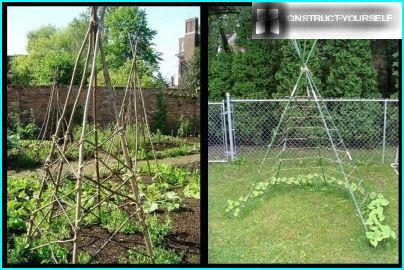 To build such a simple support is very easy,Materials do not have to spend money, they can be made as needed. The site will look more attractive, and the plants you will ensure proper growth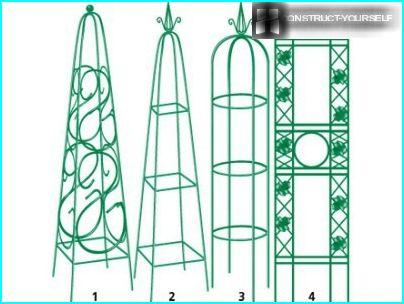 Finished forged various forms of support can be purchased for miniature climbing annuals. Ipomoea, decorative beans, ivy for their ideal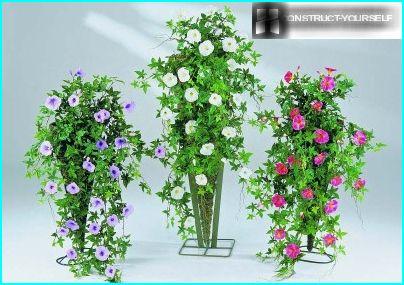 There and here are ready to support ampelnye and climbing annuals, it is an interesting alternative to the pots and hanging pots
For twine plants excellent support willMesh netting with large sections. You can just buy a half or two meters of fabric and stretched between two wooden poles or iron. Buy galvanized netting, or, better yet, plasticized - it does not rust, it looks aesthetically pleasing. Wooden poles treated with a protectant agent, paint the metal, stretch the mesh, anchoring wire or special hooks - and is ready to support. Over time, plants zavyut it so that the grid almost completely disappear from view, and you'll have a living green wall, which can be placed a bench or hammock.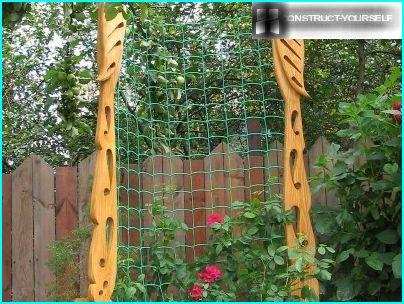 Support for climbing roses of mesh netting withdecorative wooden pillars. Carved pillars give the aesthetic appearance of such support, as well as roses grow, it is a great element for Garden Decoration
Fences made of netting in addition to the protective function is a good support for climbing plants, especially fast grid hide from view girlish grapes or hops that grow quickly and grow well.
Light grille with diamond-shaped pattern orsquare made of wood, metal or plastic, we have emerged relatively recently. It pergolas are designed specifically for garden decor and as supports for climbing plants.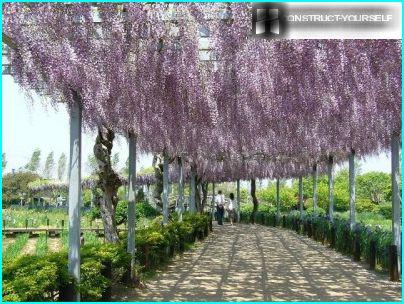 Classical pergola - supporting columns and roof in a grid. As a decorative climbing plant used wisteria, the result is a gallery for exploring the amazing beauty
Pergolas are usually combined with such gardendecorative elements, like an arch, arbor, bench. If the bench and pergola form a single structure, the company with climbing plants, for example, Trumpet, a very picturesque place. The classic pergola is a structure of the vertical supports of the roof cross bars in a grid. The roof can grow any vines and creepers. Particularly striking looks with this design girlish grapes, when its leaves turn red in the fall, with wisteria.
Very often, pergola and arch designused as a whole - it is one of the most beautiful decorative elements either by itself, or in conjunction with plants. The double arch with lattice top can be positioned over the gate, bench, use arches instead of supporting pillars in a row and create a beautiful gallery. Very nice it will look with climbing roses.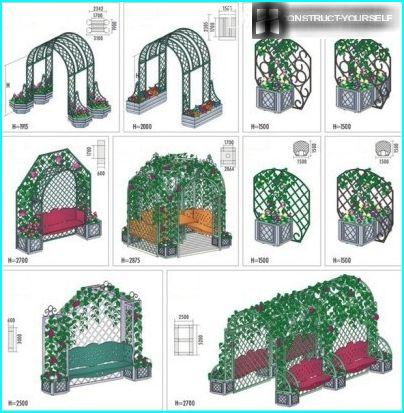 Forging on the site always looks great, it can be ordered for the garden variety of distinctive arches, pergolas, and use them as a prop for the roses, grapes, honeysuckle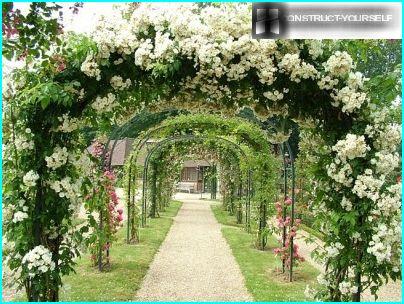 The arches of climbing roses have become classics -today they are widely used for weddings and other celebrations, such as arch or more at the site will create a festive atmosphere in which you will remain every day
Article topic: Wooden pergola: how to build and decorate their own hands effectively
One of the small forms, used for decorationGarden is a trellis. Tapestries were widely used even in the Russian noble estates, they came to us from Europe, where they were used to decorate gardens, from simple peasants and nobles. Initially, this concept meant landing in a thick row of shrubs or dwarf trees, forming a green vertical wall. Today tapestry - it is also a support in the form of a metal or wooden lattice, trellis called and stretched between the pillars of the net.
Unlike pergolas, lattice-trellis can beSelf-reliance - it can be built leaning against the wall in the right place to fix the garden. The design can be both light and solid, sturdy frame. It can be used as a single tapestry, and the group posing in the garden displays of climbing plants. Tapestries in the garden, like a screen in the room can be used for zoning areas.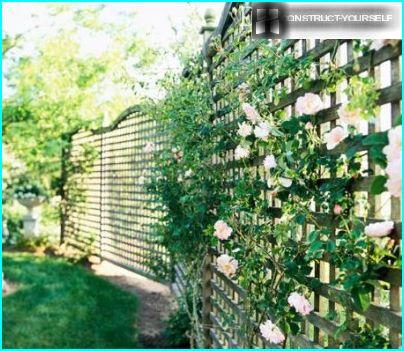 Such a fence in the form of a trellis fence - on its own decoration. Through it gets the sun, climbing roses beautifully look on the background of wooden lattice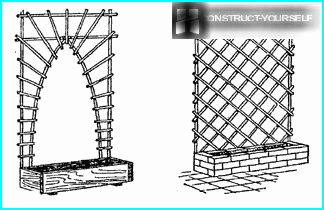 Options for garden trellises with drawers for plants. To make them more convenient to all of the wood, in the first case to get an interesting arch in the center, the second - green wall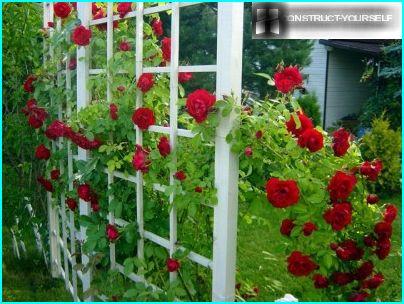 This trellis is easy to do from the small timber, paint - and you will have the opportunity to emphasize the separate garden area, selecting appropriate plants
For transformation of the garden today there is a considerable range of various interesting accessories, choose, experiment and create your own masterpieces in the landscape design.