An integral component of any designsuburban area are vegetable and flower arrangements. Loved by many gardeners annual flowers transform the site, making it more elegant and festive. Having a short period of vegetation, colorful annuals pleasing flowering already in the first year of planting. But to get the gorgeous landscape that will delight the eye throughout the season, you need to choose the right flowers for the annual flower beds.
Content
Choosing Flowering annuals forYour garden should primarily focus on the height of the plants and the proposed location of their placement. The most popular in the regeneration of suburban areas are: mixborders, modular beds and flower beds.
When you create mixborders each subsequent rowPlants fill the taller varieties so that the composition is a good view from the front and kept decorative throughout the season. Very aesthetically pleasing looks selection of plants, when planted in the foreground stocky lobelia and geranium, the central plan is filled srednerosloe plants - decorative sage, verbena or tsinniey, and in the background is placed tall Cosmo or amaranth.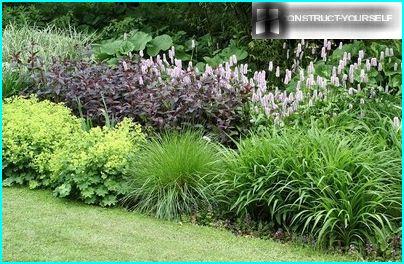 Mixborders represent multibank vegetable composition in the form of an elongated tape formed from plants, which have different height and flowering periods
Modular flowerbeds are flower arrangements formed and decoration of several varieties of plants planted in containers.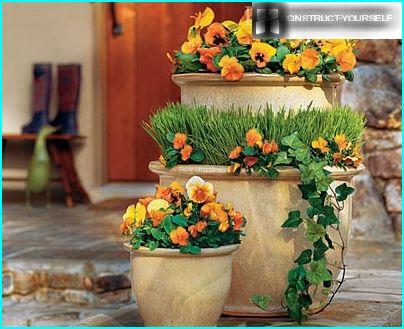 For planting in containers are perfect: celosia, begonias, heliotrope, petunia, nasturtium, geraniums
Characteristic features of the beds is a clearform compositions with placement of plants in the same plane, or also smooth with slight differences. Spectacular decoration flower beds can speak: snapdragons, lavatera, aster. Most often, these compositions comprise, after working through the planting beds of annuals scheme, giving it a geometric shape and shaping a loop. The beds are easily traced clean lines and crisp picture.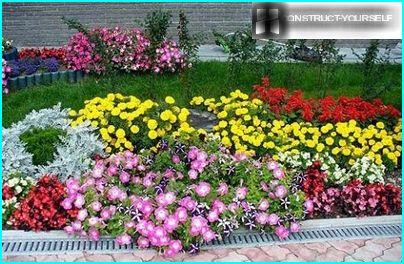 In suburban areas is most common variant of the natural beds, plants which bloom at different times, one after another
All the pretty annuals for flower beds have theirtiming of flowering: some of them are pleased with flowering in the spring months, while others reveal their colorful hats under the rays of the summer sun, and others round out the parade of flowering only with the onset of autumn frosts.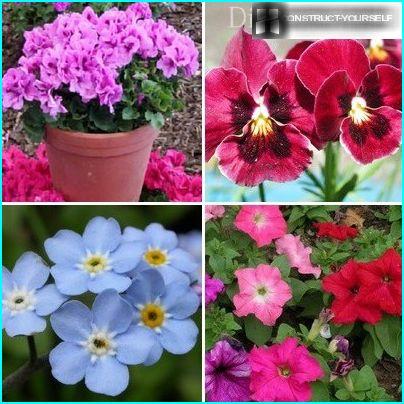 In the spring, annuals among the most decorative different: pelargonium, pansies, forget-me, petunia
For early flowering delicate openwork flowers and seeds of the above plants are planted in cups with fertile soil in the winter, gradually doraschivaya to full seedlings.
The bulk of annual plants in bloomthe first half of the summer. The choice of colors, annuals for flower beds is limited only taste preferences gardener relative height, color and length of flowering vending instance.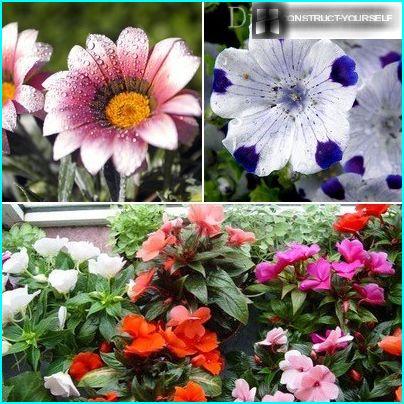 Colourful "sun" gazania, delicate flowers nemofily, "lights" turn balsam flower garden in the colorful palette of colors
To emphasize the riot of colors and exquisite beauty of the flowers, it should also involve dekorativnolistvennye annuals in the preparation of compositions.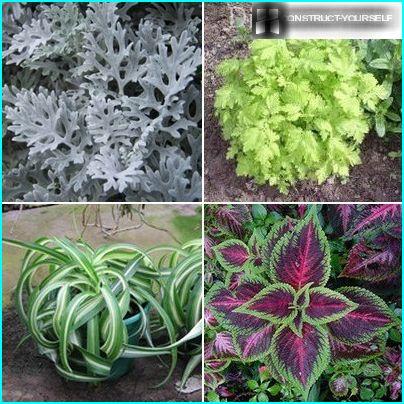 As a background for the handsome flowers are ideal: cineraria maritime, golden feverfew, Chlorophytum Crested, Coleus hybrid
It is important to remember that, picking up and droppingplants must take into account the conditions of their cultivation. Most of the annuals, and even makes a little shading, but most decorative displays only well-lit areas.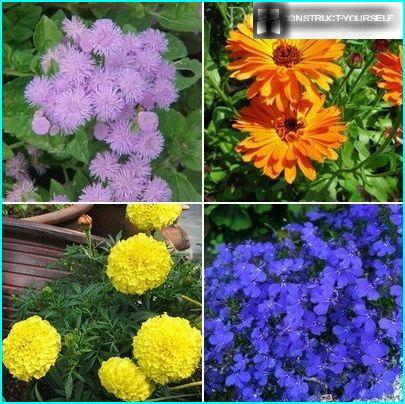 Up until the last sunny days decoration flower garden will be performing fluffy brush ageratum, marigold orange hats, colorful marigold blossoms and delicate little flowers lobelia
Good on a bed of autumn and dendrantemy, asters, autumn chrysanthemums and annual ornamental grasses: peristoschetinnik and feather.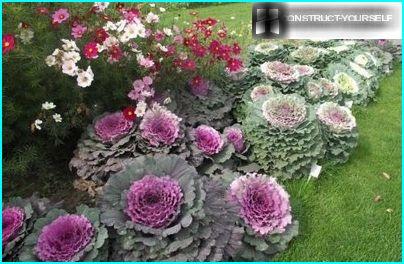 It is perfectly combined with colorful annuals and ornamental cabbage, head crowned chic violet-green "crown"
Article topic: Decorative cabbage as an element of design villa beds
Even the most ordinary round bed of annualsIt can be transformed into a colorful carpet, woven from hundreds of colorful and fragrant flowers, if in the preparation of compositions rely on the combination of color components. Already at the stage of drawing up a flower garden schemes need to decide what will be the "highlight" of the composition: in bright contrasts, or nobility-color flower bed. For example, flower beds, decorated in blue, blue, green and purple colors will have a calming effect.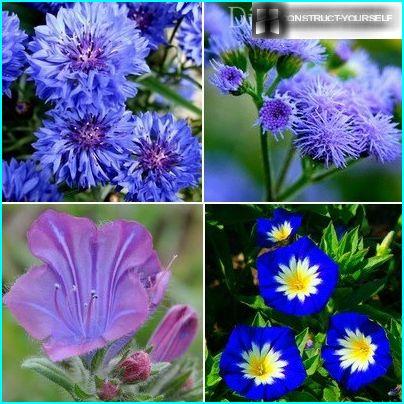 For the arrangement of flower beds in the blue-violet tones perfectly suited: cornflower blue, ageratum Mexican, bruise plantaginaceae, convolvulus tricolor
Attract attention and adjust to the major scale are flower beds, decorated in yellow, red and orange shades. Variegated colors thanks to a bright and cheerful shades will energize.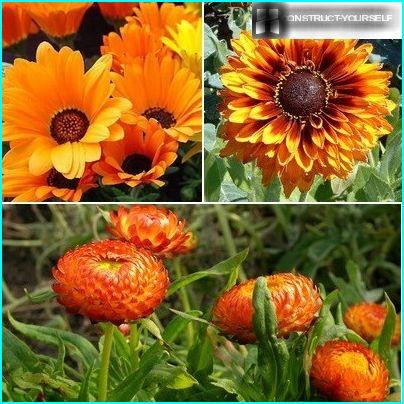 Rich colors of yellow shades fill flower garden: bezsmertnik pritsvetnikovy, dimorfoteka orange and beautiful gayllardiya
Bright bars in red tones bring: godetsiya grandiflora, Calandrino umbrella, Salvia and kosmeya
When preparing formulations of the most advantageous combination of contrasting look:
Blue and orange (or red);
Yellow with red (or purple);
Red with green.
Smooth contrasts in flower arrangement can be achieved by adding a plant with white flowers.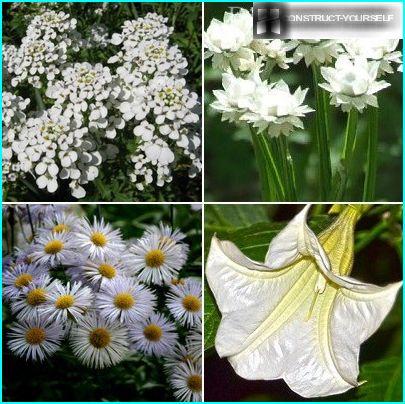 Exquisite white flowers decorated: Iberis umbrella, ammobium winged, erigeron Hybrid and fragrant datura
Miniature annuals, prostrate on the carpetland and towering on small legs, causing tenderness and admiration. Plants whose height does not exceed 30 cm, good for a small registration minitsvetnikov and everything for multi-level compositions. With their help, successfully decorate the emptiness at the base of the bushes in mixborders.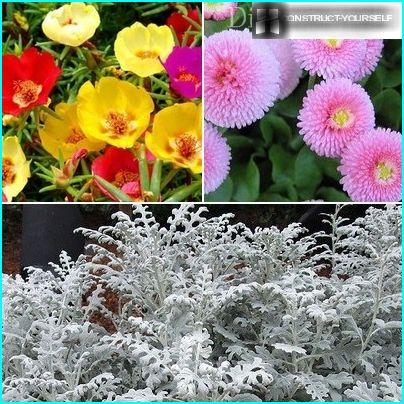 Among the most unpretentious low-growing annuals are: purslane, daisies, cineraria maritime
No less decorative famous undersized me-nots, phlox, lobelia, marigolds, dwarf viola.
Average height, handsome, reaching a height of 80 cm,They form the basis of the mixed flower beds and rabatok. Among the broad range of annuals, visually stunning variety of colors and forms, even the most demanding grower can choose an interesting pattern.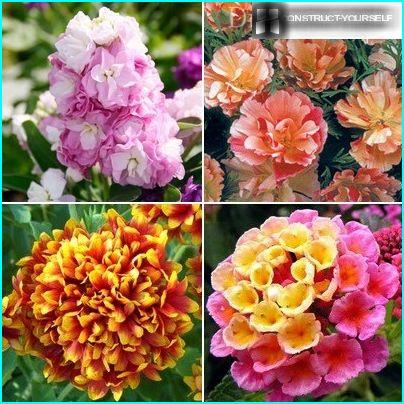 Thanks to the amazing beauty of the extraordinary popularity among gardeners enjoy sredneroslye: Mattioli, esholtsiya, gayllardiya and lanthanum
Tall annuals height of more than a halfmeter good as in group planting and in soliternom performance. Most often, they are planted in a spectacular background in the regeneration of different levels mixborders. They decorate unattractive walls of outbuildings and a solid fence.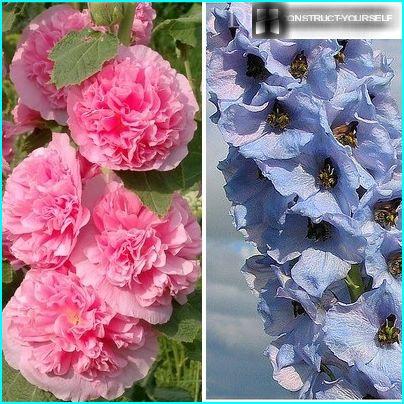 It's hard to look away from the elegant terry-stem roses or elegant pyramids delphinium, studded with several dozen flowers
Originally look and star-shaped leaves of castor bean, white paniculate inflorescences arunkusa and fishnet "bell" datura.
Annuals - universal plants for landscaping. In just one season, they transform the most dull corners of the garden in the elegant relaxation areas.