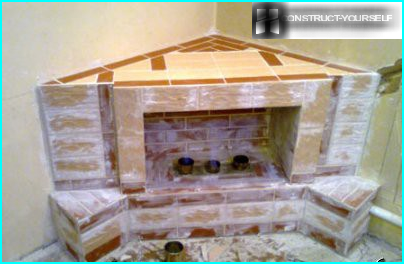 In the modern landscape projects usedifferent materials, but today more and more popular it becomes steel. The advantages of this material is difficult to overestimate. Steel is durable and will last a long time. Unlike many other materials, it is able to carry a significant external influence: survive and rainstorms, and hurricanes, and even fires. If its surface is processed correctly, then very careful care of it is not required. In addition, the metal reflects the spirit of our time, and the use of such invoices will allow designers to express their imagination to the fullest.
Content
The most popular among landscape designersenjoys kortenovskaya steel. So called steel grades COR-TEN®, who developed the US company U.S. Steel. Initially alloy COR-TEN was established A or A242, A588 and then, finally, A606-4. Last brand is particularly popular. This sheet or rolled steel, designed to create a standing seam panels, siding and roofing.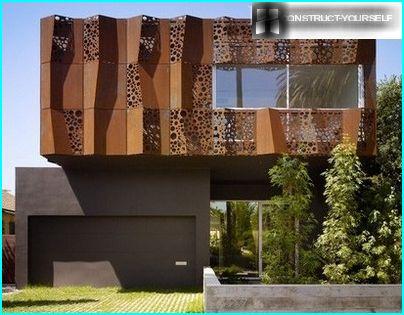 Initially, the panel is smooth and shiny, but over time will be covered with a velvety red and rust, which will give it the appearance of an old and expensive lace
These brands are showing resistance to alloyweathering and need not be specially painted to protect against corrosion. This is not to say that, unlike other carbon grades, kortenovskaya steel rusts. Just along with rust on it formed a special oxide film, due to which the coming destruction of the metal is slowed down. In fact, it becomes very rust protection against subsequent corrosion.
Initially steel, which will decorate the site,It comes in the form of a smooth and shiny metal. The introduced dopant in it, such as nickel, chromium and copper, forming insoluble compounds, plugging the pores on the metal surface. They significantly slow down the aging process of the product.
Such material endures the consequencesice surface, as well as the effect of fog, rain and snow. Until that moment, when the metal surface of rusty layer is formed, it will be years alternating exposure to moisture and dryness. It will allow the alternation of climatic influence formed on the surface of the steel sheet velvety and smooth layer of protection.

Kortenovskaya steel protected against corrosion initially introduced into it dopants, and after the appearance of rust it becomes virtually invulnerable to further aging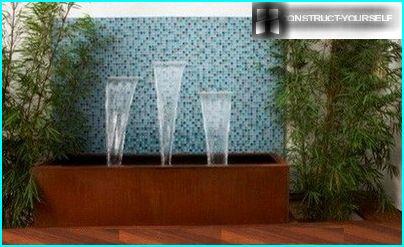 For the correct formation of rust onalloy surface moisture and must alternate periods of dryness. If the steel is made from kortenovskoy capacity for the waterfall, moisture problem is solved by itself
Therefore, to use this material wheredampness and fog - a year-round phenomenon, not advisable. The dry period must be present. But in the arid areas always possible to compensate for the lack of moisture periodic moistening the surface - watering.
Kortenovskaya steel is verypopularity: it is made from a different decor and architectural elements that adorn the garden and courtyard. But, using this material is much needed today, you have to be careful and take into account, what other products he will coexist.
Outdoor fireplaces, finished steel brand-court, away from the tubes of a different metal. For both designs will have stored
With mark court shall not contactgalvanized and galvanized steel, zinc, and indeed the same. In the formation of a protective corrosion of the metal in the US, these materials may be adversely affected. But proximity to Courtenay does not harm stainless steel, so the fasteners is stainless steel made for him.
And a few moments to consider the fact,who wants to use this beautiful and fashionable stuff on your site. With strong and prolonged rains adjacent areas may get unwanted coloration due to rusty drains. The heat-resistant material should be used as a substrate under the sheets kortenovskoy steel: steel is heated by the sun.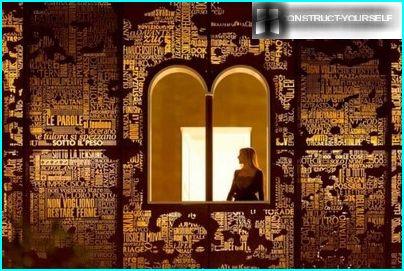 Not far from the burned building of Venice Palazzo diVigonovo. When his recovery from the used panel kortenovskoy steel, on which the laser cutting method caused TS Eliot's poems and Lope de Vega. It turned out very effectively
However, all presently existingrestrictions in the use of this material is heated only interest in him. Demand on the court has been steadily increasing, designers are coming up with new ways to use it, and chemists are working hard to make such a pretty rust appeared as a soon as possible on the metal surface. For this purpose already exist rust catalysts, for example, LineaCOR.
This alloy is used actively for the creation of decorative elements, and as a building material. Korten fits well in a different style, and this is one of the reasons for his continued popularity.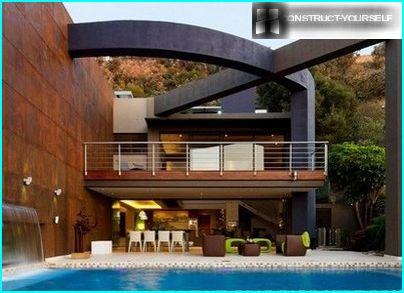 In this case, the panels used for walls, terraces and waterfalls. Overall it looks very colorful and unusual
Examples of its use:
Front panels. The possibilities are opened at the same time truly boundless: elements can be smooth and delicate. Used even spectacular three-dimensional design, wall covering and decorating the windows.
Roofing. coating form may be very different: from flat panels to products with relief surface imitating tile, slate or corrugated board. If Roofing corrugated board used, will be cheaper, but Corten last much longer.
Window and door profiles. The benefit of using steel in the first place, is the ability to create the original design. If the profile is warm, heat loss in the house can be significantly reduced.
Fireplaces. And modern gas fireplaces, and wood classicswill look spectacular thanks to the lining of such material. There are also all metal fireplaces and hearths, which look really fantastic.
Fences and fences, gates and gates. As fence parts, elements,filling the bays, and a basic design - all in handy steel of court. Input or garage doors and gates of different sizes and shapes can be made from this versatile and very durable material.
Garden stairs. You can build a ladder with stepsmade of metal and filled with earth or gravel. Soil can even sow the grass, which endures trampling, and better use for this purpose artificial turf.
Retaining walls. Metal sheets can be spent on the construction of retaining walls. On the plus side: the material helps to minimize your costs and curved structures in accordance with the requirements of the terrain.
Screens and screens. Construction of household goods is needed, but it is better to remove out of sight of the original screen of metal. Decorative screens can divide your site into functional zones.
High beds. Due to the flexibility of metal, you can createhigh beds the most intricate shapes and not depend on the level difference when the rough surface area. Such a bed can be successfully combined with a retaining wall.
Art objects. Using welding, laser cutting and flexibilitymetal, you can create absolutely amazing art objects. It may just be a beautiful mural, balls, pieces of metal or even street foci, which is just a pleasure to admire.
The possibilities for use of Corten steelso many that there is no point in trying to draw up an exhaustive list. She enclose swimming pools, fountains and other water bodies. It is used as a support part of the bench. From it come a great summer kitchen with grill. It's amazing how rusty metal became popular thanks to its original rust and resistance to weathering, can be attractive!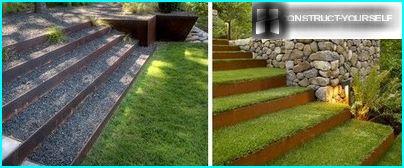 They made of steel not only a box under the stairs, and a retaining wall, which can be seen in the left photo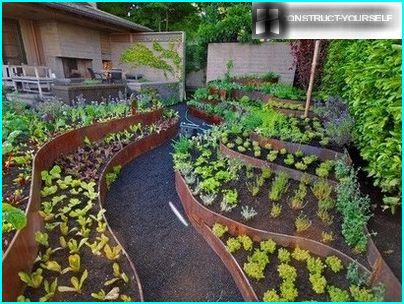 Do not think that Corten steel grade is used only for decorative purposes. It is perfect for creating high beds that will last a very long time
Turn a simple brand of metal sheet courts orstainless steel work of art will help us laser cutting. In this case the main advantages of metal - its strength and durability, will not be lost. From sheet metal when exposed to it a modern laser cutting equipment can turn out amazing openwork product of any geometry.
Here are examples of products with laser cutting as the elements of landscape design of the modern area.
Pergolas we used to see made ofbricks or wood. There are, of course, forged products, but today we are offering you an exclusive gazebo made of metal laser cutting method. These objects stand for a long time, and lifetime will delight you with its beauty.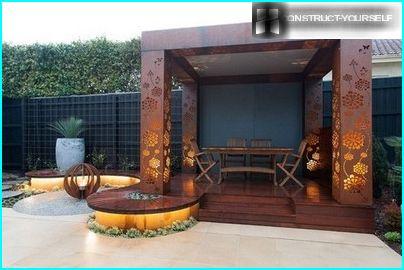 Arbour looks chocolate, although it clearly has served its owner for several years. After all the rust on steel does not appear immediately, but after a few years
Elements of such a gazebo would like to highlight thatviewers can fully appreciate the skill of the author who created this miracle. Of openwork metal may be made a gas hearth or a steel canopy, which is quite capable of replacing a pergola or arch. With their help, the site will gain the desired area Shadowed.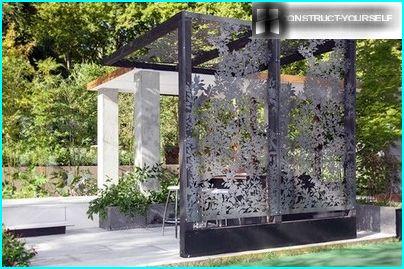 But this gazebo was installed recently. Over time, it will also become red from velvety rust, but look it from this will not be worse, that's for sure
As walls, screens, fences and railings have alwaysIt looks great openwork steel sheets. Even if the fence is made of solid metal, brick or stone, elegant gate or gates will always be relevant. If you have a fence already installed, but you would like it to be a little higher, to achieve this effect is not difficult if the superstructure is made of steel treated by laser cutting.
Very attractive looking fence and otherelements of the home and garden made in the same style. It may be balcony railings, stair railing leading to the house, details terrace, porch or gazebo. The laser can create complex geometric and floral compositions, as well as the story of the picture.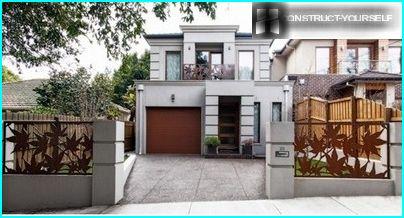 Laser cutting - the method by which it is possibleMake a set of paintings in the same style. He will decorate the house and house and space. In this case the balcony and fence looks very harmonious with each other
Often, it is decorative elements allowhide some detail unattractive courtyard, quickly create shading, underline the border zone or dissociate from the neighbor's land. Sometimes decorative pictures or paintings made by laser cutting, simply decorate a wall or fence.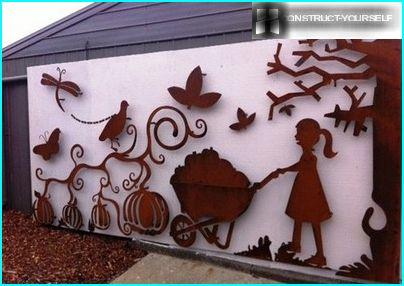 The spectacular panels of metal Corten brand covers a side surface of economic purpose built and very animates territory, creating the mood of a good children's story
By the decorative elements can be attributed to lightbox. If you use the main advantages of metal - its strength, the boxes, made from it can be quite voluminous. With such light boxes can be decorated and fences, and gazebos. It is appropriate, they will look in the yard, on the terrace or balcony. Great looking design are separate.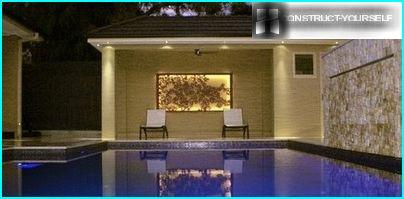 Light flows out of the box, breaking through the openwork metal surface, and is reflected in the surface of the water basin. In the twilight of such an unusual lighting creates a romantic mood
Of openwork metal can not be performedonly functional things, but also products destined for their views called aesthetic pleasure. Simply put, they are just a pleasure to watch. This, however, does not mean that they have to be completely useless. Garden sculptures can simultaneously serve as the centers of the tracks or the backlight.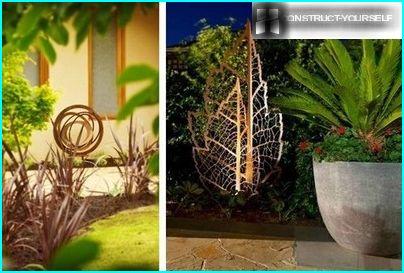 In this case, seen speaks for itself. If you want to have in your garden appeared unusual plants and flowers have a positive impact on your mood, use the metal as a decor element
As you can see, in landscape design MetalIt used widely enough. Furthermore, with the technology development of its use will be expanded, and the pleasure of seeing this beauty - to increase.