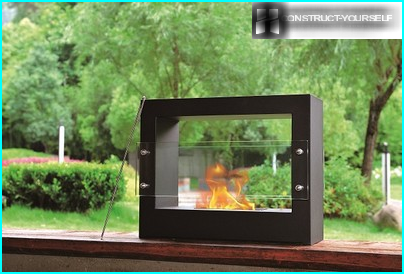 When looking at the beautiful embossed wall covering,paths and fences is difficult to imagine that they are all made of the usual materials - concrete. However, modern coatings, as opposed to its "ancestor", known for its unattractive dull gray view, are of particular aesthetics. Because of decorative concrete is widely spread its properties presentable, not only in construction but also in the landscape design.
Content
Decorative concrete was first used in the early60-ies of the last century, Americans in the construction of runways at military airfields. Their task was to create a building material, which successfully combines both excellent performance and decorative qualities. The material, which is composed of cement, water, aggregate, paint additives and fully in line with these requirements, and therefore is widely used in many industries.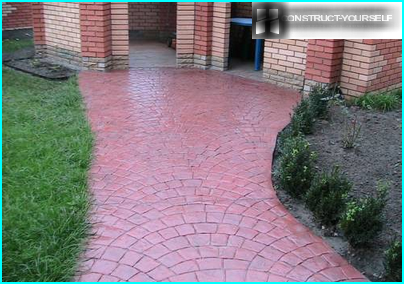 Today, decorative concrete can be seen in parking lots, roads and sidewalks, subway stations. It is used in the restoration of architectural monuments
Thanks to the efforts of developers today decorative concrete has a number of advantages, the main among which:
Resistance to oil, chemicals and aggressive compounds;
Load bearing capacity (2-3 times more than the molded paving slabs);
Resistance to UV radiation and the ability to withstand up to 300 cycles of freezing;
The ability to withstand extremes of temperature range from -40 ° C to + 40 ° C;
Resistance to abrasion and mechanical stress.
Using extruded concrete can createexceptionally beautiful and yet durable coating. Special additives included in the material, helps to prevent delamination and cracking of the surface.
Unlike conventional concrete technology which reduces to ordinary casting, a decorative concrete involves coating the upper layer after final potting certain pattern.
To make the surface involve differentstamps and other special tools. Stencils, molds for sandblasting and chemical compositions for etching can create complex patterns and fine lines made saws with diamond blades, capable of conferring expression and clarity of the drawing.
Using modern manufacturing techniquesconcrete surfaces, manufacturers produce a material that is capable of generating not only the effect of natural stone and wood, brick, tile and other decorative patterned coating.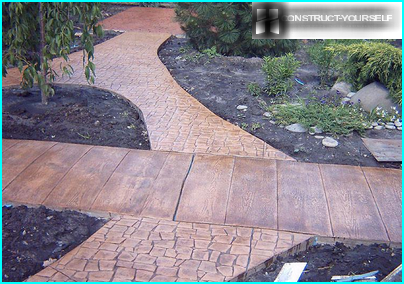 In landscape design, decorative concrete is used in the regeneration of areas for recreation, the design of the garden paths and construction elements of landscape landscape
Such concrete is not only suitable for the arrangement of platforms and tracks. It is used when creating barriers and manufacture of small architectural forms.
Decorative fences from concrete can have any surface, ranging from traditional brick and stone and ending with the imitation of bas-reliefs of the Parthenon.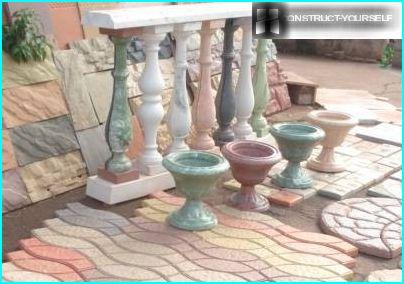 Scenic balusters, resembling low columns, railings and elegant beauty not inferior refined marble and alabaster figures
Balusters Concrete impressive look asarbors and fences terraces, supports for the railing. Festive jewelery garden can act entwined with creepers single column, concrete, floor vases and flower pots. A fountain decorated with stucco concrete and all will be in the spotlight.
Cast Concrete garden benches - one of the most practical garden plants. Depending on the design style they can easily be fit into the landscape design, making elegant area addition.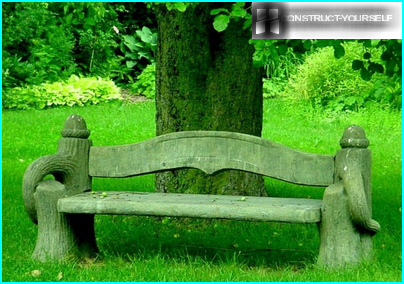 This garden bench made of decorative concrete combines beauty and practicality - it's always nice to sit and relax
Depending on the options constituting material and the effect produced by them are three main types of decorative concrete.
The color range of color pigments used in the manufacture of decorative concrete, has more than twenty shades.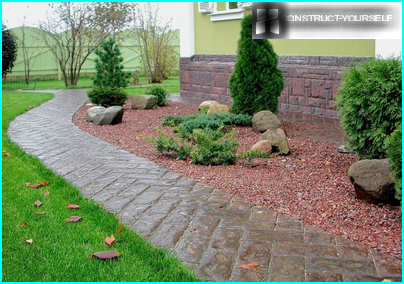 Thanks to a wide palette of shades of colored concreteable to successfully complement the architectural and plant composition suburban area, speaking adorn the access road, a parking space and garden paths
For colored concrete manufacturersuse special pigments, which thanks to a special hardener are able to maintain color fastness even under adverse environmental impact. Most often such pigments are the oxides and salts of various metals. For example, concrete to give greenish chrome oxide is added, a reddish - iron oxide, and violet - manganese oxide.
Applying innovative technologies diamondprocessing, manufacturers can produce concrete, which creates the effect of full compliance with the surfaces of natural materials, laid out hundreds of years ago.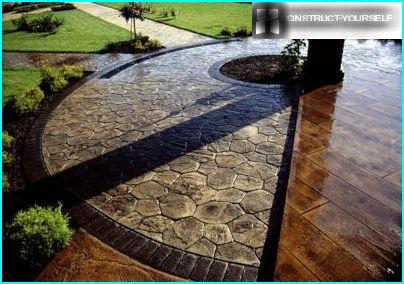 In the capable hands of a master is able to take the concrete form of any natural material, be it stone blocks, brick, slate, cobblestone and even marble
Imitation goes so believable that even with careful examination does not always work to determine whether it is natural stone or is it skillfully executed copy.
Decorative concrete expressive structurecreated by making a part of the coarse aggregate. The desired effect is achieved by exposure of the grains, which show through to the surface after removal of tools or special top layer solution.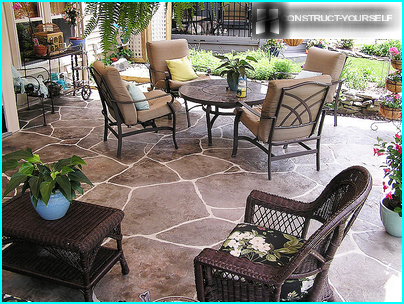 This decorative concrete is able to turn an ordinary pavement in the old pavement, and patio in extravagant Spanish patio
When you create a concrete relief structureused aggregates from crushed marble, granite, anthracite, limestone and basalt. Spectacular surface obtained with the use of aggregates of gray, red and pink shades.
Decorative concrete is ideal forarrangement of tracks and design gardening area. With excellent quality characteristics it is particularly aesthetically pleasing. Moreover, concrete coating is convenient for cleaning, and it has stability and fat and oil. Venues and alleys with the coating does not need to install curb, allowing you to save money on construction.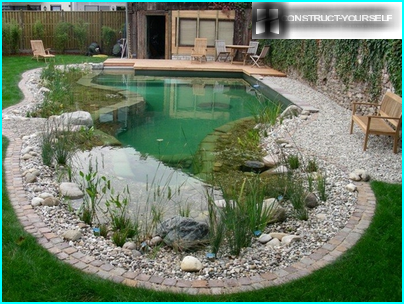 Venues and alleys with the coating does not need to install curb, so you can save a little on the construction
If desired, a decorative concrete can be done by hand. The dry mixture and shape for its preparation can be purchased at any hardware store.
registration option depends on yourpreferences. On sale you can find plastic or silicone molds, including a combination of diamonds and squares, drawings "fan", "ekzek", "animal skin", "basket weave".
Technology for creating a relief surface involves several steps:
Substrate Preparation. In the manufacture of garden path on the marked area is removed layer depth of 10 cm of soil, put the casing and poured a layer of gravel.
Pouring concrete. On the leveled surface spread grout and smooth.
Applying color hardener. To impart the desired surface huesprinkled with a solution dry bulk dyes or treated with its color hardener, which in addition to colored pigments include filler made of granite or quartz sand.
compact forms. On grasping, but not completely frozensurface spread form, pressing them tightly together. To get a clear imprint of the pattern stacked form lightly tamped. Determine readiness for stamping concrete mix possible, touching her finger. The mixture is ready, if it is not reaching for him.
Cleaning cover. After enduring 2-3 days, washed concrete surface witha brush dipped in a solution of hydrochloric acid. After drying the top layer is applied to the protective structure that prevents moisture evaporation from fresh concrete surfaces.
The locations of probable fracture should provide expansion joints by following them at a distance of 6 meters from each other and fill the void with clear sealant.
To extend the service life of concrete and significantly improve the aesthetic properties of the material, it is desirable to treat the surface of the special impregnating composition, forming a protective film.
Track of decorative concrete can be use in 10-15 days. Ideally, the concrete surface is desirable to handle the annual water-repellent solutions.