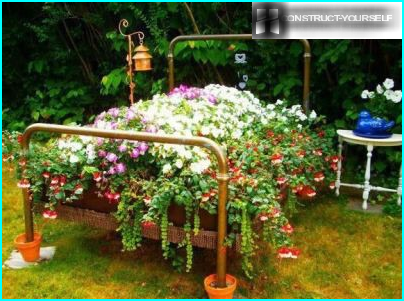 If you want to vary the design of a countryportion of the original garden path or track, and the proposed products in the supermarket you are not satisfied for any reason, risk and create your own tile, literally from scrap materials. To do this, you need to purchase a special plastic mold and learn how to prepare a solution for garden paths. Add a bit of imagination, construction skills, patience - and your path will not only durable, but also strikingly beautiful.
Content
Now difficult to find anything to doindividual creativity. In stores you can buy a handy plastic molds, stencils for tile production. You prepare the grout, pour it into the mold - and a few days get set color tile that mimics the plant analogue to the sidewalk.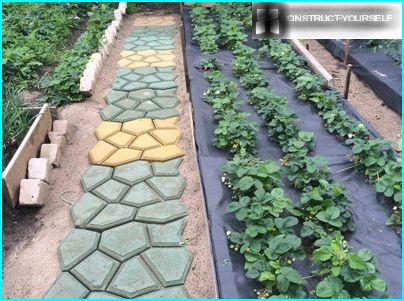 Monochrome, color, colorful track and look great in the garden, among flowering trees and flowerbeds, and on the green, manicured lawns, and among the vegetable beds
The tracks made of hard concrete tiles,can last for decades - in their strength, they are not inferior to the foundation of a building or a small overlap of the bridge. They are comfortable and functional - and all because of proper cooking mortar.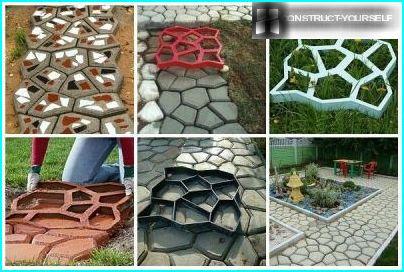 One-piece solid form costs about 1,200 rubles, and the light option - a stencil with cells of different shapes - much cheaper. Depending on the material, its price varies from 50 to 250 rubles
Many master craftsmen prefer to purchase an embodiment of their own creation, so make your own shape using wood or metal profile.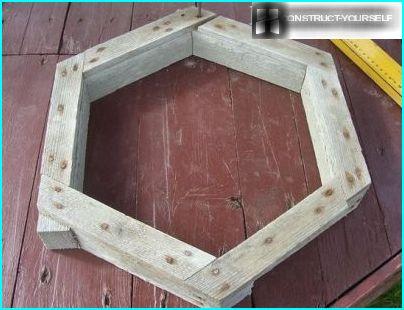 From short planed bars can put together a rectangle, square, hexagon grille or small, that will serve as a form for pouring the cement slurry
The ability to prepare their own cementsolution at home is useful to anyone who is planning to do the construction or repair work. The adhesive mass harden with time needed for laying bricks and stone to create decorative compositions, and even to seal the hole in the wall.
For the construction of garden paths neededconventional solution, which can be prepared by hand. However, its functional quality largely depend on the preparation of the material and proportions, so consider in detail how to fill the forms for garden paths, to serve for many years.
Perhaps someone in the country owned andthere is a mobile concrete mixer (in this case the mass of the preparation process will be better and more quickly), but it is unlikely in the average garden farm can be found this useful plant, so collect an arsenal of what is always at hand.
It is important to choose the capacity thatIt would fit and size, and ease of working with it. Ideally, the tank volume should match the portion of the solution that you want to cook at one time. Too little capacity will force you to repeat the process - and that the increase in time spent on the job, in 2 times. In a large bowl stir uncomfortable components and create a homogeneous mass. Also important are the reservoir quality as stability and strength of the walls.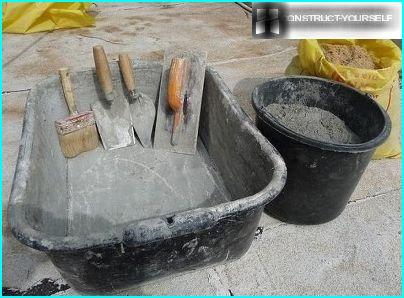 For small amounts of cement (if you do not hurry tile, for example, on weekends) for a small container of durable plastic with low bumpers
If was an old cast-iron on your cottagebath, which is generally used for storing rainwater, it can be a great option for temporary breeding grout, or other large utensils that meets these requirements.
In addition to the capacity required toolstir until smooth mass. Wield a shovel or a piece of wood by mistake - a solution to knock lumps that affect the poor quality tiles.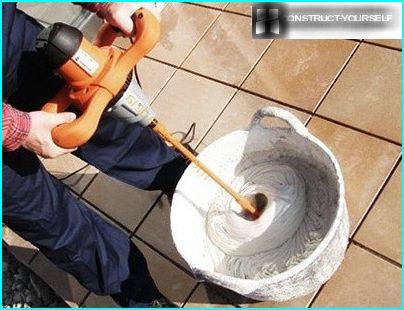 The best equipment - a building or a mixer, as it is called, hand mixer; in its absence, you can use a drill with a special nozzle
Try to add up all in one place, so that the cooking process does not have to be away and to delay the process.
For the standard, widely used cementsolution requires three components of cement, sand and water. It would seem that everything is simple - all mixed together and got an excellent material for filling in the forms. However, there are several important points to non-compliance with which immediately affect the quality of the tiles. For example, sand. One can find several types of sand which differ in particle size, and weight and composition.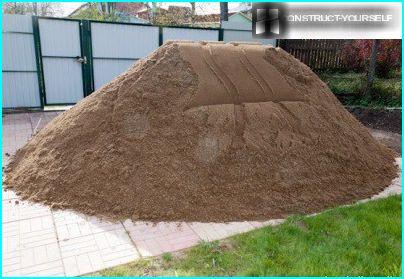 We fit the normal career or river sand, which has characteristics such as purity (for this purpose it is necessary to wash), uniformity, absence of impurities
Cement - a dry mixture in paper bags - shouldbe crumbly, crisp, with no expiry date. If your utility room kept a couple of bags from the construction site 10-year-old, it is better to say goodbye, because the good of this cement solution with them not to receive.
Here are some tips from the professionals-builders, who will help to make a great solution:
If you notice in the dry mix small lumps,Sift the powder is better, using a sieve (to work with a stone is enough cell 10mm x 10mm, but for plastering need a sieve with 5 mm x 5 mm).
The best kind of cement for street works - grade 300 or 400.
Correctly identify the proportions of all threecomponents. For tracks traditional ideal ratio of 1: 3, where one part of cement accounts 3 parts of sand. Bulk materials can be metered in buckets or other suitable containers.
To impart a specific color or change certain characteristics (viscosity resistance) in the current solution is added components, such as plasticizers or colored pellets.
In preparing the solution, make sure that it does notIt became bold, that is containing much binder. Fat mass is plastic, easy to apply, but forms part of that quickly dries out and eventually give a crack - for garden paths that will not do. With a lack of binding element we get skinny cement that is too long to freeze and also have inappropriate characteristics.
We need a normal cement after curing has excellent performance strength and durability, and this is precisely the need to respect the proportions.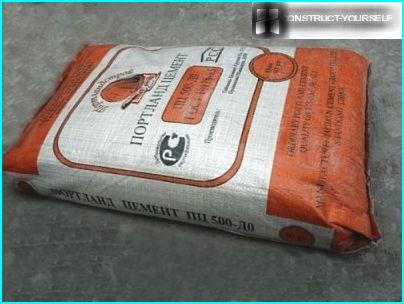 cement bag of 25 kg is from 180 to 250 rubles. Price depends on the manufacturer, the brand and the quality of the dry mixture
Water was added "by eye", a little at first, then topped up with small portions. As a result, should get a mass that resembles thick cream viscosity.
Keep in mind that the solution can be readyuse within a few hours, then it will be unusable for filling, so pre-prepare the table, forms, templates - all that is needed for the production of road tiles.
The capacity of the thin layers of cement and sand fall asleep- Should have at least 5-6 layers. This is necessary for high-quality, uniform mixing of components. Stop when the total height of the "pie" reaches 25-30 cm then take a shovel and try to gently but vigorously stir the mixture components:. The more actively you move a shovel, the better will the future solution.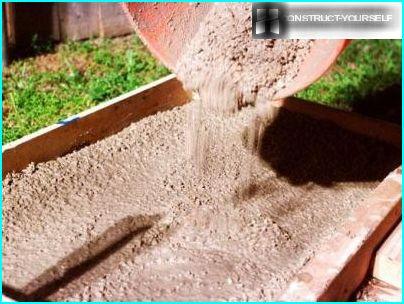 Uniformity of the dry grout can be determined by eye. If there are any doubts about the purity of the masses - again pass through a sieve
Water may be added only after youensure full readiness to dry mixture, or rather, in its uniformity. Better to take a small container and add small portions, so as not to overdo it and do not make the solution too liquid. Pour water slowly, stirring gently mass.
The mistake novice builders areExperiments with a temperature of infusion liquid. Some believe that the hot water will speed up the breeding process and specifically heat it, pour some ice liquor. Both are false, and can negatively affect the quality of the solution. Water should be the same temperature as the ambient atmosphere - in this case it is, of course, the warm season.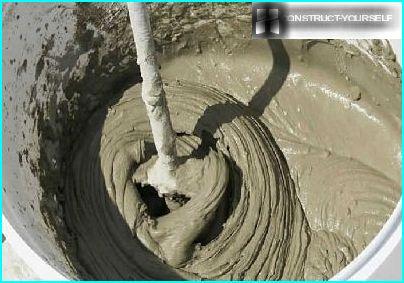 Ready to use mixture to fill the forms should get a little thinner than the mortar for bricklaying
Another caveat concerns sand moisture. Often the sand is used, stored directly on the site. Obviously, he could get wet in the rain. If you use a wet, heavier sand, pour the liquid is even smaller. The solution is ready? Proceed to fill. Depending on the density and viscosity of the composition you have 1-3 hours to pour the solution into molds.
Not everyone likes the boring gray trackresembling city streets paved or concrete strip, so we offer you the tile manufacturing process, provisionally called mosaic. Our tile is far from the masterpieces of Spanish or Italian professional artists, nevertheless, pretty equal squares ornamented with colored stones on a background of green garden look great.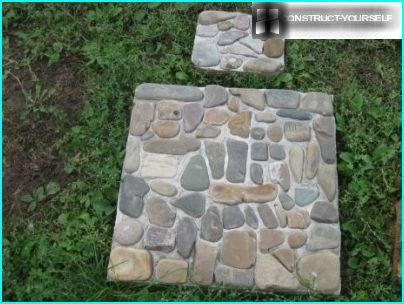 Tile size depends on your garden projecttrack. Large, with a side of 50 cm, can be placed in a row - will narrow path, shallow (30-40 cm) - two or three parallel rows, or even discordantly
Unlike conventional tiles, consisting of onegrout, our version implies the presence of an additional "weight" of a component - stones. They can be big or small, one-color or multi-colored, round or flat. The stones can be replaced by fragments of ceramic or tiles, pebbles - the main thing that they do not slip in the rain.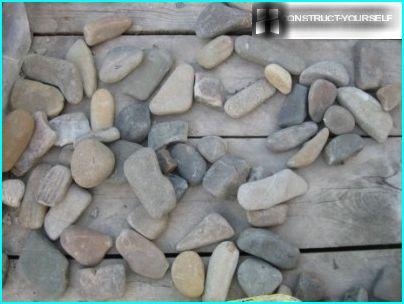 Multi-colored stones for tiles took on the shoreriver flowing nearby. If you're unlucky with water features or just the riverbank were sand, do not worry - stones required fractions can always purchase one of the construction companies
It serves as the basis for a tile grout,prepared by the standard procedure described above. Take the classic formula: 1 part cement 3 parts river sand. Mixture cook in a large container, using a small plastic measuring container.
Dilute the solution in portions, separately for eachtiles, is also possible, but this process is very time-consuming and labor-intensive, so preparing a solution in an amount which is enough to fill 6-8 pre-prepared home-made forms.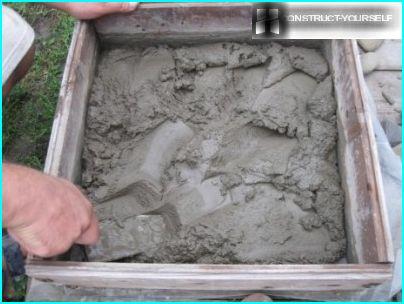 Forms have a simple construction and are boxes with low walls formed planks 30-50 cm in length. The thickness of the tiles can be prepared from 5 cm to 15 cm
Gently fill solution forms coatedplastic wrap, oiled (suitable waste engine). To tile were of uniform thickness, put an equal amount of the cement mixture. For accuracy can be on the edges of plates to hold the line, indicating the height of the tile.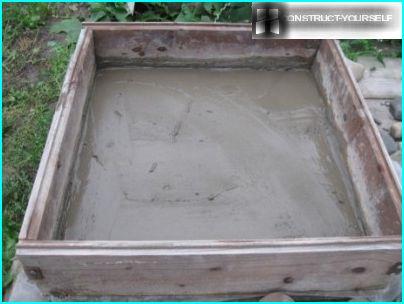 The surface of the grout carefully flatten - prepare for laying the stones. It is important to sustain the necessary consistency of the pulp, because the stones are too liquid solution will fail
Do not wait until the solution grabs, spreadon the surface of the stones. Even before the preparation of the solution can be carried out a kind of rehearsal, expanding the stones in a box "dry" to find out the approximate number of stones needed for 1 tile.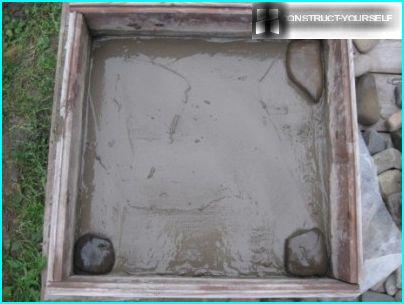 Start with the corners - so tile will be stronger, and the stone figure - a clear and correct. If you are using the stones of various sizes, try larger stack on the perimeter
Continue alternating stack rocks, creating natural or geometrically correct image. You can be alternated elements of different sizes or different colors.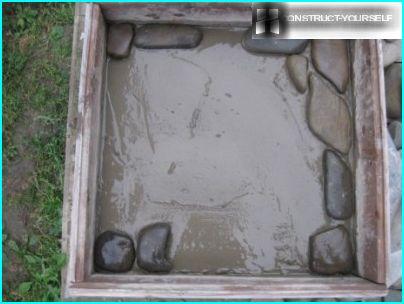 Laying the perimeter, trying to make the long side boulders lying along the edge. This will prevent the breaking of the foundations at the edges after long use and prolong the life of the garden path
First, lay out the larger stones, then fill the empty seats fine. The result is a beautiful multi-colored tiles, the appearance is not inferior to the factory counterpart.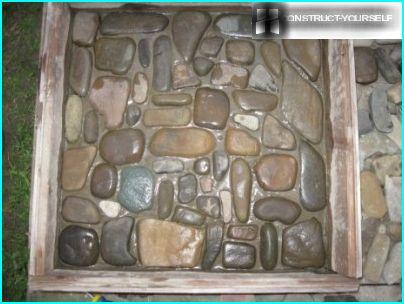 In the sample stones are laid out in a natural order. There are other options - staggered, spiral rows of diagonal, herringbone, etc.
Speakers outside elements - is shortenedlife tiles and woe to those who are on it will go, so all the stones carefully dent inward to their upper plane leveled with a concrete foundation.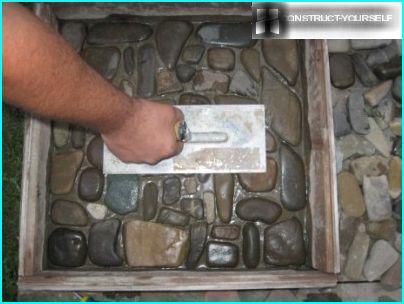 For surface leveling and tamping stones also use improvised tools. In this case, we will need a building trowel left after plastering
So, all active work on creating tilescompleted, it remains to wait. To the concrete is covered with cracks, it is necessary to moisten 1-2 times a day. After 3-4 days it is ripe, frozen material moves away from the formwork wall, and tile can get, freeing shape for the next portion of the solution.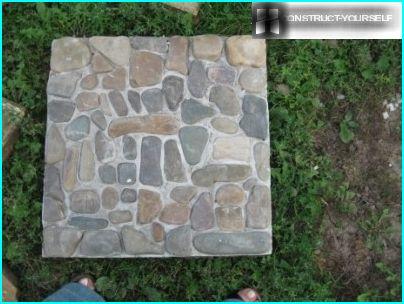 The finished tile can be laid directly on the spot. This is usually prepared by base - lined and fenced borders of sand and gravel "layer cake"
Tiles for the construction of tracks and platforms of any size and shape.
Concrete solution is useful not only for pouringin form, but also to create the individual tiles of solid coating - it is necessary to fill with a mixture of cement joints between tiles, or use it as a glue
The track, which expended a minimum budget, looks amazing, especially in the area there is a design created from stone and grout.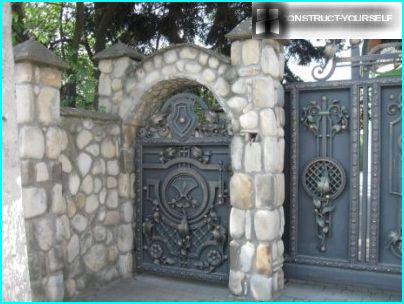 The magnificent wrought-iron gates and high stonefence - the perfect backdrop for a garden path of river stones. And note - all important role played by ordinary mortar prepared with his own
And finally - a great video on how to properly prepare the mortar and pour it into molds for tiles: