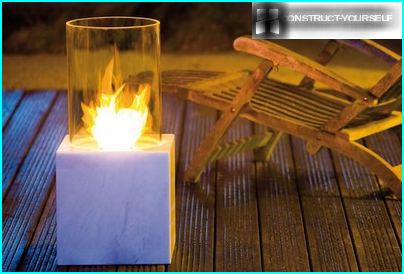 Which cottage garden or attract the attention of others? Those gardeners who love to decorate your site with exclusive plants, certainly believe that flowers and trees - this is the most impressive elements of landscape design. Pets master craftsmen believe that their ideas, deftly embodied in life, are the main. Both are right. Garden and giving riveting the attention of others by how they differ from other similar sites. A special decor for the garden, invented and embodied the masters of their own, gives this place a special charm.
Content
The best part is that the creative processcaptures, fascinates. Succumbing to desire to do something unusual and beautiful, we include own imagination. And already she gushing ideas, awakens in us the capacity, which we were not even aware. It turns out that we are capable of doing wonderful crafts from virtually nothing. Created by the decor of the garden with his own hands is especially nice: not for nothing that the author's works are valued more than the store bought.
One only can think of garden beds andbuild a great variety. But do not forget that the decor for the garden and the garden is an integral part of, and therefore should match the style chosen for the site and garden buildings.
A flower bed, chair
Found in a landfill chair can get a second life. He will be a key to the mini-beds, which is formed by a variety of plants growing in a bucket, a plastic pot or just in the pelvis.
Any suitable container can replace the seatchair. It is necessary to make holes in it and lined with geotextile, fill with soil. For such beds suitable mosses, sedum, and young vines, which will embrace the details of the chair, turning it into an element of the garden.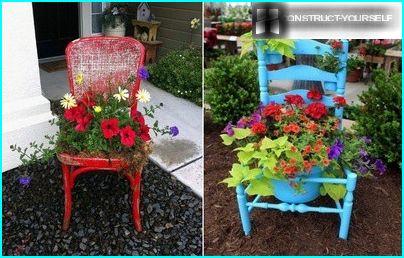 Discarded his chair suddenly decorate the site and its owner will show his remarkable imagination and creativity
Flowerbed island
This hit the modern design arteasy to build yourself. This requires a container with holes, which is lined with geotextile and fill with soil. For greater stability it is placed in a piece of foam, fabric or decorate moss. Daylilies, marsh iris, globe flower, Nymphaea, Potentilla, calamus, and other moisture-loving plants are designed just for those beds.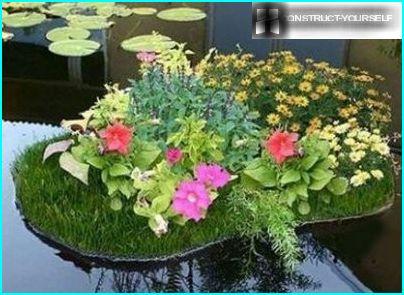 Flowerbed island today at the height of fashion: it is a great decoration for any garden pond and always attracts the attention of others
Suspended bed
look very attractive hanging onbalcony, in the gazebo or archway baskets of flowers. Hanging baskets should be easy. As a carpeted material they also use a geotextile. It is not too attractive to quickly close the growing shoots. As a soil, a mixture of sand, peat and compost leaves. Granules hydrogel help retain moisture. Basket plant - ideal for hanging baskets.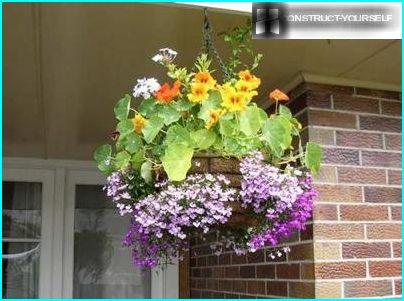 Flowers everywhere - is the motto of fans hanging flower beds, but we should not forget that these beds should be light and airy
Flowerbeds of "something horrible"
Any old thing can be the basis of the flower beds,if it looks quite presentable. Old boots, watering cans, wheels, bicycles, cans, jugs - all this can again be a useful and pleasing to the eye. Decor Ideas for Your Garden arise spontaneously as the appearance of these items from the storerooms and closets.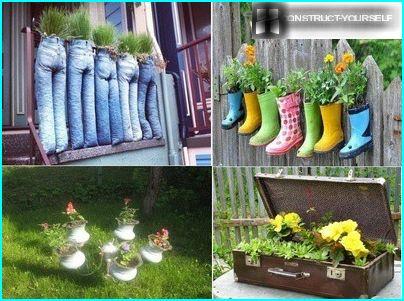 Old jeans, children's boots bright, chandelier, out of fashion, and even an old shabby suitcase can always be elements of garden decor
Many things in the house that are postponed, "just in case" can be extracted to the light: the case has come, and old things get a new bright life.
Not all winter move to urbanapartment. Owners warm country cottages remain to winter in them. However, the winter cold - not a reason to put down the imagination, and the approach of Christmas and New Year gives special energy charge for the implementation of the new winter ideas.
To realize fantasies use conventional children's balloons. By the way, the children will be able to become not only the co-authors of such works, but critics and supportive of the results.
Colored icicles
Dilute the paint in different containers with water. It is better to use food coloring or watercolor. You can add glitter or cut into small pieces Christmas "rain." Fill the solution into the child a balloon and carefully tying it, after which it is sent to the frost. Stilled piece of ice is released from the rubber shell. Icicles should be bright, clear and colorful like lollipops. We spread them along the track or wherever we want.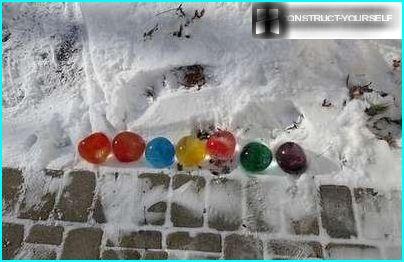 Fantasy can not wait until the warm days of spring, she constantly gives rise to new ideas that are so nice to implement, making life brighter
flying balloons
These balloons will decorate the tree branches before Newa year, giving it a dreamlike view. For such balls is more appropriate white thread of medium thickness with lurex. It is necessary to inflate the balloon, loosely wrap the thread, and then covered with white glue. When the glue dries, the ball just pierced the needle and gently removed from the resulting flying ball.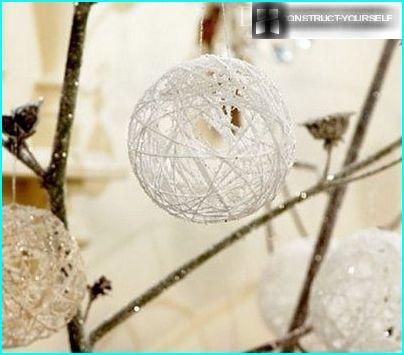 In winter, flying balls like snowballs, which were frozen in flight, and in the spring they become as interesting details Easter decoration, like bunnies, Easter cakes and eggs
For the decoration of the garden for Easter, too, can use the flying balloons, but do they have to be as bright and colorful as the eggs "Krashenki".
That can be compared with a tree on harmonyentering into any style of garden plot? The naturalness and, at the same time, that special warmth that wood is granted, you can create an amazing wooden decor for cottages and gardens.
Wooden figures
This is the most popular form of wood decor. Usually, wooden figures, if they do not give a bright coloring, almost invisible in the garden. That is their special charm. They appear suddenly, but do not scare and delight, drawing in the wonderful world of nature.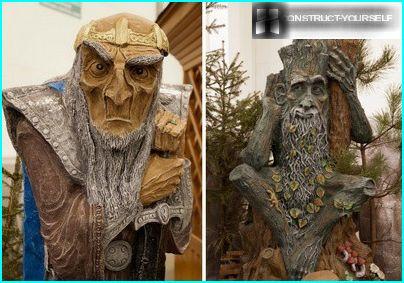 Treefolk or Forest fairy king does not seem terrible, on the contrary, they protect the garden and its owners from uninvited visitors, but guests are always welcome good
Forgotten items
The use things as garden decor fromWood, who has long served its. Excellent look old cart or kadushka operating functions beds or garden staircase, which now plays the role of shelves.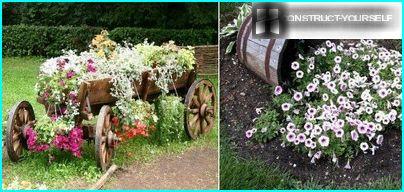 Once the desired, but now forgotten, but not abandoned wooden things, look at the site unusually harmonious, emphasizing their natural origin
Functional items
For all its decoration, wood products can be quite functional. This ornamental bridge over a stream, and a bench, which is guarded by wooden bears-guards.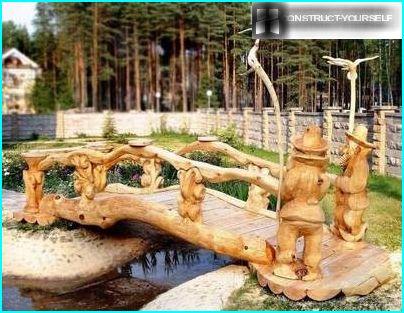 Wrong one who believes that the decorative elements may not be functional: make sure that the decorative bridge fell on the way this garden site
human imagination is inexhaustible. Moreover, the more intensive use bottomless well of creative energy, the more it fills Nature helping us invent and implement real miracles.