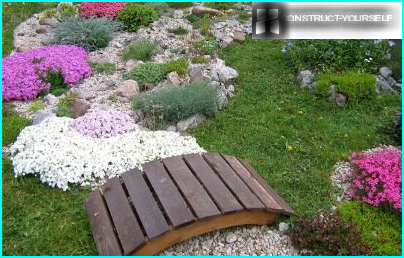 Romantic evening garden ... It is composed asmosaic, from a variety of nuances, among which light plays a leading role. Unfortunately, the lighting suburban area sometimes unjustly assign a secondary place, although "a ray of light in the darkness" elementary needs in order to move freely in the evening on his possessions. Not to mention the fact that the beauty of plants, hidden in the dark, able to shine with new colors and gain unexpected fantastic shapes. Suffice it artfully to "play" with light by applying a few interesting ideas illumination and decoration garden lamps.
Content
Truly, garden lighting is like art - itable to create unprecedented effects that are born from the union of plants and decorative lighting. You only need to bring to life some of the "education" of the idea for the garden - with their hands so you can transform your garden from the flea, is no different from many others, it will turn into a fabulous area that can umilyat you at any time of the day.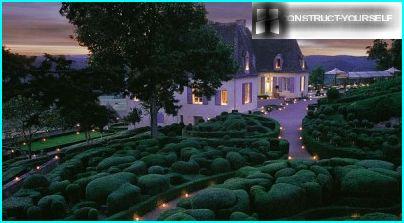 Evening illumination garden will not only give the garden a certain mystique, but will safely move around the site area
Your garden house and cottage landscape willlook natural day and night mysteriously, if successfully combine functionality with its decorative lighting. What tasks are assigned to lighting garden plot? Depending on the function and placement of outdoor area lighting fixtures, we can distinguish these types of garden lighting:
home lighting;
track lights;
stair lights;
accent lighting;
patio lights;
festive lights;
security lights.
An important condition for the proper organization of the systemgarden lighting - is the preservation of the aesthetics of the garden during the day, ie lights for night lighting should not disturb the harmony of country landscape. To fulfill this condition, it is sufficient to choose lighting natural shape and / or are made of natural materials. Widespread acceptance for decorative garden lighting - glowing stones, absorbs solar energy during the day and gave her in the dark in a mysterious glow, flowing gently from the inside of the rock.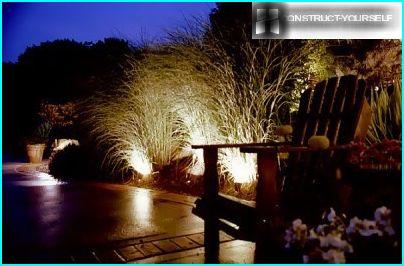 Original lighting, placed in dense vegetation and create a welcoming atmosphere in an area of ​​secluded relaxation
Or maybe you prefer a group of colorful butterflieson long twigs stuck into the ground, that day will revive the lawn and glow at night? And how do you suddenly peeping out from behind a bush or dwarf with an icon lamp glowing frog perched under a large leaf? These original solutions give your cottage individuality and originality, to the delight of you and on the good neighbors envy.
In addition to the artistic impression, you mustthink about the technical side of lighting and garden. The use of alternative light sources based on solar energy - it is the most economical option for lighting the garden. In addition, this type of lighting will not spoil the appearance of the long section of electric cords, stretching along the flower beds and paths, as it consists of a stand-alone unit and the battery connected to it a group of fixtures.
Highlights connected to the mains, it is more logicalplace closer to home - to illuminate the facade, entrance, terraces, as these areas require stronger light, and laying a little extended wiring does not require significant labor costs and cash investments.
Decorative lights focused - itmost expressive lighting, created by light and accentual beam directed to the original landscape composition - flower bed, water, wood or just a beautiful flower shape. With such directional lighting important to balance the intensity of the color spectrum of the light spot pattern and location of the light source. An interesting idea for the illumination of the garden can be a group of lighting fixtures placed under trees with unusual crown - in the evening directional light Tracings tree silhouette on earth and create a bizarre pattern of shadows.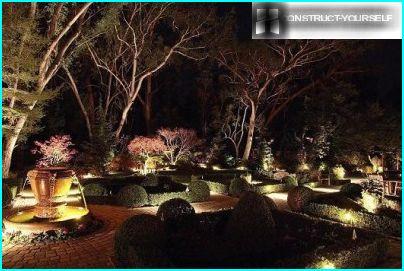 Evening garden lights so subtly draws the outlines of the plants that they take sometimes fantastic, unreal view
Lighting garden paths does not imply an abundancepowerful lamps - it may be small spots or embedded into the ground lights, giving a hint of coverage on both sides of the holiday "fairway" and indicate the direction of motion. A more thorough "navigation" requires a ladder, which can be lit lamps mounted in the steps or in the stairway railing. The main idea that can be applied - A large number of lights stairsfixtures in the form of improvised candlesticks of glass jars or tins, grouped around the edges of the steps. Such a move could not be better to give the garden a romantic ambiance, and make your own hands like miniature light sources will not be difficult.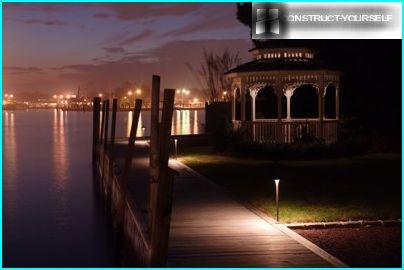 Highlighting the gazebo in the garden and path leading to it, will guarantee a pleasant evening out with the family on the air
Lighting patio, terrace or gazebo - is the way topreservation of the availability of places on your holiday cottage in the evening, on rainy or cloudy days. Since the solar heat on the basis of the accumulated lighting is not too bright to light common areas make better use of electric light sources. It can be floor and table, built-in spotlights and suspended from the ceiling or whole "garland" lamps. Beautiful multi-colored bottles, sophisticated shades of plastic or wood, bright balls of beads or extravagant design of shiny metal - only it depends on you choice of central lighting design in a recreation area. Depending on what type of atmosphere you want to give the place of "public assembly", the lighting can be a chamber and cozy, or more festive and bright.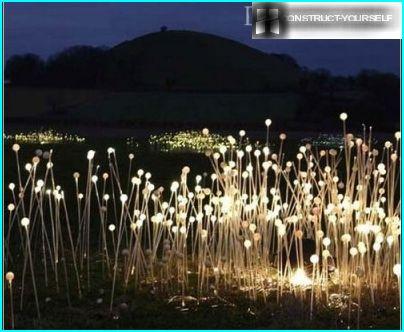 Unusual and a bit fantastic effect can be achieved by placing a lot of balls, lamps with long rods along the track
The main requirement for the protection oflighting - this is his intensity and dislocation in fundamentally important areas for safety control area - near the gate at the entrance to the house, around the garage, around the perimeter of your possessions, or in other places, where there are valuable equipment or inventory cottage. Typically, lighting protection system formed by a high-power LED lamps, and are subject to certain rules - how to place, and in terms of design, so that in this case it is better to choose options for industrial light sources.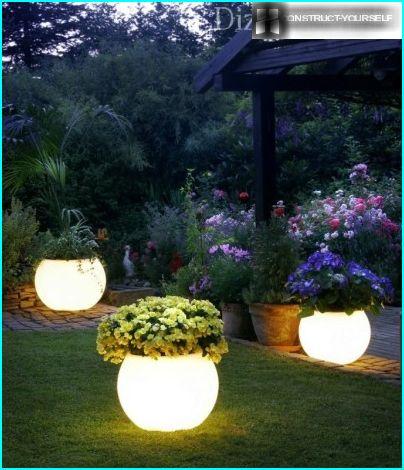 The perfect solution for lighting suburban area - pots for plants that accumulate during the day light and emit it at night
lamp unserviceable, the retiredkitchen utensils, served its plastic utensils and other seemingly unnecessary is now useful to you for the "production" of summer fixtures. In the course of going all - from glassware to my grandmother's service - a little imagination, a little patience and all the curiosities, standing with one foot in a landfill, in turn lighting devices that carry your light and joy.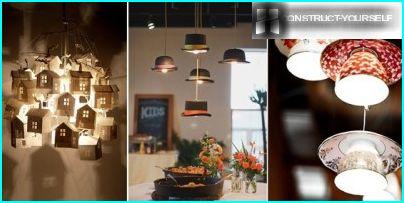 To make the holiday lamp, no need to spend a lot of money - look at the grandmother's chest and you will find everything you need for creativity
Fancy glass lamps from unnecessarycontainers can transform your garden, and will not cost a single penny. Regular glass container can be turned into an amazing light without any effort. Take a bottle of the original form or an unusual color, sprinkle the bottom of the multicolored small beads, ground glass, transparent beads that reflect light. Screw multicolored wire on the finger so that turned spirals and place them in a container. Small flashlight secure with silicone in the neck of the bottle - it will be a source of light, which is conveniently switched on and off as needed.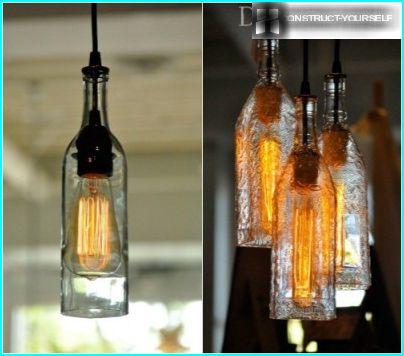 Buying liquor - Keep an eye to the shape and color of glass bottles - because now they will be useful to create a homemade light fixtures
Interesting ceiling for hanging chandeliers canget out of glass containers of various shapes and sizes. But how to cut off the bottom of the bottle? Yes, easily! Tie a bottle of thin rope, soaked in kerosene or gasoline to the level of the desired section, and inside the bottle pour cold water to clear the line marked with rope. When you set fire rope, bottle burst and formed a smooth cut, which you will only have a bit of sand, so as not to cause injury. Now in the ceiling can be charged with an electric cord and connect to the bulb holder.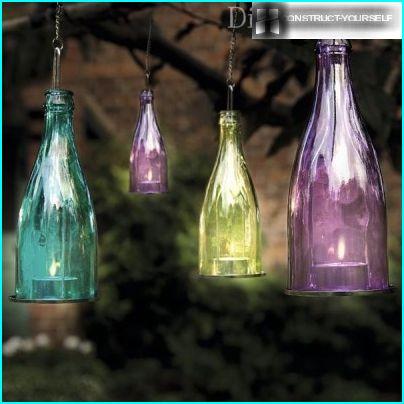 After cutting the bottom of a glass bottle and secure the metal plate on the pin, you'll get a handy candle lighting for the garden
More powerful light source is obtained if youtie a few bottles of colored wire and hung them from the ceiling gazebos, patio or summerhouse. In that case, if you seem a little dark-colored bottle, take the paint and paint stained glass, show imagination and your innate sense of harmony. And do not be afraid to let yourself go - you can always remove the solvent does not successfully arranged a fragment of stained glass paintings and update it. Even better, if you entrust a mission coloring bottles of children or grandchildren - and your memory, and in the joy of the kids.
A little creativity - and a glass bottleget expressive wall lamp in the form of a stylized torch. For this purpose, tightly twisted bottle cap drill a hole through which the inside is filled with kerosene fueled pre-impregnated with the same incendiary wick made of natural rope or tube of stainless steel.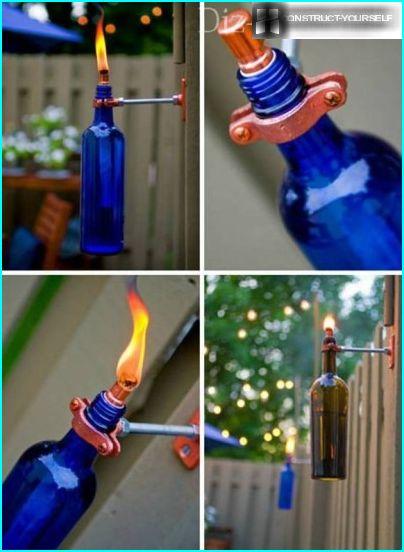 Poured into the bottle and to fill the fuel mixture inside the wick, you will create a lamp in the form of improvised torch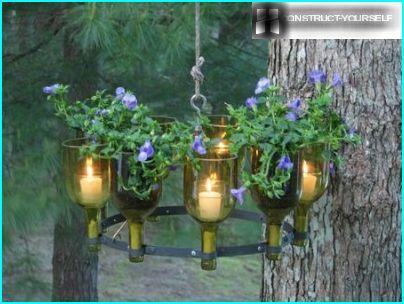 Alternating bottles, lampshades with candles and flowers give a home-made chandelier on a metal frame extraordinarily natural look
What Christmas garland gathering dust waitingnext New Year? Put it in a bottle of champagne - and you have to give an expressive lighting. Laziness something long tinkering, but it hurts the hunt to be original? Wrap completely arbitrary string or rope on the bottle, but so that gaps remained, and apply paint a favorite color of the balloon for this kind of cocoon. When your "painting" a little dry up - unwind bottle. Unusually? Go ahead.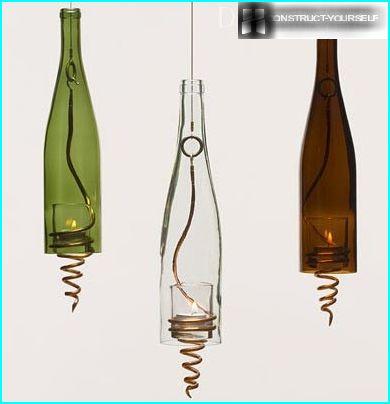 Bottle-candlestick is distinctive due to the idea of ​​a candle holder in the shape of a spiral, the seating in the neck by means of a ring
The main problem of a glass container, a basefor homemade lamp - completely transparent surface does not scatter light. The challenge in front of you in the process of manufacturing the lamp glass with your hands - fragmentary decorate a glass container so that it, nevertheless, sometimes working up to the light - scattering and smoothed the light from the candles placed inside or bulbs.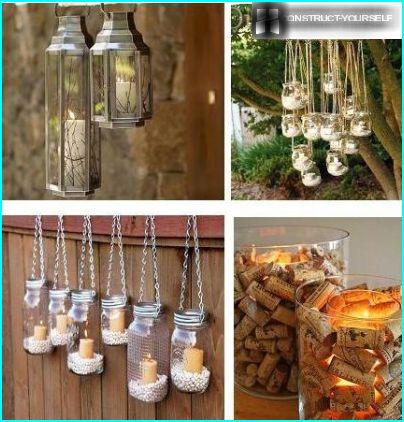 In order to make it convenient to remove the melted wax from the bottom of the candlestick banks, pour into it a little bit of sand or pebbles
What can be done with the prosaic, but beautiful onoutlines a jar left over, as the memory of the once exotic delicacies eaten? It all depends on what style conceived by the newly-born light. Want in the style of country music - Wrap the jar with jute rope, fixing it on the glass with silicone adhesive. Those interested in vintage style? Cut long narrow strips of colorful calico, cotton lace or guipure and "priodente" in your jar prababushkin outfit. Do you like techno-style? Remove the voltage coils and diode lamps from the old TV or tape - copper wire wrap on the jar. Cylindrical LED bulb stick as a decoration - they are more refracted and modify the flow of light, and the light will turn into an object of extraterrestrial origin.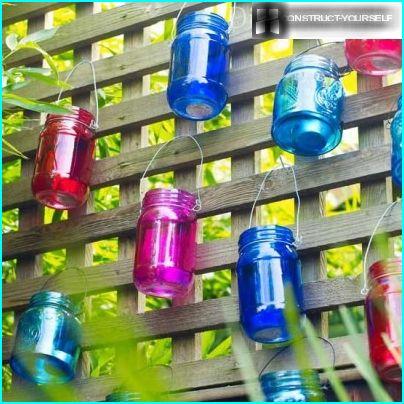 Unlike bottles, glass jars are rarely colorful - they paint the bright stained glass paints
The original idea for the garden decoration lampin the style of pop art - painting banks multicolored fluorescent paint applied to the inner surface of a glass jar in the form of irregular-shaped spots. By building up the sunshine during the day, at night the banks will emit a soft glow discreet, shimmering juicy shades of neon blue, pink or lemon color. Arranged glass containers of different heights and diameters, all matching colored phosphors in color, you can create a bright composite group in his garden, illuminating the path to home, Alpine hill or flowerbed.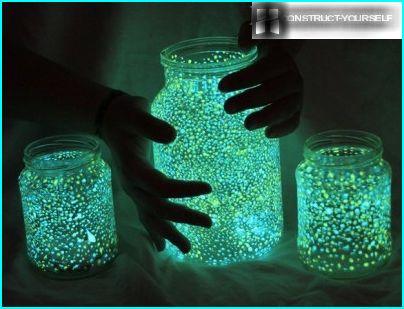 Bank covered with myriads of small dots deposited phosphor emits a soft graceful light
After drinking beer and eating anchovies in tomato sauce, notTake the time to send in the trash cans - all useful in the holiday sector. For example, for the implementation of unconventional ideas in the creation of summer fixtures that can give your garden unforgettable image.
What do I need? Hammer, nails and different diameter cylindrical shaped piece of wood. Sketch on paper drawing motif - it is desirable that it was not very difficult becoming isolated ornament. Now attach your sketch to the tin, and insert it into a piece of wood - it will prevent the can from distortion. Punching nails holes at equal distances, transfer the pattern to the bank - you get a hole through which light will leak sensitive.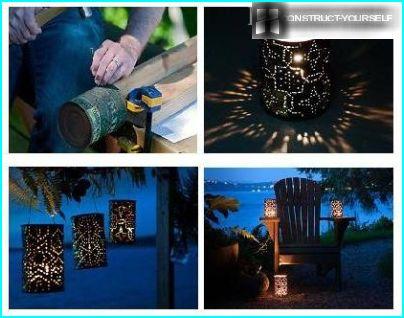 Normal bank of beer is able to turn into an exotic lamp due to the pattern formed by small holes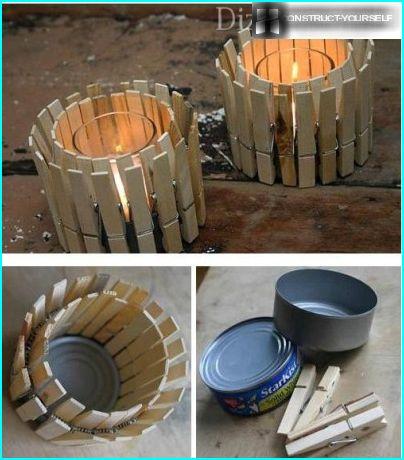 Who would have thought that such an unusual lamp can turn out tins of canned Union and wooden clothespins
After the construction of cottages often remainvarious construction materials - cement, plasters, liquid nails, etc. long Store such a mixture can not be - they quickly absorb moisture and taken lumps, but also throw hand is not raised. Do not despair, here are a couple of fresh ideas on how you can attach the construction go-ahead for the benefit of business, namely, to create a summer fixtures.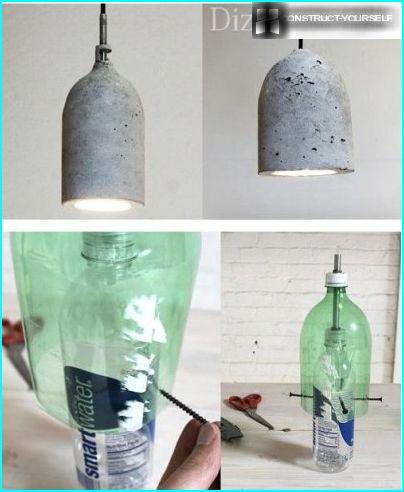 Using unnecessary remnants of cement and plaster mixtures, it can be quite original lamp
Take a large and small plastic bottles,Cut the bottom and attach one to the other, securing them by means of a threaded pin. Turn the resulting structure down the neck and set it to, say, a can of suitable diameter. Knead the cement mixture and fill the space between the two bottles, occasionally shaking the form to fill it evenly. After solidification of the solution bottle and cut loose cover.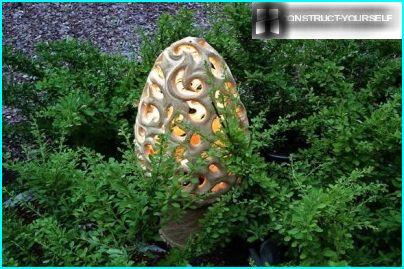 Shaping cement mortar fragments, connect them together - you will have the unprecedented beauty of the egg-patterned lamp
Picking up a small but expressive drytwigs, stick them in a chaotic manner overlapping on children's inflatable balloon. When the adhesive sets, carefully remove your design from the balloon and deflate it. Lampshade in eco-style is ready, just need to fill the bulb and connect the lamp to the network.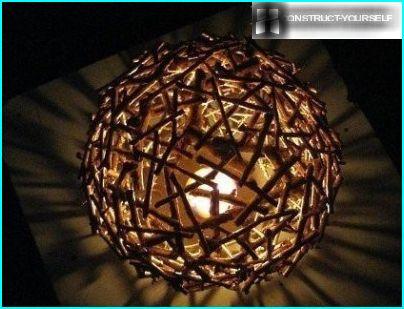 Unnecessary branches cut from trees will be an excellent material for the creation of a holiday fixture in the form of a ball
By the same principle, using inflatableballoons, make a lampshade in the form of a hemisphere of jute rope. To do this, draw a bead on the border and gradually prokleivaya intersection, wrap it with a rope. Once the glue dries, gently blow away loose ball and detach the rope cover.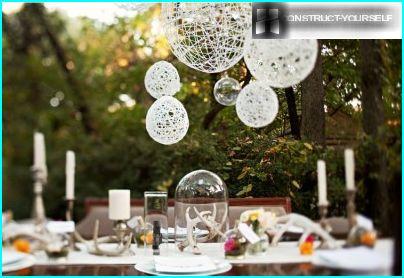 The white fishnet lamps from ropes create a festive atmosphere on your terrace or in the patio area
In order to make a lamp made of wood, not necessarily be able to shave or cut - there are lots of finished wood semi-finished products, which only need to skillfully apply.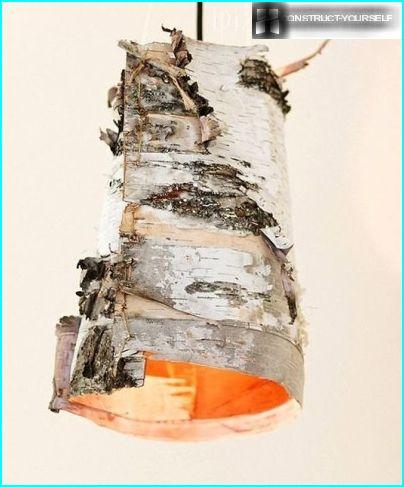 If you twist the birch bark in the form of a cone, you get a very gentle and elegant shade to the lamp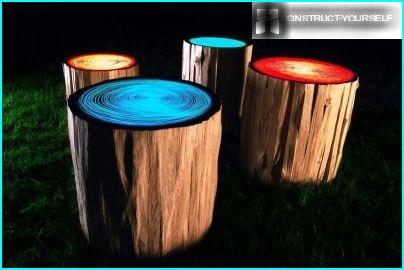 Do not rush to get rid of the stumps - they can make not only a stool, but also an extravagant holiday lighting
Plastic bottles have long ago exploitedand in the tail and mane for a variety of holiday crafts. What did not come up with our ingenious people, conjuring "och.umelymi" handles of plastic bottles. Not to be outdone by the mass trends, we hasten to offer our version of "recycling" of plastic bottles by creating an unusual lamp.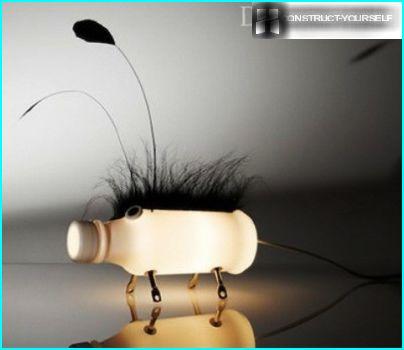 Here are some unusual light - whether hedgehog, or an insect can get from a conventional plastic bottle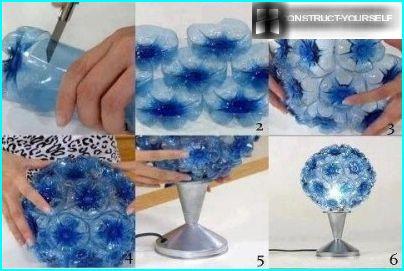 Lamp-ball made of plastic. 1. Cut off the bottom 2. Bend 3. Merge radially 4. Form a ball 5. Install a ground 6. Connecting to a network
So, cut the bottle into rectangles, of whichWe cut out the leaves. The edges of the sheet to melt the soldering iron, giving it a more natural shape. Burn 2 red-hot needle and threaded holes in them copper wire without insulation. Of the individual branches and leaves collect form a spherical bubble of them.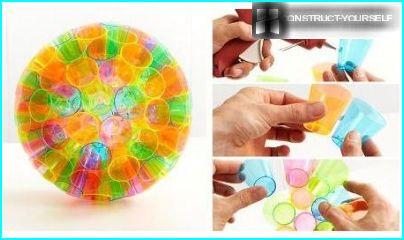 Do not rush to throw away disposable cups after reception - better glue are pretty colorful lamp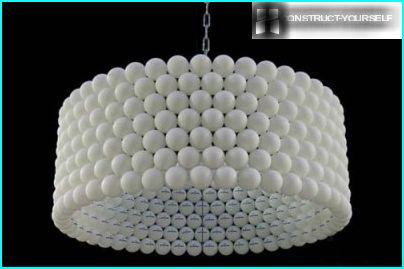 Buy balls, ping-pong table, merge several of them circles, and then connect the vertical - a futuristic chandelier is ready
The original chandelier can come from otherplastic products - disposable tableware, plastic cups and balls, ping-pong table. By initially pledged conical and spherical shape of the products, their bonding steadily takes you to the creation of a spherical or cylindrical lamp.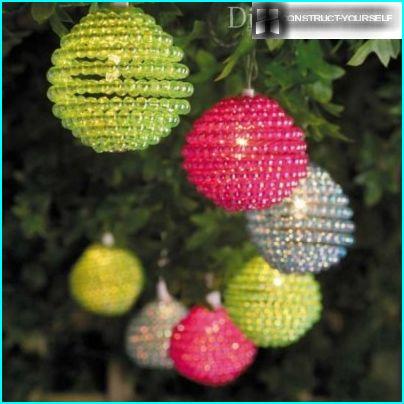 Creating a fun and relaxed atmosphere in your cottage as well as possible will better contribute to the bright lights of colored beads
Large plastic stringing beads on wirespiral, twist it and form a spherical bubble of small diameter. You can get quite original chandelier to give, if you skomponuete balls of beads of different colors and diameters, attach them to the frame of long suspensions.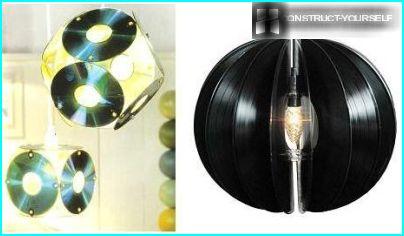 Older disks and records, zahlamlyayuschie your closet is now an opportune moment - they will turn into amazing lighting for garden
This is a unique idea lamp for music lovers -those who have a house littered with end-of-century music storage devices - disks and plates. Surprisingly, the wonderful light can come from old CDs. Suffice it to drill a pre-marking up the marker 5 holes equidistant from each other along the circumference of the disc, not too closer to the edge, and then drives the wire seal between them. This multi-faceted structure can be of any size depending on the size of the planned or your patience. If it is assumed that the lamp be floor or table, then to one of the discs, which plays the role of a base paste 3-4 eraser. Hanging multiple disk balls to the metal plate, you get the original futuristic chandelier lighting terrace or patio area.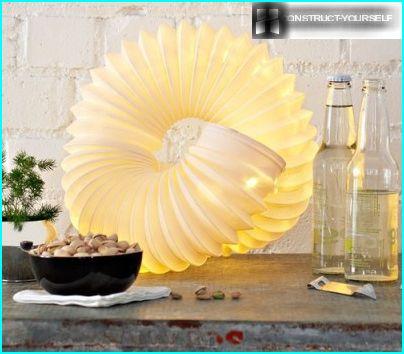 Corrugated plastic pipe perfectly transformed into a lamp-shell - you just have to fill in a light-pipe cable
The most easy-to-metal household utensils -already existing perforation, capable of creating extraordinary beauty of the light spots. Prosaically grater, colander or strainer - it is ready for your homemade lampshades lamps. Disconnect the handle from the two screens, tie them with wire - you will cover in the form of a ball. Rust stains or peeling enamel mask, covering his creation of bronze or silver paint from the spray - Light in power retro man-made flavor ready.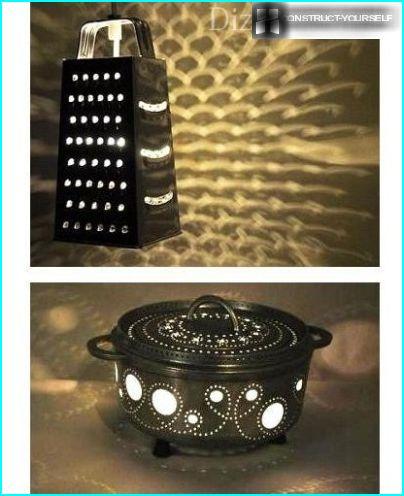 Drill drill holes in an old saucepan and season with a light bulb in a normal grater - you create incredible lighting effects
Do not rush to throw away his grandmother's dishes in terribleroses with a fine cobweb of fine cracks - glue the saucer to the cup super-glue, drill a hole for electrical wires - and vintage lamp becomes true adornment nostalgic summer house or gazebo. Even the old soup tureen can be an excellent shade for the villa kitchen - carefully make a hole in its bottom, thread the power cord and secure the cartridge.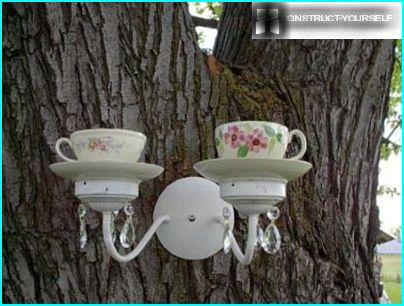 Old porcelain dinner service which has got you inherited from her grandmother, perfectly modified retro lamp
We hope that interesting ideas. offered us some help Plushkinfind a decent excuse for his craving for the accumulation of unnecessary things. Now they have the opportunity to breathe new life to old things - creating unusual light for a loved garden.