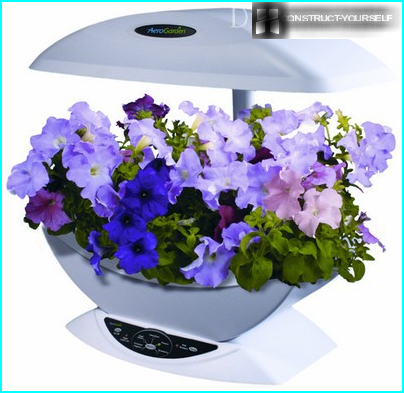 While autumn is not squandered all the summer heat,so nice to spend more days in the city and in the countryside. It is the way, that on the eve of the Catholic holiday All Saints' Day, 31 October celebrate Halloween. It is famous for its long history: it is believed that on this day of the dead and the living worlds together. But for the majority of our fellow citizens Halloween holiday - an occasion to make a masquerade, a feast and have fun with friends. It is widely noted in his English-speaking countries. In the tradition of holiday bazaars and fairs, bright decoration and home area, merry feast. Children singing carols in carnival costumes on Halloween night, getting sweets. It is believed that so you can pay off the evil spirits.
Content
Celebrating Halloween is associated with manyView pumpkin and cut her frightening face. But not everyone knows that a pumpkin is a proper name. They call it "Jack Lantern". But what about Jack in question? It turns out that there is an old Irish legend of the cunning old Jack, who was either a farmer, or a blacksmith. But the fact that he was a drunkard and gambler, get down on the game all their earnings - is known for certain.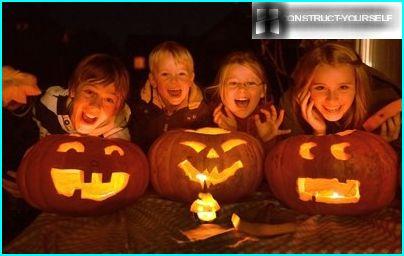 In fact, according to legend, the first lamp, which made Jack himself was out of a turnip, but pumpkin in America is cheaper and you will agree, it is still much more beautiful vegetable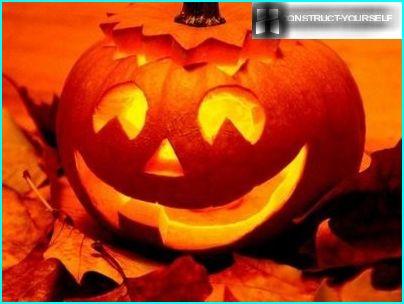 It looks very simple, but no less spectacular, jack-o'-lantern. Craftsmen can make pumpkin real masterpieces, arranging on the subject and exhibitions, and competitions
So, he had a chance to somehow communicate withthe devil and even to sell him his immortal soul just some of the intoxicating cup of ale. But the devil and he was able to deceive, but not once, but twice. To pay for the drunk Jack el, the devil turned into a coin, but Jack just appropriated money, putting it into his pocket, where there lay a silver cross. Cross did not give the devil take the former form, and to get out of the trap, he promised cunning drunkard peaceful and long life. And yet the devil said that Jack's soul will never go to hell.
But the years have passed, and the old Jack died. Because of his sins, the way to heaven for him was closed. The hell it is also not taken, as the Devil was able to keep his word. Jack had to go to eternal wandering. Good thing he had with a pumpkin from which it was possible to make a lamp with a piece of coal from the flames of hell inside. Since then, the lantern illuminates the way of Jack and the Halloween celebration is complete without pumpkins. It is believed that on Halloween pumpkin lights the way the lost souls in purgatory.
Let's start with the selection of an appropriate pumpkin. Please rate the place where this decoration will be located, and estimate the required size of the vegetable. Pumpkin is best to choose a large, regular round shape and bright orange. To prepare the work tools, materials and utensils:
marker pen or water-based;
thin and sharp kitchen knife;
stationery knife;
rubber gloves to protect your hands;
tablespoon;
bowl for pulp and seeds;
alcohol and cotton wool;
a few tea candles.
The process of work and workflow perfectly presented on the video, which we invite you to look at.
So you can make your own original"Jack Lantern" vote suggested the idea. Maybe inspiration will tell you its own version, like no one else. We do not dwell on the most simple smiley face, the manufacturing process that you have just seen. Let's see, what else portrayed.
Pay attention to the popular characters from themodern cartoons. For example, "The Nightmare Before Christmas" and "Corpse Bride" - these are the movies that you want. Select Jack or Frankenstein, or any other character that causes a surge of creativity and energy. Do not be afraid to make a mistake! Preliminary Draft do marker, which is perfectly erased. Try to do without small parts, then work will be easier.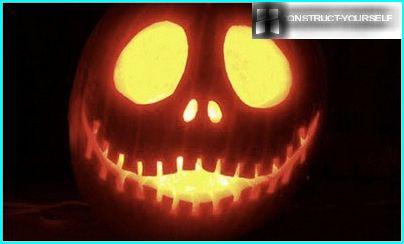 Recognizable characters from the movie will love children, especially teenagers. However, Halloween allows even a solid and important adult takes the time irresponsible pranksters
Bats have always been considered a symbol of terror andfear. These emotions are precisely in tune with Halloween. Cut pumpkin on their silhouettes. They look spectacular on the walls as a shadow and when the inside of the pumpkin will burn candles. Silhouettes of bats can be placed around the perimeter of the vegetable, placing them randomly, and even better to make them in the form of a face terrible traditional. To perform small details using stationery knife.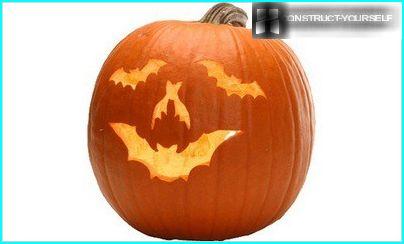 Use bats silhouettes as a decoration for Halloween - tradition. You can cut them out of paper, sprayed on a plane through a stencil: still get healthy
The more characters at this festival, so it isbrighter. If we imagine that the pumpkin - a monster, how it imagined, why not conceive a whole pumpkin battle. Let the monsters will fight for the right of superiority on Halloween, and the best man win, and the most evil. If a suitable small tykovku find does not work, you can use orange. Do not cut big holes at once. It is better to increase them in the process.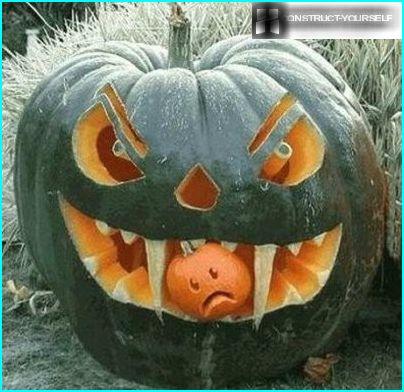 Fight monsters, embodied in the form of hyper pumpkin ceases to be terrible, though a small monsters, got in trouble, still a little bit sorry
To create such "Dzhekovyh Lantern" canused not only round but elongated gourd. So it will be even more spectacular. lantern Image Apply to the surface using a black marker or acrylic paint and a brush with synthetic bristles. Those parts that are in the usual glazed lamp, you just need to cut to them walking through the light from the candles placed inside. And easy, and effective!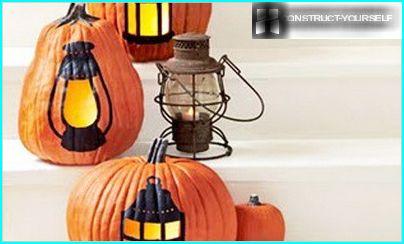 lantern Images can be very diverse. You can change the shape and color of pumpkin. So Jack fixtures are unlike one another, but in his own interesting
Halloween - autumn festival, but winter is coming, and forit will come the New Year. Why not think about it right at the end of October? Take two pumpkins and make of them a kind of Jack. Let balances the forces of evil and will not let them into the house. For pumpkin "Snowman" will need a hat, a few large buttons, collar from unnecessary shirt or scarf, the cork from a bottle of wine, felt pen and pins. Good attractive face cut from a smaller pumpkins, cork will instead of a nose. Scarf and buttons fasten with pins or glue. The eyebrows and the pupils can draw marker. Let stand at the gate or at the door of the house, Jack greets guests.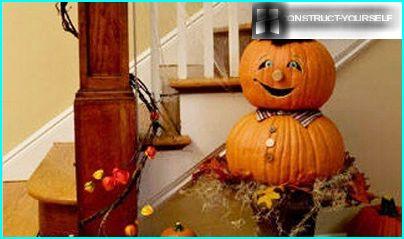 Funny Jack a pumpkin snowman does not look scary or dangerous. Let it guards the entrance to the house, letting in only those whose intentions are pure
So, after moving quietly into the street, we come to the decoration and the site itself.
Special holiday requires special lighting. It makes it difficult, much more difficult to choose one of several of the most attractive options. However, you can even combine a few ideas by placing lights in different corners of the garden. Several plastic containers, markers and candles that are inserted inside, and the first funny lamps are ready.
There is an idea to make the backlight usingempty cans. Before starting work in this bank is necessary to pour water and freeze it. This is done to make it easier to fulfill our plans, not flatten the bank in the process of creativity. On the capacity of a drawing and punching him with a hammer and clove through. Remove the ice, remove the traces of the marker, and the bank should be painted, giving it an orange, black, gold or any other color. It remains to be placed inside the candle and place or hang banks.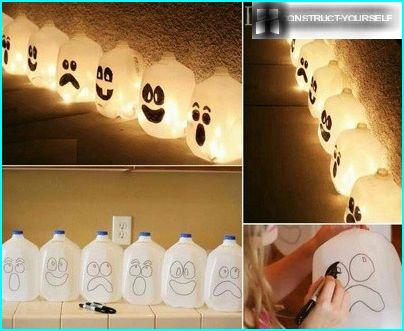 Ghosts of plastic bottles can be very funny. They effectively be placed along the walls of the house and create a special festive atmosphere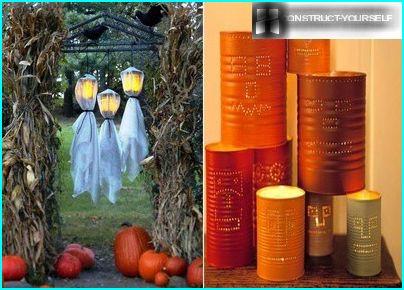 While the first option with the arch and bringing still more picturesque, but preference should be given more secure fixtures of cans. They are also able to delight the most discerning of critics
If you already have in the garden area lightingas, for example, the Lantern under the arch, the arch itself can decorate the branches, cattails and reeds, and covered with white lights transparent cloth, tying black ribbons in the neck area of ​​the resulting 'ghosts'. It should be the most careful attention to the fire protection measures. Make sure that the fabric is not heated. Dry grass and leaves burning like gunpowder. Therefore it is better if it is not so beautiful, but safe.
Lovely and absolutely safe can bringfind a place of trees or lawns. Lightweight fabric, felt-tip pens and markers and balloons - that's all you need to create fun of ghosts, which occurred to play in the branches. If the soil on the lawn stick sticks about the same length, the free end of which is put on cans or pots, you get a base for a fun dance of dancing ghosts.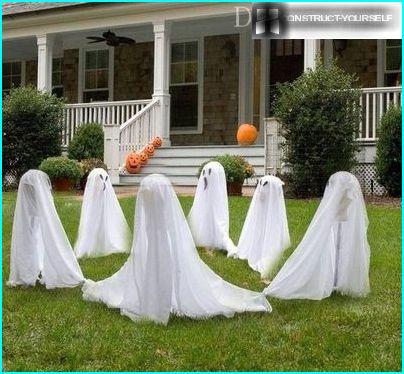 No special effort is required to create here such original dance of ghosts, fun entertained right on the front lawn
By the way, there are ready-made horror stories, which are alsoserve as an excellent garden decorations. For example, the skeleton, asleep in a hammock, which responds to the approach of the human gesture or sound. Not a bit scary little skeletons made of plastic can be decorated with the usual New Year's garland. Placed between the trees, it will not burn brightly, but will create the necessary atmosphere.
A traditional wreath, which was before the New Yearadorns the door of the house, can be changed to a black mourning bow, but do not forget to decorate it with glitter. Even a bundle of straw or a wreath of black crow feathers will come in handy. Black, orange, golden yellow, bronze, white and black - are the main colors of decorations. By decorating the front door or a blank wall at home, show their imagination to the fullest.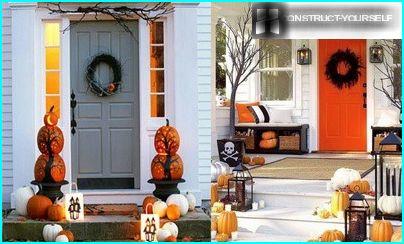 Both registration entry simply stunning. One can only envy the guests who will see all the beauty and splendor of reality
Can:
dotting everywhere pumpkin or plaster casts;
more rake the fallen leaves, gilding it with paint from a container;
create lush bouquets and wreaths of dead wood;
decorate the entrance with branches or garlands of triangular flags;
cut from black paper silhouettes of witches, flying and normal mice and spiders, to attach them to the wall.
creative human imagination is limitless, butit is important to stop in time and show a sense of proportion, without losing the sense of humor. After all, Halloween - it's naughty and funny holiday when people laugh at their fears, but not plant them.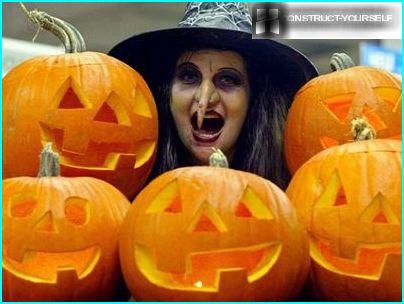 In order to see the real witch Halloween, you need to wear clothes inside out, come out at midnight on the street and walk backwards
Garden had my share of fun decorations. All those who will look at the house and the area outside will appreciate the effort involved in creating a festive atmosphere. It remains to surprise and please those who will be invited to the house and to the table.