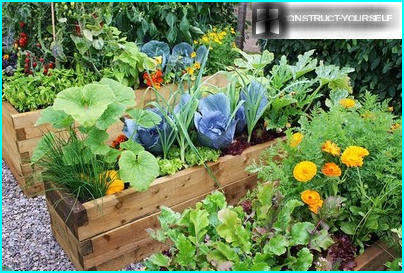 Gravel garden in our garden plots appearedNot so long ago, it looks very neat, beautiful and spectacular, so many gardeners and owners of private houses want to equip a garden in their area. Make a gravel garden with your own hands can be anyone, with its creation does not require extra costs. The beauty of the garden is based on a combination of gravel embankments and low-growing plants and shrubs. Gravel is a good background for flowering, and no flowering plants. Very nice in a garden look representatives Softwood family. The compositions of plants in a gravel garden can be changed from time to time by updating its look.
Content
The procedure works as follows:
The first step is to choose a locationWhere you would like to arrange a garden. If the site places a little bit, you can create even 1-1.5 sq.m.
We provide cost estimates and prepare materials.
Once the location is selected and purchased materials, you need to prepare the soil. Sandy soil is most useful for creatingsuch a garden, but you can make it anywhere. The pad is necessary to mark, denoting its borders - to hammer the pegs, pull the rope. Then the soil is removed a layer of soil at 10-15 cm. Particular attention should be paid to the removal of weeds with roots. Weeds are usually a major problem in the care of a gravel garden. After the layer of soil and weeds removed, the pit with soil moisture is left for 7-10 days, during which time the roots of weeds will grow and you can remove them completely.
Then you dig siteAdding disintegrants to the soil - vermiculite,expanded clay sand, coarse sand. Thus you will make the soil drainage to the excess moisture was removed from the roots of the plants, which will then be planted in this area. In the soil, you can add organic fertilizer, peat to well-planted plants began and grew.
The soil should be slightly compacted and lay a geotextile. Geotextile will prevent germination of weeds, as well as a layer of gravel to keep from sinking.
Now you can fill the gravel. There are two possibilities: land plant, and then fall asleep a layer of gravel or crushed rock, or first make the filling, and then planted plant. The first option is more convenient, although many choose the second option. Gravel in the garden - not the only material that can be used. For such a garden is suitable and pebbles, its round shape and gray color will look good on the background of the surrounding garden lawns. Large stones to create the garden gravel is not used.
Creating dividing borders. Borders help to keep the garden borders, or other plant roots eventually will penetrate to the site, and gravel border will be diluted by the rains.
Planting plants. If you decide to plant the plants after fillinggravel, in designated areas need to clean up the gravel layer, make a hole in agrovoloknom, deepening, and plant to plant. Then remove the unnecessary pieces agrovoloknom, and gently smoothed gravel.
Here's how it looks: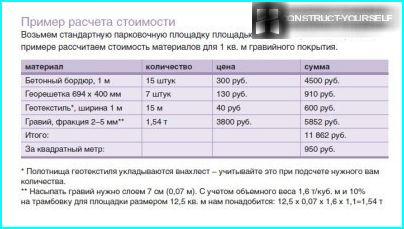 This is an example of calculating the cost of the device gravel area, prices are quite relevant. Most likely you do not have to use a geogrid - only if you will be doing work on the side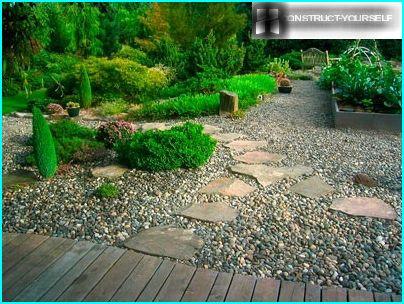 Shingles - a good choice for a gravel garden. In this case, on top of the base coat is made of stone path and put the boardwalk to the garden it easier to navigate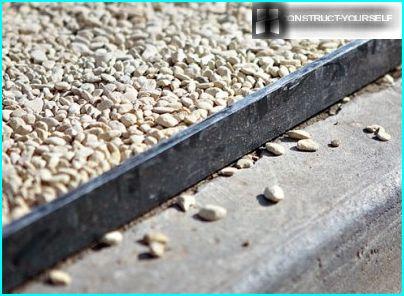 The border can be made of plastic, iron, brick, or use the curb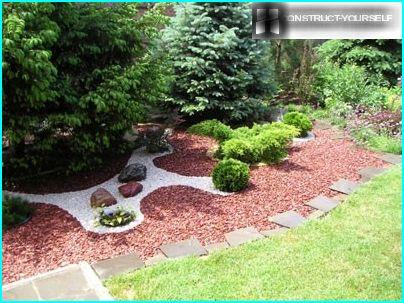 It can be used for garden decoration like gray gravel and colorful. Using two colors are spectacular patterns
We also offer a step by step video instructions to make a track of gravel:
Trees and shrubs
Plants are planted in groups or individually, so that they stand out from the gravel and not merged with each other, in this case, the garden will look much less impressive.
The gravel garden look beautiful and low-growingdwarf trees - weeping willow, willow, birch, rowan. Very enliven the atmosphere in this vertical garden conifers - fir, western arborvitae. Needles of different shades, pyramidal conifer decorate the garden. From shrubs suitable barberries and cotoneaster, they have an interesting form of the crown and leaves, red fruit and leaves are especially good in the garden in the fall.
Cossack juniper thickets can be arrangedthe garden border. Against the background of gravel tracks are well overcame Spiraea japonica, with its round shape and soft rounded inflorescences, saxifrage Arends, which are equally elegant and the flowers, and leaves.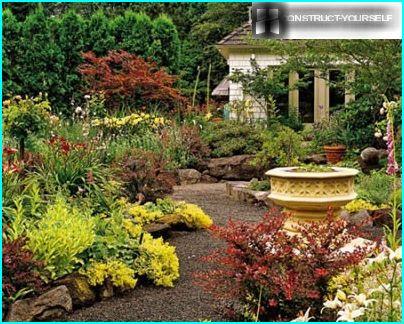 Bushes of a barberry with blushing leaves transform the garden, making it more vivid
Council. For gravel garden is better to choose plants with graceful shape of leaves, shrubs and trees from the original form of the crown. Pebbles or gravel will only emphasize the appearance of such plants, making the garden an original and aesthetically appealing.
Herbaceous perennials
garden ornaments are crocus and Alpine edelweiss, forget-me, wild tulips, bright colorful graceful flowers Dianthus deltoides. In May, pleasing to the eye will poppies.
Bushes alpine asters, we have known popularly as sentyabriny will decorate your garden of gravel in the autumn.
All kinds stonecrops (ground cover plants) are ideal as a plant for gravel garden.
This decorative garden does not necessarilyplanted all the plants. You can use, for example, arborvitae in large pots, geranium. The same ground cover will grow well in a pot, and if you like to change the situation, tubs and pots with plants can be from time to time to put in another place.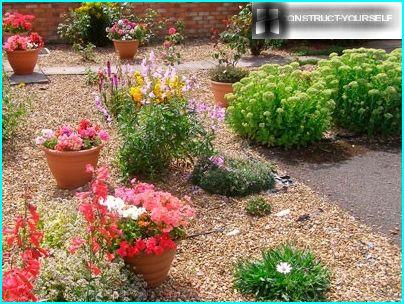 This garden is decorated with plants and ceramic pots - geranium, petunia. They are beautiful in bloom, and place the pot can be anywhere
One of the main rules when creating a gravel garden - the plants should not be too much, otherwise the very original idea of ​​creating such a garden will be lost.
Coniferous plants, trees and shrubs can help to place the main emphasis of garden composition, and herbs and flowering plants it will complete.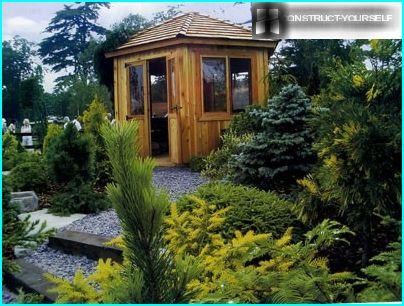 Here, in the design of the garden used only conifers. It turned out very well, besides, this garden is beautiful at any time of the year
The gravel garden, you can use woodflooring or lay a trail of large flat stones or decorative Spila - comfortable to walk on them, and, besides, it's lovely decorative elements.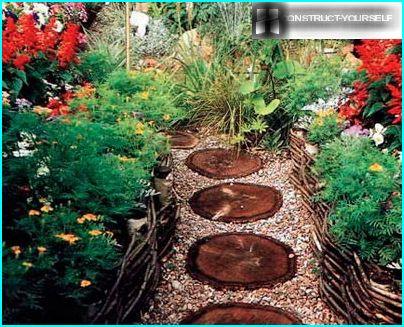 Very impressive track created with gravel, decorative fence and took to drink
In general, the creation of gravel garden - a work in which everyone can succeed. Good luck!