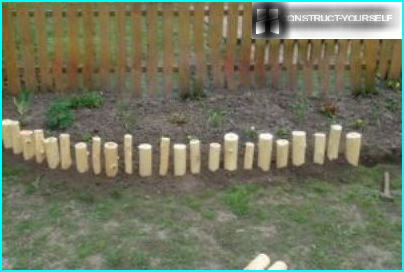 Striving for beauty inherent in eachman, it has various manifestations. One of them - a desire to make your home beautiful and cozy. This applies both at home and local area. It is no accident in the last time, there are many interesting destinations in the landscape design. For example, in the creation of various compositions garden stones. The stone - a natural material that blends well with green grass and trees. You can create a rock garden with his own hands, this kind of garden design came to us from Japan, and if you are prone to contemplation and meditation, rock garden in the country will tune into a contemplative mood, distracted for a while from the everyday bustle.
Content
How to make a rock garden? It's easy. The Japanese this art holds a special master, but for Europeans stone garden - primarily a decorative element, so the task of creating it simpler. You will need: a few large stones natural form - pebbles and boulders; sand, crushed stone or gravel.
Ideally for rock garden playgroundprepared in the same way as for a gravel garden. It is necessary to remove the soil at 8-10 cm to remove the roots of weeds, land fence rope stretched over the pegs. The bottom of the recess to lay agrovoloknom and fall asleep on top of a layer of pebbles, sand or gravel. At the edge of the curb to install. Now it is necessary to arrange on the surface of the pebbles (or other material), large stones. Arrange them as you intuitively. It is necessary to finally looked harmonious composition. In the space around the stones can be visualized divorce, resembling water wheels. Upon request, in rock gardens can be planted and plants, but they should not be much.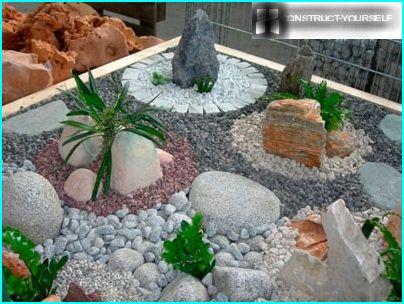 Rock Garden, which is used to create the granite boulders, pebbles and gravel of various sizes. A small amount of green plants considerably enlivens the picture
Rock Garden is created according to the rules of feng shui, itshould contain elements of the four elements - earth, fire, water and air. If you have a pond on the site is not, stone circles around it will be simulated. Make your rock garden a place for reflection, perhaps this is where you will visit a good idea about solving problems.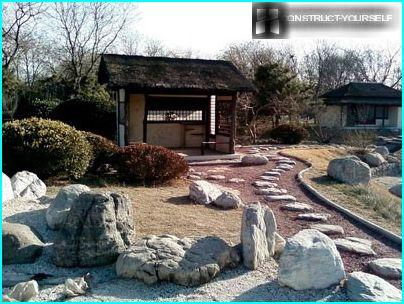 Classic rock garden of boulders and rubble. Flat stones laid on the gravel, form an interesting track
Stones in garden design can make it a very picturesque area, this stuff is good because it allows you to create a composition according to their own taste, that will only decorate your garden.
This beautiful track, you can create from a pebble about the same size in different colors. If dark stones will not be enough, you can use paint and varnish stones
Painting for rock garden - another popular trend in landscape design. Skillfully painted stone comes to life before our eyes, turning into a cute animal, funny gnome or a bouquet of flowers.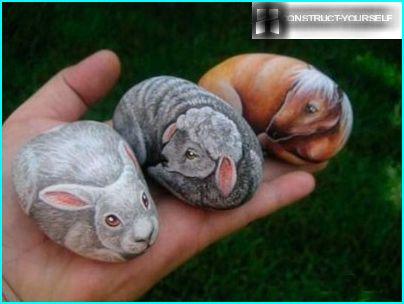 Rounded pebbles - perfect shape for painting. It can be turned into a figure reclining animal, insect, berry
You will need acrylic paint on stone,solvent for them, synthetic brushes and palette for mixing. Brushes should be several. To figure looked more perfect to use and slim, and broad brush. As for the mixing palette of colors you can use any plastic container. For the final processing of the painted stones need clear varnish.
Stones for the mural you need to choose rounded or flat shape. It happens that some rock is reminiscent of any animal, and the paint will only help to show the way in reality.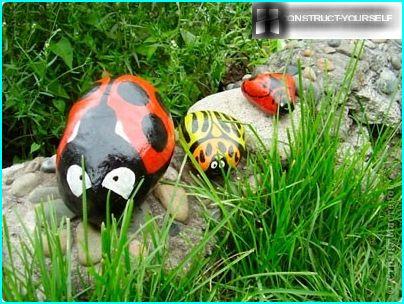 Painted the stones under ladybird beetles and other bright easy, they can be used to create an interesting composition bright
Professionals recommend that before starting workprimed and put a stone on his background. If you do not have a light stone, all stones can be painted a light paint to dry, and then apply the pattern. If you are not an artist, favorite subjects better rubbings. The most simple image - ladybugs, beetles, emoticons. Draw a cat or a puppy, too easy, a stone in the grass at first glance could be mistaken for a live animal. Initially, the image is put on a stone in pencil, and then you can start coloring brushes.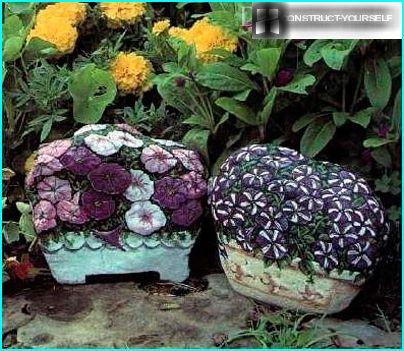 Images of flowers painted on the stones can be just as good as fresh flowers, but this is not easy to pick up a stone the desired shape, sometimes over the form you need to work further
Hill of stones in the garden always looksattractive, especially if the flowers grow between the stones. The beauty of the mountain slopes in the spring, where colorful flowers bloom among the rocks, seemed so impressive lovers of beauty, that it began to reproduce, creating rock gardens in the orchards. Alpine hill is best to arrange the garden in a sunny location, on a slope or elevation. The chosen location is removed a layer of soil - up to 40 cm at the bottom of the recess need to pour a layer of broken bricks or gravel to come out of the plant root zone flowed the excess water.. Garden soil should be mixed with gravel (3: 1), to ensure good drainage.
After that it creates a slide directly. On the surface of the stones randomly spread flat side down, about a third of the stone must be underground. Designers are advised to limit ourselves to one kind of stones, not mixing several varieties, but if you see that the combination of stones would be the best, why not try?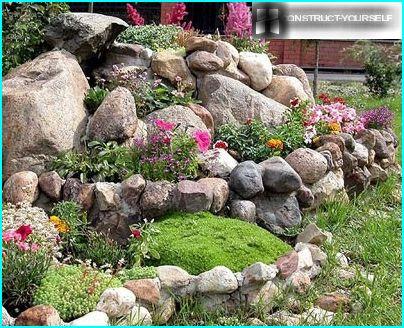 To create this slides used different stones, fastened with cement mortar. Between the stones grow a variety of plants flowers, the result is a bright picturesque corner
Good shade gray stones graceful fern leaves and flowers for the slides can be used not only to Alpine, among the stones look good almost any flowers.
The composition of the stones in the garden looks organically,Doing the garden style is more rich and complex. It can be used as natural stones and stone creations of designers to create compositions. Figures from Garden stones can now be purchased at the store, make to order.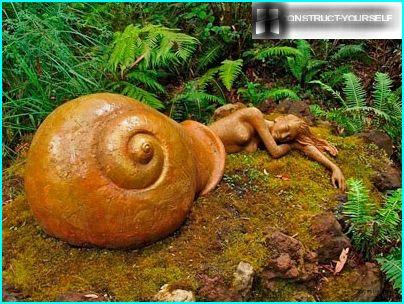 In a secluded corner of the garden can be arranged a fantastic sculpture - an expression of the flight of fantasy design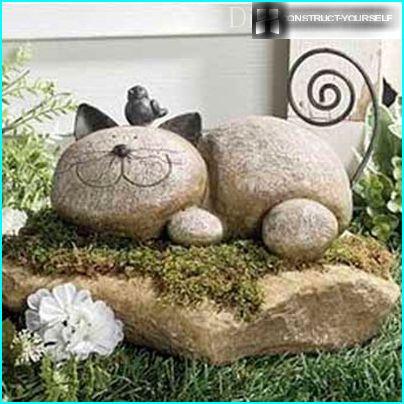 Funny cat is made of round pebbles of different sizes, ears, tail and bird - forged elements
This can be a fantastic composition,located in a garden nook and suddenly opening your eyes or bright and attractive group of stones in the center. The main thing - that it is not distracting from the overall style decision. Creative imagination, creating a stone in the garden composition. Co-creation of man and nature is always productive - you can become a co-creator of these works of landscape art.