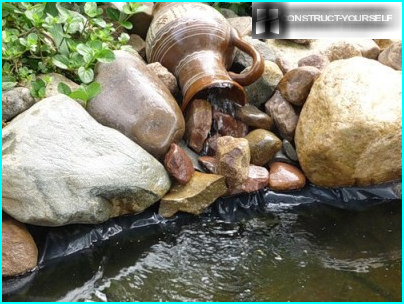 Drinking dacha in our timechanged. If earlier it was the place for the cultivation of vegetable crops and fruit trees, today a growing number of owners of summer houses want to equip in their area a comfortable and beautiful place to relax. Hence the great interest in the various areas in the landscape design. There are many ways to decorate the garden, some of them are complex and time consuming, the other - simple. The latter include the decoration of garden sculptures.
Content
The sculpture can be called one of the most ancientart forms. Most ancient civilizations used statues and various images on marble and other materials to decorate palaces and parks.
Perfection and beauty of antique forms fascinateman today, so fans of classics chosen to decorate his garden ancient colonnades, fountains, vases and sculptures. Today, the sale is a lot of plaster molds and sculptures in the antique style. Plaster products are inexpensive, a great way to decorate the garden. But in this case, use other garden decor is not recommended strict classical antiquity and perfect, but do not mix with other landscape elements. Any decor element must be positioned correctly so that, if possible, it is always better to consult with the designer. Sculptures must conform to the style of the garden, each of which carries its meaning.
Considerable importance is the observance of proportions - for large antique forms requires a large garden, while the small garden figurines can be used on any site.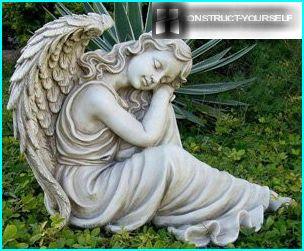 Perfect and ideal proportions of ancient formsIt attracts many. This angel in a quiet corner of the garden will create a peaceful atmosphere for reflection and contemplation. Each sculpture your mood - do not forget about it, selecting them for the garden areas
Even if your garden is unremarkable, itsmall plants and flowers, garden sculptures can significantly revitalize its image. With them, the garden will sparkle with bright colors will cheer up even in a gloomy day. You can create your own original garden landscape. In my cottage house, you can use any of the attributes of landscape design - vases, flower pots, columns, fountains, statues and figures of animals, birds and fairy tale characters. It is very interesting to try yourself as a designer and try to create interesting compositions in separate zones and the corners of the garden.
Consider a variety of garden sculptures. Specialty stores today offer a huge selection, but if you feel a craving for creativity, you can do a lot, and with his own hands.
The most common type of sculpture - athree-dimensional image of a living being (human, animal, fairy-tale character). The figures are as small and full-size or significantly superior to natural size.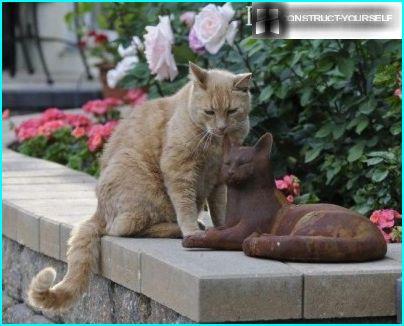 Ceramic three-dimensional figure of a cat in life-size forms an amusing group in the company of fellow alive
Today and stelae are used in garden design -plates with different images, aligning in a vertical position. Stele established by the ancient Egyptians and Phoenicians. Stella would be appropriate in a secluded corner.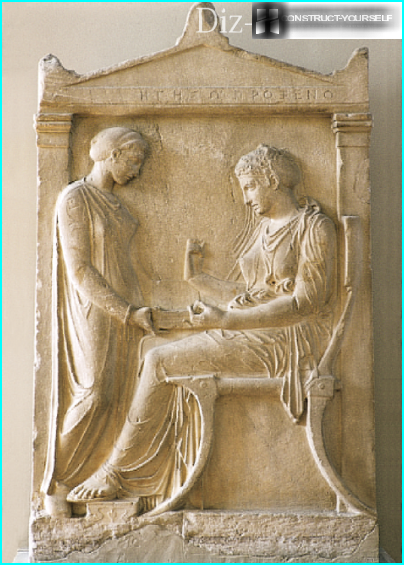 Stella goes well with antique sculptures, such forms as vases and columns. Appropriate to the stele and the wall at the entrance to the grotto, if your garden has shady areas and complex shapes
Monument - it could be a bust, statue, arch, ground plate. The function of the monument - to remind about something or someone. Often you can see on the labels monuments.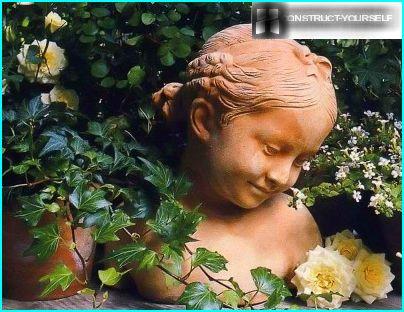 Monument - in this case the bust charming antique girls, do not necessarily have something to remind, it creates a nice area surrounded by flowers and climbing plants
garden figures can be identified in a special group -for their manufacture are not only familiar, but a variety of materials, which are at your fingertips. It can be wood, metal, plastic, ceramics, plaster, gravel. Figures can be any size and portray anyone. They can be three-dimensional or two-dimensional, flat.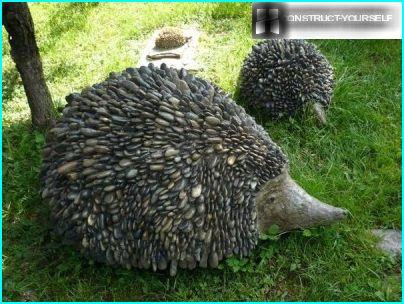 Figures hedgehogs made of grout and gravel, pebble spines as a non-traditional material especially attract attention
If you want to install, and very beautiful gardendurable sculpture or composition - note the bronze. Sculptures made of this material looks elegant, rich, impressive, bronze figure will decorate every corner. The material allows you to work out the smallest details, so the figures look as if alive.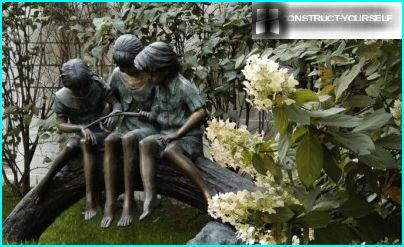 From bronze particularly good at figures of children - material well conveys the subtlety and clarity of lines, proportions of the body, they look just live
Very popular stone,ceramic and wooden sculptures. Wood products are good, but short-lived. Therefore it is recommended to handle the tree various protective impregnation, prolongs the life of the material, or painted colors.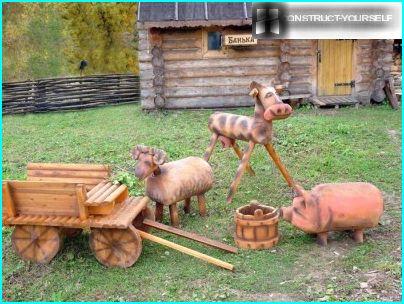 Animal Farm wood - animal figurines specialproperly sanded, painted, forming a single funny ensemble. With such a composition of yard not only will not seem empty, it will attract attention and raise the mood for adults and children
Today is a very popular topiary (greensculpture). Generally topiary - a figurative, art hairstyle of trees or shrubs, when the plant is attached to form a ball, cube, pyramid, or even any living creature. Topiary - ancient art, originating in ancient Rome.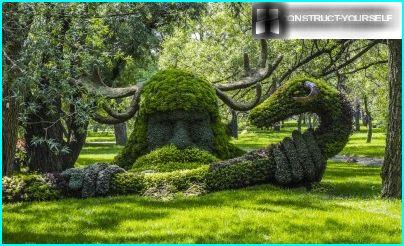 Figure fantastic creatures in the parkMontreal, Canada, is a festival of modern topiary huge. In your garden, you can start by creating a simple form for mowing or grow topiary shapes with frame
Not long ago, the Americans invented the wicker framefor topiary filled with seeds and soil. With proper care the plant with increasing fill the frame. The result is a variety of green sculpture. If you want to decorate a garden topiary sculpture - purchase a frame or plant a tree or shrub, suitable for mowing - fifth, barberry, yew, cotoneaster.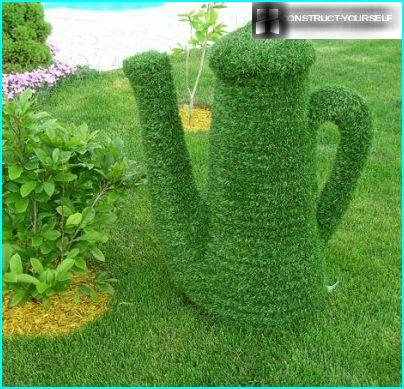 Maker - skeleton topiary figure. To grow such a miracle is not so difficult, the main thing - time to water the frame content and periodically remove the very long grass
Garden sculptures draw attention todifferent parts of the site. Antique shapes look beautiful both surrounded by lush greenery, and in the open space, the rose - the best flower, shielding the nobility of classical forms. Small figurines of gnomes and other fun creatures decorate the children's area or track flowerbed.
If you have fairly large front part of the garden, decorate her figure graceful animals or ancient deities located here a fountain or beautiful vases with flowers.
Figures of animals should be placed, given theirnatural features. In the water you can "settle" ducks, frogs, herons, swans; on a rock or boulder - birds; in the sand - lizard or a crocodile; of lush green grass on you can look anyone - funny dog, cat, a tiger or a fantastic creature. However, the location in the garden a few sculptures should be made subject to the following rules - they should not be seen all at once.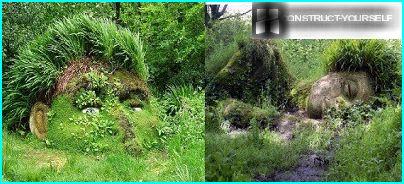 A new trend in the art of creating a gardenlandscape - sculpture, called eco-trick. The joint work of nature and human hands. Suppose you have on the site there is a small hill, surrounded by trees. The mound can be done by yourself. If you use your imagination, the mound can become a human head - cane varieties are hair moss - skin. The surface may, and grind, especially if the soil has an admixture of clay. These figures are in the shadow of nooks
Much more interesting to discover sculptureand the group walking through the garden, when they suddenly appear before your eyes. Guests will appreciate every song, and you - to enjoy the fruits of their imagination.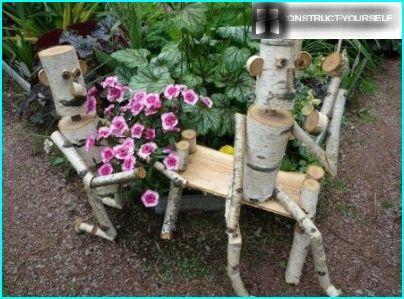 To create such a composition is required to saw dry birch. Thinner branches will be limbed figures, the trunk - the trunk, persons can dream
Figures of animals and fairy tales characters, placed in the garden - is unchanged positive, uplifting. They spiritualize the garden, making it a living, unique, unique.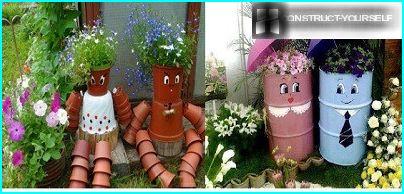 Two charming couples are made of plastic pots and metal barrels, flowers instead of hair, funny faces, a good combination of colors - they have every cause a smile
At the registration area and garden sculpture has a significant advantage - almost any sculpture can be moved to another area, if you do not like the way it looks on the chosen for her territory.