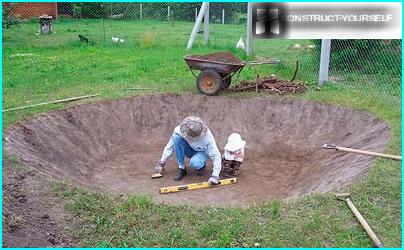 Garden - a great place not onlyfor relax. You can implement your own creativity. Landscape area often develops specialist, if the owner wants to get his idea into a professional-quality performance. However, this does not exclude its own involvement in the creative process. Garden figures to testify may be precisely the part that will transform the garden and give it personality.
Content
It should be guided by the uncomplicated principles, based on which is easy to make their own choices unmistakable and logical.
Figures should fit into the design of the garden, not to contradict him. Otherwise, their presence could ruin everything, no matter how cute they are.
When choosing a place for garden decorationdoubt, you can cut out the contour of figures made of cardboard and try to put it in the most suitable locations. This method helps determine the choice quickly.
Do not overload the sculpture section. It can dissipate attention, to create an impression of congestion pattern and complexity plot as a whole. The purpose of garden ornaments is to achieve harmony with nature.
The figure does not necessarily have to be the center ofgarden composition. Little world, created by the desire of the artist, or a lone figure in harmony with the vegetation area - this is what you need. Such decoration form garden magic, become a pleasant surprise.
Beautiful picture is not in vain placed in a frame. It is important to figure garden was designed and complemented by other design elements. In the Chinese garden, this is the role of "moon gate" or a window into the inner walls of the garden. But the background may become arch, braided roses, rustic fence. The wonderful frame create a properly trimmed trees.
Garden figures in limited quantities, the relevant section of the stylistic direction, blend into the existing realities, enliven the garden and enjoy its diversity.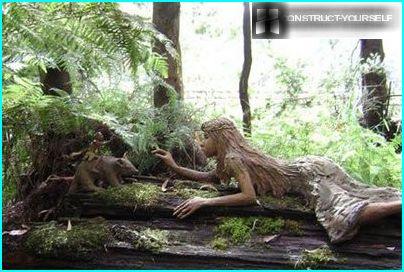 Young garden nymph received news from the elegant elf sitting astride a pig - a great story for a natural garden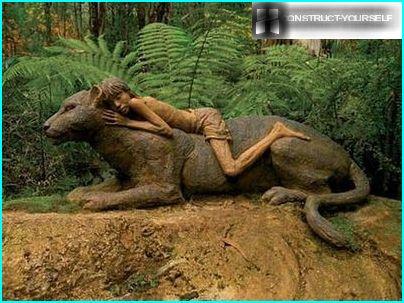 Harmoniously and naturally looks Mowgli, which is so tired and fell asleep on the back of his faithful friend and mentor - Bagira
"Moon Gate" - an element that is widely used in Chinese gardens, wonderfully concentrates the eye and sets the desired angle
When making a garden is important that the jewelry that will complement it, consistent with a single storyline, and the proportions of the landscape as a whole.
Garden in a classic style requires securitiesjewelry, sculptures so that opting for such areas need professional skill and expensive materials. This can be bronze, natural wood or marble. The majestic and beautiful, they are similar to those that we see in the photos of the Summer Garden in Saint-Petersburg.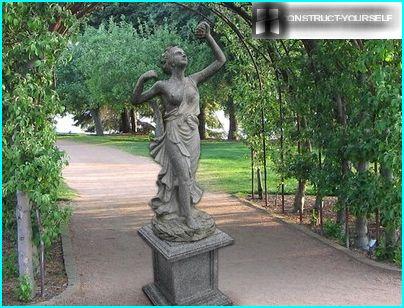 This sculpture is unlikely to do yourself, but it is a classic garden, it looks like the most appropriate and attractive
The natural landscape is being asked toolarge shapes that fit perfectly into the surrounding greenery, practical merge with trees and flowerbeds, and will be a nice addition, which is not at once and see. But seeing such decorative elements, it is impossible not to admire them.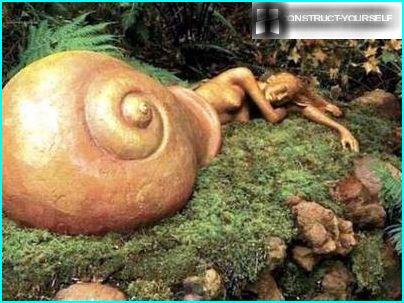 Tired nymph asleep in the garden on the hill - this picture is opened suddenly, involuntarily want to go to a whisper, so as not to startle the sleeping girl
Oriental gardens in the Japanese and Chinese styleremarkably different from each other, regardless of the fact that for many elements of the Japanese garden starting points idea originated in China. Symptom of a Japanese garden - minimalism. Here you can see the stones more often than sculpture. But the Chinese gardens can shelter in its territory of stylized dragons, lions, etc.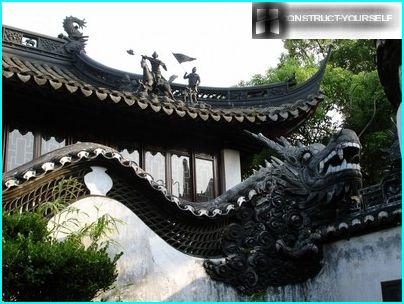 Chinese dragon - a reliable guard who never miss the garden of those who planned something evil against his master
Fans of country style can put in your garden gnomes funny German or even build a small world in a European spirit, inhabited by the typical representatives of farms or fairy tales.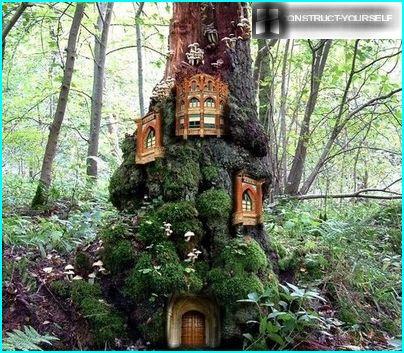 A nice little peace in a country style, populated by elves, dwarves, or just garden spirits, no doubt will give a special touch to any garden
Country style - the most omnivorous of all. There are suitable and animals, birds and fairy-tale characters and people. The creation of such compositions is particularly important to keep a sense of proportion.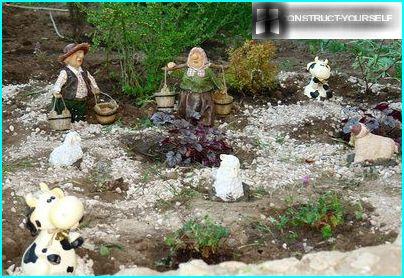 A little piece of normal village life, which necessarily there is a fun little family, a cow, nurse and other rural livestock
For any style solution can be foundSuitable figures. Made of wood, metal, plaster or polyresin, they are sold in many souvenir shops or shops for gardeners. But much more interesting to make a garden figures with their hands.
Figures for the garden can be created from any of the materials at hand. It is important that there was a desire to make your garden special and untapped creativity.
Wood - part of nature, which manalways revered as the source of life. Figurines of wood, and especially urban people for us, always attractive: they preserved the living warmth of wood. Perhaps that is why even the evil forest spirits in the form of garden pieces of wood do not seem terrible. On the contrary, I believe that they are protecting the land from intruders.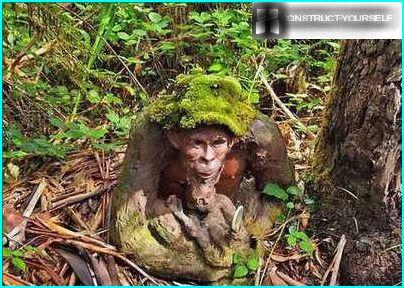 Lesovichok old man in a hat made of green moss carefully looks after the garden of life, take notice, everything was in order
Partially merge with the surrounding landscape,wooden garden dwellers become friends, in the company of which even silence will be burdensome. Touching these sculptures nice not blowing cold on them. Figures may be very different: from the convoluted embodiment pianist, who found in the bush not a piano, of course, but also a decent tool to ordinary stump, which is clearly on your mind.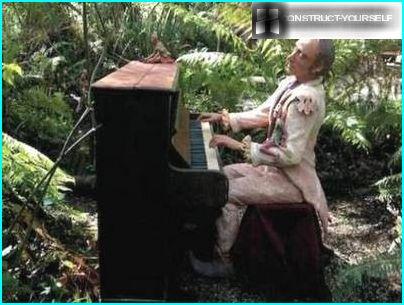 Musician inspired playing on ancient instruments, not noticing anyone around, maybe he was just lost in time and space
For the production of garden figures with their handssometimes only a stone of suitable size and the eye of the artist, who will make out in the usual boulder sleeping cat, a dog, which achieves focus owner, funny turtles, newborn fawn or a whole little family of ladybugs. The elements of nature that can be used as decorations, have always been and remain very popular.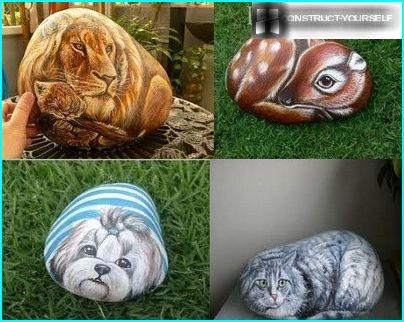 Such stones, we often bring with them to the memory of the sea, the sun and the wonderful time summer vacation
Such stones often lead to the seashore as thethe memory of the happy summer days. They are gorgeous and in its pristine state. But a bit of paint, varnish or other materials allow them to "come to life", to show your inner self, to make our home or garden is particularly attractive.
The minimum cost required to createdurable, original and diverse figures of foam. Creative people are different entrepreneurial sometimes to create this masterpiece at their disposal there, almost nothing. Come to the aid not only creatures of nature, but modern materials and technology, which can also be used in an unusual way.
Application for creating garden figurines mountingFoam makes them durable and waterproof. These qualities are necessary to successfully withstand bad weather and changing temperature conditions. With foam often make snails, dolphins, gnomes, swans, storks, donkeys and so on. The choice is big enough: something interesting can be created for any style decision.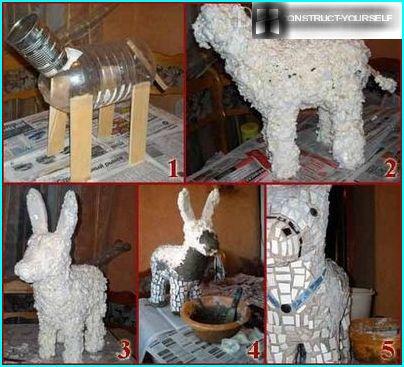 Donkey do not so easy, you just need to stock up on not only patience and foam is needed cement, tiles and ... good mood!
So the master decided on the model, leftstock up with foam, wear something little old and gloves to protect hands washed after curing foam is very bad. This fact should be taken into account in the preparation of the workplace. Production begins with the formation of the character of its skeleton. For this purpose, sticks, plastic bottles, buckets or cups, wires and other objects.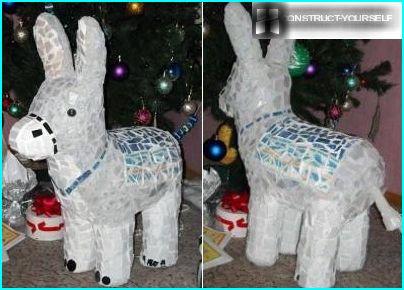 Ready donkey of foam looks great even under the Christmas tree, because he went to the garden in the summer
Apply the foam must be phased. Each previous layer must dry thoroughly. The term foam pour - about a quarter of an hour. Corrects the finished product should be either before its drying, or after, cutting off the excess with a knife stationery. The finished product remains the paint and varnish, so that it has served as long as possible.
There is another version of the completion of the work. You can cover the figure of cement, while decorating its surface multi-colored tiles. After drying, the product is strengthened waterproof grout for exterior use. Now the figure is not afraid of no rain, no cold.
The main requirement for garden figurines made of gypsum -they must be durable and resistant to precipitation. Academic accuracy images, usually not needed. A small figure can be fashion without a basis, but for a large sculpture, which has legs, arms and tail, requires reinforced frame. To do this, cut into pieces fitting is connected to the frame, echoing the skeleton of the future product. Do not forget the protruding elements at the bottom, through which the figure is mounted on a foundation.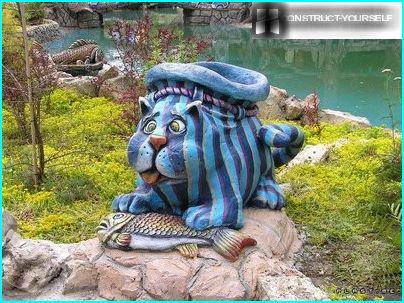 This wonderful cat, made with a great sense of humor, is a clear demonstration of the fact that from plaster figures need not be grandiose or, on the contrary, deliberately tasteless
The need to add gypsum diluted PVA glue fromrate of 1% of the total product volume. Plaster should be applied layers, enabling each previous layer to dry thoroughly. figure can be painted if desired.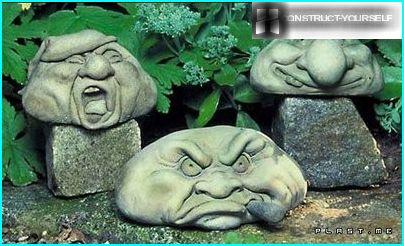 Even garden gnomes do not have to be sugary-sweet, they are just like us: funny, lazy, good-natured, amusing ...
Figures do spectacular garden, brighter. In addition, dwarves, for example, are considered to be the keepers of the plant. It may well be that, thanks to decorations, harvest will be richer.