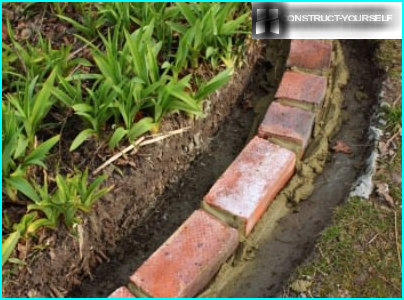 To celebrate the New Year in the countryside - the dream of manycitizens. But it can be realized only with the lucky ones in whose possession there is a small but own land in the country. And, of course, those who are friends with them. Just imagine how wonderful escape from the city and plunge into the world of fresh air, quietness and amazingly white snow. Of course, you can prepare in advance all yummy and bring it with you, but spicy, smelling of smoke barbecue certainly do at the cottage. That's just a fairy tale that took place was full, be sure to well to heat the house and decorate it on arrival. It is about the secrets of outer decoration of house and plot, we'll talk.
Content
Not everyone is lucky with the winter frost. This variant of decorating can afford only the inhabitants of cold places. However, if during the holidays will be moderately cold weather without thaws, you can prepare in advance in the freezer ice spectacular decorations and use them. To this end, appropriate forms should be nicely put leaves, twigs, colorful berries viburnum and mountain ash, small sink, knobs, toys and fill with water. Even colored water, frozen in the form of a green Christmas trees, red apple and colored candies will look great.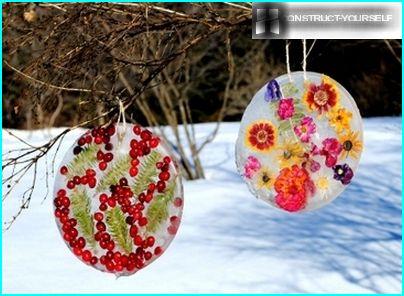 As a basis for ice decoration can be used not only traditional winter coniferous branches and berries of mountain ash and viburnum, but flowers or petals
Do not forget to provide your ice crafts tapeor thread, for which they will be easy to hang. You can decorate these toys live Christmas tree in the yard of your home or simply branches of the trees. They hung under the roof of the house, set on the bars of the fence or on the edge of the stairs. great form required for an unusual Christmas wreath made of ice. Entwined traditional scarlet or gold ribbon, it will look so unusual that will surely attract the attention of your guests.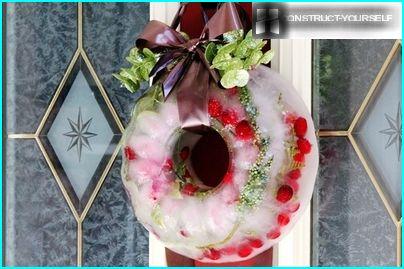 To create such a wreath commonly used forms for baking cakes. To remove the finished wreath from the mold, leave it for a short while in the heat
Do not throw away the small branches that remainAfter the fall pruning. The time has come and put to use. On the eve of the New Year it can be used to create wonderful decorations of different kinds.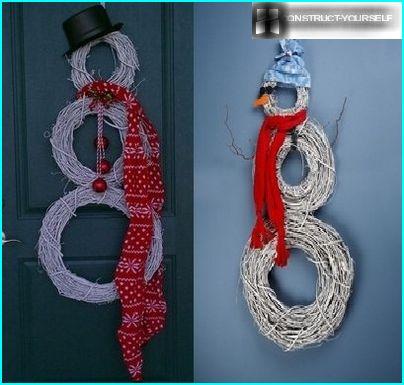 Both snowman made the same way, based on the use of branches fall remaining after pruning
We offer you only a few options, but we are confident that you can add to the list yourself.
Christmas wreaths. They do is very simple, but lookcreatively. Of course, they can and should decorate, using for this purpose tape, Christmas decorations and other attributes that we are strongly associated with the New Year celebration.
Snowman. To realize this idea, quitepaint several thin twigs white, twist them into three wreath, tie a little man improvised a wonderful winter scarf, put on his hat, and to hang on his neck, Christmas tree balls and tinsel. So just an hour and a half at our front door funny snowman appears.
New Year composition. To create the composition can be a Christmaspaint the branches in white, gold, silver or red. And you can just cover them with transparent glue and dipped in foam chips. Transformed branches will form the basis of the composition, and the balls, cones, hearts, tinsel or Christmas figures - its a good addition.
Balls. They are thin and flexible branches can be builtunique balls. Painted in white, gold, copper, silver or color in its natural form, they will not go unnoticed. They decorate the tree, the branches of trees. They can simply be expanded or scattered along the track or hang on the porch.
If all the same balls Christmas-tree garlands to wrap secure, you get a charming landscape lighting, which will be very appropriate during this holiday.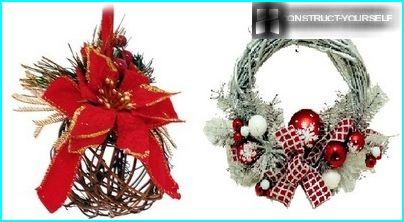 Here are two ways to use branches. We are sure that in the process of decorating the cottage and suburban area, you can own hands to create a completely charming things
If the old skates and a sled lying around in your pantry and use them for their intended purpose, you for some reason do not want to, it's time to include them in Christmas decorations for your yard or home.
To old horses looked respectable,boldly put on their leather surface layer of bright acrylic or spray paint. The outer part of the shoe will look harmoniously combined with bows, ribbons, beads, toys, gilded pine cones. Inside insert the twigs with berries of mountain ash, pine legs, symbolic gift boxes.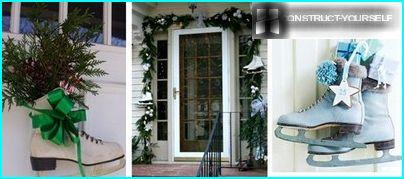 Older horses also can serve you more Christmas decorations. Just look how they look organically composed garlands running along the perimeter of the front door
Blade skates is possible to grease with glue and dip them inshredded foam that excess remains after the purchase of household appliances. Dressed up so horses will look good on the front door, on the wall. They become part of a pretty garland.
Colorful palette of the approaching holiday is possiblecomplement the old sled. They should not be lavishly decorated. It is enough to update the color and perhaps tie them with colorful satin ribbon bow. After all, Santa Claus is on the sleigh comes to children, so they are themselves a kind of symbol.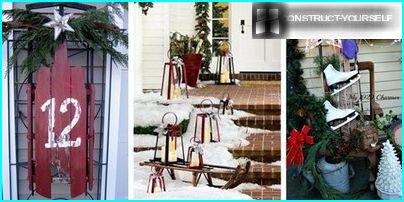 The left sled house number at the same time very similar to its outline tree with a star on top. This similarity is very cleverly beat their owner
Depending on the sledge sizes hung on themwall of the house, leans against the entrance, used as a support for other elements of decoration or illumination. In any case, they are organically fit into the overall picture.
The summer passed, and elegant vases, in which weplanted annuals, were out of work. Needless to empty them. Now we quickly find than they decorate. In case you can start up all the same elements of the universal Christmas decoration: paw conifers, gold plated and silver plated cones, Christmas balls, "rain", multi-colored threads, ribbons and bows.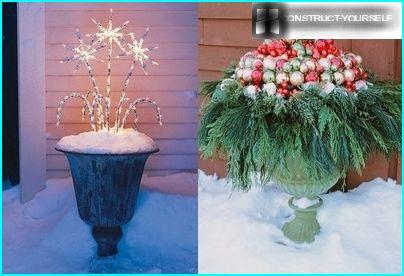 Here are two completely different use caseflowerpot. In the first case it is applied as a stand under the illumination element, while the second - like a cornucopia that promises wealth to its owner in the coming year
Vases put up for an open balconyit will be possible to admire the fireworks that are sure to be after the New Year. Paired vases can be a wonderful decoration of the entrance to the house. In principle, they can be left in the usual places. After all, they will perform their old function only in the new weather conditions.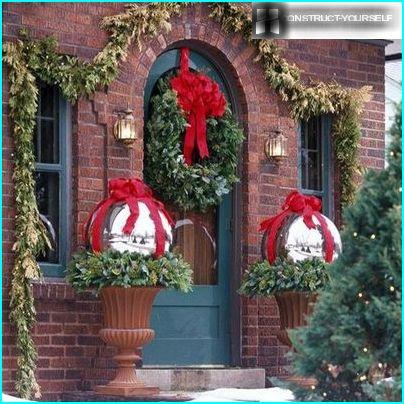 These vases Twin surely look wonderful and in the summer, but in winter they are great. Reclined on the needles balls look luxurious
The natural stucco house today rarely see,but its imitation of polyurethane or plastic are often. Look to the pretty medallion under the chandelier. He will not remind you of anything? But it is an excellent base for a Christmas wreath. It is possible to paint using spray paint in any color. If the idea of ​​multi-colored decorations, better to use acrylic paints.
The surface of the medallion - a whole world forrealization of your fantasies. The deal will not only bows and artificial snowflakes, and beads, and even rhinestones. If the medallion itself looks simply and did not call in your creative impulses, you can use it as a basis for a wreath that will be completely hidden under the pine branches and varied decor befitting the occasion.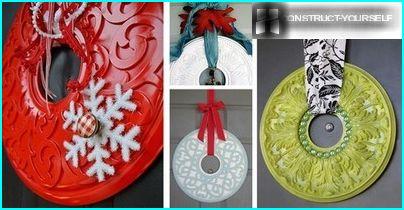 Beads, crystals, artificial snowflakes, buttons, ribbons and colorful ribbons - all of these elements give a special decoration of charm and personality
On the secrets of the creation of one more Christmas wreath learn from the video.
This decorative figure will not leave anyone indifferent. Surely you, and after the holiday will not want to part with it.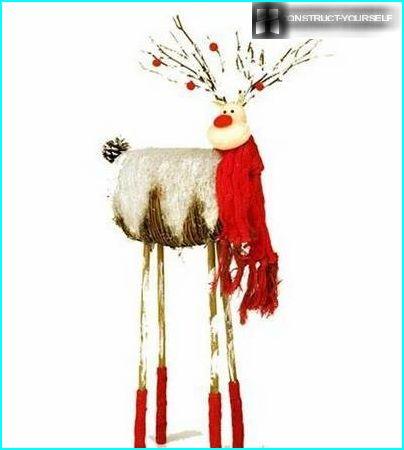 With such a handsome man, and the truth is very difficult to leave. Spring can be a heavy winter scarf to change a light handkerchief, remove socks and bright horns decorate with artificial flowers
To create it, you will need:
round plastic bottle from under the water, with a capacity of 10-12 or 16 liters, depending on the size of the figures - the body;
one short stick - neck;
four straight sticks about the same length - legs;
men's old shoes (indoor sneakers or boots), large - face;
bundle of branches - the horns;
large pine cone - tail;
a pair of smooth and shiny big buttons "on the leg" - his eyes;
a small piece of bright red cloth - nose.
Big shoes need to paint white spraypaint, let it dry. Eyes and nose stuffed with cotton wool, it is better to attach to deer immediately attractive face. Anchoring them by means of wire from the reverse side of the shoe. Do it in the sole, heel close to the hole. In the bottle, too, need to do a little hole below the cork. Connect the deer's head with its trunk with a short stick. Four deer leg insert from the "belly" figurines. They should rest against the inside of his "back." To attach the tail using a wire. Beautiful branch-horns embellish the picture.
It remains to dress up beautiful deer. For this purpose, we use a lush and long scarf, which will hide the traces of the connection head and torso, stockings or socks on his feet and torso old sweater. Sweater need to pull on the bottle prior to assembly. If unwanted clothes have a problem, a deer's body, you can just paint. Snow on the back will help portray sisal. Tinsel and Christmas toys on the horns will also be welcome.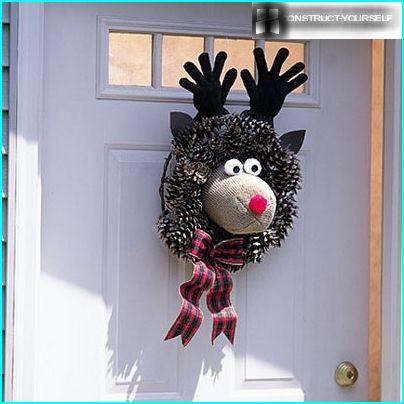 Past this wreath is simply impossible not to go with a smile. Look to it, it is made of bumps and things that are in every home
Winter cottage can be heated in different ways,but if your house has a real fireplace, the firewood should not be a problem. Show imagination and create a very simple, but touching characters. The wings and the head does not necessarily have to be white, but it is better if they are monophonic. To make these figures fit the old socks, scarves and tulle. If you want to make additional details, use felt, foil, paper, sisal and other similar materials.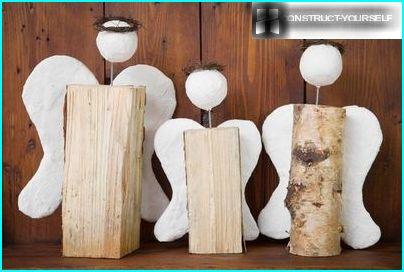 To build such wonderful figures, need a minimum of cost and a great desire to do something nice themselves and all others
If at the cottage a lot of snow and it allows you to invoicesculpt this Snowman with a nose-carrot, broom in hand and a bucket on his head, you can safely skip this advice and read more. We want to help feel the charm of the winter for those who have no snow: you can make the most of the snowman from the bottom of plastic bottles, wire, rope and other items.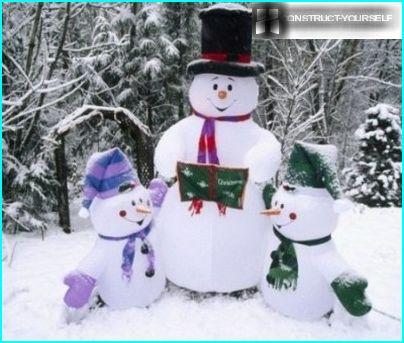 If you think that these snegovichki made of snow, you'd be wrong. They are inflatable, but the look on a white background is very natural
To snowman has been fixed firmly enough,make it necessary on the basis of a well-driven into the ground pin or tube. From a thick metal wire are building two balls that need to be put on our basis. Balls of rope wrapped to the next parts look better, did not move and do not sink.
From conventional plastic polutoralitrovyhtransparent bottles neatly separate the bottoms. Make sure that they were the same size. Paint them white, give dry. We drilled two holes at the edges of blanks facing each other so that they can be easily strung on twine in the form of a garland.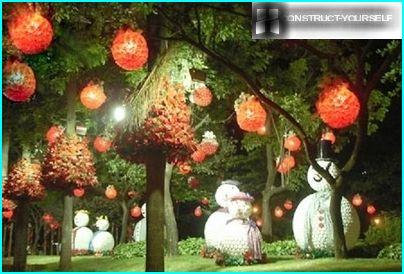 As you have already noticed, from plastic bottles are made not only snowmen, and pendant lamps
These garlands wrapped balls, not forgettingfix them. The resulting billet supply the snowman's nose, hat, scarf, eyes, buttons and a charming smile. Cute snowman ready to step up protection for your site.
For the same pattern makes the originalChristmas candles. the light source itself must be fireproof. Smudges on candles depicts foam. Of the two-liter bottle of green color you can build a nice pine needles at the bottom of the candle composition. Red and yellow wrapping paper with golden pattern used as an additional stroke.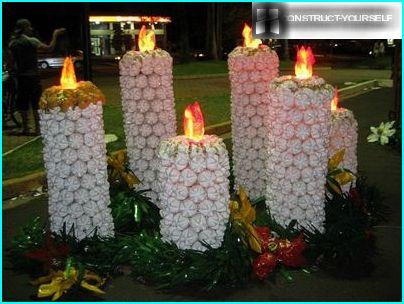 When doing such nice composition made of plastic, it is important to use a light source that does not set fire to the whole complex design
Subject Christmas illumination is so vast,that deserves a separate discussion. Today, the bright lights and all sorts - an indispensable attribute of a holiday. With the help of electric garlands and candles adorn the garden plots, the facades of houses. Manufacturers around the world, sensitively catching the trend of the market, vying offer more and more options for illumination.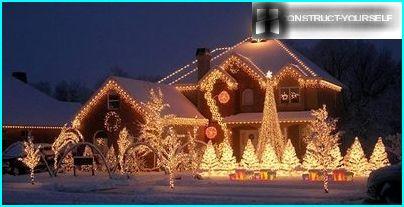 In order to create such a complex design and not splurge on electricity bills, you need a good understanding of resource-saving technologies
Very popular is illuminatedsculpture. Usually it is the traditional characters, without which this celebration simply can not do. Here Santa Claus and snowman, reindeer and Santa Claus with his staff. Even a single sculpture staff and finds his fans. With them side by side next to the symbols of Christmas: angels, stars. With interesting examples of contemporary illumination we suggest you familiarize yourself with this video.
Garland - one more decoration, which is part oftraditional list. Approximately so it looked hundreds of years ago, and is now more common. True, the West more often than we do. In principle, this decoration is simple enough to do with their hands. But environmentally justified it can not be called. If we do not have a sufficient amount of artificial branches, we will make another garland without compromising the environment.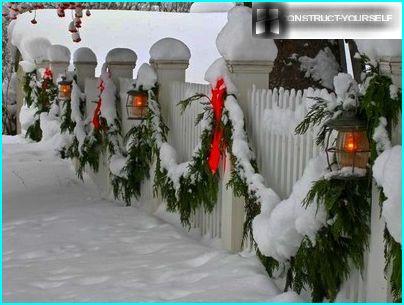 Needless to say, the garland looks very impressive, but it would be better if it was created from man-made materials
Together with your child you will be happyConstruct any of the strings listed below. First, we simply cut out of folded several times a piece of paper, then paint the to your liking. In the second case it is enough to arm wire, narrow satin ribbons and a rope. Make it too easy. But the most simple - the third. To create it, we we stretch a solid linen rope and just hang on it whatever we want, with the help of wooden pegs.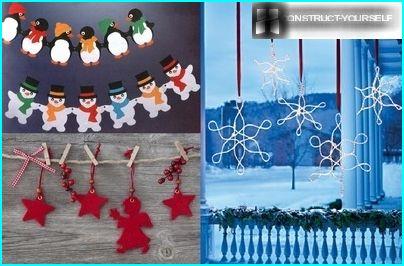 All three garlands, despite the simplicity of their manufacture, are very attractive. Felt, paper, clothes pegs made of wood, paint, satin ribbons and wires - that's all it takes to create them
It happens that the time for thoroughdecoration, we simply do not have, because, for example, that the idea is to celebrate the New Year in the country arose spontaneously. But you need to cook a lot of goodies, good to heat the house, to feel comfortable during your holiday. But the lack of time for the embodiment of the conceived does not mean that we should refuse to create a magic atmosphere of the best holiday of the year.
Several ideas and there exists in this case. Those who are engaged in handicrafts, there are always in stock balls multicolored yarn left over from previous works. Before using them simply do not reach the hands. Christmas wreath you can collect it from the glomeruli of different colors and sizes. Complement their union variegated marbles and your wreath is ready. Look how beautiful!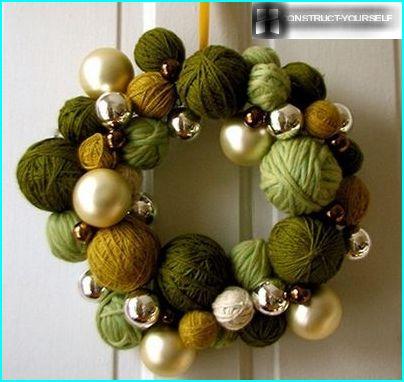 By creating such a wreath, it is very important not to be mistaken with a combination of colors. Having spent a minimum of time, we get a decoration worthy of all praise
Do you have toys, but they decorate the tree is no longertime. Spread Christmas tree balls, tinsel and garland on glass jars and place them in the local area, which are clearly visible from the entrance. Against the background of white snow bright spots are sure to attract attention. But to create these festive and colorful elements you've spent just a few minutes.
Bank with balls on white snow looks like in it are collected all best wishes, we are ready to give their guests on the eve of this wonderful holiday - New Year
Of course, you do want to make everything nice andI admire personally created magic. To feel the festive mood, enough to use large and bright elements. Let them be not much, but the bright lighting and composition with the use of green and red and shiny textures will be unforgettable.