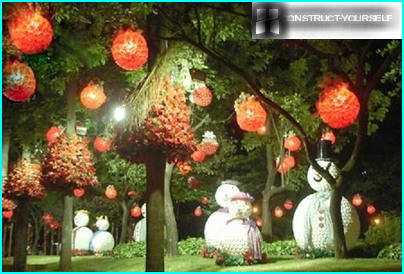 Rest in the country is hardly a passive -the need to build a gazebo, then make the bench, the old trees of the garden clean, sawn on their neat workpiece to create a decor. In addition to the usual hand tools - wood planer, chisel, hammer, jigsaw - many owners have more serious equipment such as power saw on wood. With it, not only the porch - the whole house can be erected.
Content
For garden and country works well as an electric saw, and its gasoline counterpart, but many still choose the first option. How is it so attractive?
Power, in fact, has a whole list of benefits:
It does not require regular material costs for fuel - gasoline;
easy to use and maintain;
during operation emits less noise than a chainsaw;
Purely from an environmental point of view - it works without exhaust;
It allows you to cut indoors;
same works well, in spite of the climatic features (petrol counterpart in frosty weather with the launch of a problem).
Of course, there is a drawback - dependencepower, but it is not relevant, since almost all country houses are connected to the electrical communications. To learn how to choose the electric saw, consider what tools there are in the shops.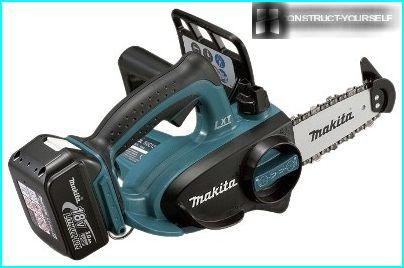 If the power supply is inaccessible,handy rechargeable chainsaw, for example - Makita BUC122Z (price - 9000-10000 rubles). Battery and charger must be purchased separately
If you want to cut a variety of materials -plywood, wood, plastic, chipboard, metal tubes and sheets - should purchase a disk (circular) electric saw. Res rotating saw blade is made, and there are certain types of drives for each material. There are two variants of models - manual and still attached to the frame.
Enough is a universal toolreciprocating power saw, which is often used for cutting in tight spaces. It is convenient for roofing and installation works. Operating element - a nail file, the length of which varies from 0.1 m to 0.35 m It produces oscillatory or reciprocating motion..
Smooth, accurate, even shaped cut is possibleperform a jigsaw. It is equally well suited for working with ceramics, wood, laminate and metal. Nail file (working blade) jigsaw is indispensable if you want to cut a round hole or make a curved cut.
The best recognized for giving an electric sawchain units, the main operating element of which - the tire is stretched over her chain. It is convenient to use, is relatively compact and does not require the preparation of the fuel mixture. Almost all garden work can be done with it: bring down the old tree, cut the twigs and branches, to saw the trunk. It is good for carpentry and construction training, especially in confined areas.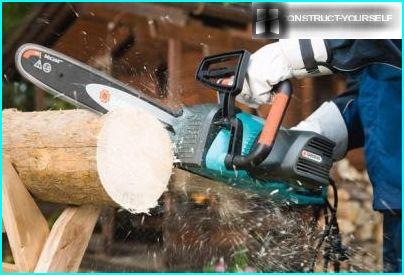 Working chain electric saw on the street, you must comply with safety regulations. For example, you can not use the tool in the rain - possible closure
To begin, consider the characteristics that need to pay attention when buying.
This is one of the most important indicators. For the garden and holiday work is suitable tool with power from 1000 watts to 2100 watts, but it is better to buy a more powerful machine. The fact that powerful saws adequately react to voltage fluctuations in the power supply, therefore, last longer. For example, the engine of the popular model CHAMPION 420 has 2000 W power, that is, with small fluctuations in voltage (200-224 V) it will retain its efficiency and prevent critical overheating. By the same rate of 2000 W is a guarantee that in an emergency situation when you need to perform a large amount of work, the motor will withstand the load.

Electric saw Husqvarna 321EL has characteristics suitable for garden and construction work at the cottage: power - 2000 W, bar length - 40 cm, soft start, motor protection
If the tool is used quite frequently,choosing saws, many pay attention to the location of the engine. It comes in two variants - longitudinal and transverse. Experts believe that with a saw, in which the engine is located along the bus to work much easier. In addition, the longitudinal type assemblies have the best balance.
In the process, be sure to take timeoccasionally "pull up" the chain on the tire, since the constant voltage, it begins to sag. Of course, the more comfortable those models where thought tensioning system. For example, the device household electric saws Makita UC4020A is such that the possibility of installation of the circuit and its adjustment is carried out without disassembly or additional tools. In the cabinet there is a small lever, with which you can quickly pull chain.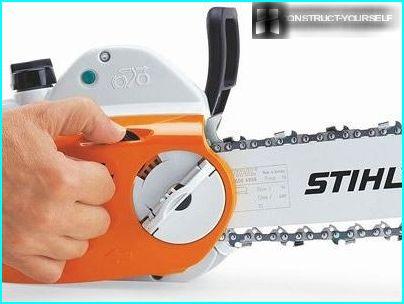 The manufacturer has equipped its products STIHL Quick chain tensioning system. To do this, loosen the nut sufficiently cover fixing and using the scroll wheel to adjust the chain
Current models are equipped with automaticsystem stops short work of the reverse impact. This significantly increases the service life of equipment. Lubricant circuit elements occurs in an automatic mode. In order to control the oil level is designed special little window, and for fueling disassemble tool is not necessary - in case there is a small hole.
To lubricate the chain manufacturer recommends the use of "native" oil, which is usually sold in the same place and chainsaws
Tool selection depends on the destination, frequencyuse and price. Choosing the right power saw will be a good assistant for various works with wood, and they are usually a lot and during construction, and during upgrading suburban area.