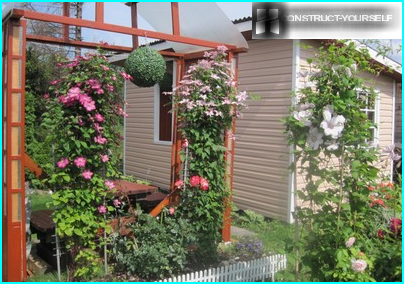 There is a saying in England that the ideallawn becomes only after 200 years of constant shearing. It is unlikely that our hosts will wait so long, because with proper care lawn is sure to thank a thick and juicy covering in the next season. Grass - the hair: more often than their strizhesh, the denser become. correct "scissors" can only choose. On the spit of the old grandfather did not even worth mentioning, because it flat lawn is not achieved. And with today's technology it abounds, few dare to get up at dawn to wave scythe until dew subsides. There is only one way - to buy special equipment. In the store the whole "hair" tool is divided into 2 groups: gasoline and electric models. Let's understand how to choose a lawn mower, structural peculiarities, such as your site and volume of forthcoming works.
Content
By the term "lawn mower" fit all the equipment,which helps to deal with wild vegetation. In fact, there are three variants of this tool: trimmer, brushcutter and lawn mower itself. Each one is designed for specific tasks.
Trimmer and brushcutter in shape very similar,so many sellers think that it is synonymous. Both tools have the rod, the engine and cutting part. With both working, wearing special straps on the shoulder and holding the equipment in their hands.
Now for the differences. Trimmers have less power and cut the grass using a fishing line (cord). They are suitable for mowing grass and weeds under the trees, lawn with uneven terrain and so on.
Trimmers are light weight and the cutting tool in the form of line
Scythes powerful and can handle overgrownbushes, thick with weeds, such as burdock or nettle and others. Their cutting part is equipped with knives, although the line can also be used. When using mowers buzzing stronger and load on the hand is more significant. But trimmers use less gasoline.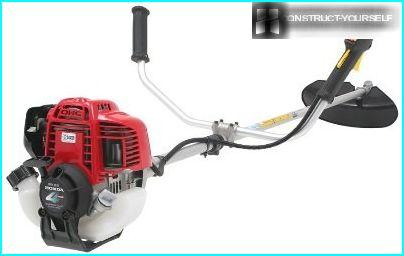 Scythes powerful trimmers and cutter knives in them are
The most voluminous type of instrument - a lawn mower. It is a truck with the motor (with or without his mechanical models), which moves on wheels and cuts the grass blades. Man controls the tool by the handle. This option can not be called the best lawn mower for the garden, because it is calculated only on smooth, groomed areas where there are no trees or bushes. Closely around them obkosit grass surround this unit can not. Another shortcoming - not like rocky terrains.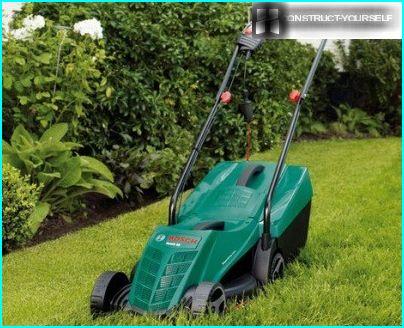 The mower is designed to mow grass on a flat surface without stones
So well, if the farm is both typesSpit: Trimmer (or brushcutter) to remote and hilly places and mower for flat sites. Trimmers, we have already examined in more detail. Now try to figure out what a lawn mower is better.
According to power lawn mowers, Gasoline,much stronger than the electric. The latter are fed from the network, which means that manufacturers can not install too powerful electric motors, or the network 220 V voltage will not sustain. However, some models are supplemented with an additional battery, but it is designed for operating time up to 2 hours.
But the weaker the motor, so it is quieter running. Obkashivaya petrol unit section, you will feel what a roar of the engine. No wonder in the range of accessories for the most powerful lawnmower includes headphones.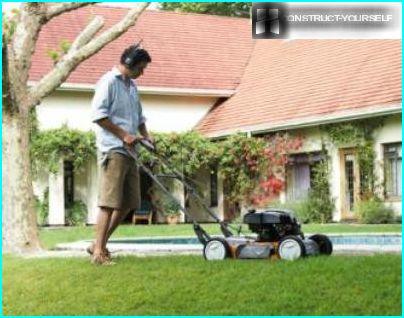 When working benzokosilkoy sure to wear headphones to protect their ears from loud noise
By the way, the maximum power of petrolmodels can cause damage to the machine. Imagine that you mow land moderately oblique, and the knife accidentally hits a pebble or stone, brought the dog. How does the engine? Stalls! Stone and pull out safely mow on. If the same thing ugorazdilo fall under the powerful petrol lawn mower, the "horses" enough strength to roll on jammed knives. The result - a cutting mechanism completely crooked, causing deformation of the shaft and sleeve breaks. The case "smacks" overhaul!
For holiday needs is enough gasoline engines6-7 "horses", so before you choose a gasoline lawnmower higher power, think about whether you have the section "pitfalls" that would provoke such a breakdown.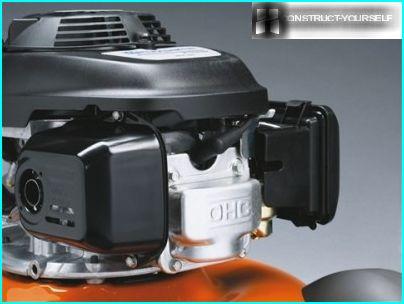 When choosing a lawn mower is not necessary to pursue high-power motors, because they take a lot of gasoline and heavy in management
Performance, of course, tied withpower. Large and medium-sized sites easier obkashivat petrol models, because they can work for a long time without stopping. The electric motor of the rate of not survive. They operate for about 15 minutes and then allowed to relax to avoid overheating of the mechanism. Those. lawn before the house of this power will be enough, but for obkashivaniya 10 acres - is unlikely. Besides, before you choose an electric lawn mower, consider the site distance from the power source. Standard size of the unit cord - no more than 20 meters. And if you have to mow in the 50 m. From the wall outlet, then you have to buy more than 30 meters extension. Good cable + Automatic + cost of the mower = price on medium petrol model. So whether or not "attached" to wire the unit, if at this price you can buy a "free, not tethered horse."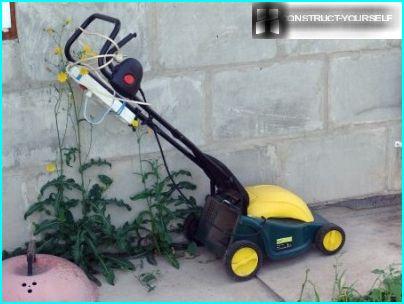 Electric mower attached to the network, so large areas requires an additional cable
But on the part of the service electric modelsmuch easier. They do not require constant monitoring of the level of oil and gasoline, so for people who are poorly versed in the intricacies of pouring liquids in motors, it is better to buy an electric version.
If we analyze what is to chooselawnmower in terms of safety, here both options have their drawbacks. For petrol models are not pleased with the amount of exhaust gas that somehow have to inhale mowers, especially in the processing of small sites. There are no electrical units are no harmful emissions, but they can not be used in wet weather. In addition, when careless handling there are cases when the cutting part of the bunched cable and cut it, that could be dangerous. And yet, if only for manual mowing in rubber boots, the more comfortable working elektrokosilkoy.
When choosing a petrol lawn mower, consider,who have to work with it. For the powerful engine through this unit is heavy, and manage heavier than the electric version. The load on the hands is a large, and therefore, women, adolescents and the elderly with such a technique will work hard. Electric models are more maneuverable, easier to manage and run smoother. Mowers can only steer the truck in the right direction.
If you have already decided what to give preference to the mower - gasoline or electricity, pay attention when buying on some nuances that affect both types of units.
Many models are equipped with grass catcher box, wherevegetation gets cut off with knives. Plus, such a device is that after mowing is not necessary to further raking the grass, but you will occasionally have to stop work to clear the full bag.
In soft collection box is easier to control the filling level of the grass
Grass bag available in two versions: Soft (of mesh) and rigid (plastic). In soft easier to control the filling level as soon as the bag has ceased to swell when the air supply, then it is already full. Plastic containers do not check. But clearly the second option is more convenient, because the wet grass sticking to the walls of the grid and so her scoring when mowing wet grass that will have after work wash bag and then vacuuming.
Some mowers have a device,which finely grinds everything that gets inside and throws a mulch for fertilizing the lawn. It seems to be a useful addition, but! Good mulch mowing is obtained only when absolutely dry, soft grass. If you mow a wet lawn, the mulch material straying into lumps. Scattered on the lawn clumps clog the grass roots and not allow it to grow normally. The "bald head" can form up on your lawn. Moreover, mulch excess leads to the accumulation of so-called felt, which gradually rises higher and interferes with the normal growth of the grass. You will have peregrebat entire lawn to comb out any excess.
Mulching function is useful only to the owners, which is not important to the quality of the lawn. This saves them from having somewhere to make a beveled vegetation.
This is a useful feature for those places where you have to cut the grass on the roadside.
The petrol units, there are two types ofdrive. Front easier to manage. With this technique, you can turn on the spot, without shutting down the engine. But when the collection box is full, or heavy grass (wet, high), you have to constantly push the mower, so she moved. Rear-wheel drive model virtually stalled, but to deploy them, the wheel drive lever must be switched off.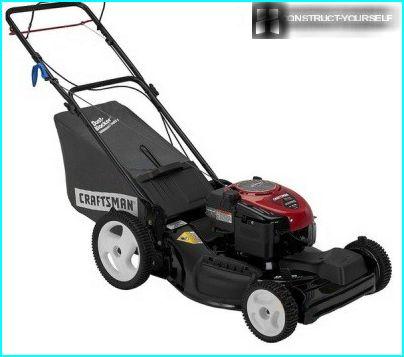 Front-mower more maneuverable, but when filling the grass-catcher may slip
If you have to deal with different areas,this function is useful, especially since the adjustment is spent not more than 3 minutes. In that case, if the equipment will always mow same site, typically exhibit the same height and, therefore, it makes no sense to overpay for control.
No similar opinions on how to best lookthe best lawn mower. Any model can be a great assistant in the economy, if it is selected on the basis of the above tips, not only by brand and price.