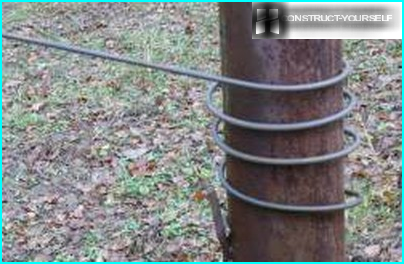 With the approach of the holiday season, we start to thinkan inventory update, acquisition devices for convenient holiday items - comfort in the country is no less important than at home or at work. The first warming is always a desire to spend time in nature by the campfire, barbecue, and we can not do without firewood. Device for carrying firewood can be a convenient help - fire must be maintained, firewood to prepare in advance. Using a homemade or ready-made bags for firewood is no longer necessary several times to go to the woodpile, and if you went on a picnic in the landing, in the woods or fishing Handling and here will be very useful - it can be conveniently folded twigs and dead branches and not be all this in his arms.
Content
The advantage of using the carrying -preservation of clean clothes, carrying firewood in his hands, is unlikely to succeed to maintain a neat appearance. Tough, portable design - metal or woven from a rod, may be used as a stationary drovnitsy in the room by the fireplace or in the sauna.
Consider a few simple methods of making bags carrying.
Choose need a thick cloth, you can useold and unnecessary clothing. From fabric to cut out a couple of rectangles -. 50/80 cm If the material is very strong, you can get a piece of fabric in a single layer, two cloth sew for greater strength. In width define the web center, in the center of the segment is cut to size a man's hand (on average 15/15 cm). The same segment cut out across the width on the other side.
Speakers cloth bands that turned inresult, the carrying handles are, they must be folded and sewn to the fabric, leaving space on the sides nezashitym. As a result, you should get a handle with side openings, which then need to insert a strong stick made of plastic or wood. Get a handy carrying firewood. A more expensive option - use instead of dense tissue of the skin, such carry more practical and will last longer. Today tailoring services perenosok available in the network.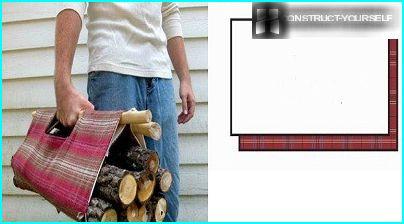 For the manufacture of carrying need to pick updense tissue is not necessarily new. This may be an old coat, jacket, or a piece of canvas fabric. If there are unnecessary old leather jacket - use it to create a strong carrying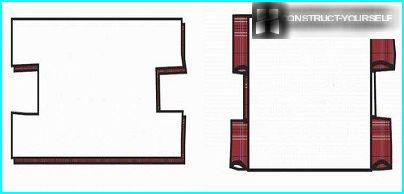 Cut out carrying of firewood, securely sewHandle to the main track. Since the cut-out hand is quite large, you can use the stick of different diameter, more importantly, to make it comfortable to hold in hand
In the country can be successfully used and drovnitsuSauna in a wicker basket. Basket from a rod carrying the wood is not suitable as a means for large logs, but small logs, firewood will be convenient to carry it. Wicker baskets to store firewood near the fireplace will also work, they are larger.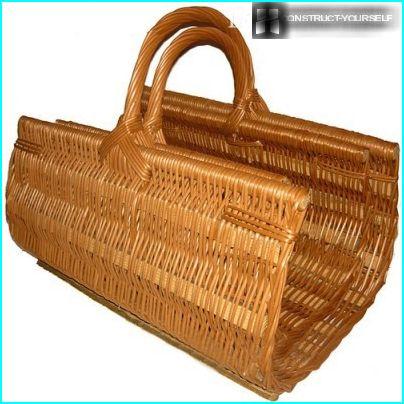 Finished wicker drovnitsa - beautiful and elegant, but not very functional. Suitable for carrying a small amount of firewood at a picnic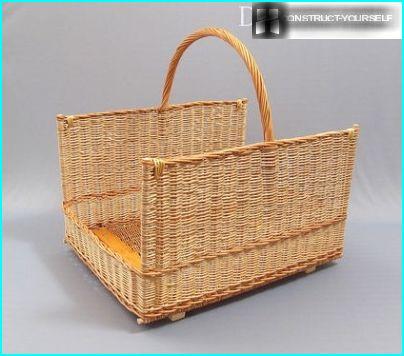 These ready-made wicker baskets for storage of wood in the fireplace can be used in the country. They are roomy, large, stable
There are special basket with comfortable handle, with the support, and on wheels, which can be a simple alternative drovnitsa.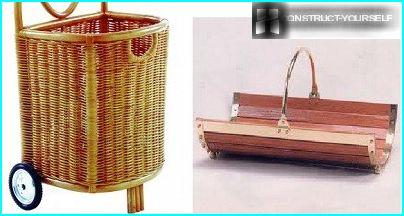 Two options that can be used inAs drovnitsy - wicker basket with a support on wheels, very roomy and comfortable, and a small drovnitsa of boards with copper piping and copper on the edge of the handle
Carrying firewood with their own hands can bemanufactured not only from the tissue. Comfortable easy portability can be made using sheet metal and metal rods. Sheet, depending on thickness, can bend or fold the edges only, leaving the middle of the rectilinear and welded thereto on either side, one or preferably two or more metal rods, which will serve as handles. If the bottom of the weld is also the legs - drovnitsa will be stable, so can be used at home by the fireplace, and a sauna.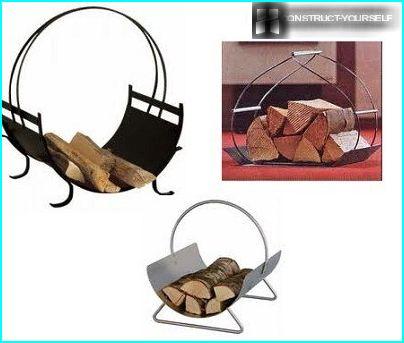 Different versions of the metal perenosok firewood - forged and welded metal sheets and iron bars. Such an arrangement with legs will be much easier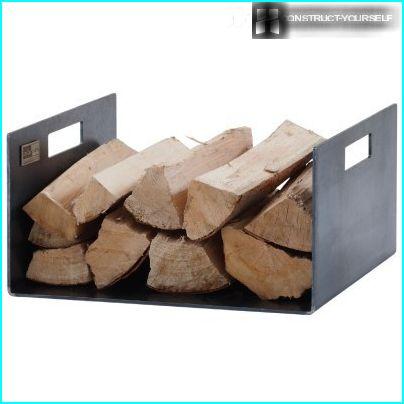 Drovnitsa from a single sheet of metal with slits for the arms. Practical device for carrying a small amount of wood is perfect for use in the country
As a carry, you can use the old mesh hammock or flannel long-sleeved shirt, if you have not done more practical bag.
Old tires today got a second life -why they are not used: one creating flowerbeds, cut sculptures, but also to create a carrying tire may well be used. For this purpose, the tire cut, turned inside out, at the bottom you can put plywood or tablet, pen and cut out of the tires. They can be glued or fixed with rivets.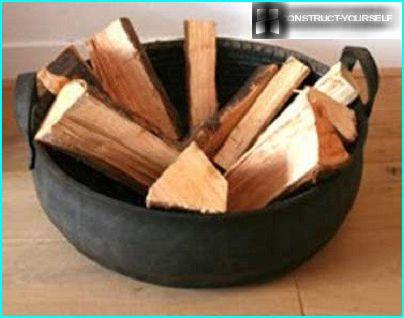 Carrying firewood of tires - the most simple and budget option. Yes, and make it possible to quickly and effortlessly. To carry a small amount of wood it is fine
As you can see, there are many tools forCarrying firewood - fabric and leather bags, wicker baskets and carts, old tires, metal drovnitsy that can be used as portable and stationary. Among this wide range of easily choose for themselves exactly what you need - a light bag for easy carrying firewood basket or anything else.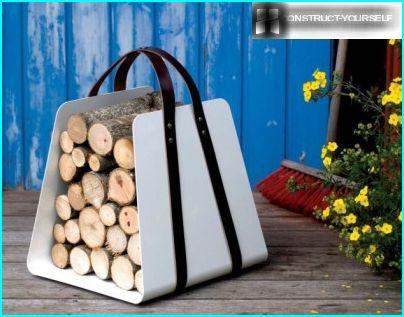 Finished Metal bag with leather straps -convenient device to carry, also looks very presentable. There are also ready-made bags made of leather. If you do not want to tinker yourself, you can select that option
In any case, using this simple tool, you keep clothes clean, and carry firewood so much more comfortable than in the hands.