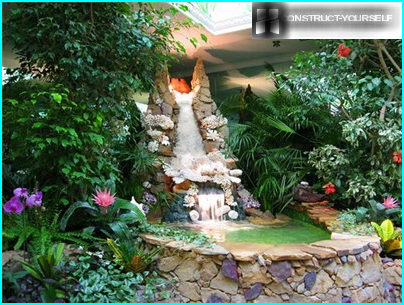 Suffice it to reach the owner of the cottage porchrain or snow, as a matter of fact, to be the peak of it or not, is clearly settled in favor of this design. Here are just a convenient time for its construction will be irretrievably lost: we'll have to wait for spring. During this time the porch steps may one morning covered with ice. Or are they a snow build-up, and he will be so high that even the door open would be difficult. Another scenario is familiar to motorists: the evening was the rain that flooded the castle, and in the night of freezing. You do not want to be in this situation? In time make canopy over the porch!
Content
To not have to redo latervisor, you need a good understanding of what it is you want to get a result. The minimum list of requirements to be met by this structure is as follows:
he must be able to not only its own weight but also the weight of climatic precipitation in view of the snow, which may come in contact with the roof, as well as the weight of the green space, encircles it;
because it will drain the water, it is necessary to provide for a system of collection storage tank or sewer outflows livnesbornuyu;
desirable that the design not only protects the front door, but the steps as a whole;
Construction should not look like a foreign spot: it is obliged to fully comply with the overall style decision cottage.
On the latter point, the externalperformance and design will be all right, if you focus on the material from which the hood will be created. It must be combined with the exterior of the house, with own porch and roof. Thus it is not necessarily a complete coincidence material. It is important to choose the correct shape, size, color, hue appropriate or reasonable contrast.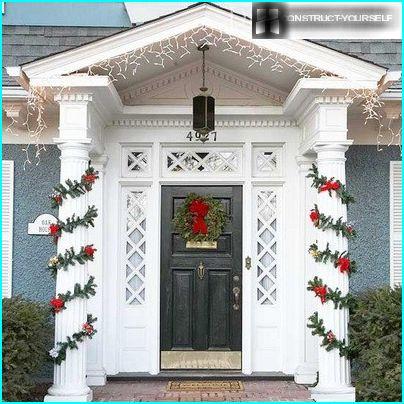 Sometimes a canopy over the entrance is created as part of the main building. Then it's a thorough structure provided the structure of the plan, endowed with the columns that are so eager to decorate for Christmas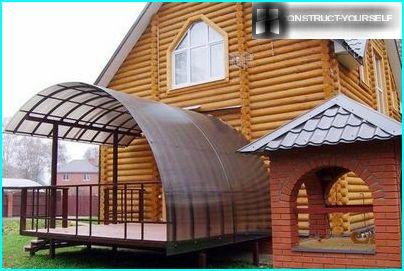 The shape and dimensions of the visor should depend on the appearance and location of the entrance. Sometimes it is better to replace the awning canopy he in this case is more appropriate structure
Take an hour to compile the list of items,which focuses on your choice, because it is the proper time you as a result of this and save, to determine the design of the visor. Present their views in writing, you do not lose sight of.
Option # 1 - polycarbonate
As the base material for the construction ofPolycarbonate visor far bypassed all its competitors. In addition to these remarkable qualities of durability, reliability and practicality, polycarbonate is characterized more and visual appeal. Due to the variety used in its production of colors it is able to meet any design ideas. There are, of course, cheaper materials and polycarbonate, but to work with it - a pleasure.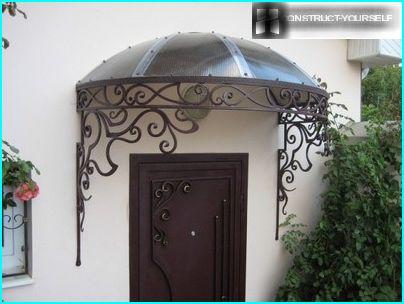 Before you build your own hood with polycarbonate, you must learn the rules of working with him: nothing supernatural, but it is recommended to comply with
Option # 2 - metal
The structure of the fully assembled metal -it is quite simple and not too expensive option. With metal work is not as easy as polycarbonate, because for him requires a special welding machine. This means that there must be at least some skills to work with him. However, if desired welding can be exchanged for riveting or used to connect design nuts and bolts.
A disadvantage of this embodiment is thatmetal requires anticorrosive treatment. Note that this design, unlike the previous one, is made entirely of metal, and thus requires more attention.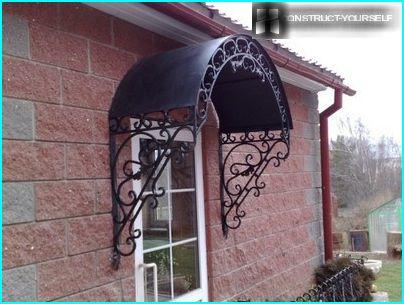 Any product will look nice if it touches the hand of a master. In this respect, his choice of a particular material does not matter
Option # 3 - profiled
Profiled popularity can be compared withpolycarbonate. Lovely polymer coating allows it to compete with this material. But there is a major drawback of corrugated board, which we should not forget - on receipt of mechanical damage to the surface irreparably distorted.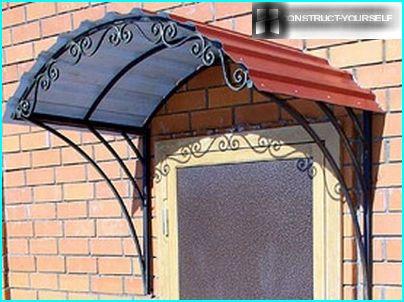 Well, who's to say that the canopy of corrugated looks too "quite simply"? As for the physical damage, the castle in our area - not a frequent occurrence
To neutralize this disadvantage have to look likeIt can be thicker corrugated board, but will have to pay for it more. It should be noted that working with it is much easier than, for example, metal and even metal tile.
Option # 4 - lightweight plastic
This material is very similar to polycarbonate, butIn fact it is a special PVC plate. They are used in outdoor applications, they should not be confused with cheap plastic, running on the interior furnishing. The peculiarity of this material is that it is truly a unique lightness. This material is durable and remains fully reliable. Plastic is available in different colors, but can be brought to the desired shade, and with the help of the film.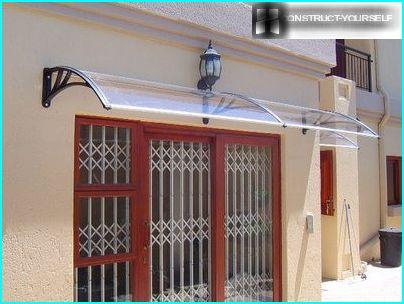 Very concise and simple. But it is not "rustic", mind you! Such a visor similar to the royal speech: terse and to the point
Option # 5 - metal and shingles
Two very different material. Visors are better to build together with the erection of the roof structure. Then on the visor material residues will be used, and it will almost free. Additionally, these materials will be appropriate only if the surface of the roof canopy and be completely identical. Otherwise, the difference will be too evident.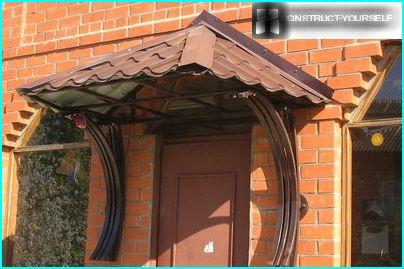 Cute visor of a reddish-brown metal looks quite unusual. Its Gothic form fully meets the architectural plan of the entire cottage
These types of shingles are diametrically opposed onweight. Metal - heavy stuff, and shingles - easy. Nevertheless, both the visor and turn out pretty quality. The product of the metal will be slightly more noisy in case of rain.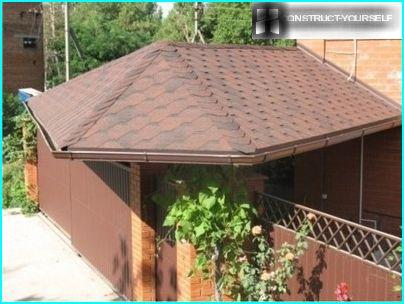 It is not even quite visor, and a canopy,covered with shingles. A nice bonus of such a coating is silence during the rain. Nothing of the kind of metal, metal sheeting and do not have to wait
Option # 6 - artistic forging
From a design standpoint forged visor alwaysI looked and will look exactly as what it is: an expensive and original decoration. Yes, forging - it's expensive. But how beautiful! If you do not have enough money to fully forged products, stop your choice on the combined version.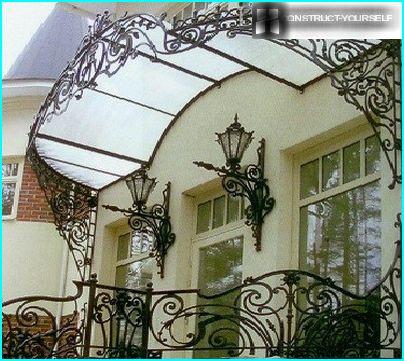 Yes ... Well, in principle, entirely forged visor and is not necessary. See, he will be too heavy, and weigh too much. But this work of art in conjunction with railings and lanterns looks luxurious
In combination with the polycarbonate, tiles,plastic forging will still consistently good. The only drawback of this high-quality design is its hefty weight. This situation will certainly have to take into account and to request the installation of the canopy proven professionals that winter he did not collapse under the additional load of snow.
Option # 7 - classic wooden
Recently, among the country homes less and lessbecome clumsy fall gothic, increasingly focuses on high-quality, reliable and environmentally friendly framework. Most harmoniously with these massive structures look wooden porch and canopy, also made entirely of wood.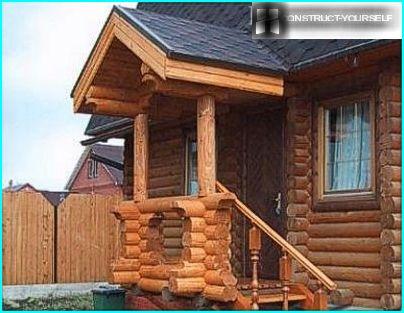 European flimsy construction on a powerful Russian wooden house will look like alien, and even fun. But everything is in place: a durable construction and shingles as a protection against rain and snow
Like the entire frame, visor must be processedmeans that protect against rot, insects, and other troubles that may befall a timber. In addition, there should be a mandatory waterproofing, as a slate can be used, roofing felt, plastic, sheet metal, polycarbonate, corrugated board and other materials.
Single-slope metal visor
Make a canopy over the porch with his hands notdifficult as it may seem. However, patience, at least, prove necessary. To create this robust and durable design, we will need the following materials:
metal corners;
Cornice strip;
abutment bracket;
bars;
gutter;
trumpet;
shingles and decking;
screws, screws, anchors.
It is necessary to prepare the tools:
roulette;
welding machine;
Hacksaw.
on the device with your hands on the hood workporch begins with sketching the future design. Since we're going to do is not an abstract visor, and quite specific, you will have to take a tape measure and determine the width of your porch. To add a specific dimension figure of 60 cm, and turn the width of your visor.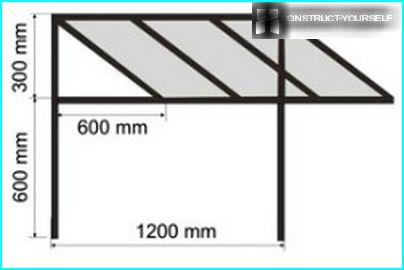 Approximate sketch of the construction is as follows. Do not rely on your own memory and imagination: paint, it does not take much of your time, but make a mistake and will not give
By measuring the distance from the front door beforeplace, which should be protected by the visor, we get the length of a future self-made design. The height of the lean-visor is calculated based on the architecture of your cottage. We must not forget that the visor must have a slope of approximately 20 degrees. You have obtained all the necessary parameters on the basis of which it is possible to create a sketch.
Then proceed to the cutting of metal parts under thedesired dimensions. The length of the rafters of the corners is equal to the height of the ramp. From the corners of the same will be made struts and wall bar. Between them all the details of the frame going by welding. A robust and reliable framework will be fixed over the porch. Pristennyh beam fixed by stainless steel screws at the entrance, and for fastening struts need to use anchors.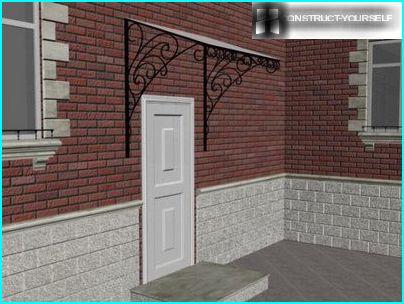 General view of the construction will be about the same. By the way, if your visor, you also want to decorate elements of forging, know that they are sold separately and can be welded
From bars laid on the rafters purlins. If canopy cover will be profiled between rails to do the distance of 30 cm. If the registration is carried out shingles, lath to do solid. On it and will give all the selected roofing material. Fix it should be on the screws, but overlapping, rather than butt.
Shuts down strokes is to fix the metal strips abut the top of the ramp. To fasten the bottom of the cornice strip. It remains to mount the gutters and downspouts.
An arched canopy of galvanized metal
What are the necessary materials, which require a tool, and in what sequence to perform the work, you can see with your own eyes in this video.
Shed shed from a tree
Another video about how to make a sun visorover the porch. The author shows you a ready-made wooden single-slope canopy. He built his master gives brief advice on how this should be made uncomplicated design.