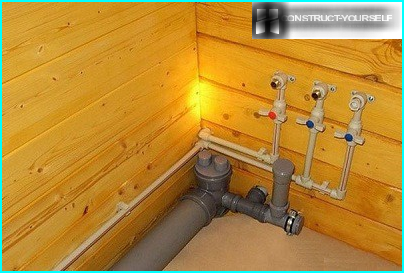 Kids Corner at their summer cottage seekequip all families with kids. What could be better for the child than active games outdoors in the company of friends? Children's Town to the country today can do on their own to collect purchased items from, or combine elements ready and available materials. Today there is no shortage of ready-made children's camps - you can buy a colorful inflatable playground, trampoline, swimming pool, make your own or buy a wooden playground. Older children love the sports small towns with rings, wall bars, rope and other devices. Sports fields, too, can build your own or buy from the producers.
Vertical bars on the sections play an important role- Provide security and are decorated. The design is constructed on the ground, and then attached to the beams by means of bolts. The town alone build hard - sections weigh a lot, it is better to do it two or three. If you make a drilling template for boards 5/15 and 5/10 cm, drill holes will be much easier, and they will be placed exactly beams.
Wooden flooring is made after attachment to the sectionsbasic design. If you do not want to make the bottom of the grass sprouted through the board, you can cover the ground with boards and sprinkle it with gravel. Another option - to nail design matter, used against weed growth.
Railing at the site must be strong at alllevels. Racks for handrails are made in advance and then screwed between the supporting beams and railings. Slides like all the children, so in order to be more attractive playground for kids, you need to install one or two plastic slide. In this embodiment, the site used a winding slide, but you can use directly. First, fastened together all the components of a roller coaster, and then it rises to the top. The ideal height for ease of installation and slide the top "floor" should be the same.
Swing mounted last. The main beam structure attached to the game, the other end of the triangular support supports.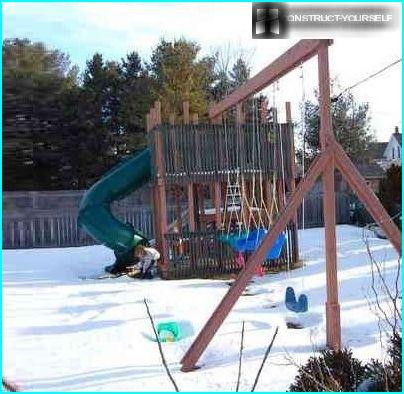 Side view of the town - on the cross beam can be attached to the swing (one or more) and hang sports equipment - rope ladder, rope, rings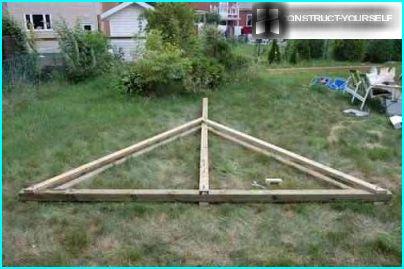 Triangular support that supports the structure of the town on the other hand. It reinforced sloping beams. For all the strength of the support it is recommended to concrete
If you use to create such a gamecomplex wood, treated by impregnation under pressure, it may eventually be covered with spots. In this case, it can be painted in any color. Using these methods, it is possible to build a children's playground with his own hands of any size, choosing different slides and swings. Next to the swing can be hung from a rope, rings, horizontal bars and to make wall bars - is both a children's play and sports area. The main thing - to build a structure after carefully drawn up plan and the accuracy of performance will help to achieve the use of templates for drilling.
Chutes for slides and swings for the seat are made of durable plastic. These elements of town convenient to buy ready-made, as well as ropes and fasteners.
Inflatable camp for children today, you can choosefor everyone - for the little ones, for older kids, with a swimming pool, trampoline and OE This town is convenient because it can be located anywhere, it is light, mobile, painted a very bright and positive, and takes the kids no less joy than any other. Inflatable playground, bowl basin is recommended to have on-site tiling. It so happens that the lawn grass breaks through a thin bottom inflatable designs.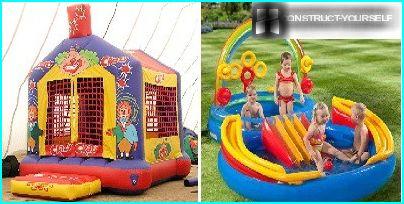 Inflatable towns - a simple solution to the problemplayground for children. huge selection allows you to select a place to play for the very young, older children, choose the type of town - a trampoline, swimming pool, castle with slides, etc.
Anyway, here are some safety rules:
Make sure that the equipment was notcracks, sharp edges, protruding nails and bolts. All playgrounds and sports facilities should have rounded corners to avoid injury. Periodically check all fasteners.
Around the swings, roundabouts should be a safe haven - not less than two meters.
In the children's village can be arranged roundabouts, swings, sandpit, climbing wall, horizontal bars, horizontal bars, ropes, rings, machines, ships, rope ladders, nets, web.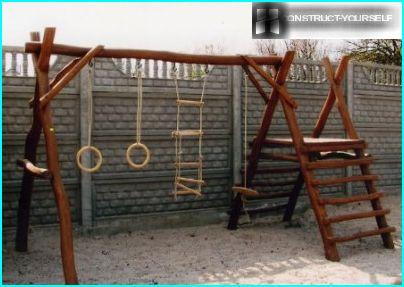 This simple easy to playgroundbuild of logs. From the shells used in the ring and a rope ladder, swing. You can also use the rope swing with a seat made of tires, mesh climbing, climbing to do - and shells at the site will be enough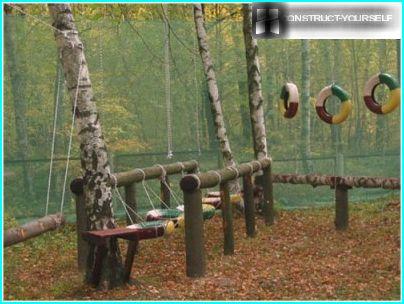 If the above option for you is difficult, and you can create a simple town - using logs and tires. Carefully fix the tire, paint - and a place for children to play ready
That is all. If you have any questions or suggestions - please write in the comments.