For repair and finishing of rooms there is a hugethe number of all kinds of material and more colors. Designers are not afraid to experiment and constantly create new and new interiors, which combine seemingly not harmonious colors. In turn, the black and white classic combination is used less and less.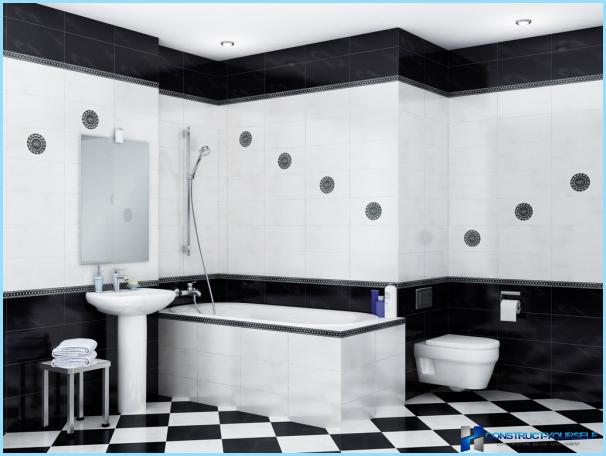 Black and white bathroom is considered to be tooartsy and cool. Therefore, this color scheme is used, often, only connoisseurs classics. The rest prefer either bright colors or soft pastels.
There is another opinion, why the bathroomin black and white it is not particularly popular. It is believed that the combination of these colors is suitable only strong personalities. Such people do not prefer to be led by fashion and follow their own tastes.
At first it may seem that the black-and-white paletteBath is boring and has no zest. In fact, many stop to think so, when they see examples of live rooms or in the photo. After all, the combination of colors is a charismatic, defying all the modern stereotypes.
Many refuse the opportunity to equipbathroom in black and white, for various reasons. Some doubt their choices and, ultimately, decide not to deviate from accepted standards. Someone thinks this color combination boring or tedious. However, the reality is with precision, but on the contrary.
Important
! This combination of colors in the bathroom really can not come to man on a psychological level.
Check it out simply. It is enough to put in front of two sheets of paper (one white and one black) and stare at them, constantly blinking or turning the head. If then there is dizziness, it is better to abandon the chosen palette.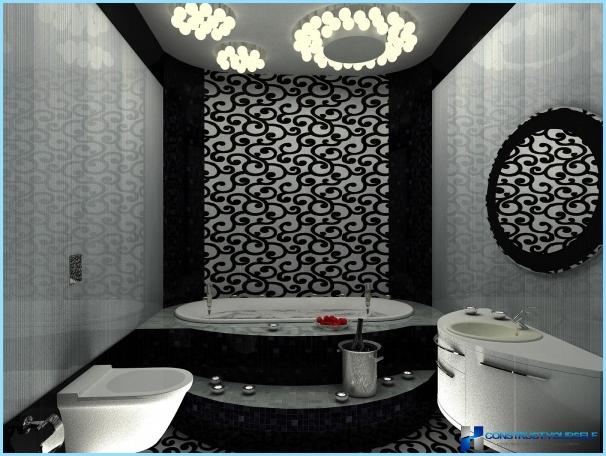 If the problem that was described above does not happen, you can buy the material, because the design of black and white bathroom has the following advantages:
This palette will never lose its relevance, unlike many other bright and colorful options.
Black-and-white combination is suitable for both classical and modern style (high-tech, modern, etc.).
Despite the fact that uses only two primary colors, may be infinitely experiment with graphics and geometry of the room.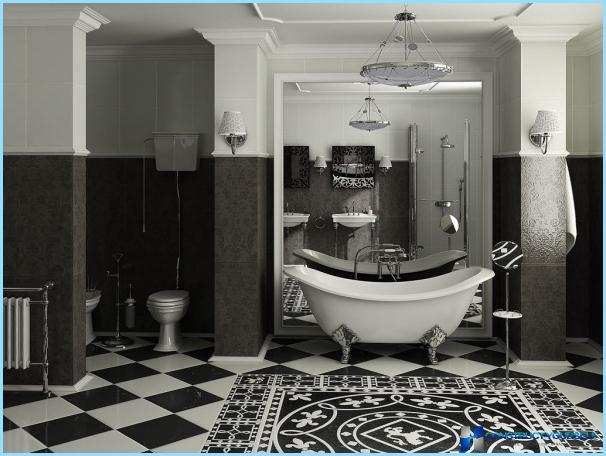 Despite the significant advantages of black and white bathroom has a number of disadvantages, which are also important to know.
Not many manufacturers are hesitant to let your product in black and white. Therefore it is necessary to select the material on their own. It will take a lot of time and effort.
Any, even the smallest mistake in installation, can disrupt the entire room harmony.
Black and white - the colors, which will be visibleall pollution. Even a drop of water will be dried immediately evident on this background. Therefore, to avoid this, it needs to be cleaned constantly and carefully wipe all;
As described above, some people who are prone to depression, the contrast of these colors will suppress their mental state.
Black and white bathroom interior suitable forsmall room only, if everything is harmonious build. Otherwise, the already tiny room will seem even smaller and more squeezed.
Despite all the difficulties that haveface when the lining bathrooms in black and white colors, the result is quite justify all the efforts. To view the options for black and white bathroom on the following photo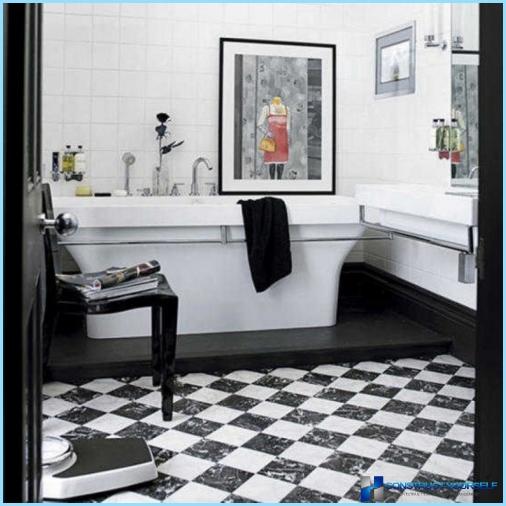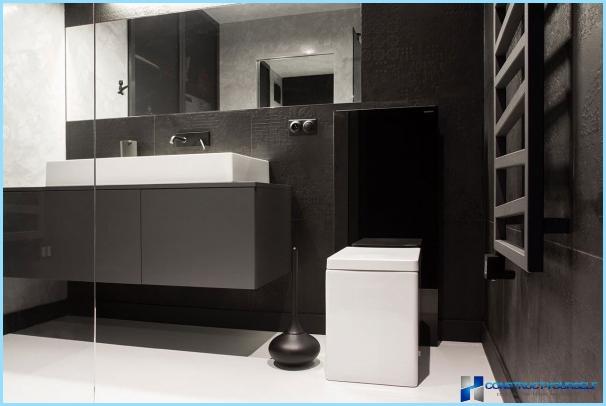 Before proceeding to the arrangement of the bathroomroom, you must all be carefully considered. It is important to not only decide on the colors, but also to know how they will be located. For example, a classic option is to furnish the bathroom white and black tiles in a checkerboard pattern. This combination looks harmoniously, but it is not strict. By the way, if you want to achieve rigor, the room can be obdelat tiles with a pattern in the form of strips.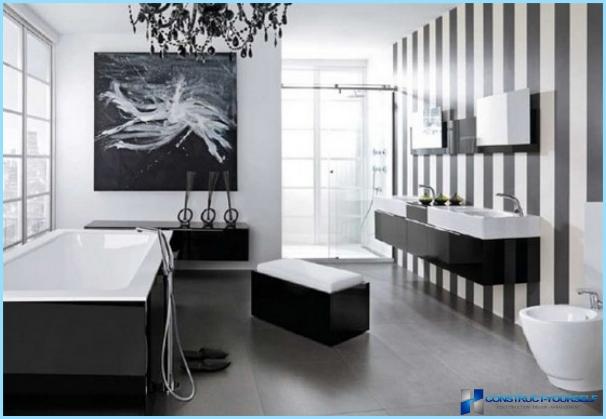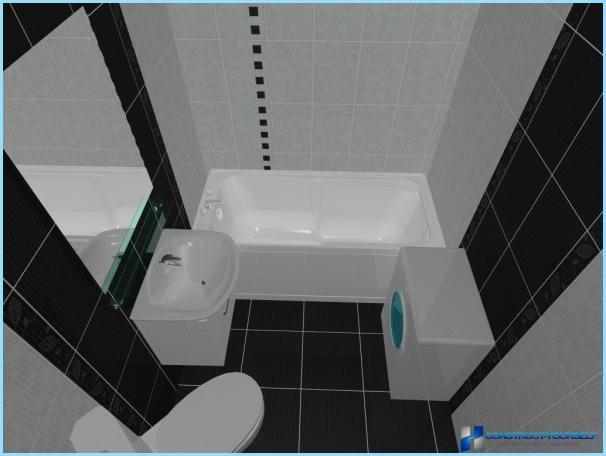 If you wish to make a small room inwhite and black colors, you should be particularly careful to adhere to certain rules. The main thing you need to be sure that the predominant white color, because it visually expands the space. It is known that black, conversely, compresses the room. Therefore, it should be used as additional inserts or patterns or ornamentation in the form of different thin strips. The narrow, contrasting horizontal lines of dark color will complement the effect of expansion space. The same line, only horizontal, it is better to use low ceilings, because they are able to visually enlarge them.
Council
! A room with a small area you can distinguish between bright accents, such as red tiles.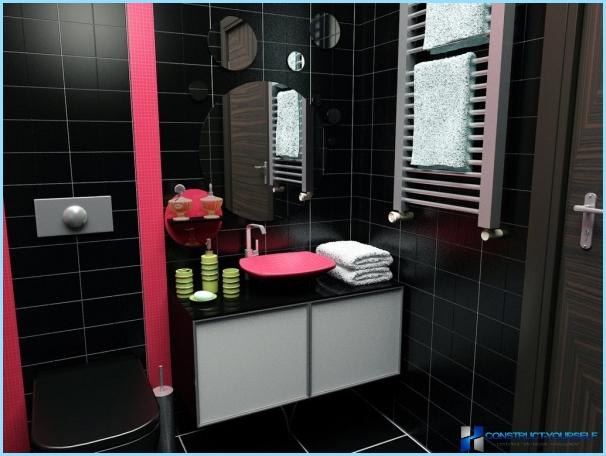 Paul also not be left without attention. You can lay the mat with black and white stripes, or replace it with a bright red coat. This color can also be used on the walls. Bathroom with black, white and red tiles will look very different, but no worse. Moreover, such an option can be used by those who do not like the classic two-tone combination.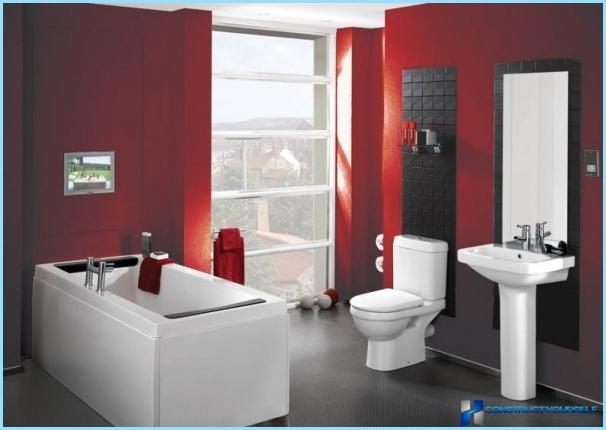 The above embodiments have been described, in whichIt uses ordinary tiles. But it is possible to show imagination, add creative and make a completely unique bathroom with unique ornaments and drawings. For this purpose, special tiles, panels or even wallpaper. It's worth noting that the whole room necessarily arrange pattern. This may well be the pattern that emphasizes and highlights specific area.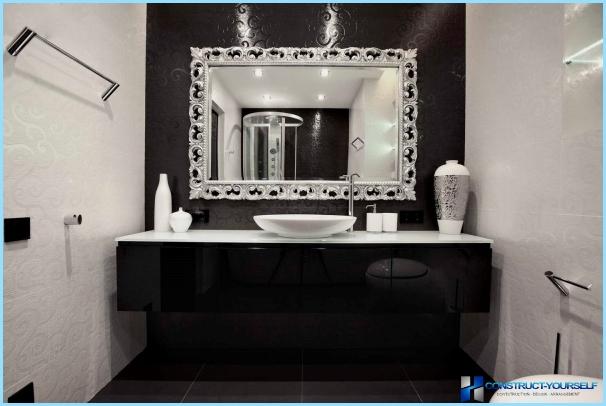 Also, the bathroom design with black and white tiles perfectlysuitable for isolation zones. For example, if the main color - white, you can play on the contrast and highlight the black bath or wash basin. Fine bath will look black on a light background, or vice versa, white wash basin attached to the back wall. Also plays an important role and additional furniture (tables, dryers, etc.). Picking them according to colors, the situation can be regarded as a complete bath room.
Regular tile can be supplemented, or even replaced by no less beautiful mosaics. Her designs will always fascinate and engage the attention.
Also, if desired, into the interior of the bathroom KomanataYou can add a touch of luxury. This can be combined wall covering not only by color. For example, you can use glossy black and matte white tile.
Decorating the room, although the most important, but not the last step. There is still enough work with lighting, selection and installation of sanitary ware, furniture and other items.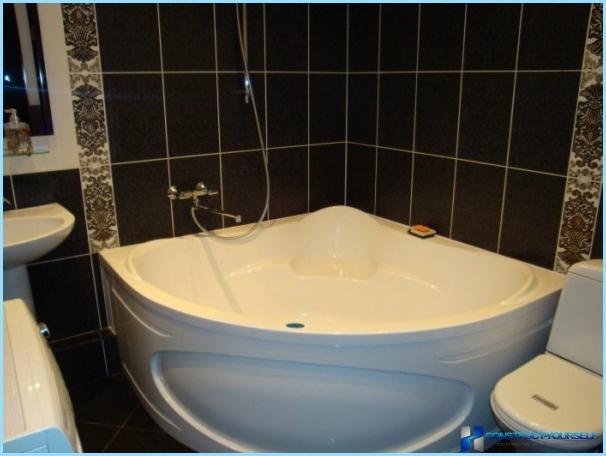 Light is no less important than the right setwall and floor coverings. It should not be enough, otherwise the entire interior loses saturation and looks a little bleak. To avoid this, it is desirable to use multiple light sources at different parts of the room. The best option would be a graceful glass sconces that illuminate every corner of the room from all sides.
The contrast of the room can be diluted with plenty of mirrors. Someone can and only one small mirror to wash up and brush your teeth. But that room was at the highest level, it is recommended to install this accessory large and supplement it with a little. This will not only decorate the room, but expand it.
Important
! Improperly placed mirrors can lead to the opposite, the room might look awkward and cramped.
To avoid this, it is not necessary to place a variety of tables and shelves in front of the subject.
Now that it has gone about the furniture, it is necessary to withdraw andher separate paragraph. In order not to lose the whole effect is created, it is not necessary to depart from the general style, and install it in a different color. Everything should complement each other. But just pick one of the two colors is also not enough. Black-and-white design - a game of contrasts. Do not forget this when choosing furniture. If the cabinet will stand in front of a white wall, it must necessarily be black, and vice versa. This rule also applies to the entire plumbing.
Various decorative elements also need toconsistent with the overall picture. However, in this case, it can be a bit of carousing. To dilute the bathroom, you can use vivid details. For example, painting, flowers, candles. Even the towels may well be a decent element of decor. But these bright spots in the bathroom need to be isolated. And even jars of shampoo and other bath accessories must integrate harmoniously. After all, the overall composition may violate the most minor details that, at first glance, may not be reflected in the interior of the bathroom.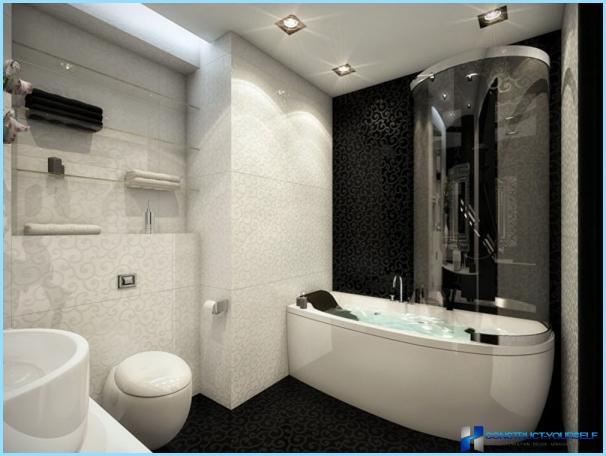 Bathroom in these colors typically usedin a minimalist style. One of its main rules - the use of strict lines and the almost complete lack of decor. You can arrange the room and in a different style, but it should be borne in mind that white and black tiles hides almost all relief items. Therefore, in the bathroom would be more appropriate furniture and bathroom with laconic strict lines.
Properly consider the entire interior, the choice of tiles and various accessories to the situation, ready to turn a bathroom refined and stylish. All efforts are met striking appearance.
In conclusion, given a few more photos of bathrooms with black and white tiles, which can serve as a model for their own arrangement.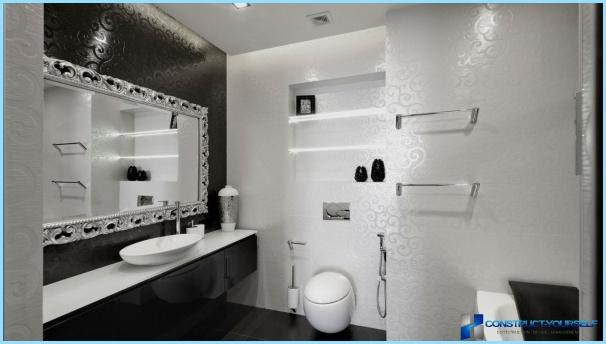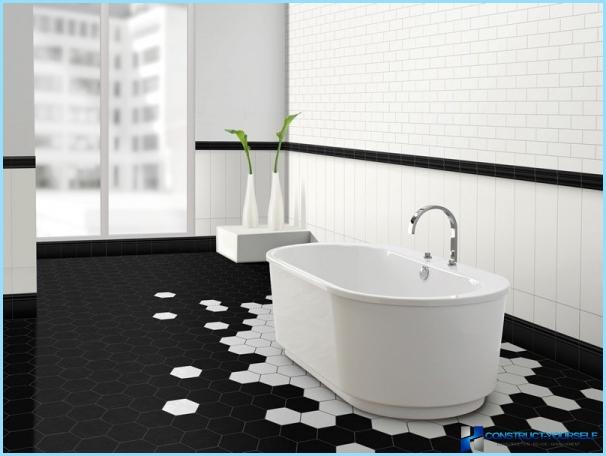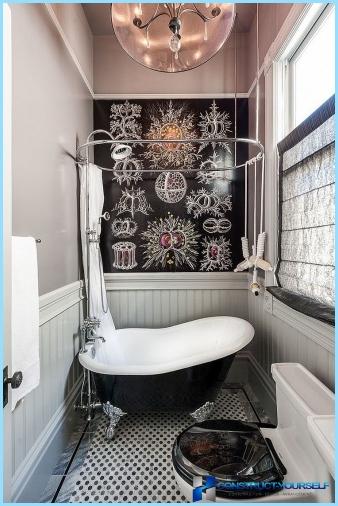 Also useful would be to see the video