Any bathroom should not only have an attractive appearance, but also to be functional. Of course, the beautiful quality plumbing repair and solve almost all problems, but to deal with both objectives in full extent, can not do without a variety of accessories for the room. In particular, the huge functional and aesthetic role played by various shelves for bathroom.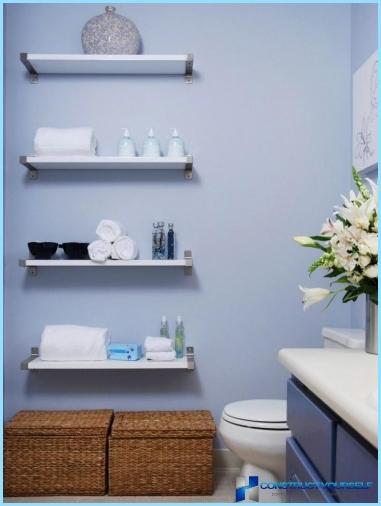 Range of shelves to the bath is almost unlimited. They are made of different materials (plastic, glass, stainless steel, etc.). In addition, they differ by the method of installation. Distinguished pendant, floor, corners and recessed shelves. In order to understand in more detail with each method, you should consider each in more detail.
Such shelves are particularly popular. However, to install them carefully, especially in the bathroom of a small size, since their main drawback is «theft» space. In order not to reduce the already small room, you should install them in places where the space is already occupied. For example, over the washing machine. To successfully cope with the installation of this accessory can be a few minutes. It will only need to drill a couple of holes in the wall, insert the screws in them with hooks and hang the shelf.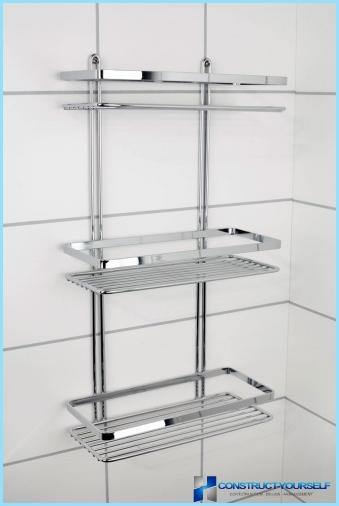 Corner shelf will come in handy in any bathroom. Because usually the corners of the room remain unused. That's just wrong. After all, why leave empty space, if every square inch to use functionally? Data shelves are typically installed in several ways:
Also, as in the first case, they are fixed on the screws. Accordingly, this will require a drill.
If this tool in your Arsenal, you can buy telescopic accessory. In this case, it just expands between the ceiling and the bathroom.
Also corner shelf is sold with a mounting bracket, suction cups. It is very convenient, but remember that it is able to withstand a very small load.
To see examples of corner shelves in the bathroom in these pictures.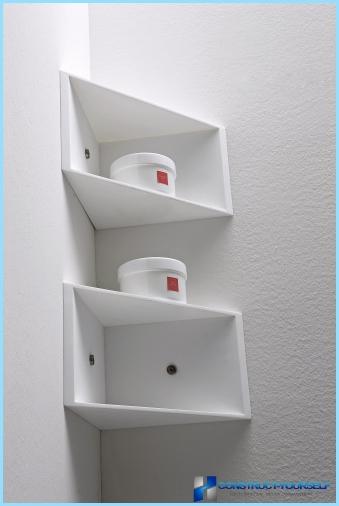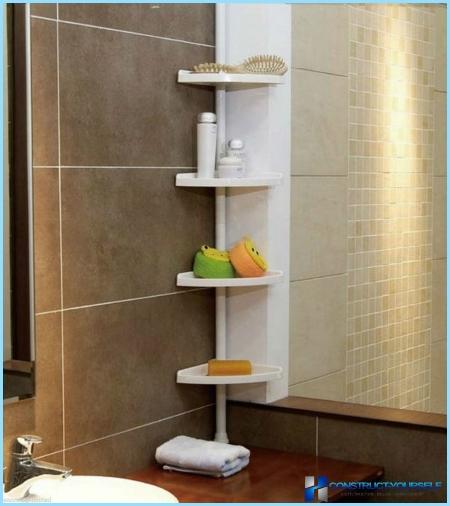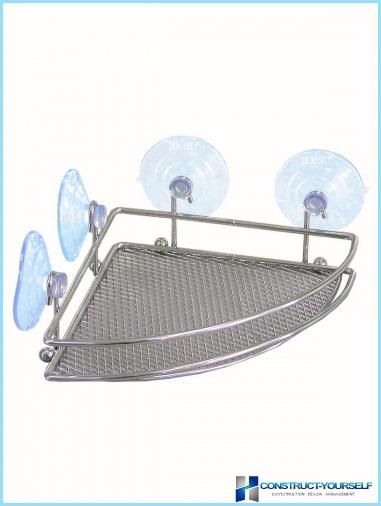 Floor shelf in the bathroom will be an excellent solution for those who can boast of a spacious room. It will serve as a wonderful decoration in the bathroom. In addition, this shelf is more spacious than the above counterparts. In addition to detergents it can fit towels and other bath fixtures. Besides stationary accessory is made in two versions: wall and corner, which also may allow to efficiently use available space.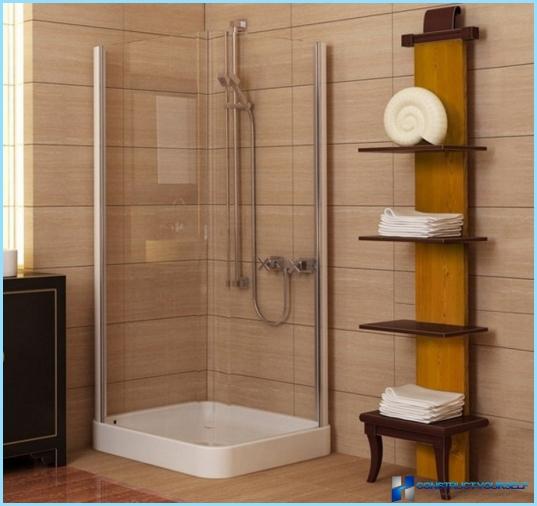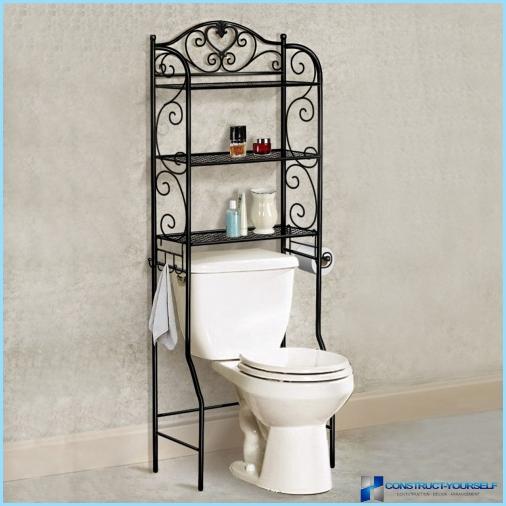 To make your bathroom unique and original, you can install a recessed shelf in the wall. Its feature will be that it can be installed in any place and decorate it by various ornaments. However, it will cost much more expensive as is often made by the wizard. But there is no doubt that the costs will more than justify.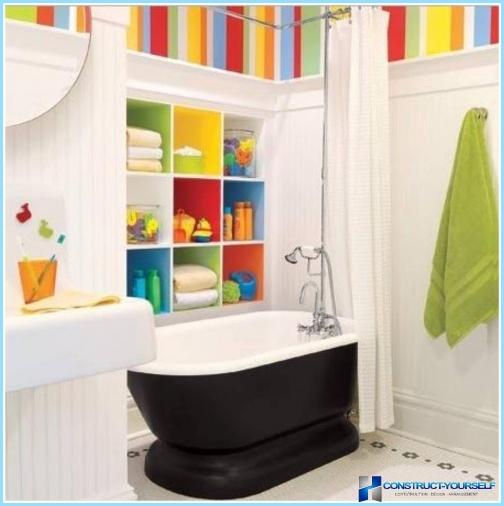 With kinds of shelves for bathroom, all clear. But not also important to know everything about the materials from which they are made. Even when choosing accessories it is important to understand all the advantages and disadvantages of each. It is from detail depends the final appearance of the room.
Glass shelves are especially popular in bathrooms of small size. They always look stylish and elegant. Besides, with skillful use, they will significantly expand the room. The main rule glass accessories – do not stack them a large number of bathroom accessories. Only then they will be practically invisible and thus expand the space. Otherwise, the subject will look ugly, and the room will seem somewhat less.
In appearance glass shelves are quite diverse and can be installed on a straight wall or in a corner. In addition, the subject of this material can be made in almost any color and in any shape that may highlight any design.
If the addition of shelves to arrange the furniture and some plumbing parts glass inserts, for example, frosted glass on the shower stall glass doors on cabinets, etc., the overall style is harmonious skomponowane.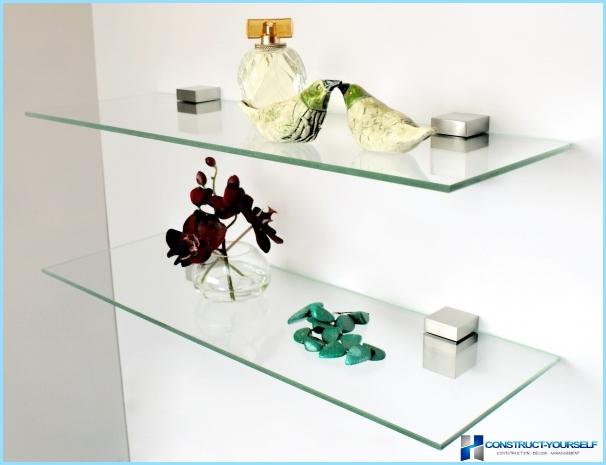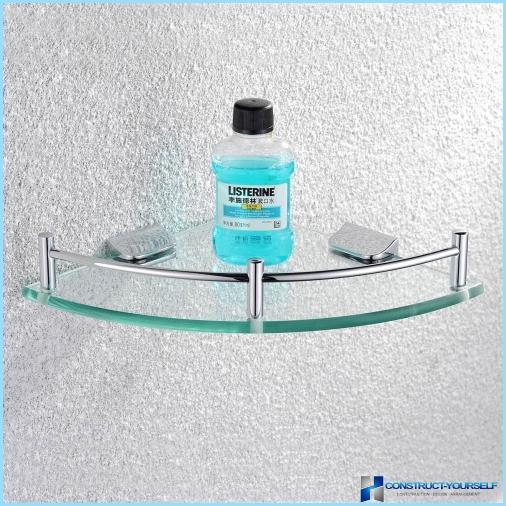 In addition to the transformation of the room, glass shelves have other important advantages.
They are easy to clean;
Not deteriorate when exposed to water, various detergents and extreme temperatures;
Environmentally friendly
The only downside is that in the case of poor mounting, a shelf, likely to break and leave thus traumatic fragments.
The Council
! When purchasing shelves, it is recommended to purchase spare materials for fastening, as well as those which are supplied are often of poor quality.
To see examples of the glass shelves in the bathroom on the next photo.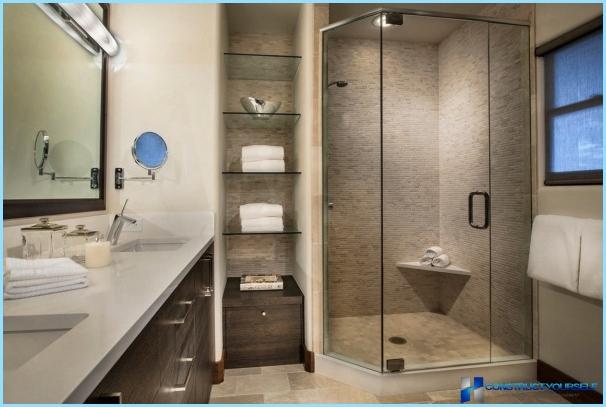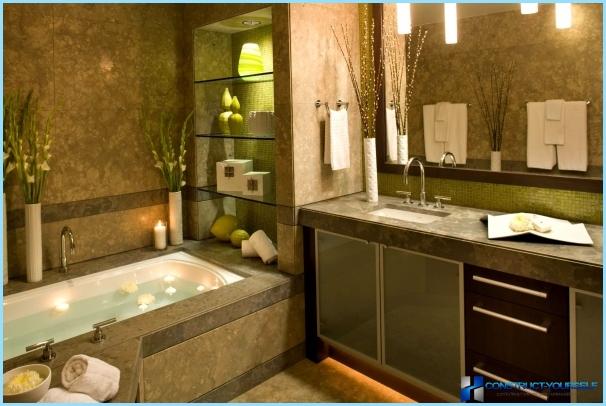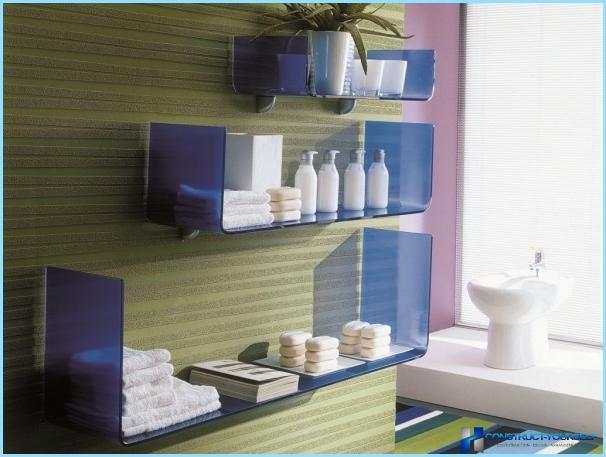 Functional accessory of excellent stainless steel also is not afraid of water. In addition, he will perfectly fit into the strict design of the room. Advantage is the variety of forms.
Round, oval and semicircular. This option, despite the cool shades, will soften the interior.
To achieve the opposite result, that is, to make the room more simply, by using square and rectangular shelves.
The corner design of small size will be invisible, but it can accommodate quite a large number of different bottles, tubes and other accessories.
Visually expand a room by installing a structure made of several horizontal shelves.
If you wish to hide various hygienic means, you can use shelves with doors.
Also for bathroom use shelves with towel bar.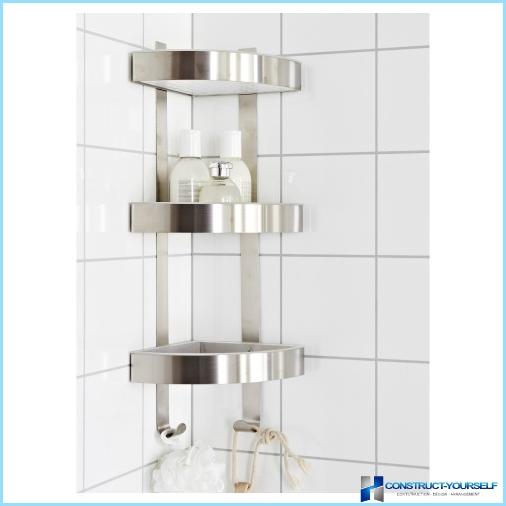 Shelves for bathroom stainless steel is durable, aesthetic, stylish and durable. But, despite these advantages, it is not recommended to put in the bathrooms, with especially high humidity. The room in which the ventilation was not functioning in laid way, delayed moisture. And, despite the fact that stainless steel, in a constantly humid environment it will begin to cover dark spots.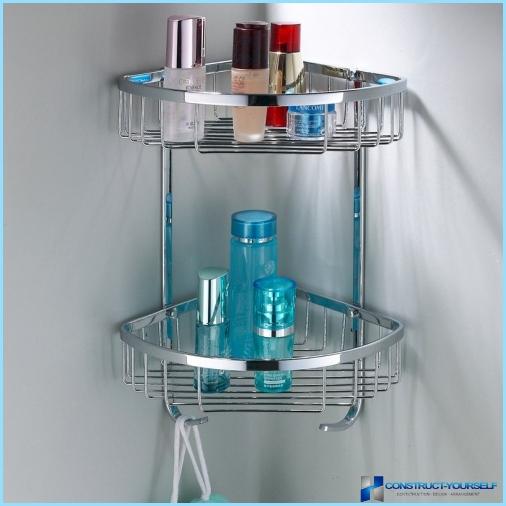 Shelves, made of quality plastic the most diverse in form and color. Because of this, even in a sophisticated bathroom, you can pick up a decent accessory that will brighten up any interior. Although at first glance it may seem that plastic is used mainly as consumer goods.
In addition to the diversity, shelves from this material have the following advantages:
Low price compared to other materials;
Easy care;
A variety of forms (although this advantage have almost all the shelves of a different material).
However, as in previous versions, you no longer do. After a while, the object starts to fade.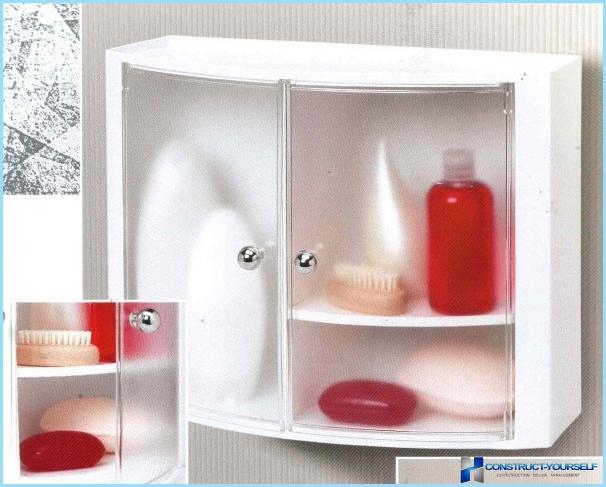 You can also find plastic shelf for bathroom with various plating for example gold-plated. This method will give not only the color of expensive material, but also its texture. So apparently this piece will look quite expensive and solid.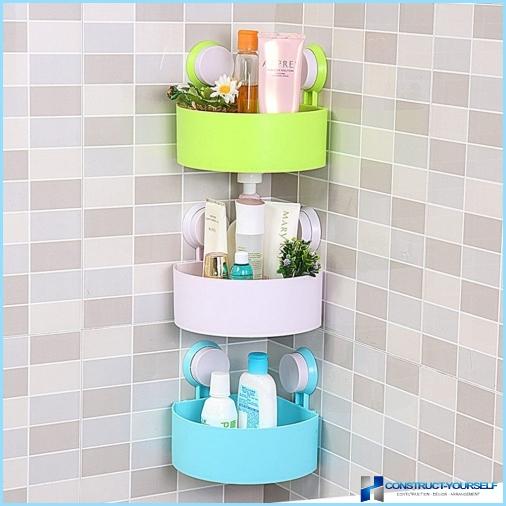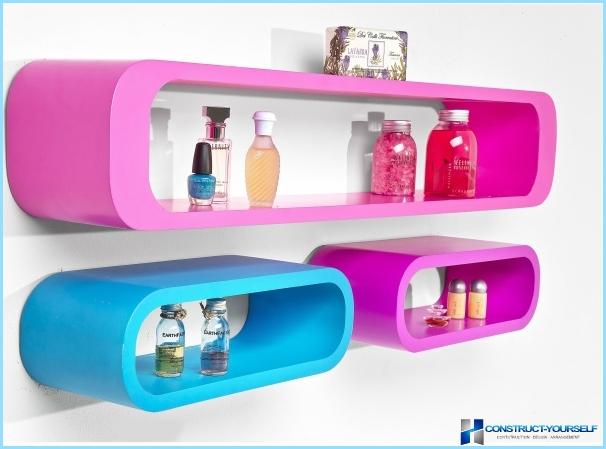 A regular regiment, though necessary, but still optional accessory. But without a mirror you can not do. However, for versatility, it is often supplemented by various shelves. The main objective is convenience and versatility. And although the design fades into the background, you can pick up quite stylish mirror.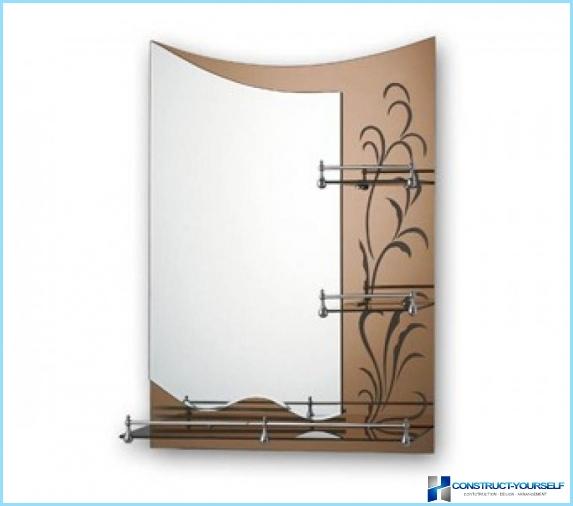 In form, such mirrors are completely different. From classic square, to design models for unique and original forms. In addition, in terms of functionality they are also divided into two groups:
In the first case, the mirror is designed for everyday use. Panoramic can also perform this function, but they are larger and serve not only to perform their duties, but also as a stylish element of decor.
As a General rule, creams are more expensive than usual. This is because such an object has a special layer that protects from moisture. It is located on the back side of the mirror.
In order not to be cheated, you should be able to choose this accessory. When selecting mirrors in the first place should pay attention to the back side. It would be best if the coating will have a light shade of green or blue. This suggests that the subject is really suitable for wet areas. If the back of a purple colour, then a mirror designed for normal dry rooms.
Photo of shelves with a mirror in the bathroom can be viewed below.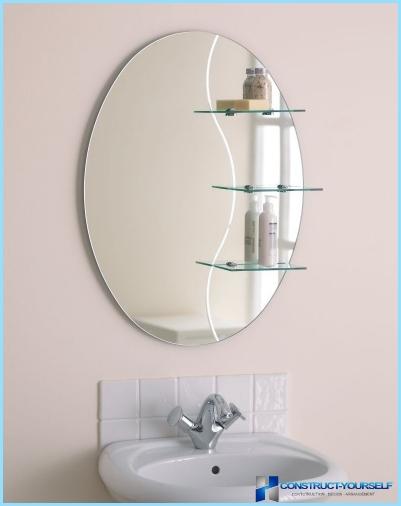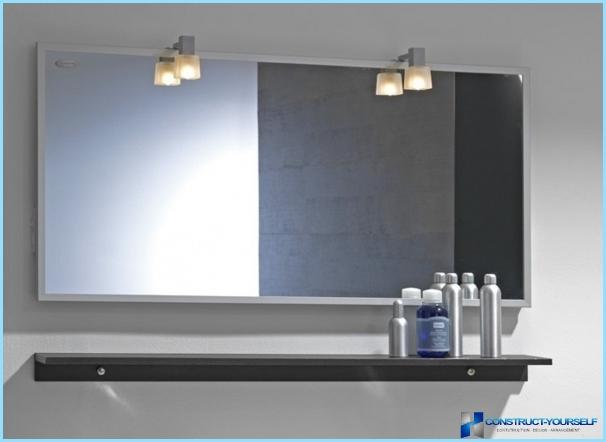 The shelf in the bathroom can do with their hands. The most common materials for manufacturing are glass and drywall.
In the first case everything is quite simple. You should determine the size of shelves, order a glass from the master and attach it to the wall using decorative holders.
The Council
! To ensure complete safety and can zakrepiv sharp corners.
To make a product out of the drywall in several ways. It is possible to manufacture the frame from a material and connect it with special screws. For those who have wall fitted with plasterboard will fit this option. In the wall you can just cut different size niches that serve as shelves for various devices.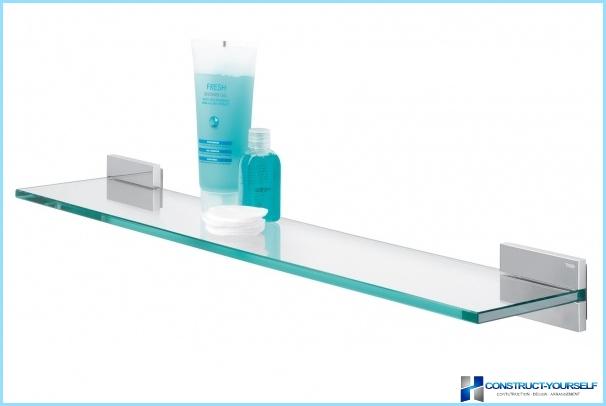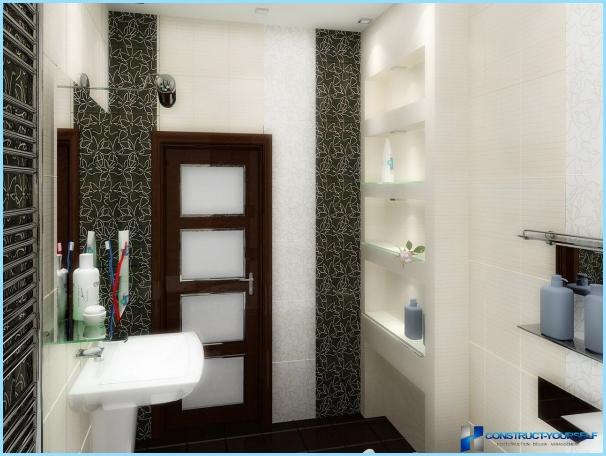 To visually see how these accessories are installed, it is recommended to watch this video. This example provides a method of installation of the corner shelves for bathroom.
Content related