Small bathroom in many apartments -it is, unfortunately, not uncommon in our homes. The designers of well-known reasons were extremely stingy when determining the bathroom, toilet and kitchen in the old houses. And the country's only "Khrushchev" up to 10% of the housing stock. And now the huge size bathrooms in most homes typical series do not differ. However, owners of small apartments hardly makes sense to support conversations that due to a small area in such bathrooms can not use all the existing diversity of design solutions for this. Yes, there are certain restrictions (the size of this issue is important), but subject to certain rules and the application of known techniques of visual expansion of space, your bathroom will be one of the most cozy and comfortable rooms in the apartment. In his desire to transform the bathroom is better to be guided by Chekhov thought that kratkost- sister of talent. So beautifully decorated interiors will be irrefutable proof of your great talent in design.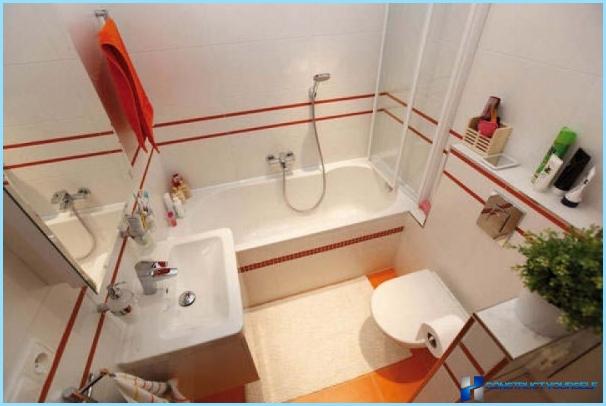 In order to become a cozy bathroom andmembers of your family happy to have visited her, not only considered as a technical room where the wash and brush their teeth, it is necessary to solve two problems: to choose the appropriate size of the bathroom design and organize its space properly. Remember that registration of a bathroom should be left to chance, but in this case the result will please you with repairs. Will help you in your work three allies: the color, shape and light. Refer to the paradoxical idea that anguish does not arise because of a lack of square meters, but because of wrong organized space. These tips are not intended for novelty and originality, but they are useful, for one simple reason - they are tested in practice:
Choose a design style: classic, modern, ethnic, whatever, that will help you to achieve the expected results from the repair bath room. It may be quiet, just relaxing, classic interior design. Or a modern, energetic and invigorating. Or unusual and mysterious ethnic. Under the selected style will be easier to choose finishing materials, santehpriborov accessories.



Remember, small decorations,present in large numbers in the interior design of the bathroom, would destroy the integrity of the perception of space and make it easy to set different areas and corners. Better not to join as many of these elements, and to focus in the design of several larger: the mirror over the sink, lighting, original hanging locker for every small things. It is possible that it will be enough and one of the decorative elements.
Use the visual extensionspace. Traditional bathroom tiles bright pastel colors make the room visually larger. Good "working" light beige, light blue, light green and classic white. However, this does not mean that necessarily need to do the bathroom monochrome, contrasting inserts and decorative borders will look great.


The selected tile with a glossy surface reflects the light and enhances the visual effect that is perceived more spacious bath room.

To a place in the bathroom and will tile withphoto printing. Spatial drawings on a hot plate, especially wildlife image - receiving another visual expansion space small room like a floor unit with a darker color than the color of the ceiling and walls.

Stacking rectangular tile horizontally visually expands the space, stacking vertically "raise" the ceiling.



Important!

Select the mirror over the sink size wider than most shells, and height - above the head of the adult member of your family, standing to his full height.

Preference is given to the mirrors with a narrowframe or at all without it. This mirror will be one of your "ally" in the fight for an increase in visual room. A great number of mirrors small bathroom is better not to overload, but mirrored door hanging lockers and insertion of mirror tiles on the walls will help you in the task of visually increase the area of ​​the bathroom, while maintaining the integrity of perception.



Bright Mirror suspended ceiling will operate an additional "mirror" in the bathroom.


Think about lighting. It is desirable that the light was as close to natural. To do this, choose a small size lighting fixtures, which will give a diffused light. Well help solve this problem spotlights mounted in the ceiling of plasterboard.



Properly organize the space of the bathroom. Try to keep the maximum possible number of things in the lockers. Hanging on hooks towels, robes, washcloths, sponges will select the space that you so needed.

Choose compact santehpriborov and furniture. It is compact and not very small. Buying plumber, look at the beautiful and functional hanging toilet. They will act only seat, the tank is hidden behind a partition.


Convenient and suspension sinks. Under this shell is placed a washing machine.


Suspended sink can be purchased complete with a pedestal that will solve the problem of storage of small things.


Instead of the usual mirror can buy hinged door cabinet with mirror and lighting. One purchase you close the three positions.


Little family may be sufficient corner sink - a significant space saving.


In stores you can find a very original plumbing kits. This is a great option for small bathrooms:

The main "resource" to save space in the bathroomroom - bath. In small rooms it occupies an entire wall. Here you advice does not help any designer. Some can not imagine a bathroom without the "main" santehpriborov and take a bath time. Many believe enough limited shower. Think about what is necessary for you. As the Council: ordinary bath, the length of which is 1700 or 1800 mm, you can change to a compact bath. So savings of 300-400 mm.

There are different options for corner baths. It looks modern and stylish interior, free space for a washing machine or furniture.


You can completely abandon the traditional baths andinstall shower cubicle. It is better not to buy the most compact (700h700 mm), and choose a more capacious. Modern showers are equipped with many additional functions, and in addition to the already familiar to many hydromassage, can even replace a sauna.


When designing the interior small bathroomroom rate for the use of wall covering not only traditional ceramic tiles and other finishing materials: wall panels and decorative stone. Winning looks combination of these materials.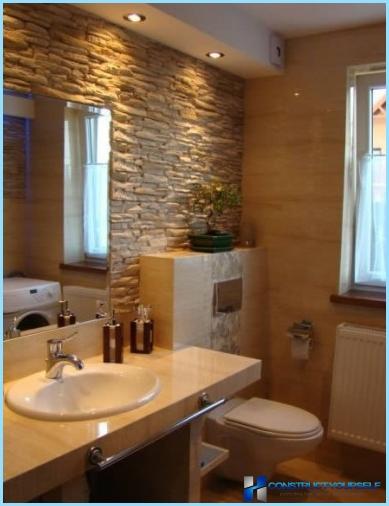 At facing of walls with ceramic tiles to achieve interesting design, you can use a decorative border and mosaic panels. This bathroom looks very impressive.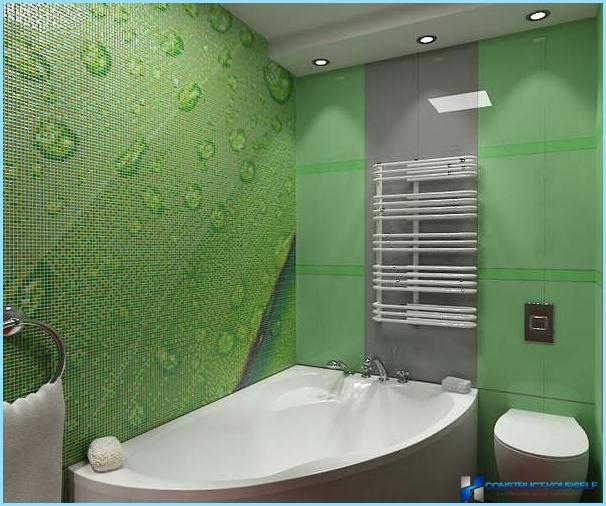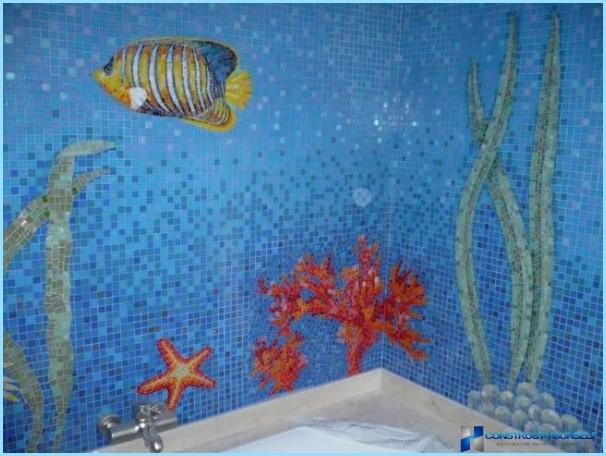 A small, but much-needed win in the space, give the bathroom door, which opens into the hallway.
Modern showers themselves areinterior decoration bathroom. It is important that this is not necessarily the most expensive cab. Shower will be a central element of the interior space, and the design should be developed, starting from its registration. Dance from the shower instead of the stove.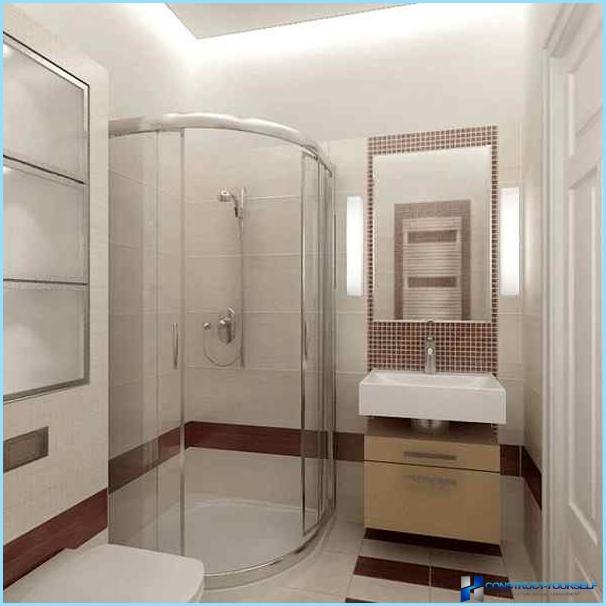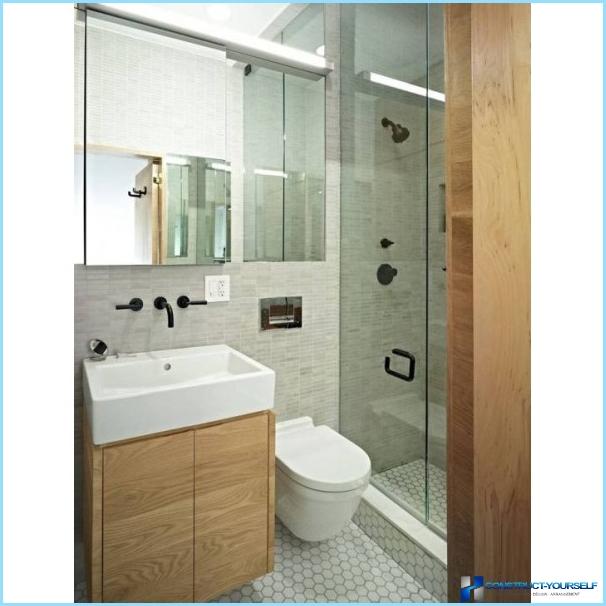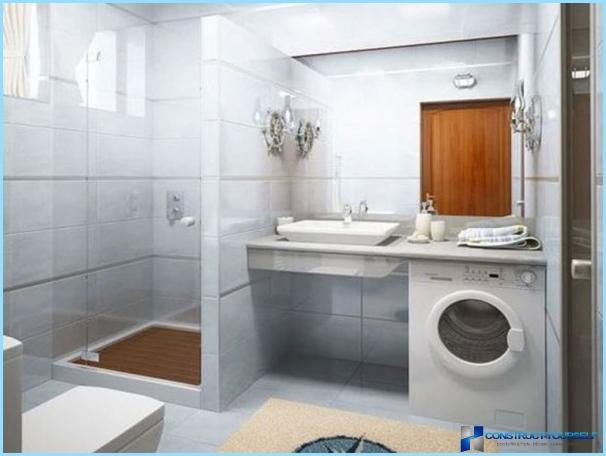 When designing a small bathroom combinedespecially important to organize the space correctly. In each such space important square centimeter. Hanging toilet, corner or hanging sinks, sitz bath, shower will allow you to post in this room all the plumbing and furniture. You do not even have enough space for a washing machine.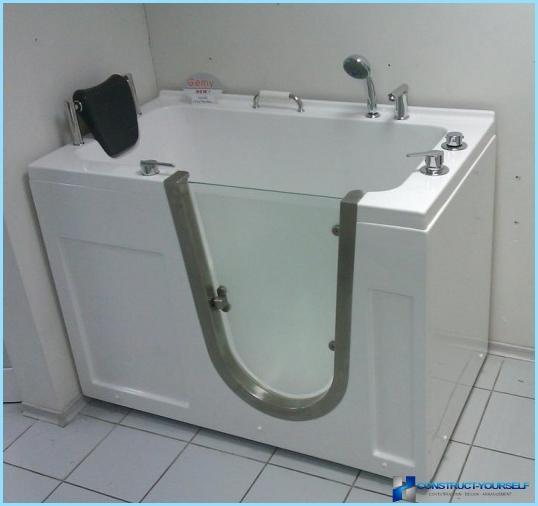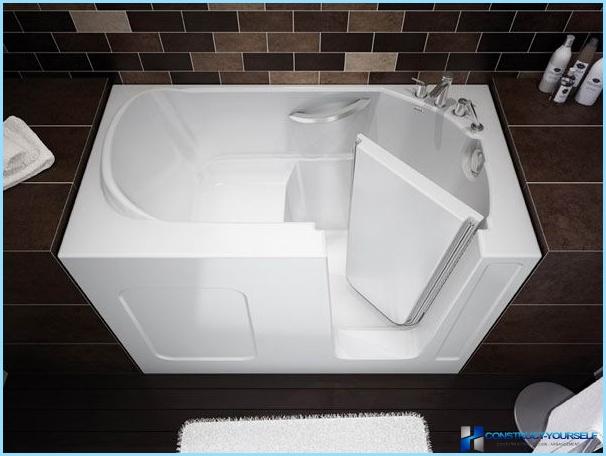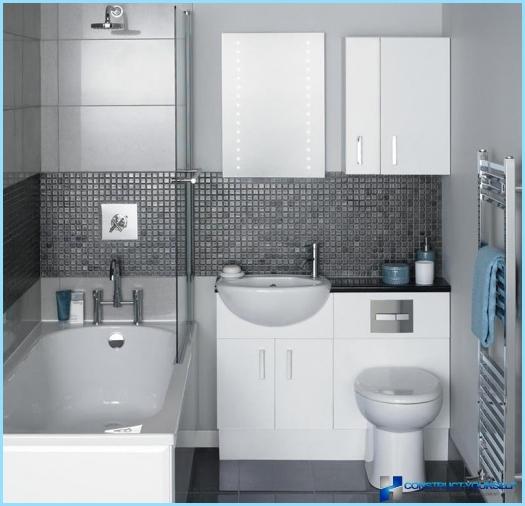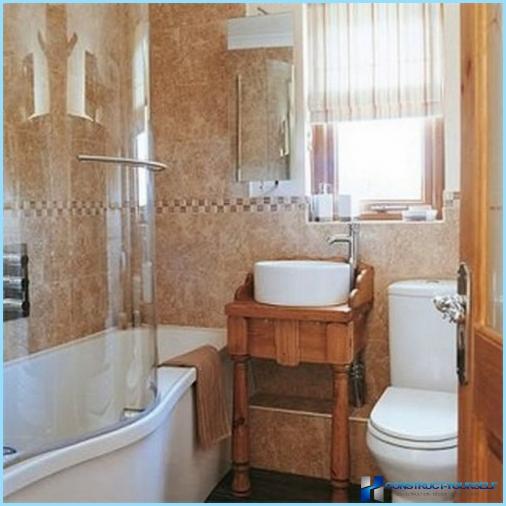 Very important!
Remember that "no gods pots". You certainly will succeed. It is important to find an option that suits you is interior design small bathroom, then gently and efficiently to realize it.
Finally, another tip. Looking through the options of interior design on various websites, pay attention to details. Such as number of rings in one line. On some sites, you can often see photos of bathrooms, which are presented as achievements of designers of the company on registration of small spaces. Counting tiles allow you to understand the true dimensions of the bathroom at the pictures - they are at least three times more and this option is you just do not fit.