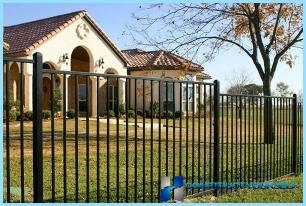 What sort of enclosure is best to use for your land? Here is one of the first questions who visits its owner. After all, a fence creates a sense of security and hides all your possessions from the prying eyes of strangers. Recently, the increasing popularity began to use metal fences. It is absolutely clear, because they have affordable price combined with high quality and long service life. In addition, the metal is durable and fire resistant material.
There are many types of metal fences:
forged;
Cavanaugh-welded;
mesh-netting;
made of steel sheet;
welded mesh;
metal rods, etc..
Consider the installation instructions for the most popular metal designs.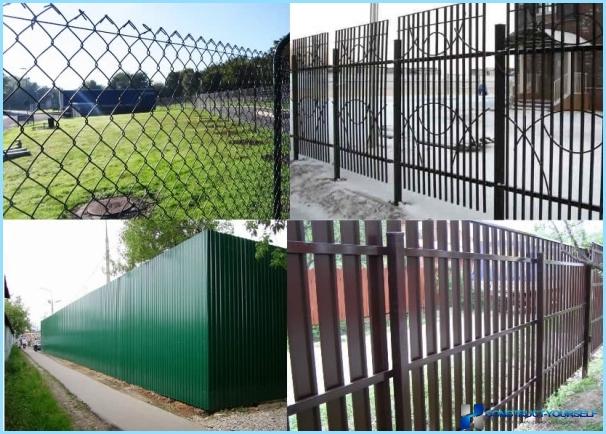 The main advantages of a fence made of profiled sheet are:
complete impermeability to prying eyes;
easy to install;
no need for frequent painting;
durability.

The sheet metal is of different size and thickness. You need to buy trapezoidal sheet not thinner than 0.5 cm from different manufacturers Have different coating of steel sheets:
galvanized trapezoidal sheet is the cheapest, therefore the most common option;
trapezoidal sheet coated with a polymer compound of plastics and synthetic resins. Such steel sheets on top of the zinc layer is applied a layer of polymer which gives the material a more intense colour and high corrosion resistance;
trapezoidal sheet with a polyvinyl chloride coating is very resistant to mechanical stress, but this coating is quickly destroyed by long exposure to direct sunlight. This is the most expensive type of steel sheets.
You should buy trapezoidal sheet, corresponding to GOST 24045-94. Do not buy trapezoidal sheet with high gofrey (more than 21 mm), since they are designed for roofing and have too high rigidity.

Stage 1. The first step to installing a fence made of profiled sheet is a plan with the indication of perimeter fencing, its height, location, gates and doors. Next, you need to identify the location of the poles, the distance between which should be no more than three meters. Be sure to brew the top edge of the pillars in order to avoid corrosion.
Stage 2. Dig holes for posts. For this you will need a drill. To work the drill, in this case, easier than a shovel, and the result will be faster and more accurate. The depth of the wells depends on the height of the corrugated sheet, i.e. the higher it is, the deeper we dig. The depth should not be less than one meter, otherwise the fence may be carried by a gust of wind.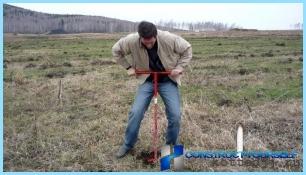 Stage 3. At the bottom of the pits, pour gravel, broken bricks or gravel layer with a thickness of about 20 cm and Then vertically install post, well it lock. Fill the hole with cement mixture. Next, you need to give the cement to harden. It occurs in approximately three days.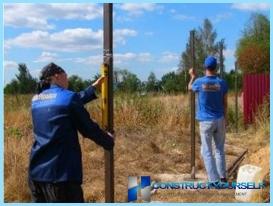 Stage 4. Metal profiles are made of transverse logs and are welded to the posts. You can make them out of wood and firmly bolted to the posts welded to the plates. In any case, after installation of joists necessary to process anti-corrosion agents.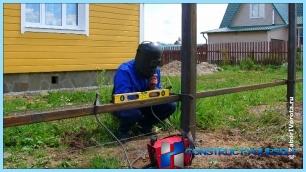 Stage 5. Fastening of steel sheets to the joists. For this you will need screws with a length of 35 mm. to Strengthen necessary every 500 mm. the Edges of sheet metal are extremely sharp, so to make the mount better special gloves.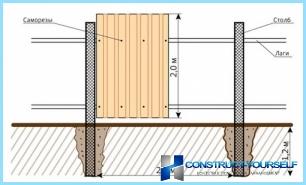 Tip:
after installation on proflist almost always leave small scratches, so you should have a can of spray paint to eliminate them.
Live fence of corrugated steel sheeting with their hands:
Fence mesh is the cheapest and easiest to install option. It is also like a fence made of profiled sheet, it is possible to install it yourself, without involving specialists.
Metal mesh come in several forms:
Welded mesh (wire diameter is 1.2 – 4 mm) is divided into:
galvanized welded;
non-galvanized welded;
ungalvanized, coated with a polymer material;
masonry;
reinforcement;
road.
Welded wire panel (wire diameter 4 – 6 mm).
Mesh netting is divided into:
galvanized (wire diameter is 1.6 – 5 mm);
non-galvanized (wire diameter is 1.2 – 5 mm);
non-galvanized with polymeric coating (wire diameter is 2.5 – 2.8 mm).

The choice of mesh is influenced by the tasks it must perform. If you need to protect your site from intrusion of large animals and birds, that is fine mesh with large cells. It is also suitable for decorative purposes (creation of hedges, lace fence, etc.). If you are planning to breed at the site the Chicks, ducklings and other small animals, it must choose the grid with the smallest cell. For protection of a front part of the plot it is better to buy welded mesh, because it looks more solid and difficult to cut with wire cutters or break. Also it is possible to install the barbed wire that protects you from intruders.
Stage 1. Also, as in the first case, you need to plan the location of the fence. Then mark it territory, installing at the corners of the wooden pegs with a tight string between them, along which every 2.5 – 4 meters are installed pegs to mark location of support pillars.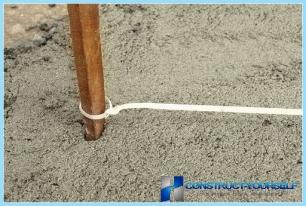 Stage 2. Dig a hole under the metal posts using a drill, of course, you can use a shovel, but as mentioned above, it is not so convenient. Due to the low sail and light weight mesh, holes under columns can be made less deep (80 cm) than when installing other types of fences.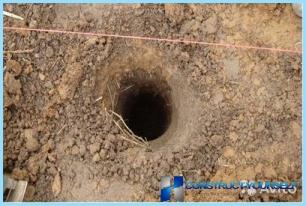 Stage 3. Column set in the hole vertically and covered with brick rubble or gravel, can be filled with concrete for greater strength.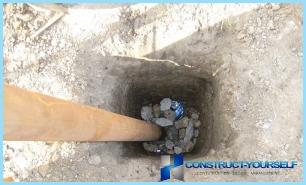 Stage 4. Set the grid on the pillars. Mounting options mesh:
mesh-netting and welded mesh can be fastened directly to the posts by stretching. Welded mesh is best to attach to plates welded to the columns;
another option for attachment mesh-netting is its fixing on poles with mounting wire, but then it must be cut into pieces equal to the distance between metal poles. This option is more time consuming but more reliable. This design will long be taut and, even in the case of sagging, you will easily be able to eliminate it;
you can fill the grid in a metal frame. So it will look more attractive, but the process of installing mesh in a frame is quite complex;
welded panels can be attached to the joists or on a plate welded to the columns.
Fences made of metal mesh, is very popular. You can find them everywhere, both urban and rural areas.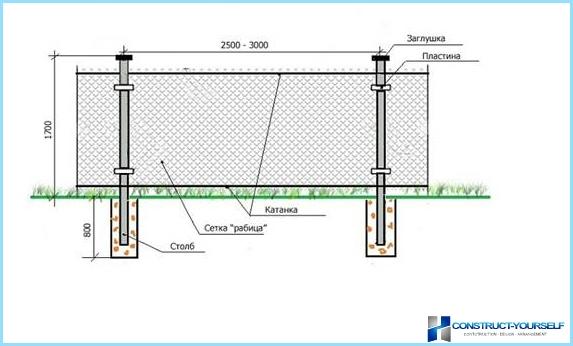 Video of the installation of the fence mesh netting:
This kind of fence will improve your site, it will not create shadow for ornamental plants, but will make your home impregnable. Due to the high elasticity of the material, you can decorate the fence with absolutely any decorative elements.
The main advantages of a fence made of metal rods, are:
high strength;
the aesthetics of appearance. On the Internet you can find a large selection of drawings, paintings and photos of fences from metal rods with decorations that look like works of art.

easy to install finished sections by welding and fastening of materials;
a fence of bars is a bit more expensive than other types of metal fences, but he's better and doesn't require constant repairs and maintenance.

There are several types of fences made from metal rods.
Welded wire fences. This kind of fencing is done from welded together metal bars which are located on the metal profile. A fence made in the shop. At the place of installation are pillars of brick on which to base the design. Its height is usually not more than five feet. It is very sturdy and does not require special care. And jewelry, which are usually attached around the perimeter of the fence, make it elegant and original.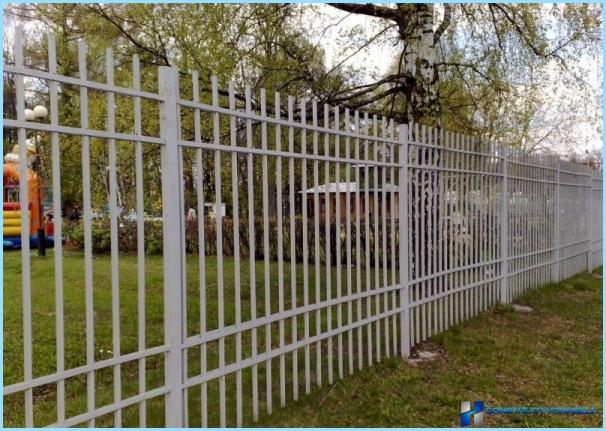 Wrought-iron fences. Wrought iron fences are the most expensive, but their price is justified. First, they are the most sturdy form of metal fencing. Second, it is custom-made according to the sketch agreed with the customer, so by installing it, you become the owner of unique fencing. Installation of iron fence is a section by section. In this section, are fastened together with metal clamps by welding. What makes the joints between the sections strong enough.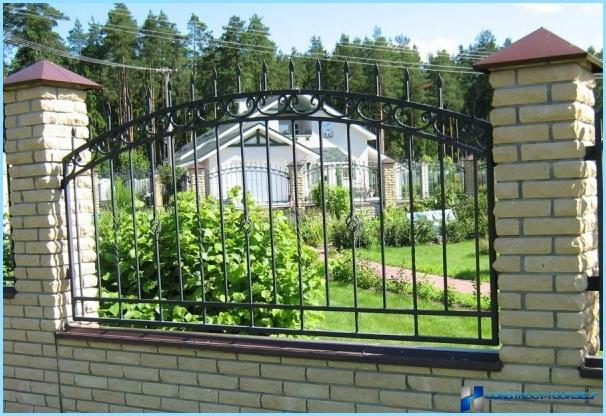 Video how to make a wrought-iron fences:
A fence of corrugated Board. This kind of fence made of metal rods has the lowest price. It is galvanized with polymer coating and galvanized. Most often a fence of corrugated Board installed for the protection of large areas.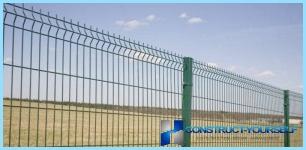 Stage 1. Create a plan on which to display the location of the fence, metal post, which will be attached section and the location of gates and doors.
Stage 2. In this step, you install metal poles for mounting of sections. This is done similarly as with the installation of metal fence mesh. As posts it is better to use a simple square profiled pipe, which due to its shape, has boning, so it can withstand heavy load.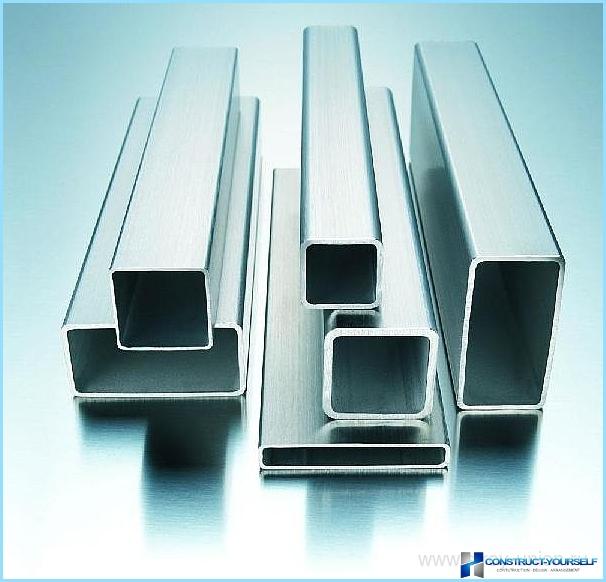 Stage 3. Attach the section to the established poles by welding.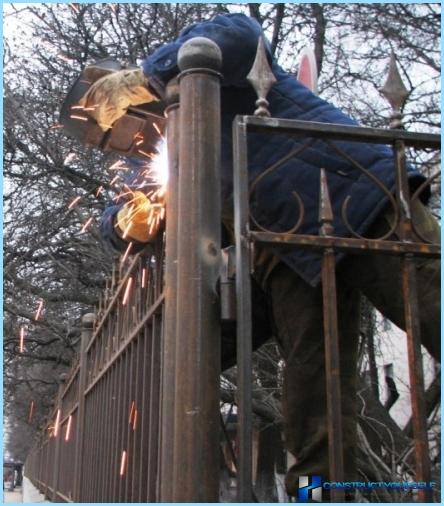 Stage 4. Staining installed a fence in your chosen colour.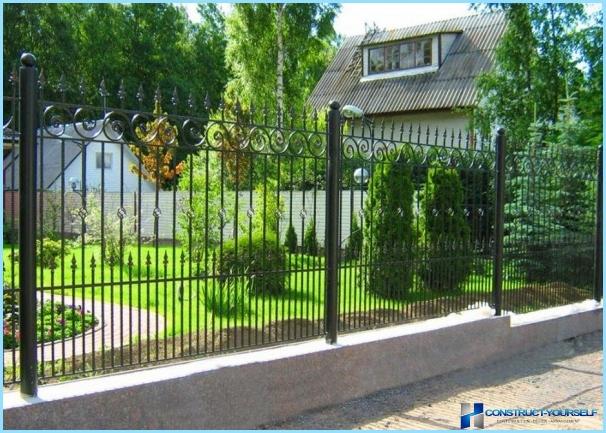 We reviewed the features of the design, installation and use of the most popular types of metal fencing. Each of them has its pros and cons. In General, each of them has a high strength and durability. Sets them apart to a greater extent, the price and beauty. In order to choose the most suitable option of metal fence you have to determine usage and amount of money you are willing to spend. As can be seen from the foregoing instructions, installation metal fence is simple and can be done independently. So, make your choice of your desired fence, you can safely proceed to its installation. Success!
Content related