Children – flowers of life. Caring parents are willing to do anything that their child has grown healthy, was happy, know the world and develop. What develops is better than a fun game, especially if they are outdoors and in the company of the little guys? One of the options of how to occupy the child that he forgot about the computer or smartphone in the house is the sandbox.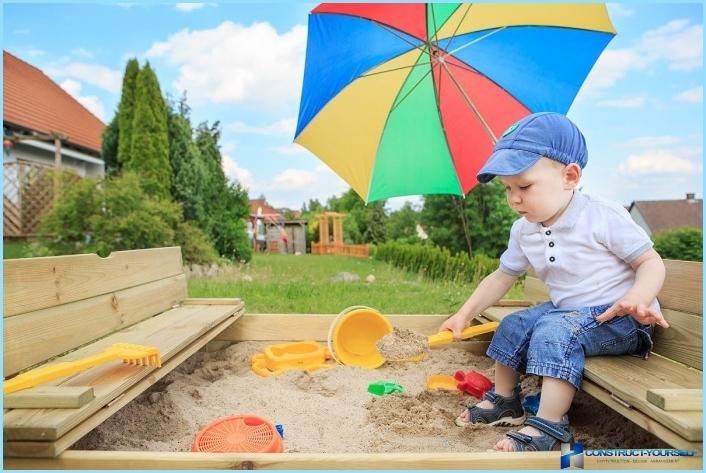 We all gladly remember the times when they themselves in childhood made sand castles, used molds and built whatever came to mind. Such play in the sandbox develop imagination, attention, memory and overall development of your child. So it can reveal its creative nature. But, not everyone can boast a sandbox in my apartment. Some homes do not have these games intended for children. Still, it does not matter, because you can make a sandpit for the garden with his own hands. This article will help you learn how to do it and what to use when building.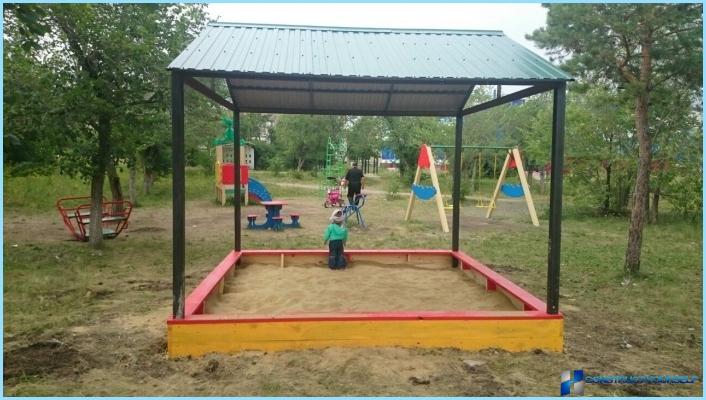 How to start building a sandbox for summer? With the choice of location. This is a very important stage and it should not be approached lightly, placing the pad anywhere. There are specific rules, following which you will be able to do it right:
The main rule of the game must be in your field of view. For anybody not a secret that children need control. Therefore, do not hide game for other buildings in the country or too far from the premises. Children must be visible from Windows, especially from the kitchen (most often the mother spends time).
Cleanliness is a very important element for children. To sand inside is not clogged with leaves, droppings of birds, branches, etc., it is not necessary to build a children's sandbox for the garden very close to trees and bushes. Attention! Extremely it is forbidden to place it close to with old dry trees that may fall.
At each site there is a place where in the peak heat of the sandbox is in the shade. That is the place you need to find that children feel comfortable and not exposed to sunlight. Ideally, when the sun's rays will get only in the morning or evening. If the place is always in the shade without dampness in spring and autumn can not do.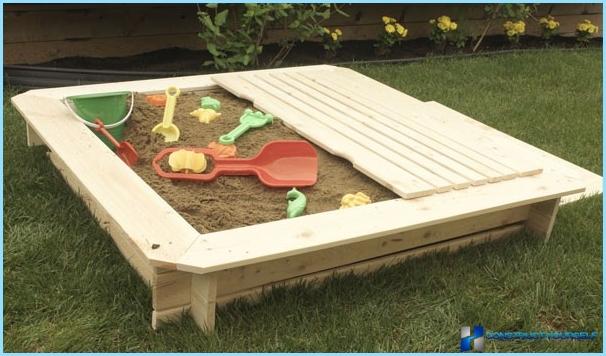 So, having determined the appropriate place, you can begin to address the question of how to build a sandbox at the dacha with his hands. It should be noted that this task force any person, even without specific construction skills. All you need is patience, materials, tools, and strict adherence to instructions.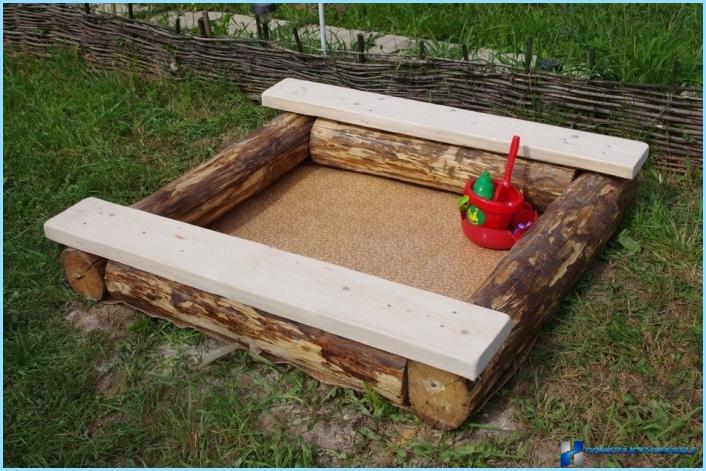 It is worth noting that will to build a wooden sandbox for the garden. Wood is a classic building material, which has a number of positive qualities, one of them is environmental friendliness. For the child's body is very important. In addition, the price of the tree is not high. So, what you'll need:
Wood 45?5?5 cm – 4 piece.
Wooden boards 150?30?2.5 cm – 8 PCs.
Door handle (sand box for the garden to be with cover).
Shovel.
Nails and a hammer.
Bulgarian.
Gate hinges.
Pegs and rope.
Dust collector and sander.
Varnish and paint.
Roulette and level.
Antiseptic.
Paving slabs, geotextile, or plastic film.
Now, let's consider how such a set of materials and tools to make a sandbox in the country. Attention! You may think that it will be easier to buy a ready-made sandbox. But wooden products are very expensive, and buying plastic is not effective, because they will last a long time.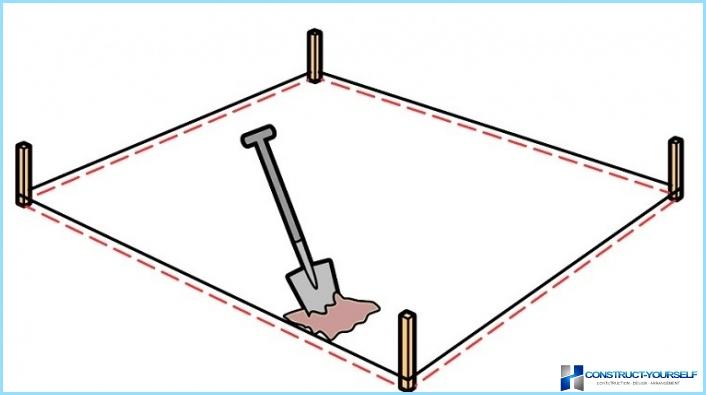 The first thing you need to prepare the ground for the sandbox, not the sand was mixed with the earth, and it does not turn into a swamp after rain. Once you have where it will be sandbox, it is important to make another choice – its size. Depending on desires, it may be different. There are still some standard for children 2-5 years old, based on which, the sandbox doing the $ 1.7?1.7 m that is the sandbox to the country for children we will consider.
The place where you will work in advance, prepare: remove all debris, leaves, and all that would interfere. Now make marks on the ground.
Tape measure 1.7 m from each side and hammer 4 pegs on the corners. Again, measure, then pull between the poles of the rope. It will serve as a guide.
In the marked area, remove the topsoil layer of 30 cm In the center dig a kind of drain well: a hole in the 55 cm deep and 35 cm in diameter. There pour pebbles or crushed stone and tamp. So that water will flow inward from the sides of a small slope. So, after the rains, the sand will dry much faster.
Carefully align the sides of the perimeter.
In the end, you should get area of 1.7?1,7?0.3 m with a slight slope inward. Now proceed to the laying of the Foundation of the sandbox. In his role, and can serve as paving slabs, geotextile, plastic sheeting or even plywood with drilled drainage holes. It is clear that for a sandbox for kids at the cottage with their hands do not have to make a base, but it will protect baby from insects and rodents that can wind up in the sand from the ground. Your chosen material to creep on the prepared sandy base, whose height is 5 cm.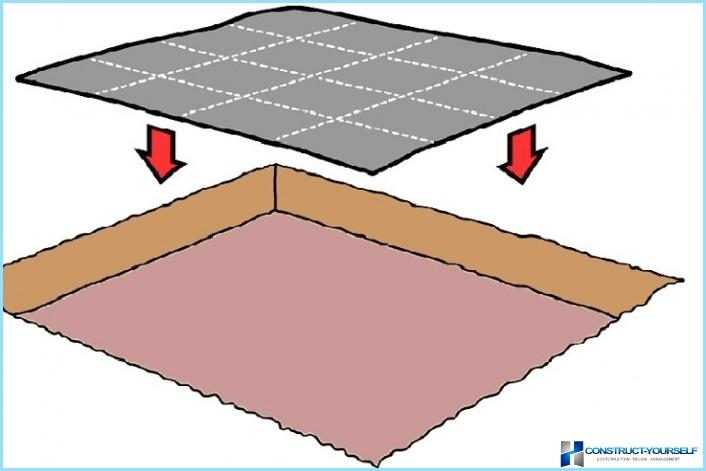 As the boards will serve prepared sticks and boards. But materials must be well processed and polished, so that children do not suffer from splinters. For hand sanding you can use a special machine, drill or grinder with a special attachment. To protect the wood from rot, cover it with antiseptic or varnish.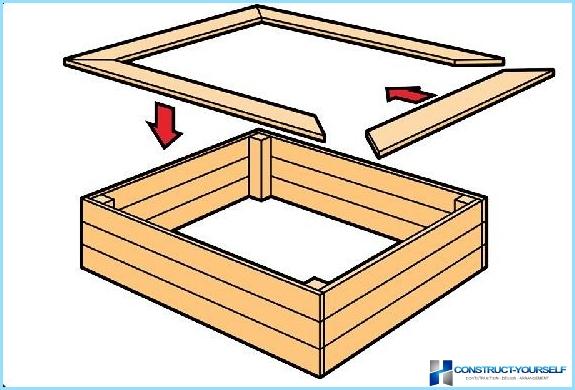 The bars need to dig vertically in the 4 corners, furthering their 20 cm into the ground. They will be a support for the walls. Take 4 boards 150?30?2.5 cm, and nail them to the vertical columns (bars) with nails. Instead of nails you can use screws. In the end, the walls of the sandbox are the height of 30 cm When you have no boards, width 30 cm, you can use other, of a width of 10 cm. Only then they will need 12 pieces (3 per 1 wall). Still, we recommend you to do a single frame, reinforcing its corners and screws.
In conclusion, the perimeter walls of the nail 4 boards in a horizontal position – this seat for children, where they will rest after their «important» Affairs in the sandbox. In addition, the sand is to sleep abroad. Please note, in order to correctly nail the boards, their edges need to be cut at an angle of 45?, then when matching at the corners, they form a straight angle. Now, your wooden sandbox for children in the country is almost ready.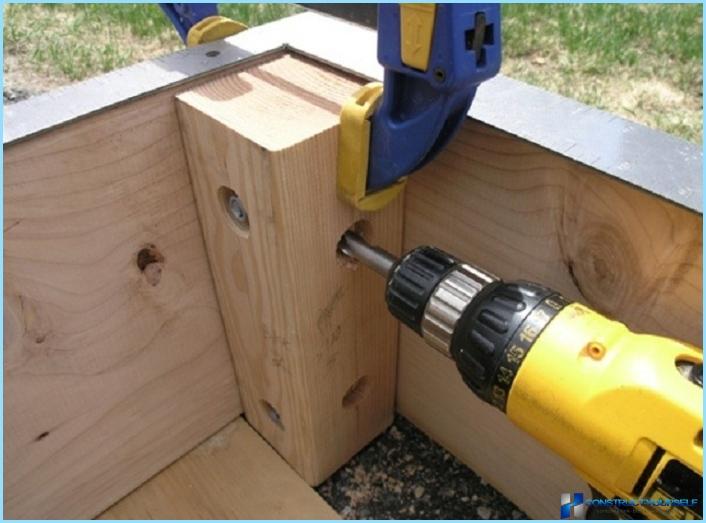 Most of the work done in the country, but not for less important things. At this stage, you need to choose the sand to fill the sandbox. To these works should be treated with special responsibility, as the child in direct contact with him, and it's affecting his health and safety. Buying the sand, you need to pay attention to its quality. According to the requirements of GOST (8736-93), the sand should be:
clean, free of impurities and other components, such as: gravel, clay, sulfites, sulfur, river sludge and pulverized substances;
it should be no large particles such as shells, pebbles, lumps of clay and other debris;
he must pass a sanity check that will show if there are any pathogens of various diseases.
We recommend you to buy washed river sand. It is ideal for the sandbox in the country and meets the requirements. It has almost no impurities. Special quartz sand – another good option. Anyway, after purchasing it again to sift through manually. If it is delivered wet, wait until it dry and sift.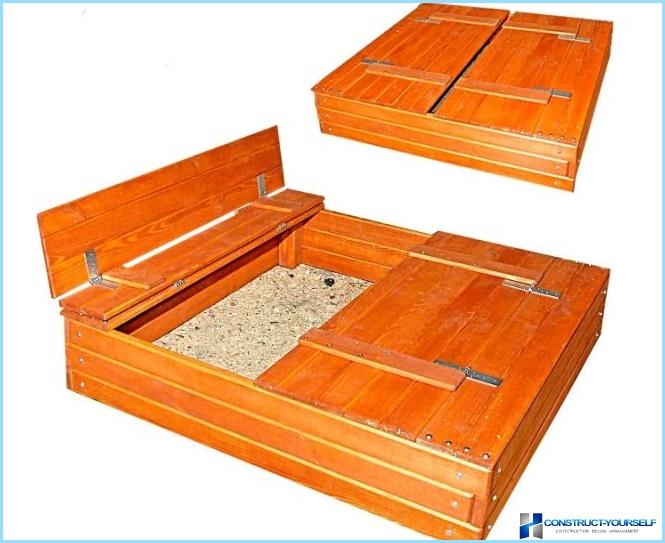 The children's sandbox to give their hands to perform many useful features. But, it is important to make sure that they were clean and there were not debris and animals. You can cover it with awning or film, but it is not always convenient. It is better to make a special cover of the same boards. They need to knock down, making the shield. To it attach the handle. Another option – lid in 2 pieces fitted with handles and hinges. A child's sandbox with lid to give just open and it will be good to protect the sand. Optionally, it can lacquering or paint.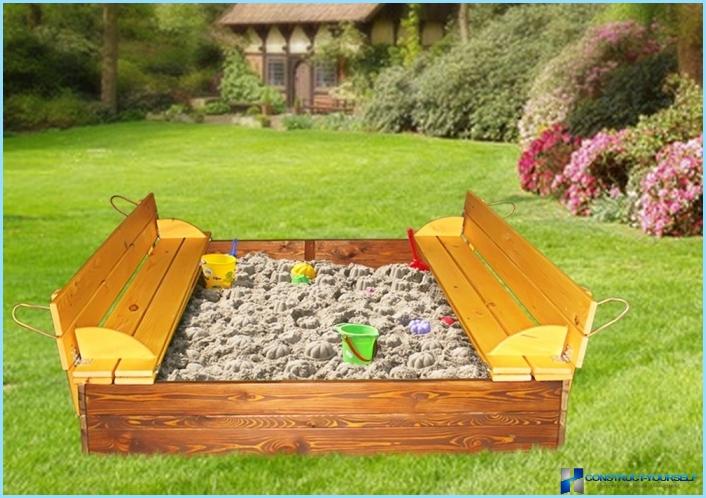 That's it, such a simple design in the country will delight your children for years to come, and you will have peace of mind knowing where your child is doing. Still, variants of the sandbox to give there are many more. They can be equipped with a canopy made in the form of a ship, machinery, etc. it All depends on your desires and fantasies. We invite you to see photos of games at the cottage, hand made.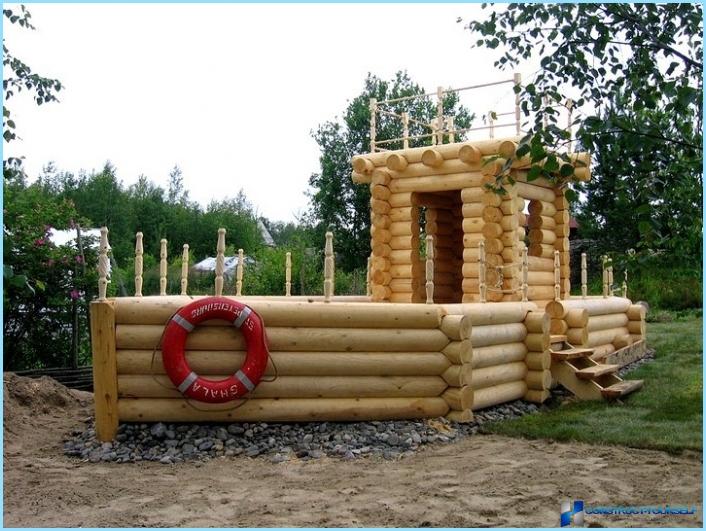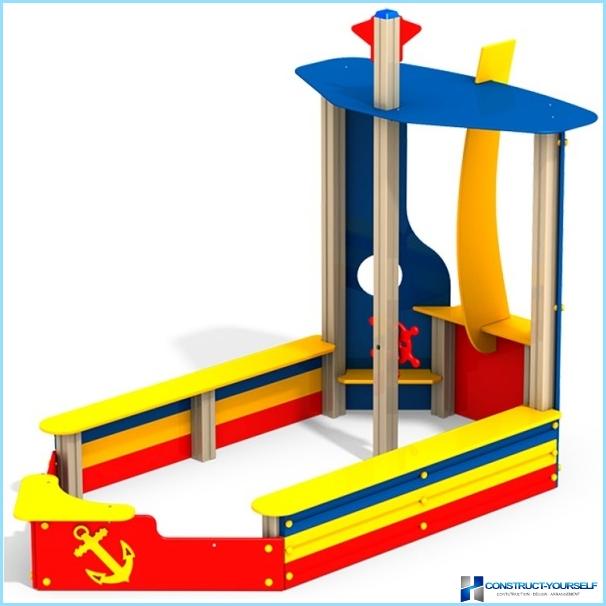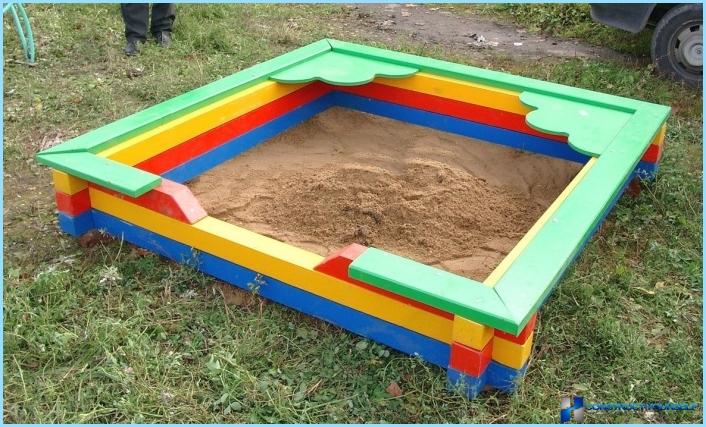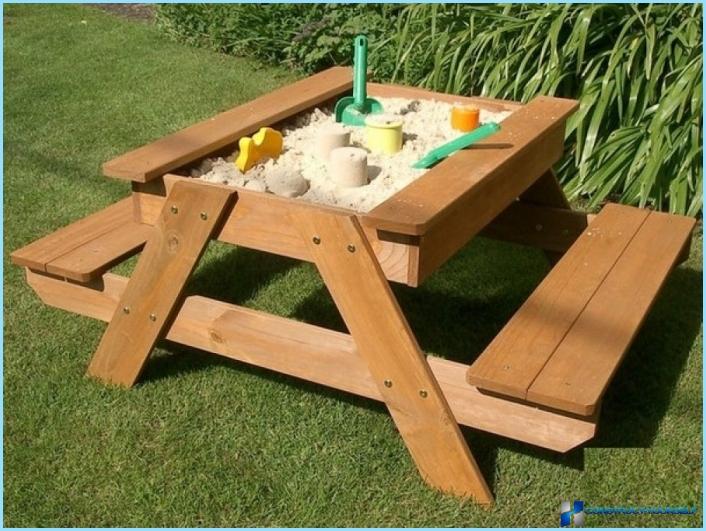 Content related