Summer season everyone tries to use to recover. For this approach any kind of entertainment in any place remote from the city bustle and dust. Most of us prefer the combination of sun and water treatments. Not everyone can afford annual trips to the sea. The owners of suburban cottages and private plots, escaping for the summer or just a weekend out of town, try to organize your holiday by the lake or river. But what about those summer residents who have in the foreseeable visibility is not more or less suitable for the rest of the pond? There is only one way – to create such places in their area.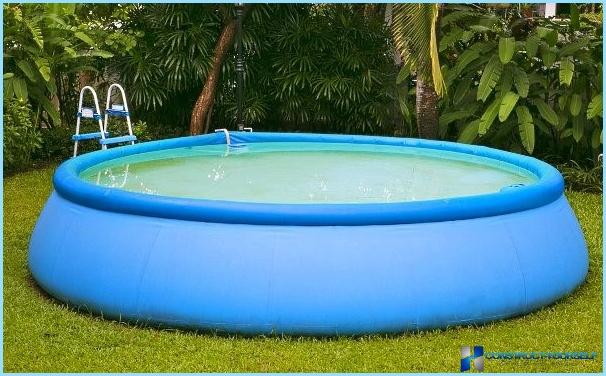 However, there is also a problem – building a pool troublesome, but also not cheap therefore not everyone is fit. Therefore, a suitable option is the inflatable pools for villas. This artificial reservoir has a lot of advantages:
affordability – everyone can purchase it without compromising its financial condition;
no need for complex preparatory stage – just enough to release the platform from grass or debris and level it;
easy to install – easy to inflate with a pump (you can use a regular pump, which is available to every motorist);
easy care – poured water (in some kits include a pump for this purpose), washed, can be re-fill liquid;
freedom of movement of the inflatable pool on the territory of the site, it is possible after draining the water to move it to another place (in the shade or, on the contrary, the sun);
a wide range of models for every taste, different diameter, height and configuration;
small dimensions deflated do not cause difficulties in storage or transport, can be put in package or small box and then store in the attic until next summer.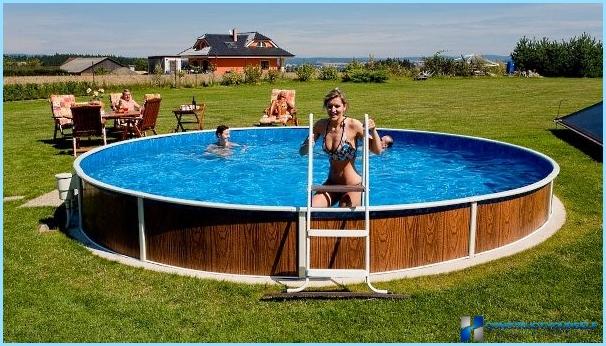 Before proceeding to the study of various types of inflatable pools for the garden it is necessary to mention the existing (very significant) disadvantages.
On the basis of the material for the production of such inflatable containers for bathing, is determined by their lifespan. I must say that the maximum period of operation of the inflatable pool for three years. The walls will simply collapse from exposure to bright sunlight, or can be damaged by the claws of Pets or other sharp objects.
The main problem always is to drain the used water, especially if the font is of large diameter. Not every dacha there is a possibility of unproblematic disposal of several tons of water. Even if the kit comes with an inflatable pool filter with replaceable cartridges, even he does not always cope with cleaning large volumes of liquid, so occasionally it is still necessary to merge and upload a new one.
Of course, if these problems do not scare you, then let's move on to the classification of street inflatable pools for cottages.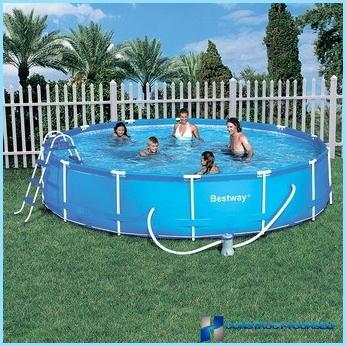 What is an inflatable pool. It is made of plastic system that when inflating the air retains its shape, including at the expense of the recruited water.
The difficulty of choosing is, in particular, in a variety of forms, manufacturers, and the quality of the material. Now let's consider the types of inflatable pools for cottages.
Their klassificeret by the following features:
material of manufacture;
design features;
the height of the bumpers;
geometric form.
The material from which the produce inflatable pools, it is a polyester or PVC film (polyvinyl chloride). But a significant difference between them. Different manufacturers use the same materials, but differing film thickness or number of layers in the product.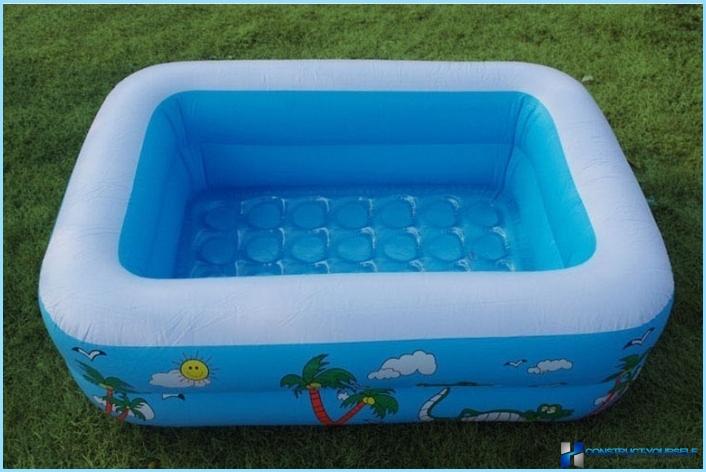 In appearance design, the pools are divided into:
fully inflatable, when a hollow wall, and in some cases the bottom, completely filled with air;
liquid model, where on top is the camera for inflating air and as you fill with water it rises, acting as a side, and the remainder of the walls and bottom are not filled.
The height of pools klassificeret as:
font, with a skirting height up to 170mm. They are mostly used for kids under the age of one and a half years.
Capacity, with a height of about 500 mm. Such as they are often called «the frogs», suitable for children up to 3-4 years.
The water sides of 700-750 mm, for children 7-8 years.
Pools with tall walls 1050-1070 mm. Are font become for teenagers.
Capacity for swimming adults, or a group of teenagers older than 14-15 years old, have a height more than a meter. They are supplied with ladders, inflatable bottom, fountain, awnings or other additional accessories.
Artificial capacity for swimming differ also in form. Inflatable pools for the villas can be oval, round or rectangular. The second option is most prevalent. This is not only more usual form, but the fact that it is easier to place such a container on the site, and in addition, the load (pressure) on the walls is evenly distributed, which is also important, especially for safe children.
We present you photos of various inflatable pools for cottages.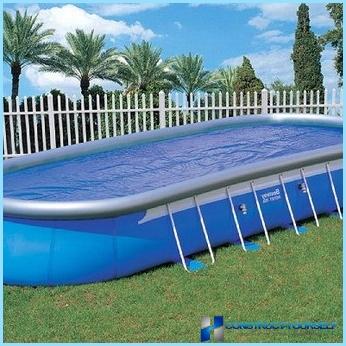 When choosing an artificial pond to give you need to pay attention to some important settings.
The thickness and strength of the walls of the inflatable pool are the most important settings that you should pay attention when choosing. A great option – container with reinforced bumpers.
The strength of the bottom, is also an important characteristic. The thicker the bottom and the number of layers, the stronger and safer an inflatable pool. If you can not find an ideal flat area to house the pool, it is best to choose a model with inflatable bottom.
The presence of the pump and system for water filtration of pools relevant for large volumes. They will help quickly fill or drain the fluid and also to purify the water from microorganisms or the tiniest debris.
For inflatable water sides is more than one meter, it is better to buy a model with the presence of stairs. But you can buy it separately.
If the inflatable pool is acquired exclusively for children, it makes sense to consider additional accessories. It can be various slides, fountains, awnings from sun and rain.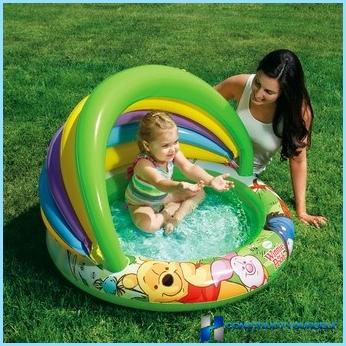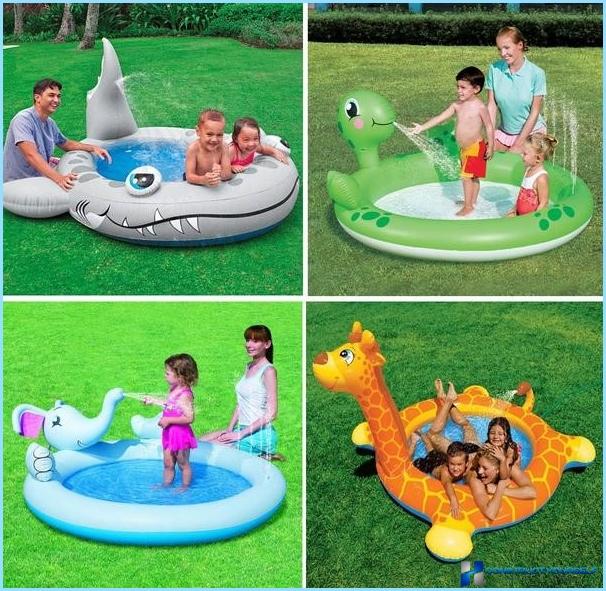 But for adults, you can also find the most incredible models. Manufacturers have even provided an inflatable Spa pools to give.
A bit to deal with the classification of basins and main criteria of their choice. Now let's get acquainted with the most popular manufacturers of inflatable artificial reservoirs.
First of all, the pool garden inflatable Intex. Today this American company is a recognized leader among manufacturers of similar products. This was achieved due to the high quality of the certified products, large assortment and correct pricing. Material for the production of (vinyl) only excellent quality, durable and environmentally friendly.

Not inferior in quality inflatable pools German brand Wehncke. This firm has long been known as a manufacturer of inflatable products (mattresses, swimming pools, and even beds) based on the latest technologies. Wide range, interesting design, procurement with a large variety of useful accessories to attract buyers, forcing them to buy the products of this brand.

Of course, among the leaders in producing inflatable pools are not without Chinese brand Bestway. This product is produced in a wide range and is available to absolutely everyone, price. Different shape (sometimes very unusual), the size and the additional equipment of goods of this brand attract buyers. It's also possible different configurations of the required minimum to the possible maximum.

Pools French brand Zodiak attract potential consumers high reliability, quality and long service life. Company decades producing goods for recreation and tourism, managed to establish itself, allowing it to retain its leading position for a long time. Among its products inflatable pools for villas of different diameter and capacity. Modern design, wide range of models, additional tools and accessories allow you to choose every consumer of their goods.

If you are tired of the heat and decided to buy a pool for the house, I hope that by reading this article, I can confidently decide what model and what manufacturer want to buy.
Content related