Nowadays the owners of household plots, increasingly beautify your yard, creating stone gardens. At their creation does not require expensive materials or special skills. But such a structure will bring aesthetic pleasure and pride in front of guests.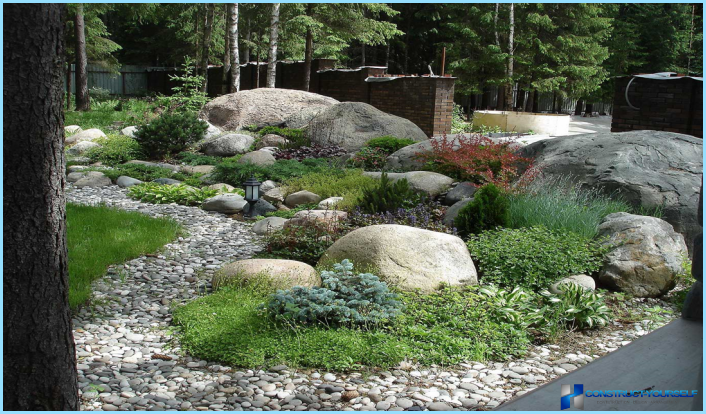 Not to be confused with a rock garden and a rockery, as it different types of stone gardens and vegetation for them to pick up different. Alpine slide is a more complex structure with mountain flowers. Rockeries create the most easier it is on smooth surfaces and slopes, perhaps with benches or stacked. The choice of plants for rockeries and much more depends on what style it is made.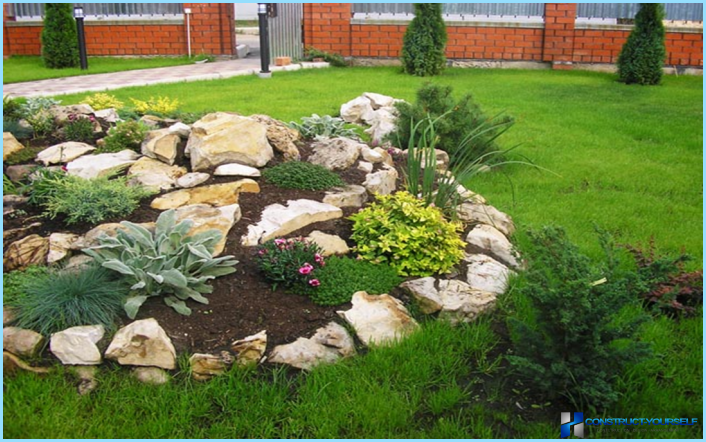 In the construction of rockeries, emphasis is on the rocks, that is why they are called stone gardens. The vegetation in this design, only a spectacular addition, so it is planted only when the garden is almost ready.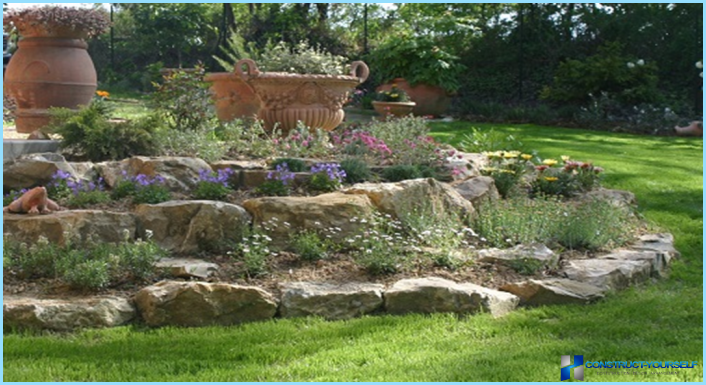 It is important
! Should not irresponsible to consider the choice of plants for rockeries, as the wrong choice can lead to the destruction of the entire composition.
Stone structures divided into a few main styles, based on their vegetation
Rockeries in Japanese style consists of a large number of stones of different sizes, rare green accents and covered with small pebbles voids. Here you will not see overgrown plants and colorful flowers. The greens simply select the spherical or multilevel horizontal forms. Stone Japanese garden designed for contemplation and relaxation, relaxation after a day of work and reflection about the meaning of life.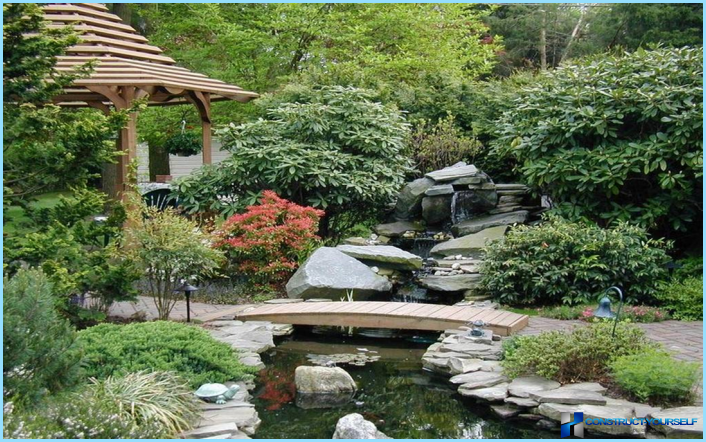 The green elements highlight the sophistication and magnificence of natural stone. Japanese rockeries select dwarf plants conifers, such as species of pine, spruce, arborvitae, junipers and cypresses. Suitable from hardwood: willow, cherry, Azalea, spirea, maple, Camellia, Mandarin, plum and peach.
Whatever plants for rockeries in Japanese style choose, the most important is the symbolism. For example, the Japanese believe that every tree or shrub has its place and its purpose. Coniferous – symbolize loyalty and longevity, the white plum in bloom – spiritual beauty, the Lotus is for purity, pink flowers cherry sensuality.
Rockery in the English style is a miniature coniferous forest with scattered stones at him. This style is distinguished, shimmering green hues of the landscape. In this rockeries use a dwarf evergreen shrubs and trees, e.g., dwarf spruce, thuja, juniper, cypress and mountain pine. In addition, it is possible to plant grasses, e.g. miscanthus or perennials such as houseleek, stonecrop, thyme, saxifrage, or cerastium.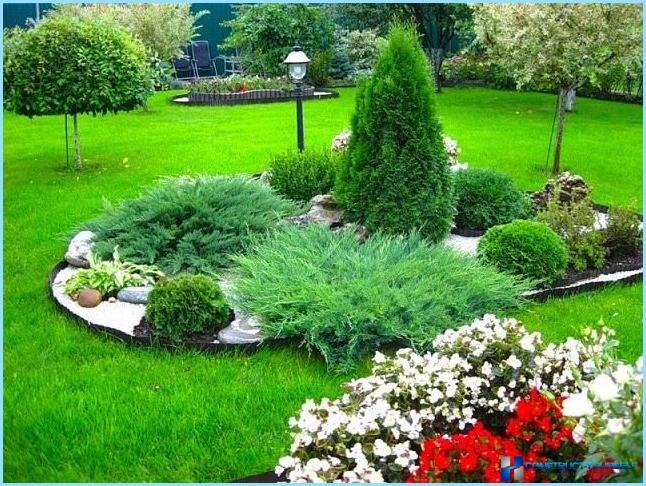 Such vegetation is low maintenance and well adapted in any place. If you want to add bright accents, drop two or three flower with not much variegated shades. For example, groundcover roses delicate shades.
European style
Rockery in European style is the most colorful and diverse. The variety of vegetation, this garden stone is more reminiscent of the constantly blooming flowerbed. Flowers and plants of the middle band, chosen at the time of flowering, one after another.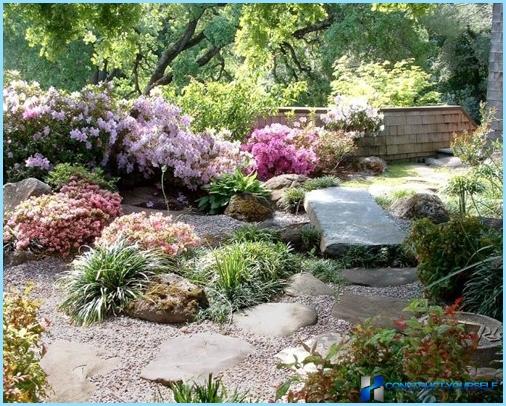 In rockeries European style, well get along and dwarf conifers and deciduous trees with flowers and fruits, and junipers with fir and boxwood with barberries. For color you can add azaleas and roses. Also amazing will look bright and plant hosts.
These are the basic styles of rockeries, there are many varieties, they differ primarily from plants used in the creation. Plants and compositions selected under the climatic and national conditions of the terrain. For example:
Rockery in the German style resembles the European, but its shape is more strict and accurate. In such rockeries are used not only wild and processed, creating one stone structures. Often, such a garden is built almost under the line also properly planted and plants. They delight in its splendor and power. Flowers are unpretentious and sure to bloom in different colors all season.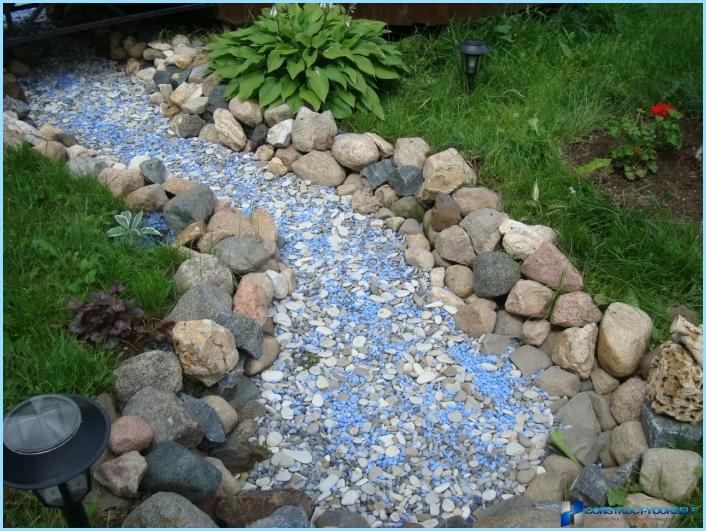 Rockery in the Italian style welcomes Alpine meadow flowers and conifers. The addition of this garden is a graceful wrought-iron furniture and small sculptures. The whole impression of this rockery in smooth and rounded shapes.
Rockery in the Mexican style very bright, due to the cheerful colors of the Mexican plants, for example, large flowering cacti. In our area this will not meet due to the specific plants.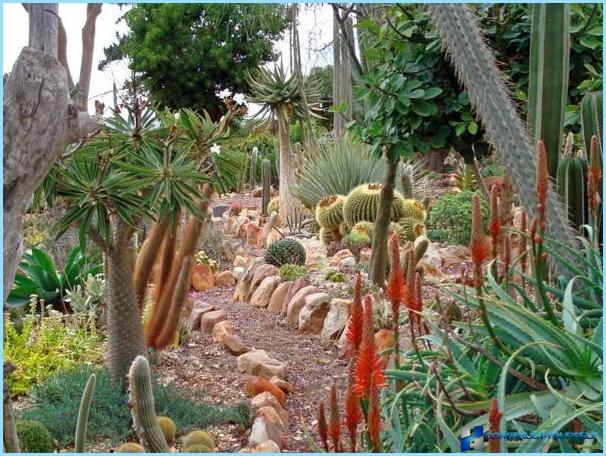 Rockery American style are often the decoration of the entrance to the house. They are small and more like the Japanese gardens.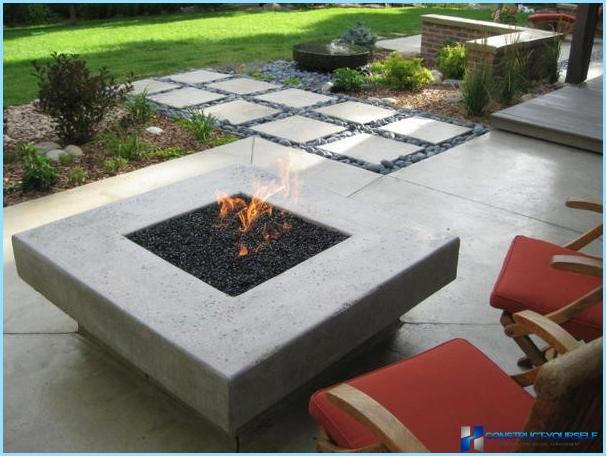 In rockeries Scandinavian style basically only conifers, which is typical of the harsh natural conditions. The emphasis is on decor rockery, here you can see the stone paths and a variety of figurines.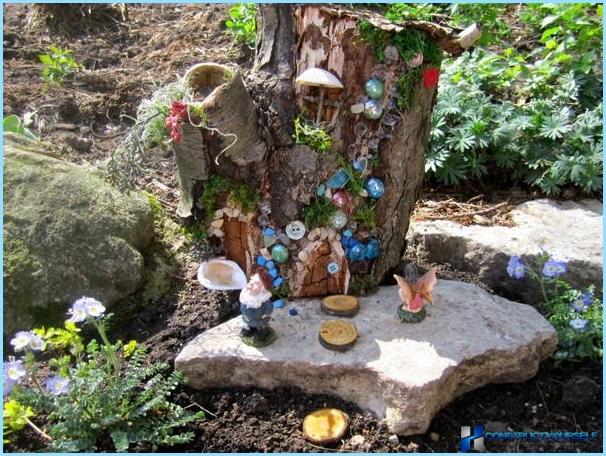 Rockery, tropical decor, also not very popular in our area. This garden is bursting with brightness and abundance of the large, powerful strong foliage plants.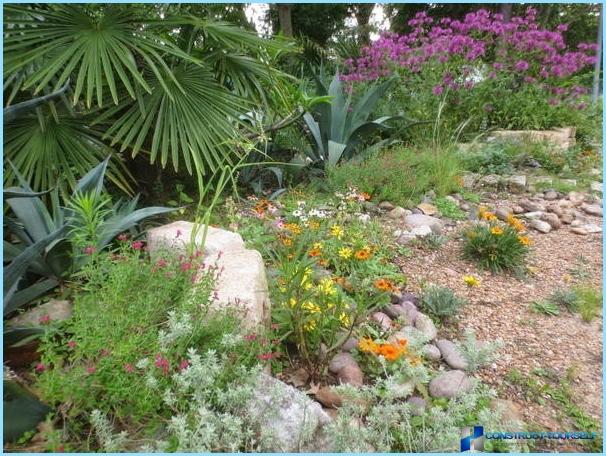 Rockery in the Australian style is an offshoot of the tropical. It is full of geometric shapes and technologies. Paint tropical plants burst into the geometry of the overall picture of the garden.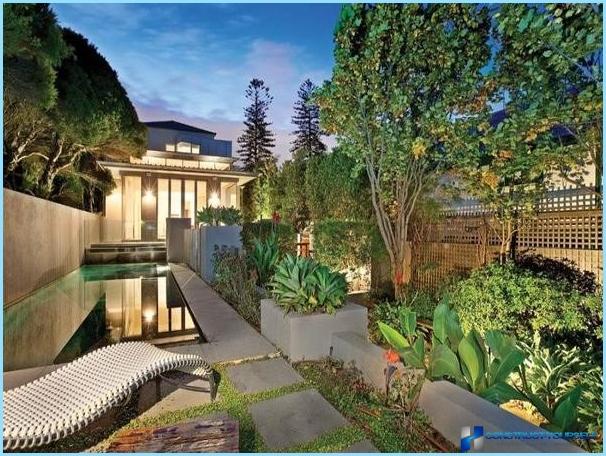 These species suggests that the device rockeries and a selection of plants, knows no bounds. Everyone picks their own style and can experiment with its forms and colors.
The Council
! Be careful with plants that grow rapidly. If they are not to thin, it violates picture composition and structure.
The types of rockeries are divided according to the degree of growth and saturation of plants living in them:
Temporary rockery is created on a flat, slightly elevated site. Plants to select him, given their relatively rapid growth. When the plants will grow, adjust rockery with stones and pebbles. This garden stone is suitable for those who likes variety, its gradual change will please the owner.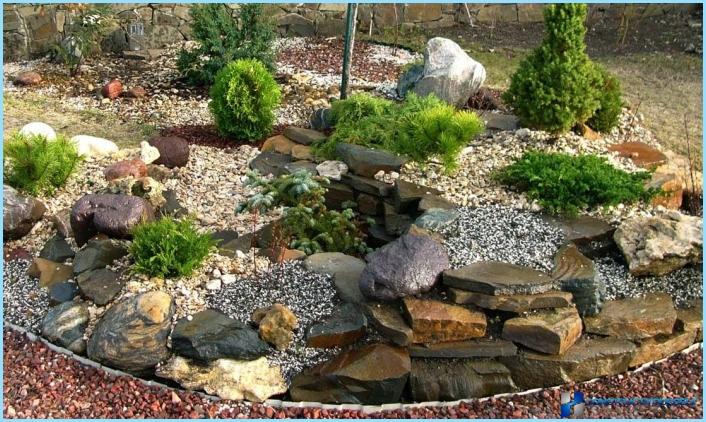 Stable rockery uses groundcover perennials that grow slowly and calmly tolerate a haircut. Plants are planted in groups separated by rocks to slow down the development. Eventually, this garden will fully merge with the landscape of the area.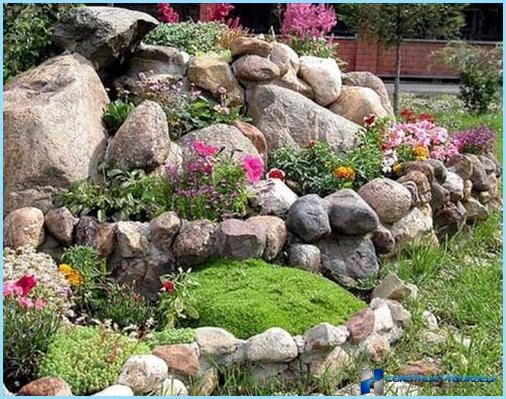 Volatile rockery, for people who do not believe in monotony. The plants are planted so that at any moment it was possible to replace them with something else. Annuals are usually planted and the following year changed to a new.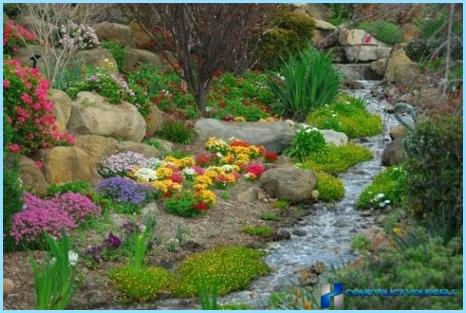 For most vegetation suitable mixture of loam, leaf soil, sand and peat. If the stone garden is located on the mound, natural or artificial, you need to give her time to settle in for a couple of months. Using the elapsed time to fill up fresh earth, and can be planted.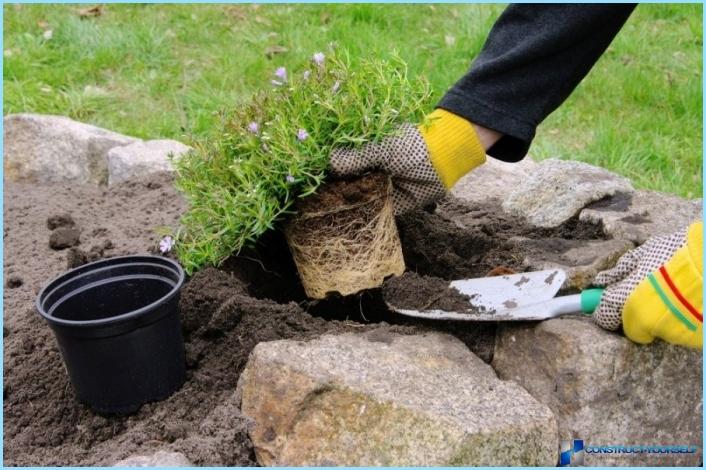 The plants are planted according to a certain order, first, woody types conifers, then deciduous shrubs and creeping after povorotnyi.
The Council
! It is not necessary to add the land of nutritional supplements, as this will lead to rapid plant growth.
Vegetation for styles and types of rockeries, is a little different, but there are common – it is compact and orderly, refinement and modesty. If the garden is in full sun, with a selection of plants no problems. Rockery in the shade requires more careful selection and search.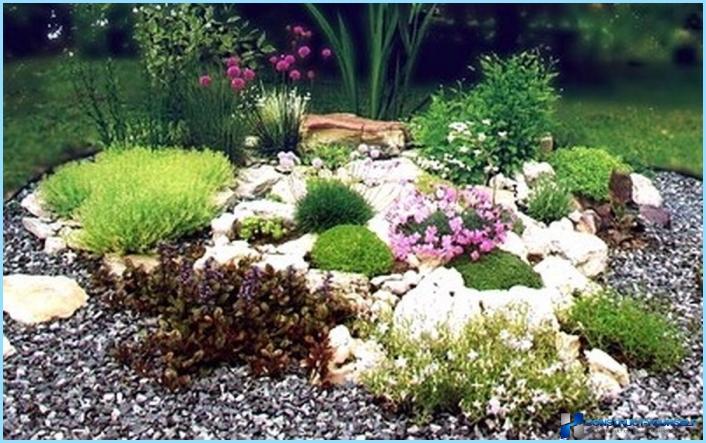 In the selection of green spaces is one major restriction – they must not be high. Flat rockeries not more than half, on the hilly – not more than half a meter. In fact, the choice is huge, use:
Almost every garden use miniature conifers.
Also don't forget about deciduous as crashworthy and decorative.
Certainly the presence of groundcover perennials.
Sometimes bulbous flowers occupy a niche in rockeries.
Before you decide with a particular plant for a rock garden, you should know whether the area in which he lives. Choose species that can easily adapt to a new place. If the rockery is created for the first time, pick a cheap exotic species in order not to regret if they are not accustomed.
To see what plants are planted in rockeries on video: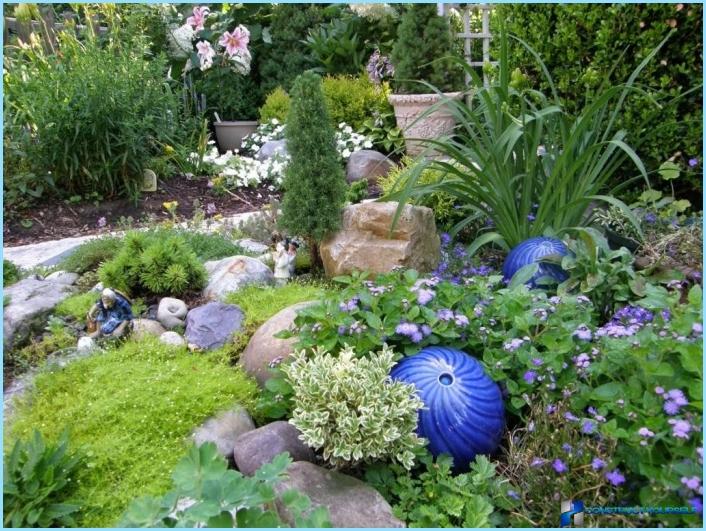 How to choose the right herb for rockeries, prompt a few rules:
The selection of stone for the garden only woody or herbaceous plants, will reduce its decorative effect.

When choosing, consider the speed of spread, duration of flowering, color and shape of leaves and flowers.

With plants you can create the height of rockeries. Ephedra will make it up by landing on the highest point and balance planted in the lowlands.

Pick up the plant needs to be in accordance with the style of the rock garden. In the composition of Japanese style, it is ridiculous to look colored flowers.

Do not get involved with too many different species of plants, otherwise this will turn into a normal bed.

Having green spaces, consider the features of each of them, with respect to moisture, light and soil composition.
Creating a green composition need to choose two to three plants that will be main and will attract first glance.
Choosing from a conifer, you can pay attention to the plants spherical shape, such as the dwarf conifer pine or Western cedar. Or conical shape, the canadian spruce, of female forms suitable spruce.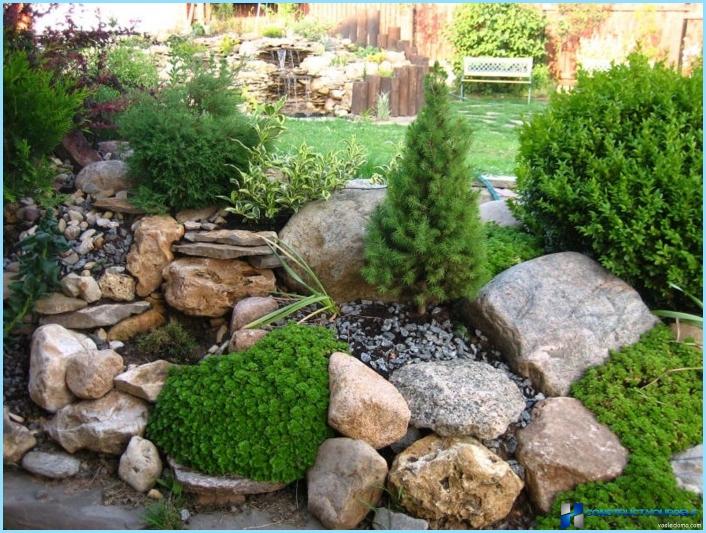 Of deciduous shrubs, you can choose Japanese or English coronal mock orange, dwarf varieties of barberry or Kuril tea.
This lower plants lends support to the dominant. Softwood is suitable microbiota perekrestnaya and juniper.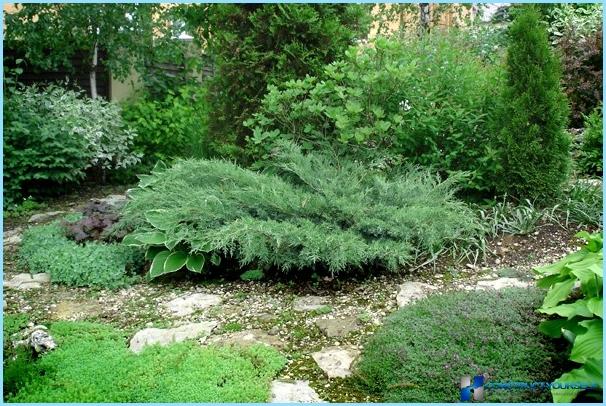 Of deciduous barberry Thunberg and canadian dogwood, horizontal and cotoneaster groundcover roses.
Such vegetation is usually planted on the edges of rockeries, they help smoothly transition into the surrounding landscape. With their help, fill the free space between the stones.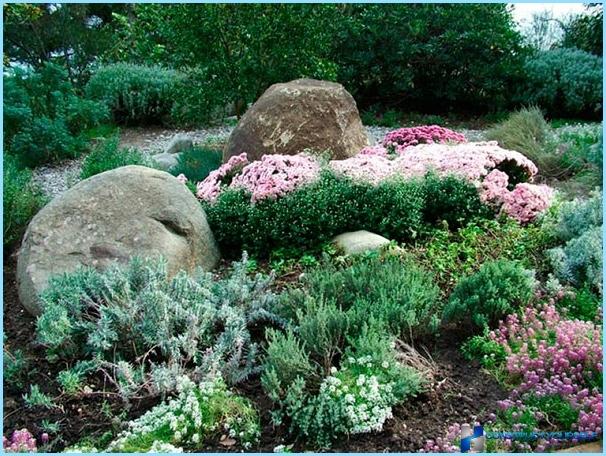 Usually use long povorotnyi such as Edelweiss and gentian, sedums and saxifrages, yaskolki and repucci, thyme and rejuvenated, Echeveria and milkweed, Phlox and low-growing pinks, obrieta, and gerbil, cereals and plant, Gentiana and bells.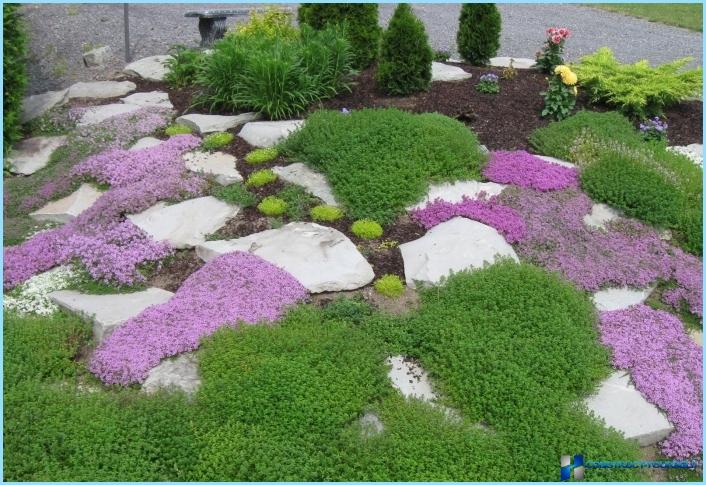 For early bright accents stone garden taking flower bulbs, small varieties. For example: Corydalis and Muscari, hyacinths and irises, crocuses and snowdrops, Scylla and prizemleniya. They delight with colors, when the main rockery plants are still asleep.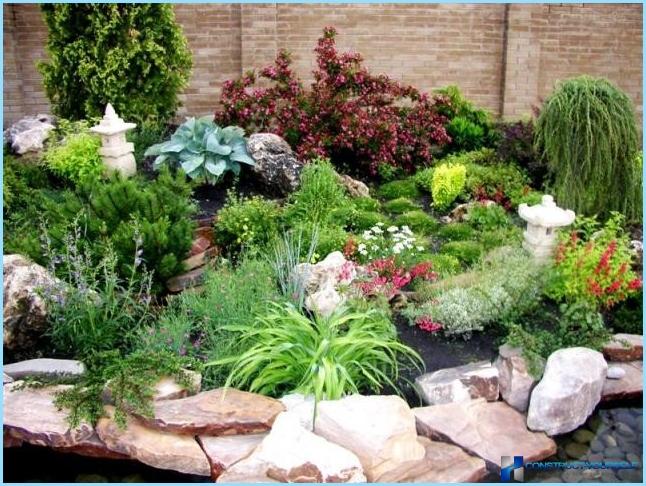 To rockery pleased with its colors correctly you need to build and take care of the plants. There are some basic rules:
On the future site of rockeries to remove the top layer of soil and placed drainage. this will help to remove the roots of future weeds and not worry about them in the future.
First planted high and large leaf plants, followed by smaller ones. This will help to arrange the greenery so that it does not conflict.
Don't limit fences, rockeries or borders. This will break the species composition and may negatively affect the growth of flowers..
Planting vegetation around the place is filled with small stones. The smaller the plant the smaller the stones have to be around him.
Free sites rockery between the main elements that will help to fill in creeper flowers or lawn grass.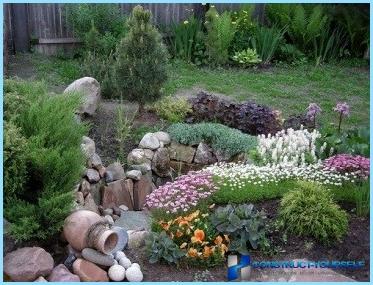 Rockery requires virtually no maintenance, this is mainly only care for the vegetable part of it. This is usually periodic weeding of weeds and watering, if necessary. Rare the crust of the earth, if necessary, and remove faded flowers. Mandatory pruning when growing strongly and replacement of withered plants.
Stone elements are not asking for care, sometimes report small stones.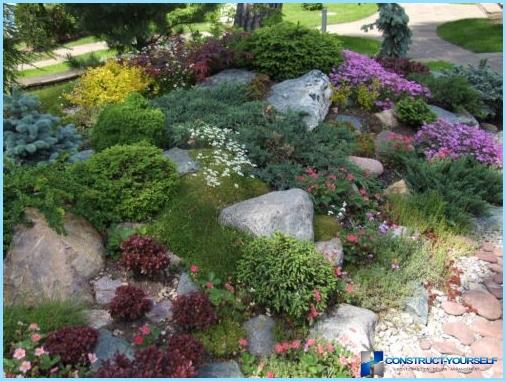 Knowing how to choose and plant ornamental blend fabulous rockery, you can get the satisfaction and joy for years to come.
Content related