Each owner of the land wants his garden was a truly unique and beautiful. As well as in the design of the housing plot, you can arrange different styles of landscape design. Each of them is similar, but at the same time, they are completely different. Therefore, before the rehabilitation of the garden are advised to check the most popular styles of landscape design and their characteristic features.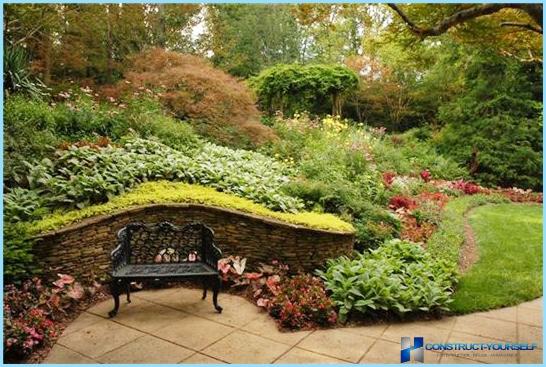 The main purpose of landscape style (his second name «English») – creation of a simulated natural landscape. At first glance, this task may seem quite simple, but in fact, growers should consider a lot of subtleties and nuances. In addition, do not do without the artistic eye.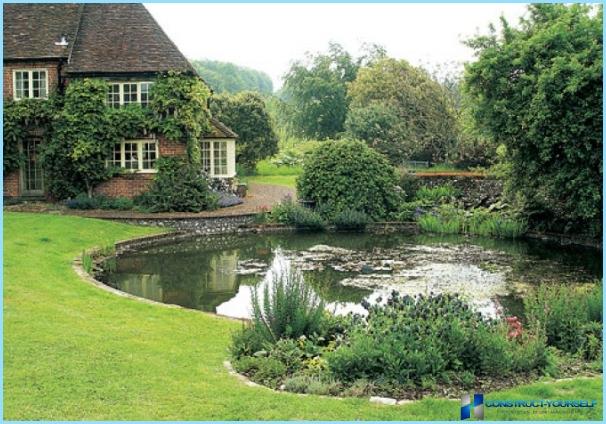 Landscape style in landscape design is distinguished by its asymmetry and lack of geometry, which are a prerequisite for the regular garden.
Landscape design in the English style should always be well maintained. But it is important, that it was not noticeable. Of course, in addition to the lawn, which must be precisely trimmed. Tradition to keep it in neatness the English originated more than one century ago.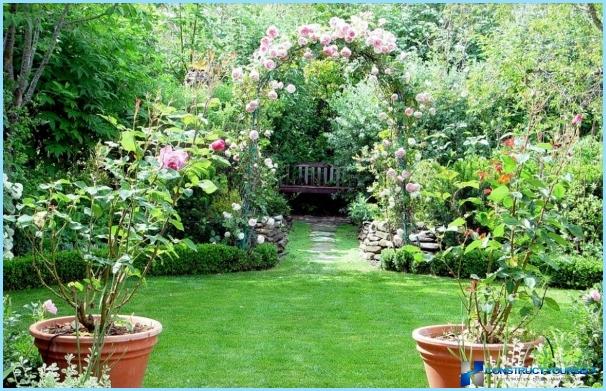 English style is neat lawn, winding paths, bushes, shrubs, trees, flowers. To bring the style to the end, it is desirable to have at least a small pond with water lilies and other plants. Also on its shore, you can plant a small weeping willow.
The Council
! For best visual effect, it is recommended to use the flowers that are well acclimatized in this area.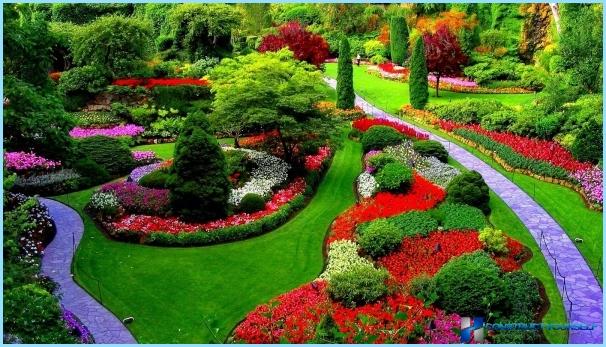 The most popular flowers are roses, hollyhocks, delphiniums, as in our conditions they grow best. The spring may be replaced with tulips, Crocus or Narcissus. Another important rule for planting flower beds is that they should grow fairly dense groups. This will create a more attractive appearance.
To complement the style of various gazebos, benches and similar items. However, to build them should be from natural materials: wood, natural stone. Also relevant are various forged pieces.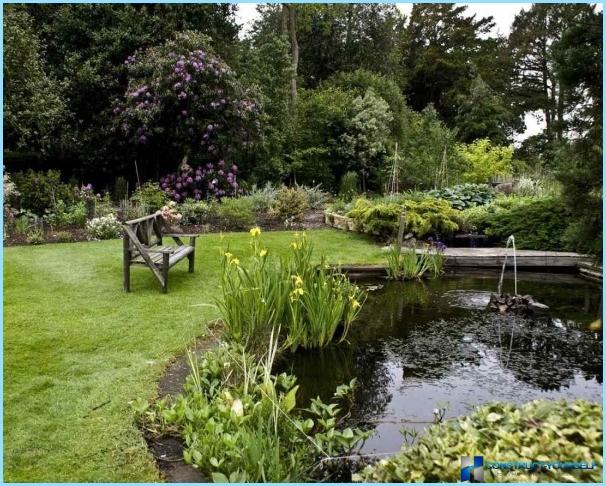 Also without attention do not leave the house itself. Porch can decorate the floor or hanging pots. And the walls of the building can be covered with ivy.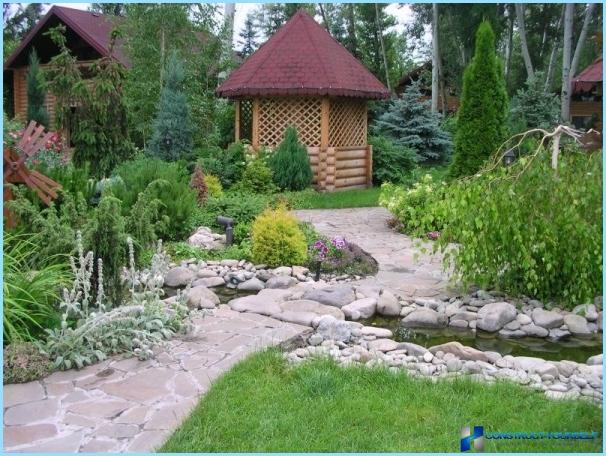 Rigor and absolute symmetry are prerequisites for recreating the regular style in landscape design. The most popular are axial composition. That is, in the center is the key object (a fountain, a large tree, a sculpture or even a house). And from it in different directions directed paths of regular shape, along which «covered» neatly trimmed lawn. Also relevant to the various flowers, shrubs, flowers and trees. However, they must be symmetrically located.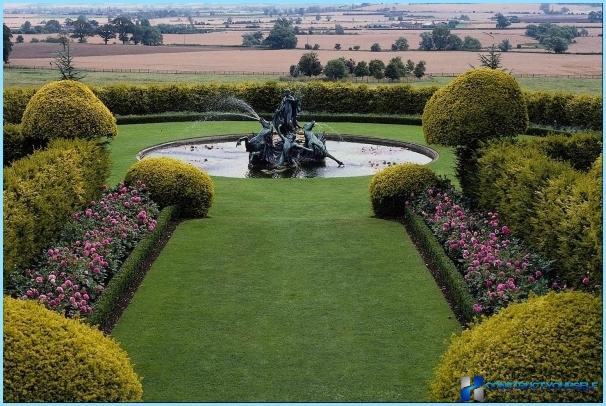 In addition, you can create colorful colored flower beds. Plants should be planted in a certain order, so during flowering created a beautiful and original pattern.
Complement the French style in landscape design can be various sculptures, as well as whether the natural and artificially created ponds.
Also not superfluous will be to create «gazebos», which can hide someone from prying eyes. However, in contrast to the English style, «built» they are of various bushes and called Bosket.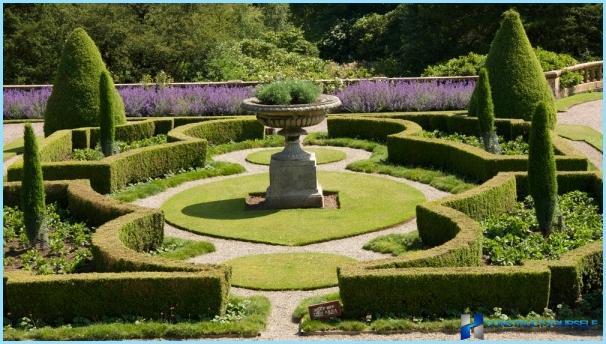 So the garden was really beautiful, it's not only the placement of plants, but their choice. So, to create a style you will need:
Flowers. In summer it is better to choose marigolds, Petunia and other species that bloom all season. In the spring, as well as in the previous style, suitable tulips and crocuses.

Shrubs and trees should be selected that confidently hold the shape after cutting. These include barberry, hawthorn, basswood, cotoneaster, maple, Spiraea, and others. Also, for symmetrical landings can be used fir.

Scandinavian style in landscape design is the abundance of randomly placed, but at the same time harmoniously combined with the elements and various plants.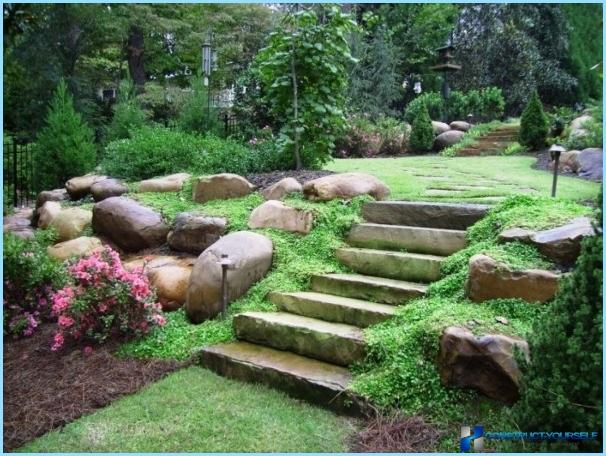 Garden furniture is an indispensable attribute of any garden plot. In this case, it should be wicker or wood.
The Council
! Often designers use as benches large hewn logs. And for better recreate the effect of nearby or there is any snag an unusual shape.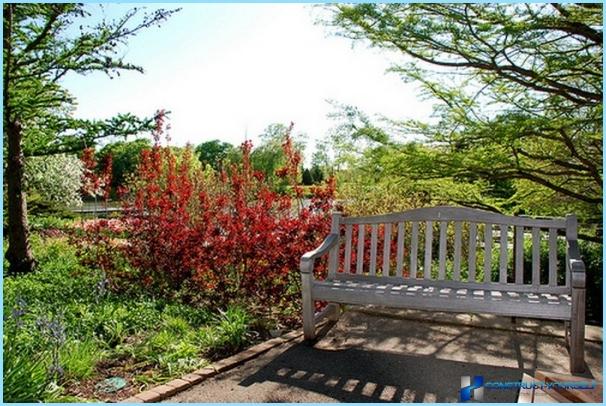 High green plants near the furniture should be in excess. Even better if their leaves they will envelop her.
The small details are the key to the successful creation of Scandinavian garden. Therefore, it would be wonderful if in the overall picture will be involved in various village utensils.
Scandinavian garden it is impossible to imagine without the stones. They should be in abundance. Besides, better if in addition to the regular blocks will be used and smaller stones. Also stone it is possible to build artificial grottos and a fireplace. The first can be diluted for various plants. The fireplace serves as decoration, but you can also arrange evening gatherings by the fire.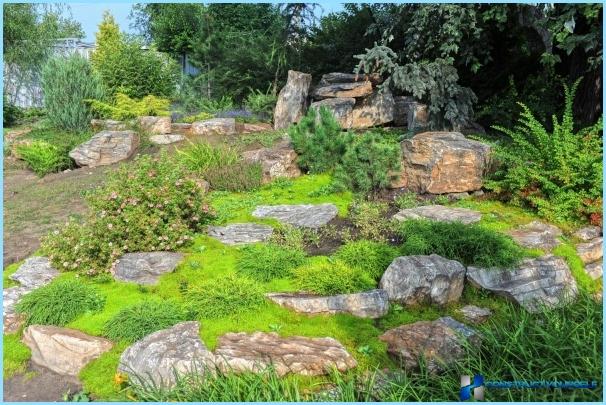 Paths must also be made of stone. Also from this material laid out the sites of a square or rectangular shape. To add contrast, around their perimeter, you can plant bright flowers. In the center of this platform can be placed a large stone boulder size is large (or several superimposed on each of the blocks of a smaller size).
Plants can use any. But preference is given to berry bushes and fruit trees. Scandinavian style colorful plants are used in small quantities and in certain areas.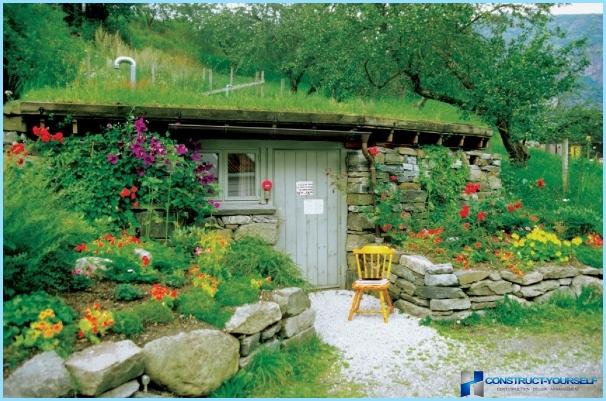 The main difference between the style of Russian estate landscape design is skilfully combined practicality and beauty. In a similar garden in perfect harmony with bright and lush flower beds with a small garden in which grow a variety of vegetables and fruits.
It is important
! The presence of a vegetable garden and fruit plants in particular, do not just give practicality. Their presence is an obligatory condition of the Russian garden.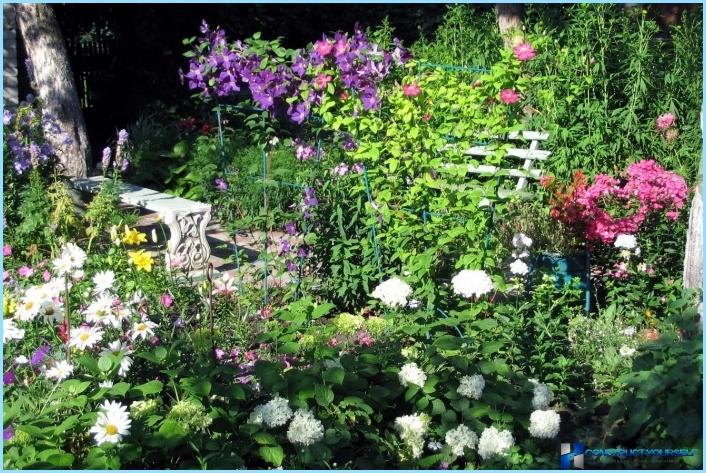 Another feature of Russian estate is natural and easy «streamnet». However, this does not mean that you can let the life of the site on the go. Conversely, to create a natural sometimes more difficult than is to trim all shrubs.
Various exotic plants, and quaint figures of stone in the Russian country estate is not the place. To the place they come birches, oaks, lilacs and similar plants. Thus the choice of the location for planting should be taken seriously.
The Russian soul is not only generous, but also wide. We always want more space and possibilities. In the Russian garden, with proper zoning, it is possible to implement all desires, each area will carry a certain goal.
In front of the house you can arrange a beautiful garden, which the neighbors would serve as the hallmark of the entire garden. It should be seated just bright flowers that bloom at different times. This will allow the spring to autumn to enjoy the bright colors of nature.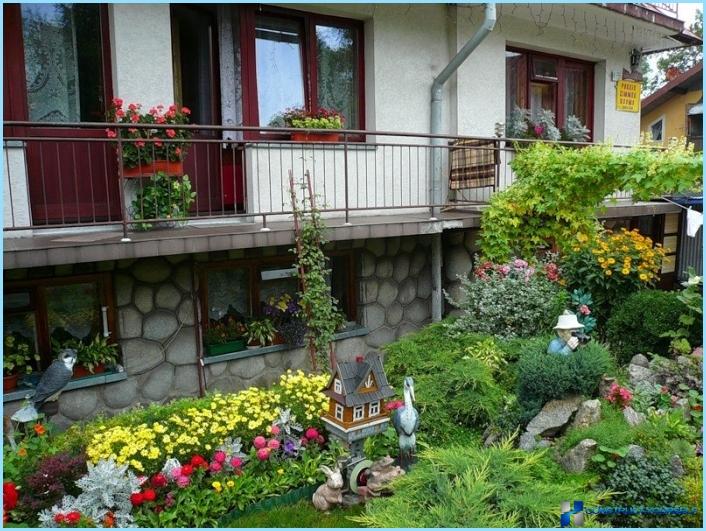 The rest of the plot you can also set the place to stay. And next will be seen a compact flowered garden. And if the square footage is spacious, you can build a real Russian bath. In the end, the Russian garden is a great place for the whole family.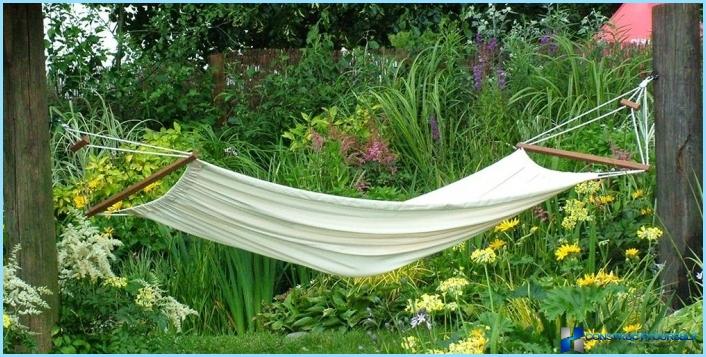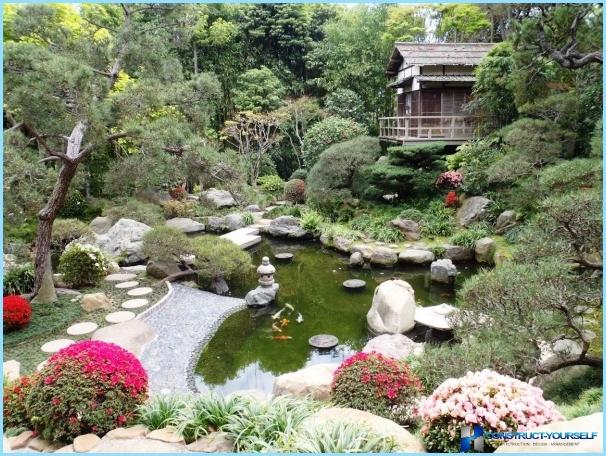 Asian philosophy has always differed from the European. Is no exception and the design of the garden. The main objective of the Japanese style of landscape design – unity with nature.
A feature of the style is its versatility. To create a Japanese garden in areas with different size (optimum is 1 to 8 acres).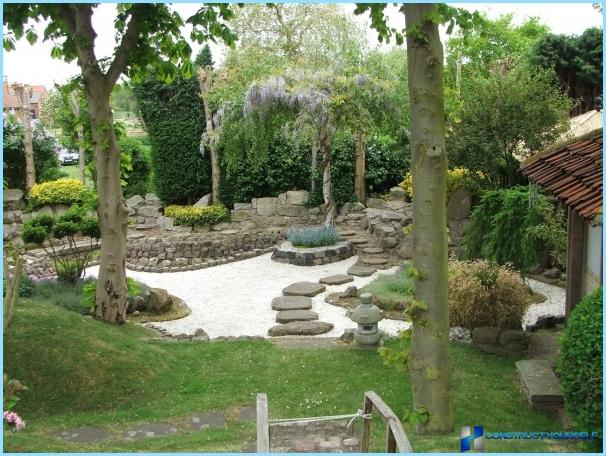 When you create everything must look natural. Therefore it is better to use the plants and stones that grow and are produced in your environment. In addition, you need to forget about symmetry, because the nature has a completely different taste. It does not accept geometry, but creates a perfectly unique and inimitable landscapes.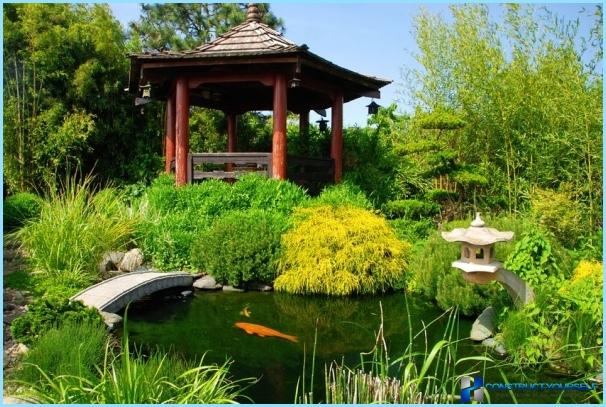 The ideal Japanese garden is a recreation of several zones. It is desirable that their perimeter was irregular in shape. Each zone must be connected to each other through various transitions. It is better to use plants and materials that are enabling you to create a smooth transition.
Another condition classic Japanese style is the use of warm and gentle colors.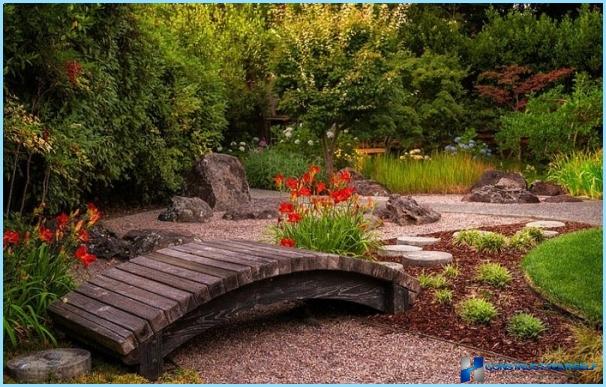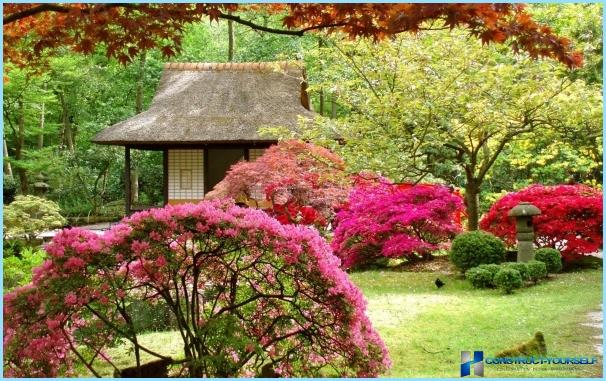 Those who make their own garden for the first time, and not quite versed in the intricacies of various styles, can easily confuse Chinese style in landscape design with Japanese.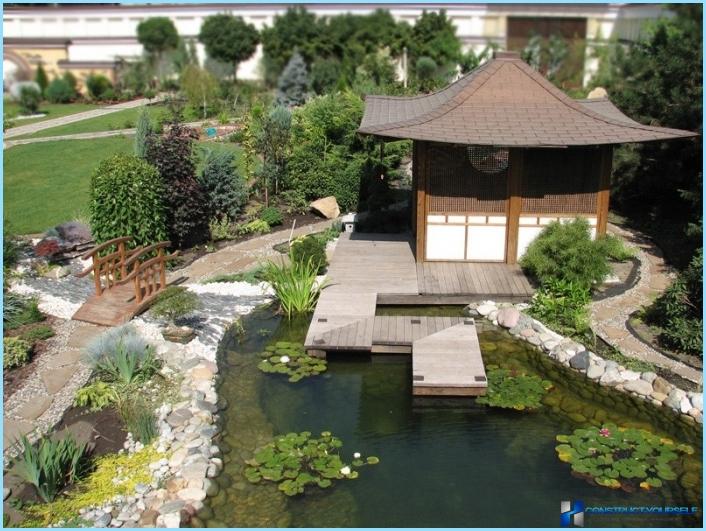 In fact, they have a lot of differences. For example, Japanese style in landscape design emphasizes the superiority of nature. The Chinese put their achievements and capabilities on a par with the environment.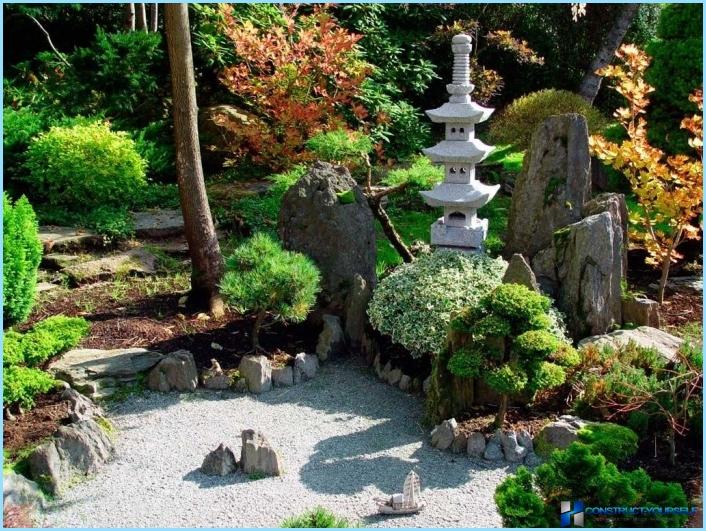 Thus, when the design of the site in Chinese style, consider that the design must be present the following five elements:
Water;
Earth;
Fire;
Tree;
Metal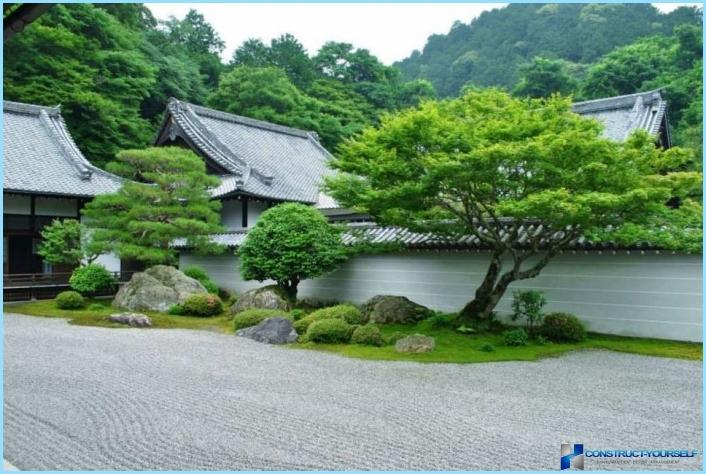 Design options Chinese garden quite a lot. Therefore, in order to better define, they can be divided into several categories.
Classic garden. This option combines only the bright colors. This applies to both plants and decorations.
The philosophical garden. In order to achieve solitude with thoughts, should be Vice versa to refuse the paints. It is better to choose plants quiet tones, which give comfortable shade.
Home garden more like a modern garden. Plants in this version, completely devoid of geometric shapes.
Peaceful or aggressive. In the first case, you should prefer low plants and decorations. Aggressive garden is the opposite. Furnished garden in a similar way, you should choose tall plants.
It is important
! A full-fledged Chinese garden you can equip only on a spacious plot.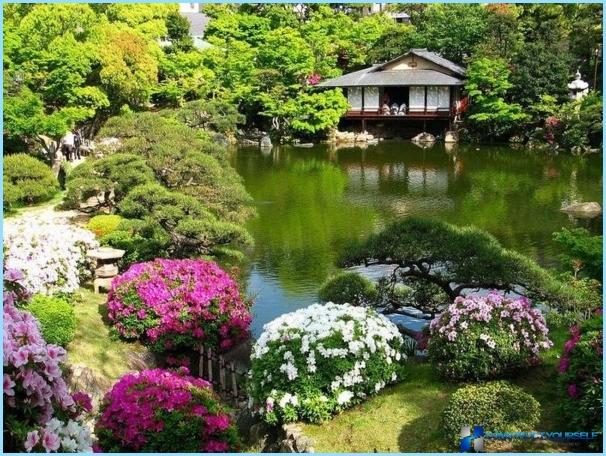 Additional styles of landscape design, you can see from the video
Content related