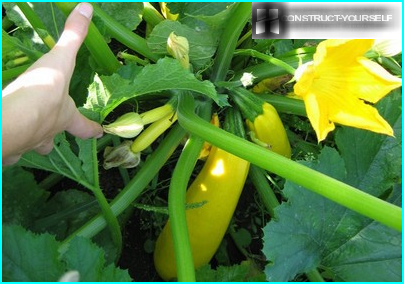 The existence of rubber tiles do not know everything, but in Europe, this material has long been popular. Rubber tile is a product of recycling old tires, the result is utilized a large number of waste rubber and the result is a practical material for the manufacture of tires using natural rubber and synthetic rubber of high quality. Laying rubber tiles does not cause difficulties, and the advantages of this material weight.
The contents
Tiles made from crumb rubber has a variety of textures, is available in a wide range of colours and practical properties of the rubber tiles distinguish it from the pavers.
Tile rubber absolutely not slippery, we all know how dangerous the ice can be paving slabs. From the extremes of temperature this material is not covered with cracks, during transportation and installation will remain completely intact. Order rubber tile, you can not be afraid that in the way she beat.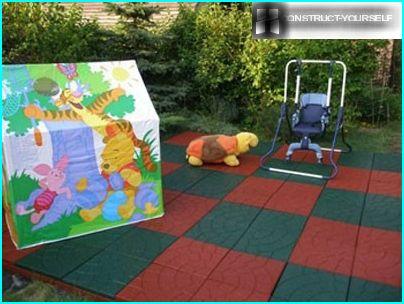 Rubber tiles looks very good, but one of its main advantages — non-slip surface. This material significantly reduces the risk of injury and is especially important in children's playgrounds
Abroad, this tile is widely used on objects of sports appointment because of the good grip surface sports Shoe – sports fields, in the halls, it makes treadmills, this is a great material for playgrounds.
The water area of swimming pools too often surrounds rubber tiles – it absorbs moisture, and the risk of slipping on it is minimized.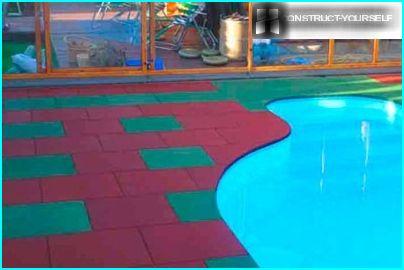 If you have a cottage or the private house has a swimming pool rubber tile is a great material for interior wetland zones wet feet on it will not slip, and the moisture it absorbs
This material can be a good choice for creating walkways in the garden. You can choose rubber tiles for garden paths interesting shapes, bright colors. With a good laying this tile rain will not erode, and weeds through it, too, will not germinate.
Tile rubber is one of the most unpretentious, safe and practical coating for almost any area. If you choose this material for garden paths, you'll see it – no special care is not required, tiles are unlikely to change in the painting they don't need. To remove from track dust and debris, it is enough to wash the spray from a hose.
There are two basic ways of laying tile of this type: on the ground and on solid grounds.
This method is more relevant for the garden. Laying on the ground uses tiles of greater thickness, suitable material of thickness 30, 40, 50, 80 mm. In this case, the tile is laid on the base which must be prepared.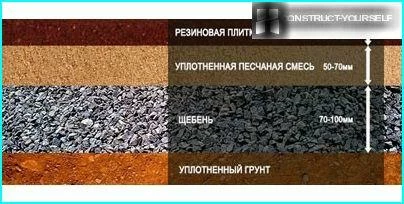 Phased laying rubber tiles on the ground gives a visual representation of the sequence of work
First you need to remove the top layer of soil, to clean it from weeds, well compacted. On compacted soil is spread a layer of crushed stone (80-100 mm thick). The soil layer is filled with a layer of cement-sand mixture (ratio 1/3). The top layer will be the basis for tile coating.
When laying on the ground, it is desirable to set the border, it will give the solid design, and looks the path with the border is more aesthetically pleasing.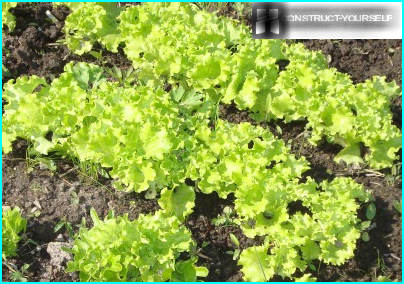 The curb will make the track more durable, and its appearance would benefit, especially if you use the same combination of colors of tiles for paths and border
The slope when laying on the ground do not need to, because the outflow of water will occur naturally. When laying cement-sand mixture necessary to select a tile, connected with bushings, usually they are included.
Bushings are used for strong joining of the tiles do not allow them to shift during installation and later during operation of the track.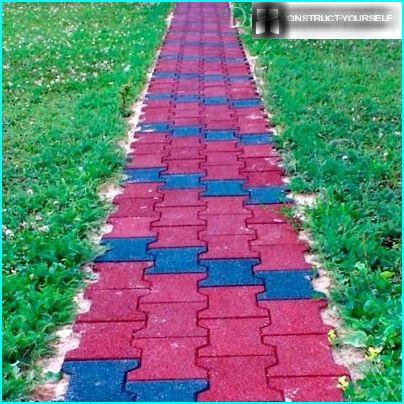 Garden path of bright rubber tiles in two colors, laid out on the ground looks aesthetically pleasing, as ehkspluatacii design will become stronger, because the mixture of cement and sand under the influence of moisture becomes stronger
Tiling made of rubber on a solid basis is made using rubber tiles for walkways greater thickness – 20 mm. Carpet can be put on wood flooring, concrete floor or asphalt surface. For example, to cover with tiles paved Playground, make a track on the wooden terrace.
Asphalt base must be smooth, without deformations. The surface must be primed. Mix equal ratio of polyurethane glue and the acetone and process the basis of this homemade primer.
Concrete screed sub-base may not be ideal. If the surface has cracks, cavities, small flaking is not a problem. For the treatment also used a primer. According to the technology of laying rubber tiles need to do a little slope for drainage (approximately 2%). The material should be clean and dry. After you treat the surface with primer, it will need to glue the tiles using polyurethane adhesive.
Apply glue to the base cushion, you can use a spatula, firmly push it to the tile, providing maximum adhesion to the substrate and to tiles nearby. After curing the adhesive track will be ready for operation.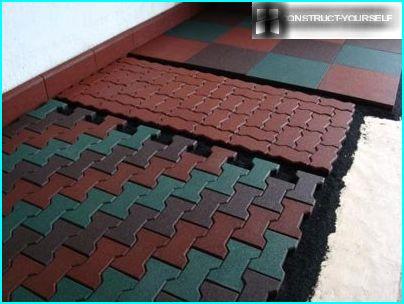 Samples of rubber tiles in a variety of shapes and colors. Select the option of connecting through a bushing, it is much more practical. Rubber tile with mosaic passavam connection once the sale occurs, but is produced less and less, because this method of fastening proved to be not too practical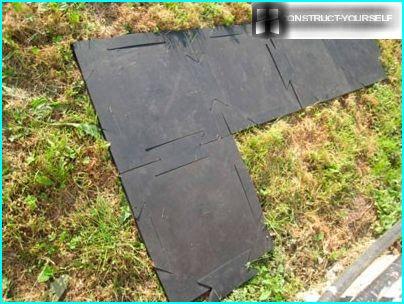 Resplit is a particular kind of tiles to quickly generate paths. The tiles are simply laid in the desired location, connecting in a special way. The joints are painted with coloured paint, and appearance of lanes revived
Now you have an idea on how to lay and how to exploit rubber tiles. In addition, this material has good sound insulation and orthopedic properties, and for garden is a good performance – lack of noise and ease of movement.
Content related