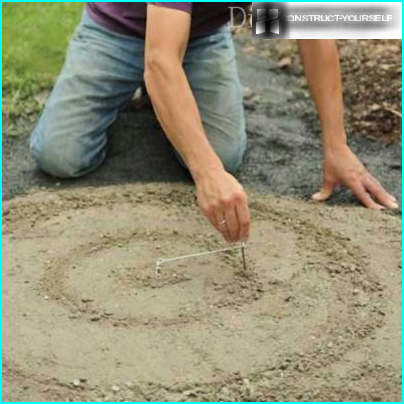 Suburban area – an area designed not only for garden work but also for recreation. Wish she was beautiful in every way – luxurious, manicured plants and decorations, forming with the plot together and pleasing to the eye. Pergola, bench, the bridge on the site will help create a special atmosphere, small architectural forms from wood, metal, concrete creating in the garden, special economic zones, reminiscent of the fairy Kingdom.
The contents
Fashion trends in landscape design come to us from Europe, the use of small architectural forms for the decoration of private gardens there practiced for a long time, for us this is a new direction that is quickly becoming popular.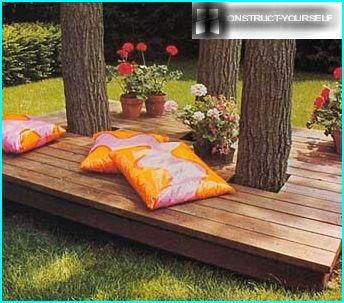 Cozy place created with wooden flooring, situated under the trees. Flowers in pots and vases make it even more attractive
Statues, decorative bridges and benches, gazebos, used to be found only in city parks, today any cottager can improve your site using these wonderful elements of landscape design.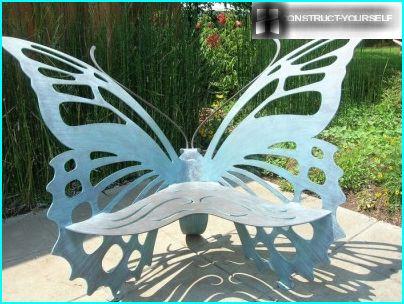 Make the garden the original is possible, giving the usual elements of unusual shape. An example is this bench in the shape of a butterfly
The choice of architectural forms, of course, largely depends on budget, but to use exterior small you can always market today offers an extensive range in a wide price range. So small groups can not afford only the oligarchs.
What can be achieved using small architectural forms? Very much – to give the site personality, to divide it into zones, change the design, add accents, use small forms to create a specific style. They perform two important functions: to make the project area more aesthetically pleasing and provide comfort.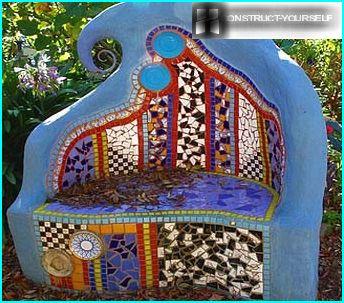 Benches in the garden — the most commonly used small form. They can be both simple and surprising uniqueness of solutions — such as this bench with mosaics
Any small form, with the exception of the sculptures, there's a practical purpose: to protect the tapestry from dust, wind, serve to support plants, bridges allow you to cross bodies of water, in the gazebo is nice to eat and relax, the benches in the garden – also a great place to stay.
Consider the main types of small forms, able to transform the garden area into a cozy area for relaxation.
Garden bridges – this is usually a wooden or metal architectural designs. The most common option – a combination of these materials, for example, a log bridge with metal railings. The bridge can be curved, flat, with railings or without – he always looks good, if in the country there is a pond, makes the area beautiful, attractive.
Next you can position the bench, the lights that night will not only illuminate the area but also to allocate the water area. You can use garden sculptures — and you get a cozy and romantic area to relax.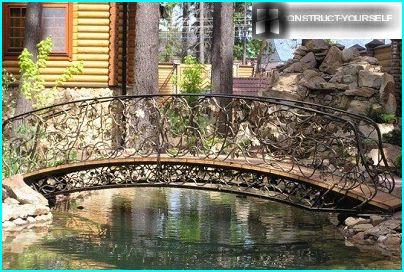 A beautiful wrought iron bridge thrown across the artificial pond — a beautiful decorative element, giving the garden a special grace
For the construction of gazebos used a variety of materials – natural and artificial stone, metal, brick, wood. Roofing – shingles, metal, slate, Board – in General, any roofing material. The purpose of the pergola is to provide the owners a comfortable rest, often accompanied by eating or drinking tea.
Tastefully made gazebo will not only be a comfortable shelter from sun or rain, but also the decoration of the site.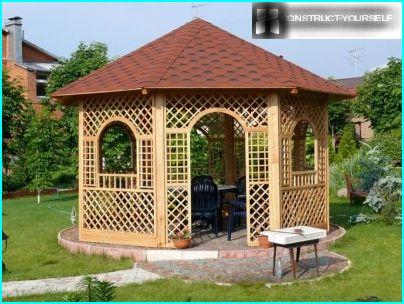 The openwork arbour wood protects against sun and wind, the soft roof shingles gives the structure an aesthetic appearance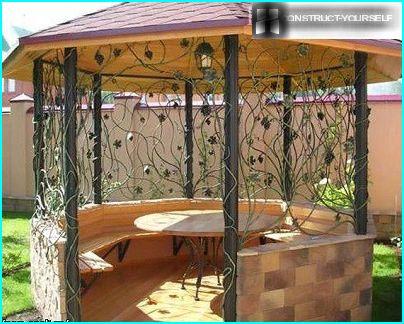 Small, decorated wrought, always look advantageous. This gazebo on the site — not only a good place to stay but and garden decoration
Arches and pergolas – bearing varieties of small architectural forms. Arch is intended for zoning, overgrown with vines and other climbing plants, they create in the garden is very cozy and picturesque corners.
Classic stone arches today, almost superseded wrought-iron, metal and wood. Budget option – the arch of plastic, is also widely used in the decoration areas. Arch is a decorative element that comes to us from ancient times, not lost in our days its relevance with the ability to perfectly decorate the territory.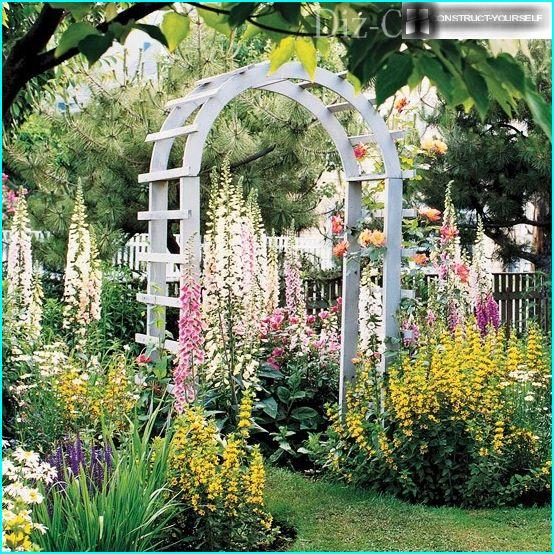 2 in 1 — the arch-pergola. Although it is not overgrown with greenery, but surrounded by delphiniums and other flowers looks very good
Arch structures are often used along with the pergolas. Classic pergola – building with continuous roof beams resting on pillars. For making pergolas are mainly used plastic and wood.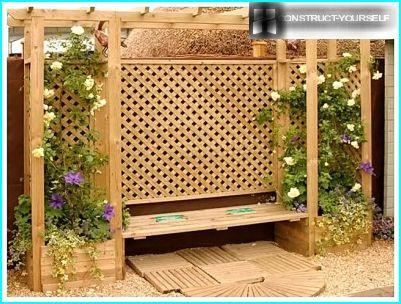 Pergolas often are together with garden benches — a very pleasant place to stay in floral environment, protected from the sun
Pergolas can not be called functional structures, their main function is decorative, but with ivy or roses pergola may be the best place to stay in summer, in the shade of plants, where you will admire the beauty of nature. In a small area pergola can become a major focus forming component selected style (mostly classical).
Classical sculptures in plaster and marble, small architectural forms from concrete – pictures of angels, ancient gods or statues of lions surrounded by sumptuous colonnades is not suitable for every garden. The best place for them – a large garden or formal garden.
Modern sculpture and garden figures are great options for a small area. Such small forms as figures of gnomes, animals, flowers, cars, miniature replicas of castles and palaces will contribute to the creation of positive mood in adults and in children. And they look beautifully both day and evening with lights anywhere in the garden by the pond, under the canopy of tall trees, flower bed and Playground.
These sculptures would be appropriate in a large garden, on the porch of the imposing house. A small fountain in the classical style can be mounted on the smaller portion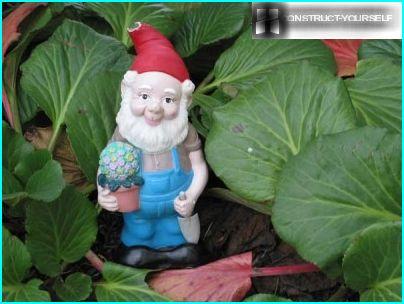 Such a cute plaster figures are inexpensive, and their use in the decoration of the garden creates a positive attitude
You can purchase more expensive original modern sculpture design work and place it in a designated corner of the garden.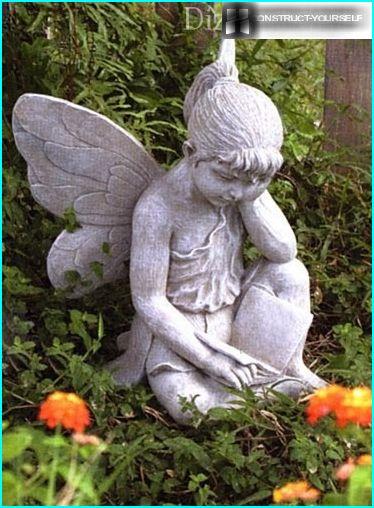 Such a thoughtful elf can be placed in a quiet corner of the garden, place for solitary reflection
Artistically designed containers for the flowers are also small architectural forms. They are available to anyone and can markedly Refine the space of your garden. If you pick up the container for plants based on their size, material, shape, color, decoration, and other external characteristics, and positioning in the field in which you want to draw attention to the garden will sparkle with bright colors. Plus pots and containers that is the most affordable garden decor.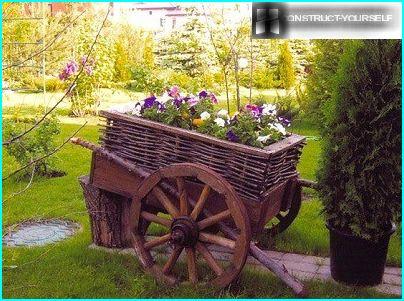 The container with the flowers located inside decorative truck — a very interesting small form in country style
Even if you have a small area where buildings do not differ special beauty, with small architectural forms can with your hands to turn it into a place where you will enjoy spending time in the lap of nature.
Content related